So, here's my latest acquisition. The Namisu Nova pen, made from sandblasted titanium, with a Bock EF titanium nib :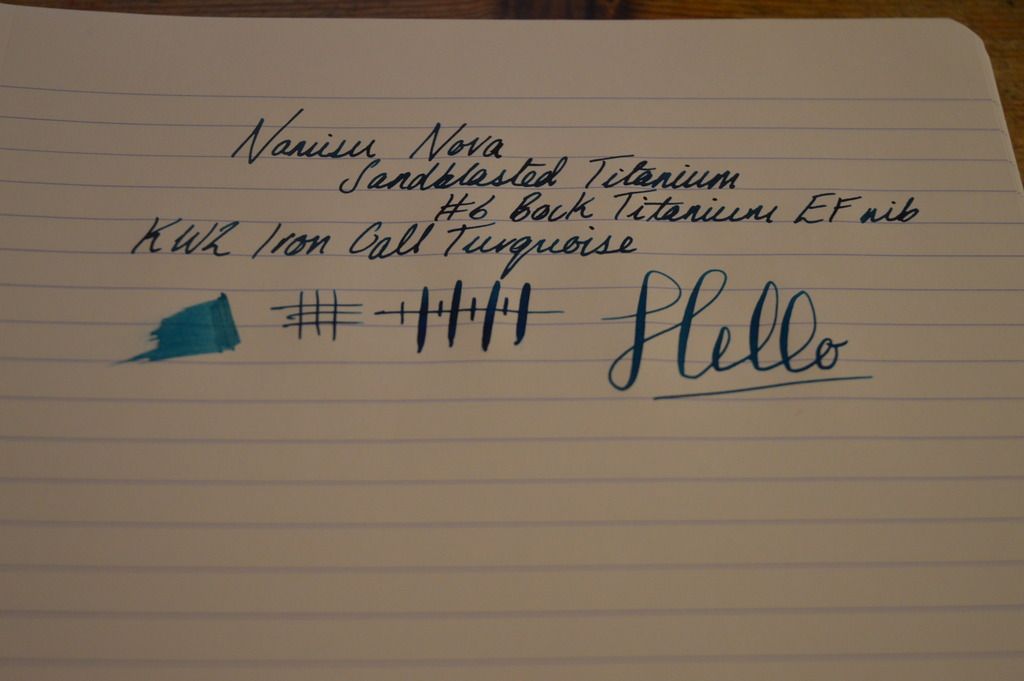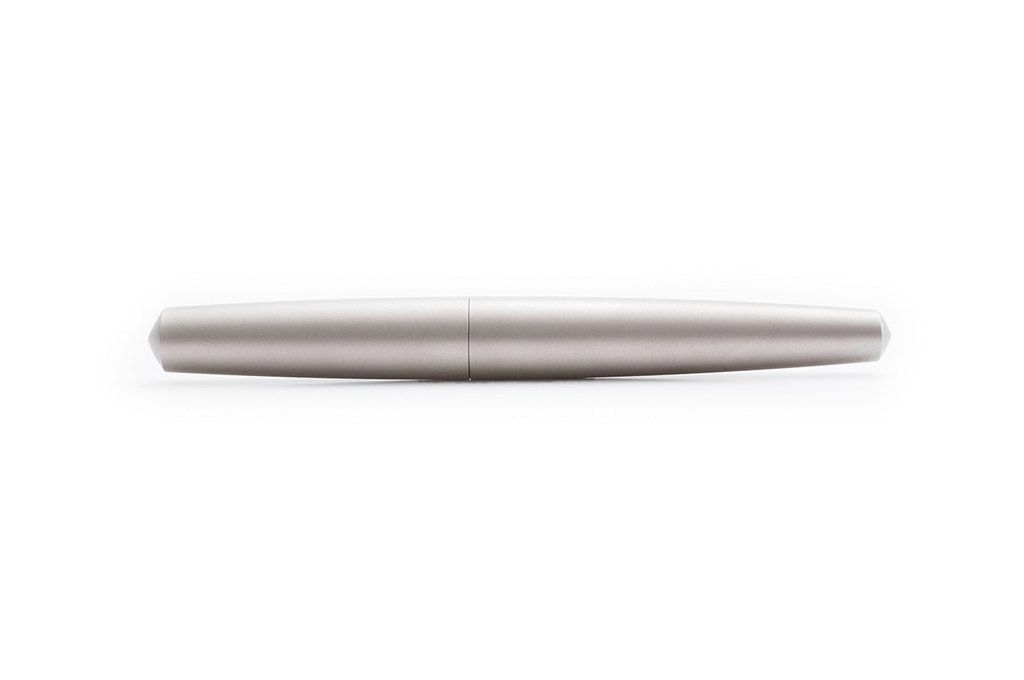 This is my first pen that is from Namisu, and my first pen that originated on Kickstarter.
They had made the pen in Aluminium and brushed Ti before, but this finish was new, and I thought it was about time to check out their pens. I also like that they are from Fife in Scotland, where I have family. I preordered the pen in September, and it arrived the next day after shipping. It came in a simple slide out box, with nothing apart from the pen and converter. No ink cartridges were included, which I find a little odd, although that doesn't bother me as I use bottled ink.
The pen is beautifully made; there are no machining marks, and the finish is consistent across the body. The section is polished but not to the extent where it is remotely slippery(the Lamy studio comes to mind) and tapers slightly towards the nib. There is quite a step between the section and the body but it is not sharp. I prefer to hold the pen further back, nearer the threads as it is slightly back heavy, and it is still comfortable there.
The pen is not light, at 40g capped and 30g uncapped, this is not for you if you're a fan of lightweight resin pens, although it is comfortable for long writing sessions. The pen does not post, but if it did, the pen would be extremely unbalanced. 
The nib is available in several options. For a lower price, a steel Bock #6 nib is used in sizes EF,M or B, and with a higher price, a titanium nib in EF or M. I opted for the ti EF nib. I think it is a little odd not to include a Fine grade, and I think the option of a gold nib would be nice, considering that Bock make gold nibs in the #6 size. 
The nib is the first ti nib I have used; it is wonderful. Out of the box it was wet and smooth, although 10 seconds on micro mesh brought it to the level of smoothness that I like. It is soft, and I think that it could easily be sprung with a heavy hand. With a light touch however, you can create juicy line variation from EF to BB without railroading. It never hard starts and doesn't skip, even with the fastest speed of writing. I would say that it is rather broad for an EF, and I would consider it closer to a Western Fine. I really enjoy the matte finish on the nib, although nib creep is inevitable from the first fill ! 
Here are some comparisons to there nibs:
It is very close to a Lamy Safari F, although it is wetter. The feed is big and can keep a lot of ink within the fins:
There is no logo on the outside of the pen. Instead, by the section threads, there is a minimal 'N'. I really like this:

For me the pen is a good size, but I have included some comparisons to other well known and popular pens :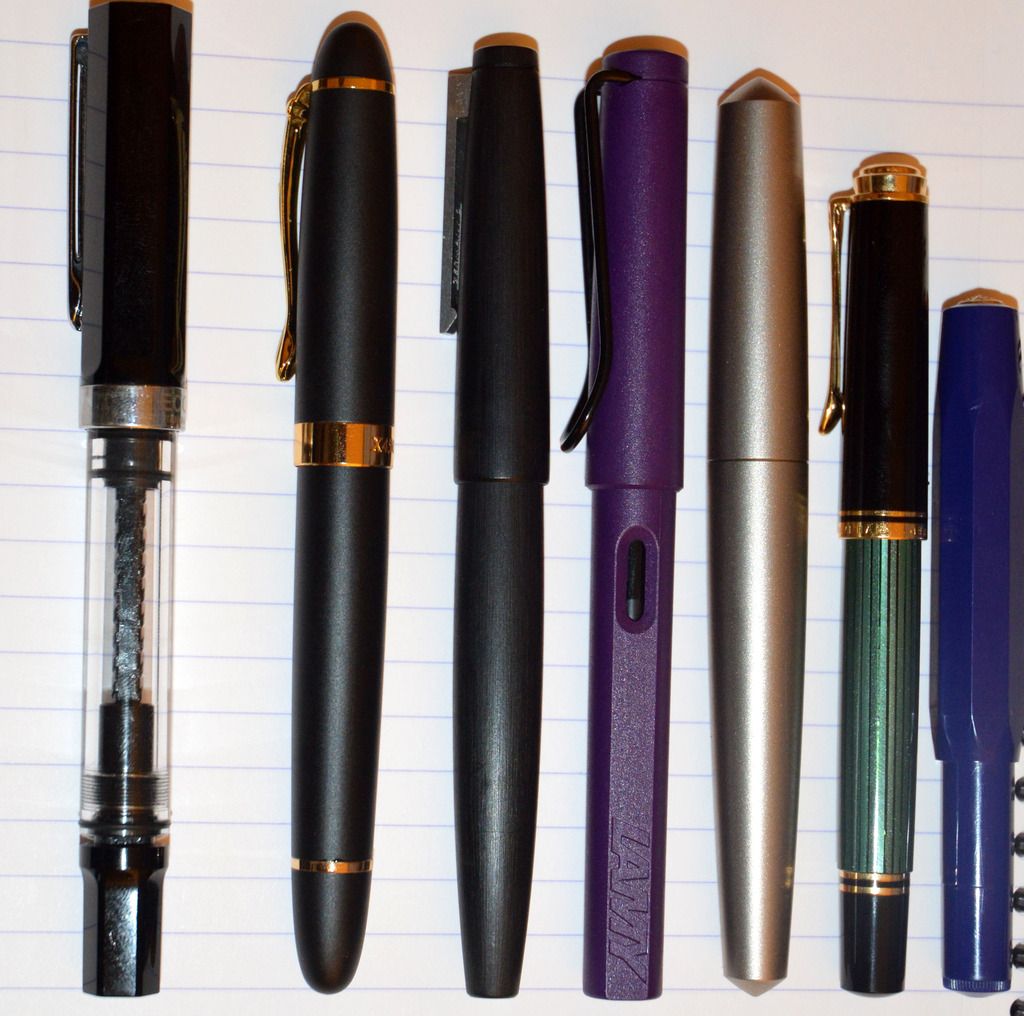 From L-R - TWSBI Eco, Jinhao X450, Lamy 2000, Lamy Safari, Namisu Nova, Pelikan M400 & Kaweco Sport. Uncapped/posted: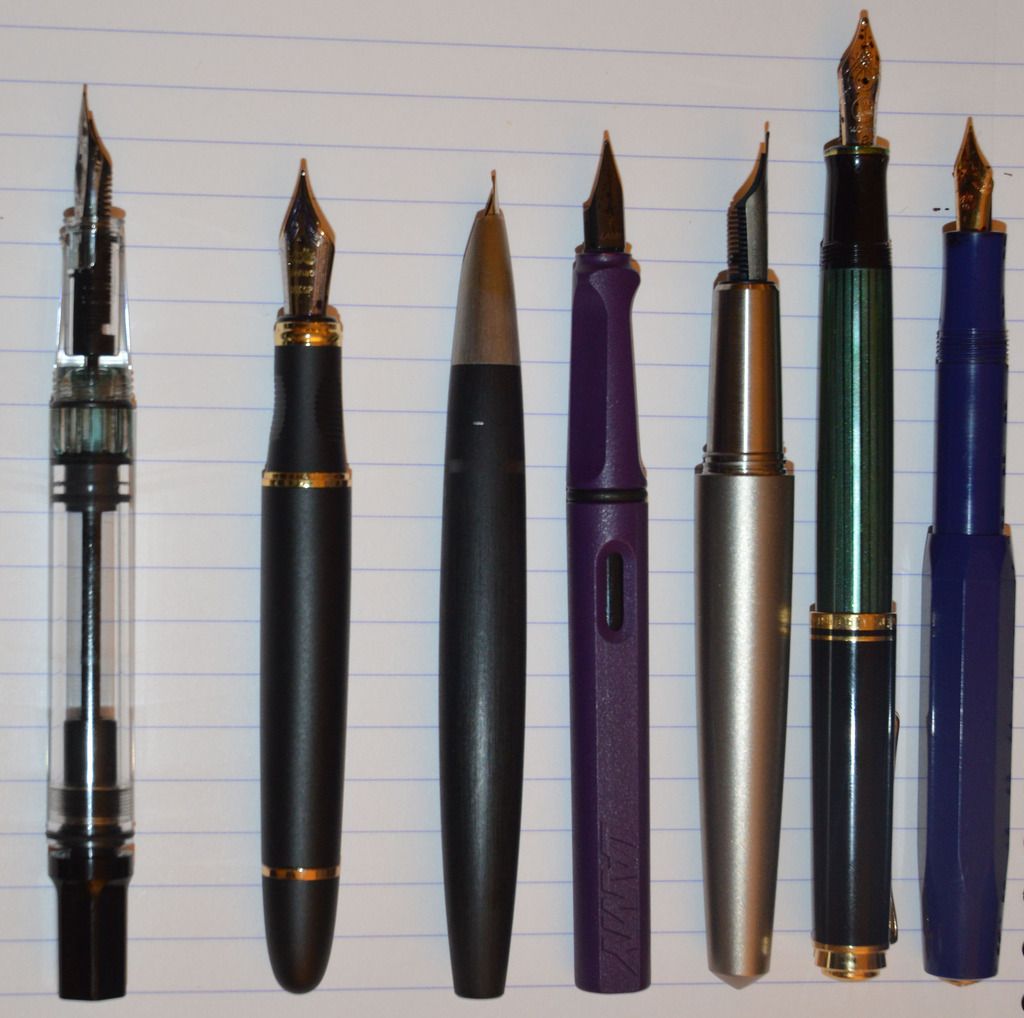 The Pelican and Kaweco are posted as I consider them a little small to use un-posted. As you can see it is in a similar size to the Safari and 2000.
Dimensions are :
Length (Length uncapped) – 137mm (131mm)
Maximum diameter: 15.2mm
Grip diameter: 11mm   
​In 2016, I paid £98 for the pen, which included a Schmidt converter. With a steel nib, the pen is £70. In the US, for Ti it is $120, and with a steel nib, $85. Shipping is free in the US and the UK. Is it worth it ? In my opinion, yes. Titanium is a difficult material to work with and is expensive. The only other pen similar to this is the Nakaya Ti Piccolo which is $1000. Make your own judgement ! The finish and attention to detail is impeccable, and the pen wrote well out of the box, with an amazing, soft nib. 
I wouldn't hesitate to recommend it. The only faults I can think of are slightly sharp section to barrel threads which are a little squeaky, and the pen is slightly top heavy. Apart from that, I cant find anything else to criticise it on. Oh, the nib availability. I'd like to see it with a gold nib please.
Get it here at : http://www.namisu.com
9/10
​