Prologue

Long before the likes of Romilo and Scriptorium reintroduced and popularized the concept of hand-crafted gold nibs customized to individual tastes & needs, there has been a set of small dedicated Indian handmade pen-makers who have been diligently doing the same out of there small workshops located mostly around South India.
Today I want to share pictures of a trio of such pens from my collection. All these pens are vintage, were bought by me as used pens and are made by artisans who are no longer with us or else are too old to be active themselves although the institutions they have set up are still active and still manufacture handmade pens mostly using steel nibs sourced from nib manufacturers.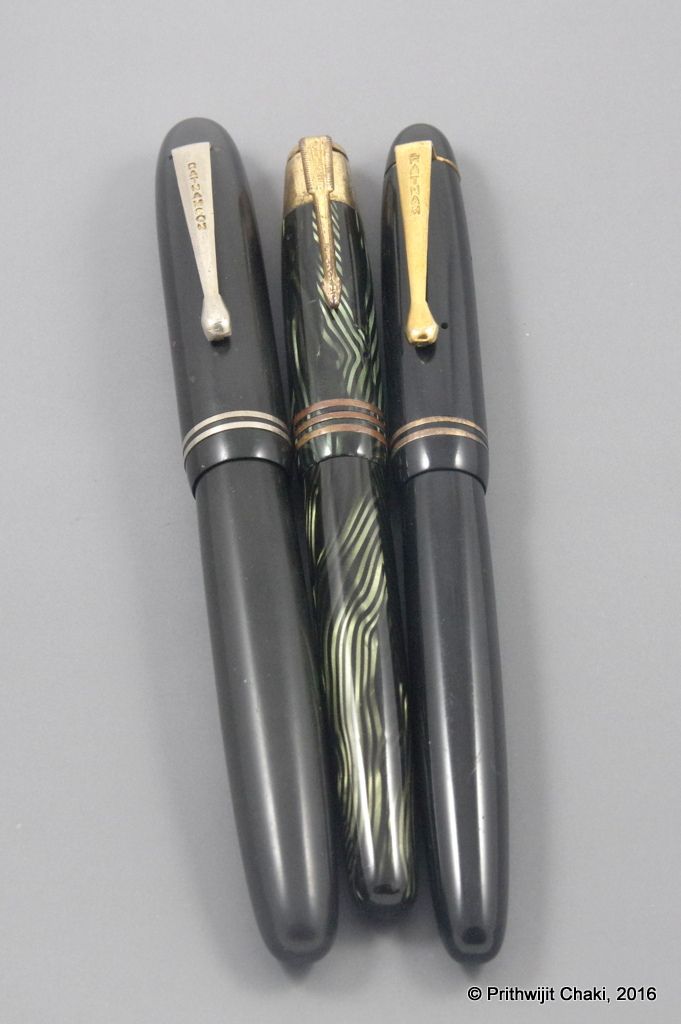 From Left to Right – Ratnamson, Guider and Ratnam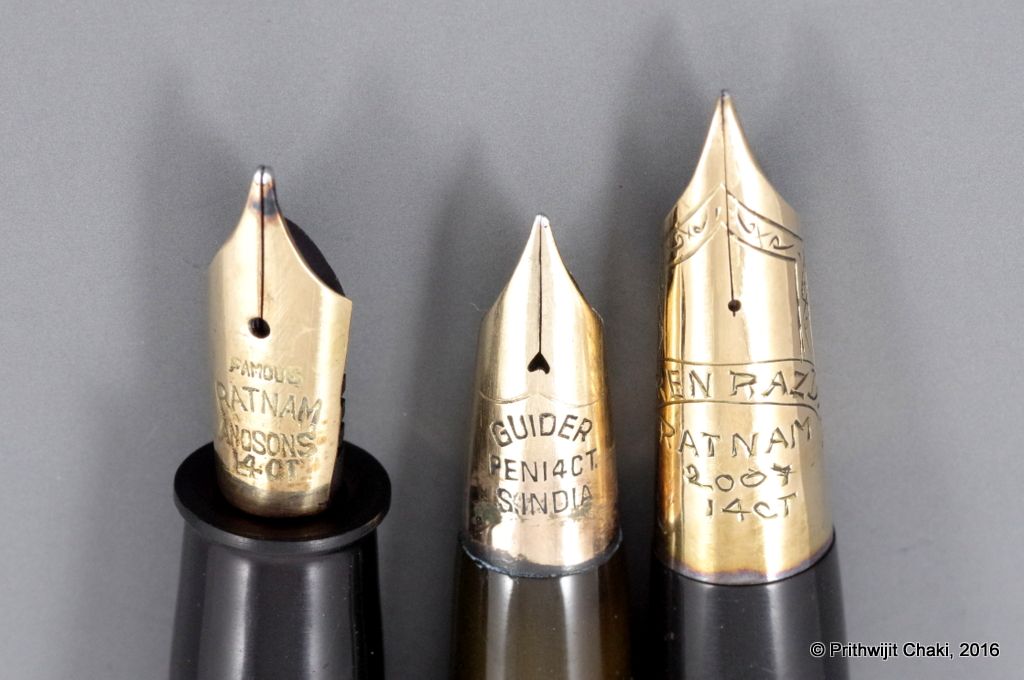 From Left to Right – Ratnamson, Guider and Ratnam
 
Guider
 
The most interesting pen out of these three is a vintage celluloid pen with a handmade conical gold nib. It is hard to put an exact date of manufacture for this pen but according to Mr Laxman Rao the current proprietor of Guider pen works this particular writing instrument is at least fifty years old. Such specimens are very rare to come across and even he doesn't have access to any.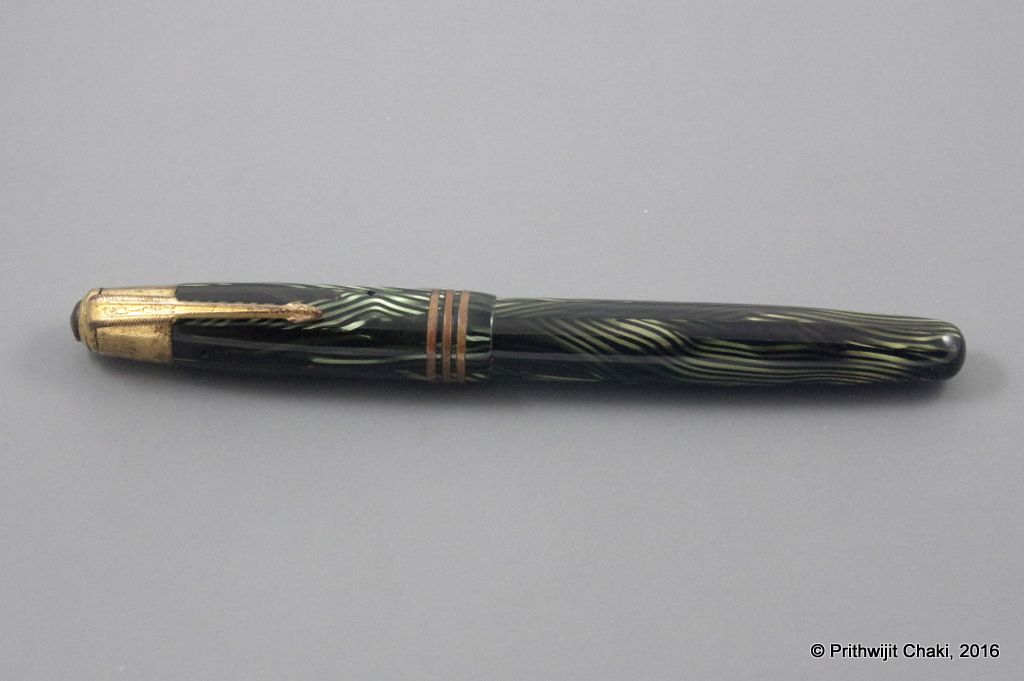 Ratnam
 
The next pen in the collection is another conical nib but this time manufactured by Ratnam Pen works of Rajahmundry. I do not know the exact model number but the trims on this pen are in exceptionally good shape. This is a huge nib and side by side, it dwarfs the #8 nibs I have from Jowo or Bock.


Ratnamson
 
The third pen in the trio is a Ratnamson 302 with a handmade gold nib made circa 2007. I believe it is still possible to get such pens commissioned albeit being manufactured by the next generation. The interesting thing about this pen is that it has a bold nib which is quite unusual for Indian pens and is an extremely smooth writer.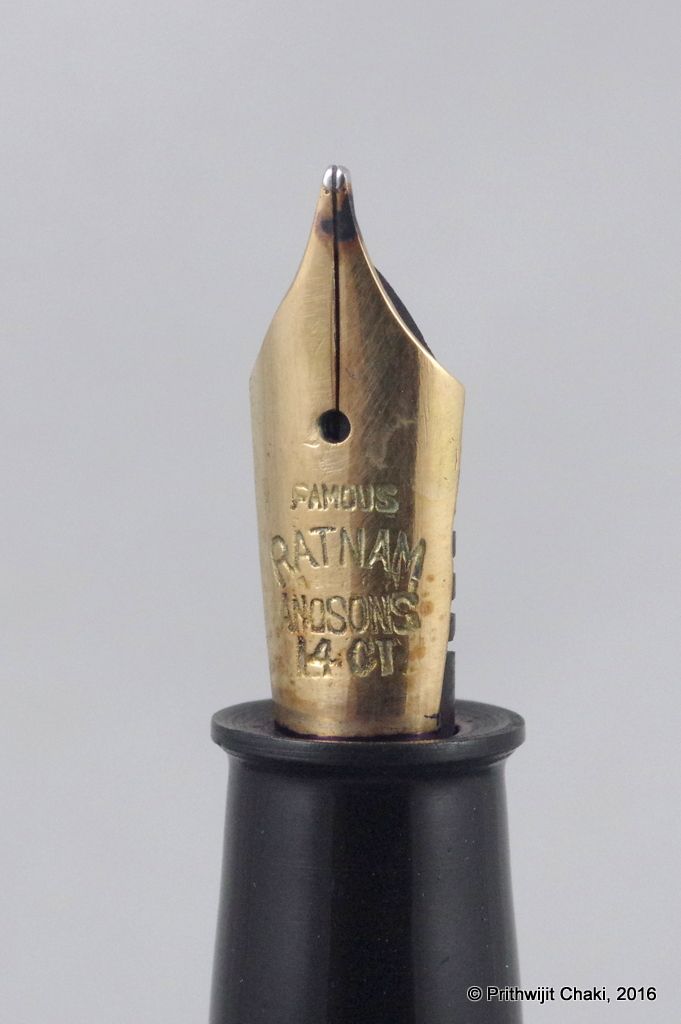 One thing that is common to all the three pens (apart from 14K nibs) is that each of them come with custom hand cut ebonite feeds.
 
 
Epilogue

Shortly after taking these pictures I came to the realization that my personal enjoyment of fountain pens did not come from being a collector and certainly not from being a collector of vintage pens. At the same time I was acutely aware that this set that I had built up was historical in significance and wanted it to be maintained properly even if I was not the right person to do so. I started making a few discrete inquiries amidst our small fountain pen community and I am happy to let everyone know that fellow FPNer Sudhir (@Sudhir-ThePenPerson) is the new custodian of these pens. Sudhir is a passionate collector and a consummate gentleman. I am sure that the pens will be taken care of very well in his safe hands.

Hope you guys liked reading about this part of Indian Fountain pen heritage and the pictures were enjoyable.

Regards,

Prithwijit