James, 
Thank you once more for your extremely insightful comments that helped me tremendously to figure out what bothered me.
First of all, you certainly know why I aimed for those diagonal lines in the composition. Pens have a rather unfortunate shape for pictures and it's tricky to avoid boring compositions. The dark corners bothered me, indeed, but again I stopped short of changing this. I think I found a solution that's a good compromise. I added a white background so that the still visible corners aren't that distracting anymore. I'm curious what you think about this.
Second, I think I managed to improve the modelling of the clip quite a bit. I removed the white reflector card attached to the lens because that shed a rather flat light on the clip. Instead, I used a small fill card at the bottom adjusted such that the clip gets a nice "glow" and a dark contour bringing out it's shape better. Of course, this also changes the reflection on the barrel but I thinks that's acceptable. I controlled this reflection on the barrel using a polarizing filter on the lens. I think that's the best the lighting so far.
Remains one of my biggest pains, the post processing. I think I'm still way better in the darkroom than in digital processing. One reason may be that in contrast to my darkroom I have no really professional equipment for the digital post processing, no calibrated screen, no controlled environment light, no professional software and so on (plus much less experience). Another reason may be that most of the time I used camera jpeg files as a starting point and then adjusted curves, colour balance, contrast, lightness, saturation, size, sharpening etc. You inspired me to develop the raw files myself and I think this allows me indeed to get more out of the same take. I will need much more practice before I fully feel at ease with that, though.
Long story short, here are my latest attempts. First my final version as described above: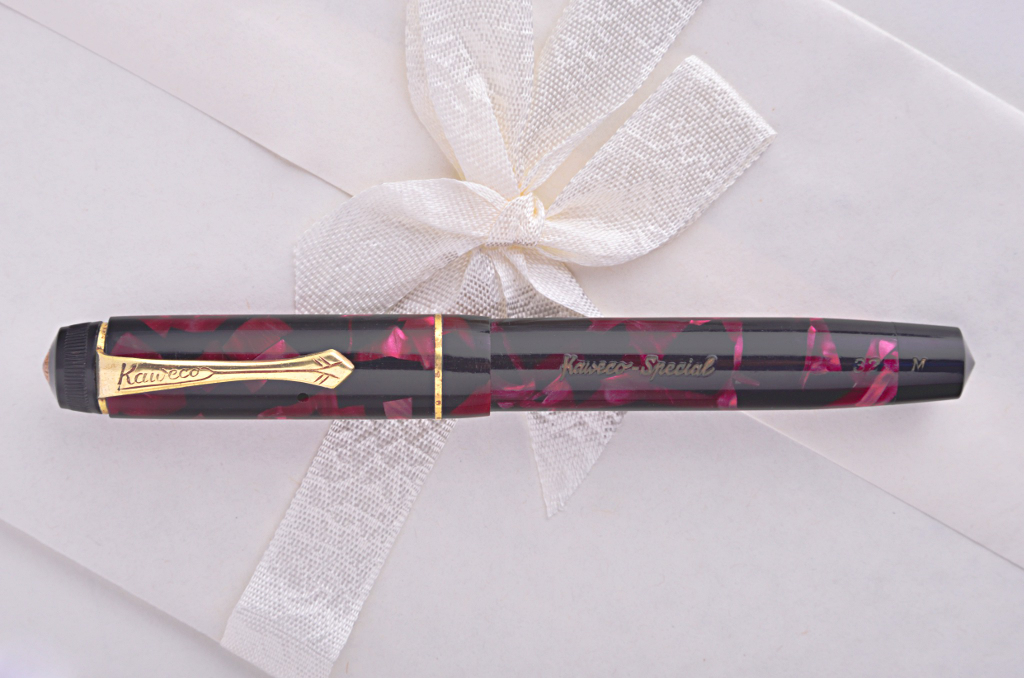 I like almost every thing better in this picture than in the previous attempts. BUT, now the light on the barrel imprint suffered and became dull. The imprint previously got its brilliance from the camera fill card which I removed in this shot.
So, I add another photo where I still used the camera fill card and tried the get a more plastic lighting on the clip by using two small black cards left and below the pen: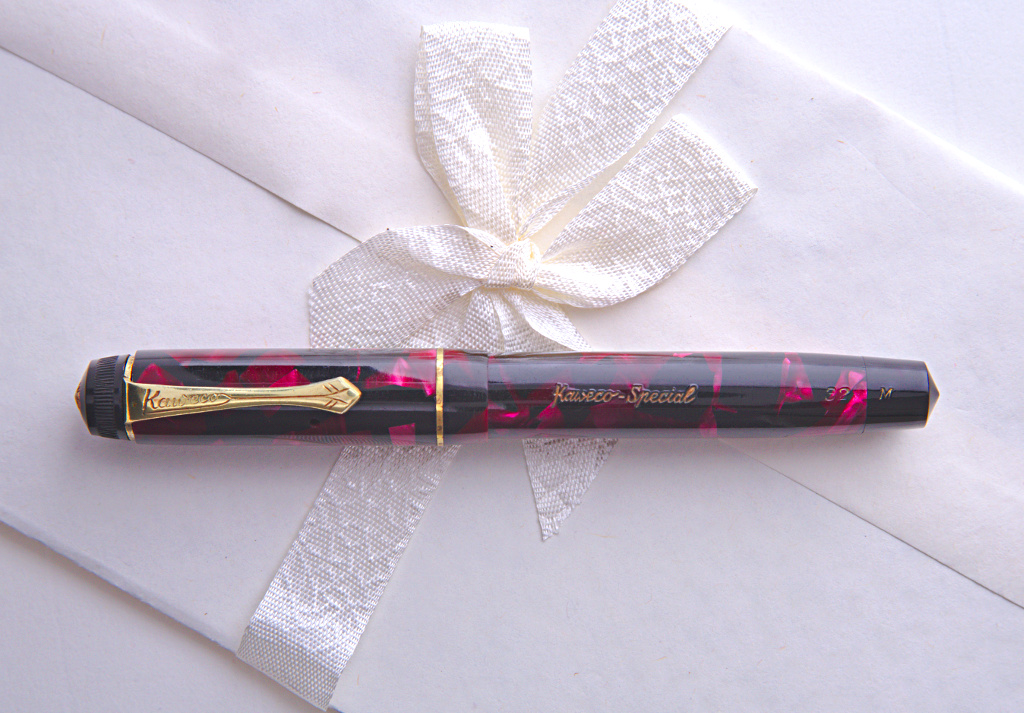 Note that I used two different programs for the raw development, which is visible in the white balance. If these two were the best I could come up with, it probably would be a matter of taste what's more important the barrel imprint or the clip. In my latest lighting pattern the clip becomes fairly bright and prominent. I wonder if I should burn in the clip a little bit to get a better balance.
Finally, I could try to combine the lighting ideas and add a small fill card from the top that's just large enough and positioned such that the barrel imprint is getting better brilliance. However, I'm not sure if this is possible and it's getting fairly involved by now. So, any comments are highly welcome.
Peter