In the 1970's, Pilot came up with a black striped stainless steel motif that was used for several pen models. The first was the Capless, introduced in 1971. Then came the striped MYU in 1973. I believe the ballpoint and mechanical pencil came out around that time as well. There was also a felt tip pen (in the photo below, it has been converted to a ballpoint until I can find a felt tip replacement). Finally, Pilot applied the black stripe motif to the Custom for several years until retiring it (I think that started in 1974 up until 1978). You can see how the ballpoint, rollerball, and MYU all share the same look (black disk inset in the top and black rectangle featuring the Pilot name in raised steel letters). I don't know if they were ever sold as a set, but it sure looks like they could have been.
Not only does the look have visual appeal, it feels nice. The lines provide a subtle grip and also break up the stainless surface so that scratches are generally not noticeable. The black lines were done using some special acid etching process, so that the lines don't chip or scratch and fading is resisted (this is why there aren't any black stripe MYU's converted into the ever elusive white stripe version!). The steel itself is sturdy, but Pilot found the right balance so the pens do not feel heavy.
The Capless
This is perhaps my most favorite looking pen by Pilot, even more so than the MYU500BS. Aside from appearance, it is basically identical to the older faceted Capless pens in terms of weight, balance, and operation. The only advantage I can see is that the clip is practically unobtrusive. These older nib assemblies tend to be like XXF or XF in size with a noticeable amount of tooth. You can't buy the nib assemblies anywhere, as the later models do not fit in this pen. So, I don't recommend writing with it, lest you risk an accident and find yourself out of luck.
The Pilot Custom
This is one of my all time favorite daily-user pens that I think is should be more recognized. It's the largest full stainless steel pen made by Pilot that looks heavy, but it isn't. It's about as long as the Capless pen, with a gentle tapering towards the tips. The texture is nice and smooth with the engraved black lines, yet the grip is excellent--you won't be worrying about the pen slipping from your hands. And because it is made from a high quality stainless steel, it does a great job of resisting scratches. The balance is nearly perfect with or without the cap. The cap snaps on with a very audible "click" and keeps the nib reasonably air tight, and features a large handsome spring loaded black lined clip (it also posts smoothly and securely). The nib itself is the large format Pilot Custom nib that Pilot and Namiki are so famous for. It is available in a variety of sizes, to include EF, F, FM, M, B, Script and possibly more. Generally, these are very smooth and competent nibs. This is a CC filler pen that takes commonly available Pilot squeeze converters and cartridges.
The MYU 500BS
As for the MYU line, this has to be the best looking of the bunch. Operation wise, it is identical to the smooth MYU701. But it feels better--again, those black stripes just give a little bit of grip while maintaining a generally smooth texture. The main disadvantage is, of course, the fact that the nib is integral--if it is ever severely damaged, or the nib wears out, the pen is useless. Despite their handsome appearance, these were not "high end" pens in their day. They were reasonably priced super rugged pens for scholarly and every day use. So, Pilot didn't intend for them to survive for the long haul. Despite this, I write with mine. It is so portable, convenient, and sharp looking. Of all the pens I've used in public, this one gets the most attention.
The Ballpoint

It's a small pen, yet it feels nice in the hand--I didn't think it would, expecting that it would get lost in the my grip of my large hand. It's light, but rugged. The click mechanism is very smooth and solid, suggesting top notch quality. It would have been nice if the clip was spring loaded, but the narrow diameter of the pen didn't permit it. But the clip is workable. The fit and finish is superb--it is a
very
well made pen. Thankfully, the ballpoint cartridges by Pilot are great, delivering ink without undue pressure. I think this is the most handsome ballpoint I've ever owned. This particular one appears to go with the MYU-500BS, because it has a black circle accent on the top that matches the cap top of the MYU.
The Mechanical Pencil

(Not yet shown -- image forthcoming). This MP (mechanical pencil) looks nearly identical to the ballpoint and operation is just as good. The parts are beautifully machined and fit together perfectly. The lead holder section is generous. When a given lead insert runs out, the next one falls into place without any assistance. Your typical metal sleeved eraser nib plugs the lead holder, and there's a metal pin with a smart "L" bend in it for easy grip and to prevent the pin from getting deeply embedded within the eraser. This MP takes 0.5mm lead, which I prefer as it nicely matches the width of your typical fine ballpoint.
The Felt Liner (Signature)

Felt tip pens are more sensitive than other writing tips, in that they can get damaged from too much pressure and dry out if not frequently capped. That's why some pen companies have tended to call them "signature" pens, for use in mostly signing activities. A felt tip is probably the closest thing to a fountain pen nib, in that ink immediately flows upon contact with paper, hardly any pressure is required, and the tip will dry out if not capped. This particular model by Pilot is nicely sized, just a little longer than the ballpoint, and feels great in the hand. The cap is a bit odd, being very small relative to the pen, and it doesn't post very well at all (in fact, I don't think it was designed for this--you sign your paper then cap the pen shortly afterwards). For a fountain pen user, it wouldn't get much use, but it's nice to have in the collection. Also, there is a means of converting it into a ballpoint (using a special plastic sleeve and a spring, shown installed in the photos). Incidentally, Pilot does not make the felt tip cartridge any longer, but you can find a comparable replacement (Schmidt #5022) that will fit well after shaving a little of the plastic base below the tip.
All in all, I think the black stripe motif is a handsome look that never goes out of style.
[From left: Capless, MYU, Custom, Felt tip, Ballpoint]
Once you have enough of them, you can build your own little city [yeah, had a little free time!]
And of course a nice mini skyline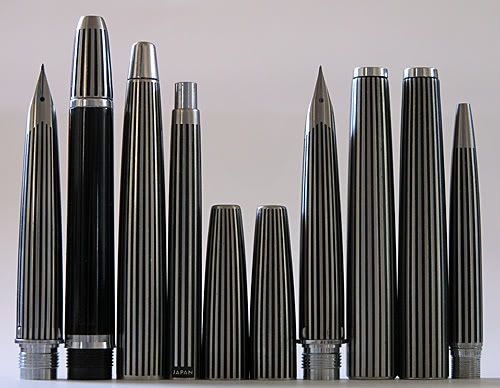 But I can't have all the fun
-- here's DocNib's pilot black stripe collection:
Odd... I swear, I didn't take my photograph with his in mind. But you'll notice he has the same order of models in his photo (going right to left: MYU, Custom, Felt tip, Ballpoint).
Edited by MYU, 01 October 2007 - 23:22.