Well, here it is. F-C's new model, the 45 XLV.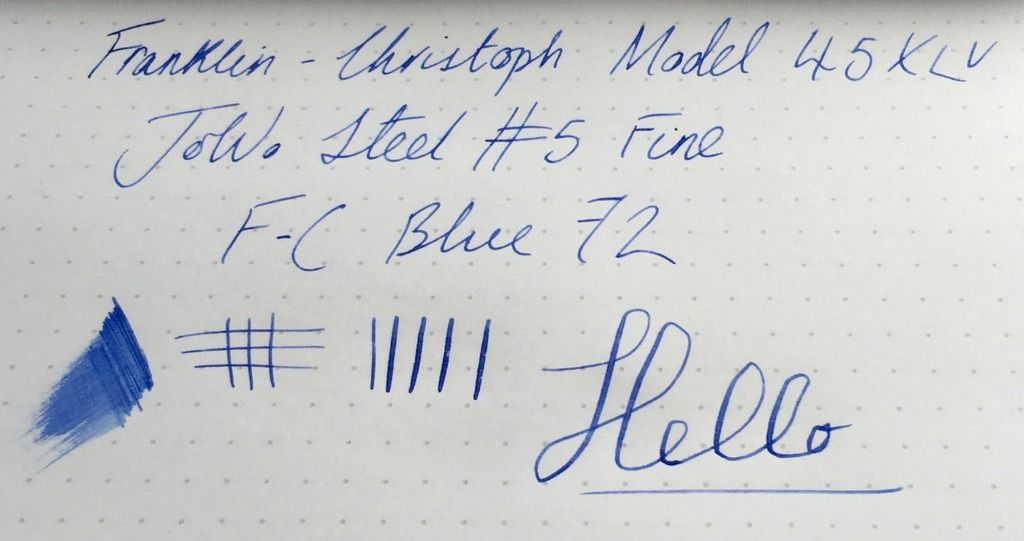 This is my 2nd FC Pen, the first being a 66P. I saw the 45 in Black on their Instagram page, and noticed it was at Initial Price Offering of $90 including worldwide shipping, so I thought I'd take a look, and shortly after looking on the website I purchased it. 
I bought the Pen on a Thursday night here in the UK, and on Monday morning, the FedEx van called round and delivered it ! That's what I call good service !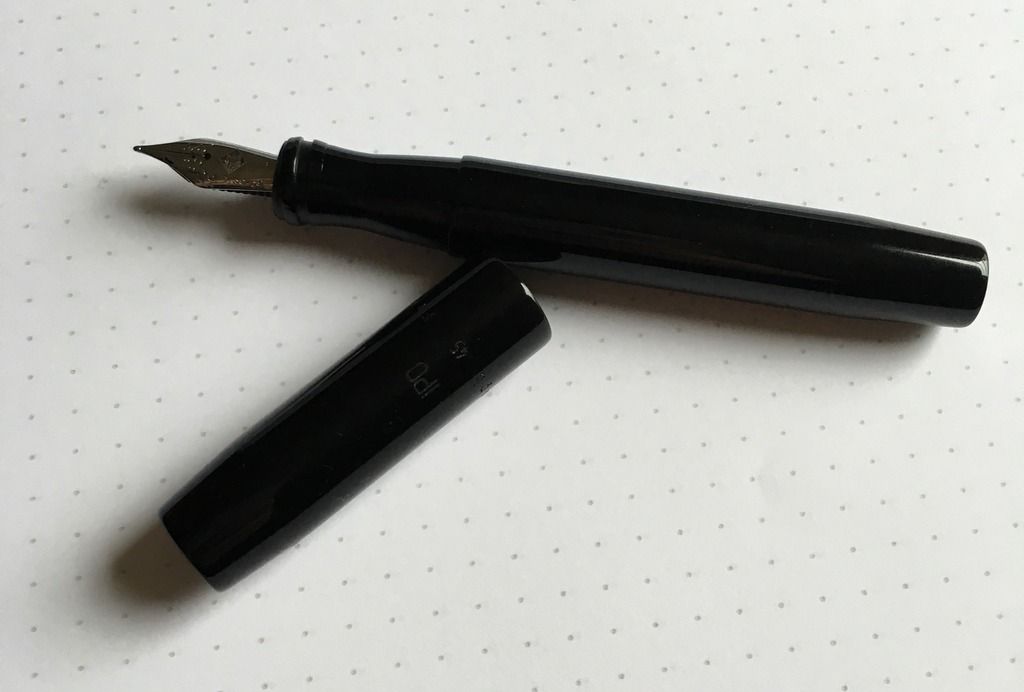 The pen came in their typical leather pouch and so I inked the pen with the included cartridge and began writing. 
The steel #5 fine nib is very smooth and puts down a line with medium flow, although it could be a little wetter. The pen is very comfortable in hand and is very light. The pen is small unposed, so I write with it posted, but it works both ways equally well.
The branding is typically F-C minimal, and the only markings are on the flat top cap, and in a band round the cap, where it is marked "Franklin-Christoph 45 IPO"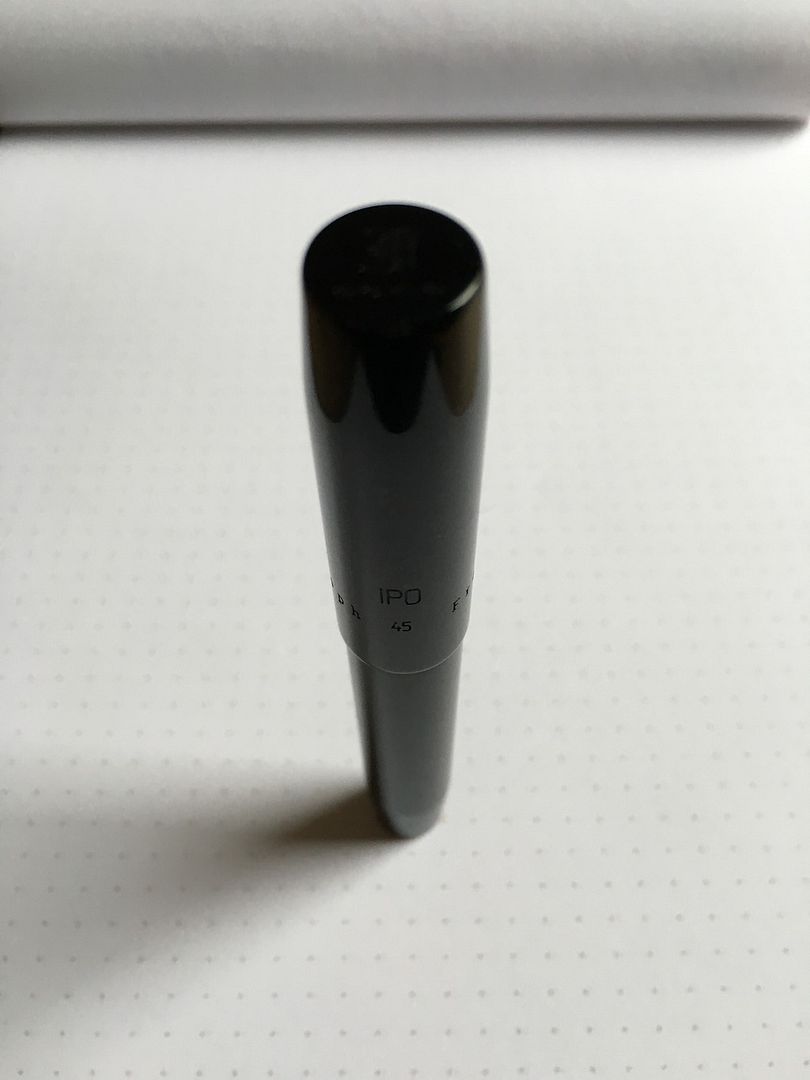 The cap unscrews in about half a turn, and the cap threads are the large block type at the end of the section. The section is hourglass shaped and I found no problems with comfort during long writing sessions. The nib never ran dry, apart from when the cartridge ran out, but I will soon convert the pen to an eyedropper as the section threads are very tight. 
Here is the pen compared to some others, from Top to bottom, Kaweco Sport, Model 45, Model 66 Pocket, Lamy Safari, Lamy 2000, TWSBI Eco  :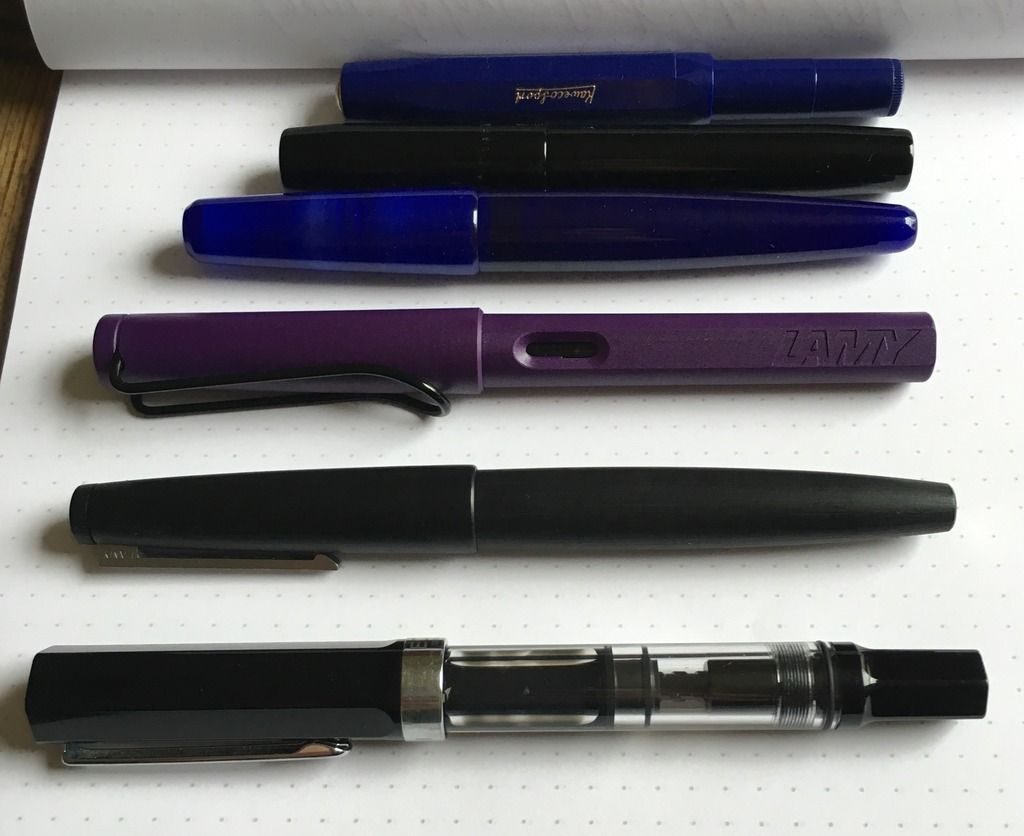 And posted :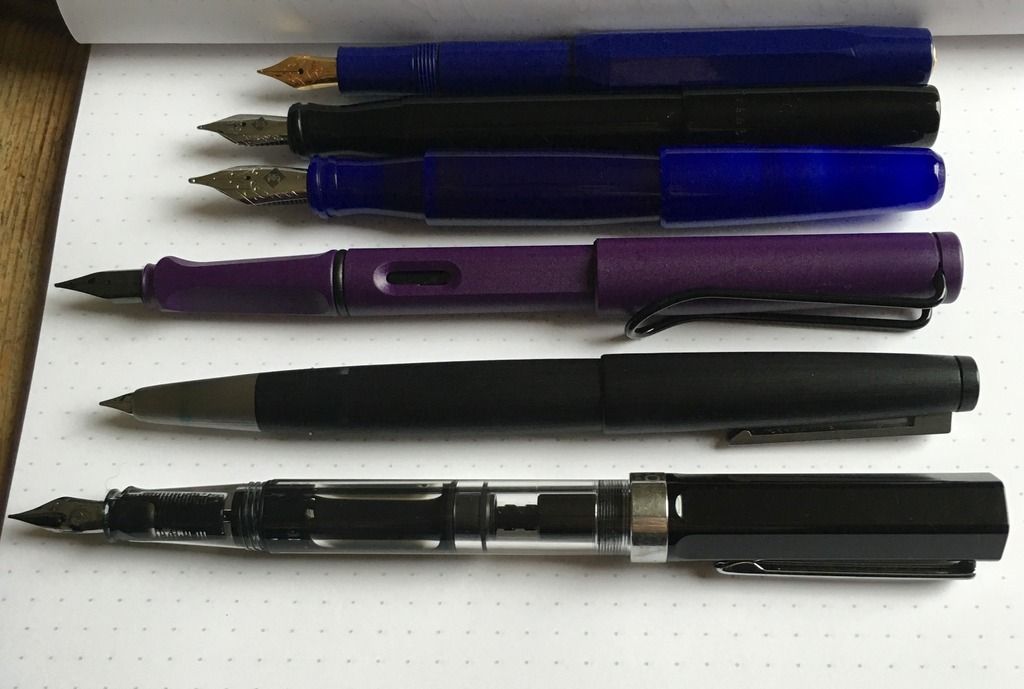 As you can see its not a big pen, although it's a perfectly comfortable size for someone with normal sized hands.
The fine nib appears on the fine side compared to other nibs :
It's a little finer than the Kaweco fine, and a little drier, but about the same as the Eco's Extra Fine nib. I quite like it; it's stiff with almost no line variation but a good solid flow. 
It's very well made to precise measurements, and here are some dimensions :
Capped length : 4.45" or 113mm
Posted length 5.60" or 142mm
Unposted length 4.12" or 104mm
I wouldn't hesitate to recommend it, and it'd be great premium upgrade to something like a Kaweco or a Lamy.
8.5/10 for the FC Model 45 XLV  in Black, Steel Fine.