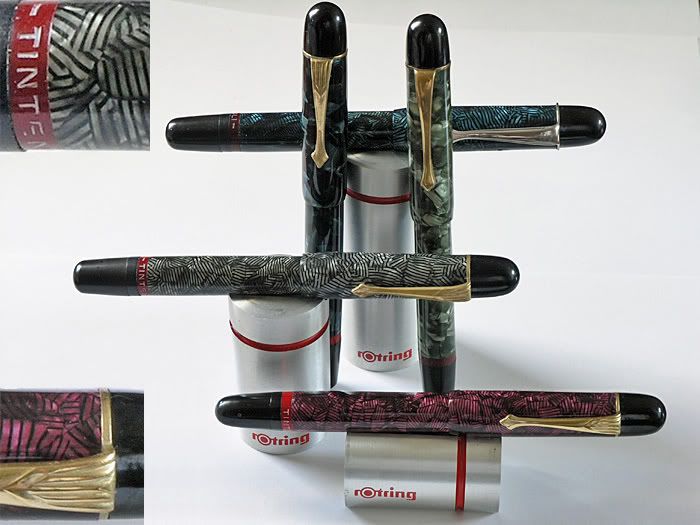 Stylographs were a rather interesting variation on writing instruments that appeared around the start of the 20th century. The advent of the technical capability to produce very small metal components (such as microscopic tubes and very thin wire) made it possible to make the stylograph a reality. It was initially thought that this design would replace the fountain pen, but in a rather short time it became clear that they did not have the writing facility that fountain pens have. However, they did find a very important niche in drawing/drafting and helped to revolutionize the industrial machine (draftsmen could create all kinds of highly detailed technical drawings).
I first discoverd technical pens when I was in high school. At that time Koh-i-noor was the well known brand name and I acquired a set of their stylographs. They were cartridge fillers, where you would use a special squeeze bottle to refill the cartridge when it ran dry. But one day I came across an older version in an art store. It was much more visually appealing, with its streamlined and tapered shiny black body. The integrated piston filling mechanism felt superior to me over the cartridge filler. However, the drawback was that you couldn't see how much ink was left in the pen. I bought it anyway and kept it in my arsenal of stylographs.
Years later, the advent of eBay exposed me to a plethora of the older Kohinoor stylographs, which I added to my collection. But one day I came across an oddly named version of this stylograph, called a "Tintenkuli". It was in rather bad shape, but I was shocked at how high the auction closed on it. It seemed absurd, compared to the $10 going rate for the Kohinoor model of the same design. Why was there such an interest? I would eventually come to find out, much to the dismay of my wallet! This discovery sent me down a path of acquiring a wide range of these older stylographs. But beyond their historical significance, many of them are quite beautiful to behold. And so, my collection began, all thanks to a man by the name of Dr. Wilhelm Riepe.
In 1920, a German man by the name of Dr. Wilhelm Riepe became acquainted with the stylographic pen while visiting America. He noticed that instead of a nib, the tip of the pen had a small metal tube with a thin wire running within it. The wire would guide a gradual flow of ink out of the tube, producing a nicely consistent fine line. The wire was attached to a counter weight that would close off the ink flow when pointing the pen downward--pressing on the tip onto paper forced the wire to push the weight up, creating a gap that allowed the ink to flow. This was not a known writing instrument in Europe, so Dr. Riepe took one with him when he returned home to Germany. After giving it away to a relative, word got around and soon he was receiving requests for more. Since Dr. Riepe was involved with the manufacturing of medical instruments, he decided to try making his own stylograph. He managed to succeed in creating a replica, and even improved upon the original one he had obtained in America. The pen very well received.
Dr. Riepe decided that he would need to mass produce this stylograph, so in 1928 he founded the Tintenkuli Handels GmbH factory based in Hamburg. His company produced innovative stylographic pens that featured a piston filling mechanism, an ink window, a well balanced ink feeding mechanism, and easily interchanged stylographic writing tips. The success of the pen grew and export surged to approximately 30 countries. The name chosen for the pen, "Tintenkuli", is the combination of "Tinten" (ink) and "Kuli" (worker). Thus, "ink worker". At that time in history, it was common to refer to a manual laborer from China or India as a "Coolie" or "Kuli", which could be taken as a racial slur. Thus, Dr. Wilhelm decided that the Tintenkuli pens were later referred to as "Tiku" pens (first two letters of each word), to be more politically correct. Eventually the slur was forgotten (thankfully!) and in Germany, "kuli" is now a synonym "ballpoint".
[NOTE: Photos provided are thumbnails that you can click on for larger images, to help reduce page load time]
First Generation Tintenkuli



First Generation Tintenkuli Celluloids
Third and Second Generation Tintenkuli Celluloids
The original Tintenkuli was made of black hard rubber/plastic all-throughout (the only color was provided by the signature red ring). The beauty of celluloid patterns used in fountain pens in those days caught the eye of Dr. Riepe, and so a number of models were made in celluloid with a variety of colors (red, green, blue, and gray) and patterns (marbled and "candy striped"). There were also some demonstrator models (completely clear bodies) made in later production years.
The very first Tintenkuli was a lever filler, but soon after a piston filling mechanism was developed. The piston was activated by turning the bottom section of the pen, but this was eventually replaced by a textured knob hidden by a blind cap (a design that was much easier to service). The internal piston screw mechanism had only two subtle design variations, the last one utilizing a plastic plunger instead of a cork seal.
The first celluloid Tintenkuli had a large rounded black cap top, which was later replaced by a semi-conical pointed cap, then finally with a small "streamlined" black dome. In all cases, the cap tops were used to secure the clip to the cap. Cap bands were either absent, single thick band, two or three thin bands, or a thick band surrounded by two thin bands (there was even a rare version with a raised Greek geometric pattern on the cap band). Clips also varied from year to year, with some curved and others straight with lined patterns. Some models had steel caps (similar to the Parker 51 lustralloy cap) and even a rolled gold cap with lined pattern.
The interchangeable stylo tips varied slightly in design (cone, short dome, long dome, and even a clear dome) and initially they all had the same sized tip (equivalent to a fountain pen medium nib). The very end of the tips were slightly rounded, so that the pen would write smoothly for every day use. Eventually it was clear that smaller tip sizes appealed to various professionals using technical pens, so a "spezial" (or "special") version was released with different sized stylo tips provided. These had less rounded tips, for greater drawing precision. One of the key innovations with the Spezial, is that the stylo tip base was squared-off so that removal could be easily performed with a nib key (the previous smooth rounded surface did not afford a good grip). The usage of clear tips came and went, then later reappeared. The initial advantage seemed to be the revealing of ink flow, but clear material would become stained by some inks and look unsightly. It may be that improvements in the material resulted in their return later on by Koh-i-noor.
Tintenkuli Variants
In addition to the stylograph, Dr. Riepe introduced the first rollerball pen, aptly named the "Roll-kuli" (the precursor to the ballpoint). There was also the "Blei-kuli" (mechanical lead pencil), the "Tikk-kuli" (ballpoint pen--'tikk' is for the sound the ballpoint makes when activated), and a "Farb-kuli" (multi-color mechanical pencil).
Roll-kuli, Farb-kuli, Tikk-kuli, demonstrators
The Roll-kuli had two tip configurations--straight and angled. It was thought that the angled one would more appropriately suit the writing position of the hand. At some point, Rotring made a clear Roll-kuli tip (very rare).
Roll-kuli variations
To help make his pen distinctive, Dr. Riepe had incorporated a small red ring near the base of the pen (just above the blind cap). It would be duly noted on the pen boxes that this is the stylograph "mit rotring", which means 'with red ring'. The trade name "Rotring" was secured around 1950, and by 1953 the Rotring Rapidograph became the quintessential technical drawing pen of its time. By the early 1970's, the Tintenkuli company name was officially dropped and succeeded by "Rotring-Werke Riepe KG".
Tintenkuli Boxes
Apparently for some period of time, pen production was performed in Argentina. The craftsmen there introduced some unique variations that were never produced in Germany (such as pen bodies made completely of aluminum, white celluloid, or clear plastic).
Tintenkuli Variants 2: Aluminum, Chrome Cap, Gold Cap, White, Original Black
As Rotring sought to establish a strong presence in the USA, it partnered with the Koh-i-noor pencil company in Bloomsbury NJ (the original Kohinoor company was founded in the Czech Republic in 1790). Stylographs distributed by Koh-i-noor in NJ were branded as "Koh-i-noor" Rapidograph pens, and the red ring was changed to brown with "koh-i-noor" embedded on the cap clip. "Made in Germany" was imprinted on the cap side, with a subtle presence (no ink was filled into the lettering). They were made in four different sizes (0, 1, 2, and 3). Rotring continued to make the Tintenkuli for Germany, but made a few changes--the word "Rapidograph" now appeared in place of "Tintenkuli" on the red ring, and the ink window was removed to cut production costs. Also the streamline design was phased out in favor of a more squared off design. Some years later, the Kohinoor branded stylographs reverted back to the earlier streamline design that Rotring had made, as a wide color scheme was devised to represent each stylographic tip size and the original small black dome seemed ideal to colorize (approximately 11 different colors were used). Exactly why Rotring diverged the Kohinoor brand in stylographic pen design is not quite clear. I haven't been able to find much information about the relationship between the two companies. It appeared as though Kohinoor had contracted with Rotring to make stylographs with their name for the USA, but eventually Rotring began selling "Rotring" branded stylographs in the USA in the late 1970's or early 1980's. It seems strange for Rotring to compete with the Kohinoor brand, as there were other competitors vying for business in the USA (such as Mars-Staedtler and Faber-Castell). Or, it may be that the two brands were targeting different buyers--Kohinoor stylographs used manually filled cartridges while Rotring styographs used disposable cartridges (handy for field work). At some point, Koh-i-noor may have stopped importing stylographs from Rotring and started manufacturing them in the USA, but I can't confirm that yet.
Koh-i-noor Rapidographs
There were 18 different sized tips: 6x0, 5x0, 4x0, 3x0, 00, 0, 1, 2, 2.5, 3, 4, 6, 7, 8, 9, 10, 12, 14
Tips were either steel, jeweled, or plastic (size 6 and up).
In any case, by the early 1990's, CAD (computer-aided design) quickly began replacing the technical drawing pen. Rotring moved fast to counteract this and diversified into a greater range of modern pencils, markers, and rollerballs. At some point, Rotring brought back the general writing stylograph with the introduction of the Rotring Altro. But by the late 1990's, the consolidation of writing instrument companies eventually reached Rotring, as it was acquired by Sanford. Before the acquisition was complete, Rotring managed to release one last pen under it's namesake--the Limited Edition Rotring Tintenkuli. This was a very large version of an iconic early model of the Tintenkuli stylograph, with a feature of interchangeable stylo tip and standard nib. In honor of the founding date of Dr. Riepe's company, only 1928 pens were produced.
Under the Sanford/Rubbermaid-Newell brand, Rotring no longer produces stylographic pens for the USA. In fact, it seems that Sanford might be planning to phase the brand out altogether. You cannot find Rotring among their "prominent" brands list on the company website. It may be possible that Rotring is continuing on in Europe, though. The Mars-Staedtler company (which was founded in 1835) now appears to be the most prominent maker of stylographs today. Koh-i-noor no longer has a physical presence in the USA, but in 1999 European Koh-i-noor completed an internal restructuralization of manufacturing and sales in the Czech Republic. ChartPak is the sole distributor of Koh-i-noor stylographs for the USA.
So there you have it--a "brief" history of the Rotring Tintenkuli stylographs.
I hope you enjoyed it.
As for comparing the stylograph to a fountain pen, I've actually been impressed with what a well maintained stylograph can do. Also, they present a very wide range of line sizes through interchangeable tips. However, there is no line variation possible, which is something often appreciated with a fountain pen. But for drawing purposes, it would be interesting to show a comparison between the two types of writing instruments. If only I could draw well enough to show people.
~Gary
SIDE NOTE: Do I have a stylograph that belonged to one of your relatives? On April 20th 1953, R. Priestnall received a stylograph while visiting Madame Lefevre at the Alexandra Lodge, Tiverton Devon England. He wrote "Bought in Liege with Madame Lefebvre. She gave it to me." It's a blue marbled stylograph with conical end points. On the sides of the box, R. Priestnall wrote all of those details. Liege is in Belgium, which I guess is where Madame Lefevre was from.
Edited by MYU, 20 May 2007 - 05:52.