Sailor Lapis Lazuli Limited Edition
First Impressions
I have never owned a Sailor Fountain pen and this was a good opportunity to buy one. This is another limited edition fountain pen made by Sailor for Swisher Pens. This is a Magellan with a different color and a different name. Unfortunately, Sailor discontinued the production of the Magellan series and my search for a used one came up empty handed. So while browsing Swisher Pens, I found this pen in the "Clearance Section" and "whalah" here it is!!!! When the pen arrived at my house, I opened the box and I found out that he pen is a bit skinner that I am used to but all of the Japanese pens that I own are roughly this size. I was given the choice as to what nib I wanted, I chose the "Music Nib". Since this nib is 21kt Gold versus the standard 14kt gold, I paid an extra $25.00 for it. I have been intrigued by the Platinum Maestro Music Pen with the double slit music nib that my Dad brought over for me to check out. I love how smooth and thick of a line this nib produces but also by changing the angle of the pen, you can produce a razor sharp line. So since I had the choice of nibs, I bought the Sailor with the music nib. I know you cannot go wrong with Sailor and even though this nib only has a standard single slit versus the Platinum double slit, I am sure this will be comparable.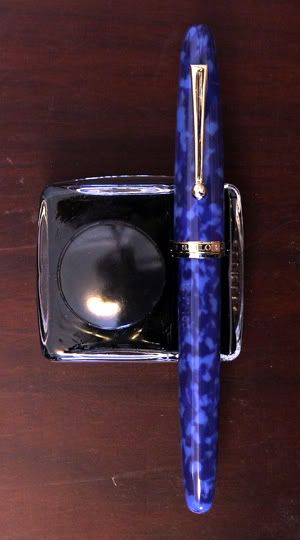 Appearance/ Finish
5 out of 5
I am partial to Blue and Black colored pens and since this pen is a marbled blue design, this was a deciding factor. The Lapis Lazuli is a gemstone that is considered one of the most expensive blue gemstones in the world. This pen has some of the same color characteristics as the gemstone, a gorgeous mottled dark and light blue pattern. The pen has a high gloss shine, like you would expect from a brand new pen from the factory.

On the barrel, as you would expect, there is the limited edition number imprint. Mine is "127/150" and there is nothing fancy about this imprint, it is sort of lost in the mottled blue color design on this pen
The Bexley Submariner looks like a bigger brother to this Sailor pen. It is strikingly similar especially with the shape and the clip. Along the high shine gold cap band, it reads "Sailor Japan Founded 1911" Since I do not own any other Sailor pens, I guess this is a standard band. Please correct me if I am wrong.
Design/Size/Weight
5 out of 5
As I said, this is a Magellan with a different color and name and there are very few if any design differences. The weight of this pen has a nice medium feel to it. It is very well balanced and writes as well posted or not. I am more comfortable with the cap posted; it provides a nice counter balance to the pen in my hand. The cap its self is much heavier than the rest of the pen due to the amount of metal that is in the cap band. I do not see much of a chance of a cracked lip on the cap. It looks like Sailor looked ahead to develop counter measures for the "day to day" wear and tear.

The length of the Sailor capped is very close to the size of the Pilot/Namiki Vanishing point. The diameter is slightly smaller on the Sailor. This pen really fits well in my hands and also very comfortable. There are no complaints with the design, size or weight. Sailor did their homework, too bad that they have stopped production on this wonderful pen
Nib Design and Performance
5 out of 5
Here is where things really start to get interesting, due to the fact that this is an unusual nib. I have only written with a music nib once and that is with the Platinum Maestro Music pen. I wondered if there would be a difference in performance from the double slit of the Platinum versus the single slit of the Sailor. I wish I would have scanned in the results so I could show you. In my test, I found both nibs to perform neck and neck. They both had a nice juicy broad line on the down stroke, while both had a razor sharp fine line on the side stroke.
The Platinum has a 14kt gold nib while the Sailor sports a 21kt gold nib. One would expect the 21kt gold nib to be a noodle. Well, it is not!! The 21kt feels a little bit more spongy but not by much. Both pens perform flawlessly in every test I tried. You can have the shabbiest handwriting in the world, like me. When you start using this nib, the chicken scratch starts to look like nice handwriting. This pen has enabled me to write more legible and crisper. Since this nib is so different, it has its place in my collection. I cannot use this kind of nib on a daily basis because I find it somewhat limiting. I almost consider this nib a novelty; it does have its place. It performs flawless in writing letter where isn't a time limit. I find it a very artistic nib and so does my wife. She won't give it up, so I have to sneak and snatch it from her.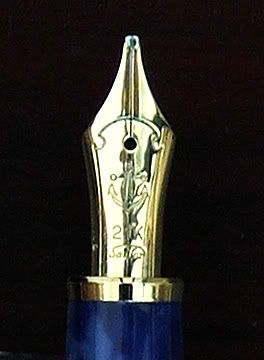 The Filling System
3.5 out of 5
This pen has a typical cartridge/converter filling system. Unfortunately, Sailor pens use a proprietary cartridge and converter. These cartridges and converters are not readily available at Staples, Office Depot and Wal-Mart. You generally have to resort to a specialty store to purchase these items. At least, the Sailor cartridges and converters are more readily available than Platinum converters and cartridges.
As I stated with the Platinum Purple Passion review, I really wish that they would have used a more universal cartridge/converter system. But then again, this is how manufactures milk the consumers and make money. Thank goodness I use the converter, it really alleviates these problems!!
Cost
3.5 out of 5
This pen is a bit on the costly side, especially when you can buy one of the new Sailor 1911M pens for $25.00 to $30.00 less than the Lapis Lazuli. This might be one of your last chance to own a brand new limited edition Magellan fountain pen. Also you can chose the 14kt gold nib and save about $25.00 or you can spend the extra $25.00 for the 21kt gold nib and try the Music nib, Zoom nib or the standard sized nibs.
Conclusion
In all, this pen is made very well and the only major complaint I had is the proprietary filling system. The pen writes nice, looks nice and hell, it is nice!! This is a limited edition pen out of 150. So if limited editions are up your alley or you want a special edition Magellan fountain pen, then this might be for you. As I said, I do not use this pen everyday due to the fact that this pen is not good at taking quick notes or writing checks for bills, in my opinion. This pen does have its place in my collection, especially for formal letter writing or artistic stuff and I even use it to write in my journal. But remember, this review was for the Sailor Lapis Lazuli WITH THE MUSIC NIB!!! If you have a use for it or you want to improve your handwriting, then this is it. www.swisherpens.com
Edited by The Noble Savage, 23 June 2005 - 15:07.