At LA, I also picked up this gem. (In the 30ml nagelene bottle) I say "gem" because of it's insane pink sheen.
You can see some of the pink sheen on inky here, but in reality it's much stronger.
I swear that this isn't blue, no matter what my scanner says. To my eyes, it's a true turquoise that has a lot of green in it, but it looks much bluer in the scanner (and also in other reviews.)
The ink sploosh. Again, the color is much bluer than real life.
I noticed that this ink is WET! It may be the wettest ink I've ever used. I don't know if I appreciate that, as my pen (an old Conklin with a feed designed for IG inks and flex nibs) is already a gusher.
It sheens crazily, but also smudges quite easily on ink-resistant paper- the I blame the blue marks seen on the Maroon review on this, as they were on the same page and went in the scanner together.
Behavior on lesser papers is the usual - it spreads and bleeds (due to sheer wetness) a bit, but does not feather. Water resistance is also minimal.
Staples bagasse paper 
(Quote from Giacomo Joyce)
ditto; diluted
Kokuyo filler paper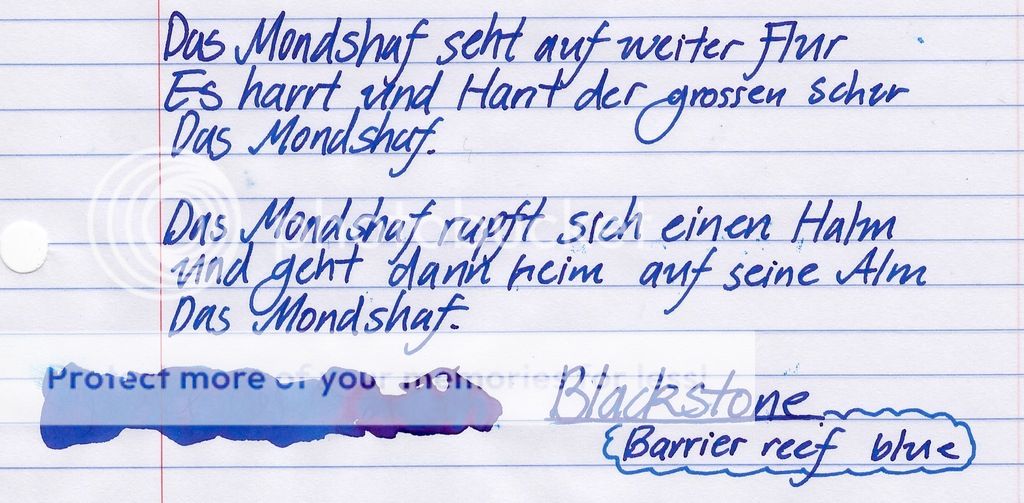 Paper from Daiso Notebook (bluecover);very thin but very ink resistant, and makes anything sheen on it (with glacial drying times). Quite a strange paper.
(Poem by Christian Morgenstern, from Galgenlieder)
Maruman Mnemosyne
(2nd half of the above poem)