The Karas Kustoms Fountain-K is one of the first pens in a while that has piqued my interest.  I wasn't sure if I would find time for a full review, but here we are!
First some background:  Karas Kustoms (headed by Bill Karas) got their entry into the pen business by machining rollerball and ballpoint pens out of aluminum.  The "Ink" was their first venture into fountain pens, and the Fountain-K is their second model.  However, the Fountain-K is closely derived from an earlier rollerball design, the Render-K.  The Ink is their full-sized fountain pen, and the Fountain-K is the more compact model.
Karas Kustoms is a machine shop, and these are machined metal pens.  They are available in aluminum, brass and copper.  The brass and copper pens are, of course, more costly and much heavier, and they are sold with a bare metal finish that can tarnish and develop a dark patina over time -- attractive to some, and perfectly in line with their industrial style.  My personal view is that people new to the pen hobby are often attracted to heavy pens at first but then come to prefer more lightweight pens as they gain experience.  (This was definitely true for me.)  Thus, I tend to view the copper and brass pens as novelty items to some extent, and I think the aluminum pens will be the real mainstays in the long run.  Also, the aluminum pens are available in many anodized colors, or in a "raw" tumbled aluminum finish for that industrial look.
Karas Kustoms does not make "custom pens" in the sense of a company like Edison.  What they do, however, is offer all the interchangeable parts that can be assembled in many combinations.  You can choose your material and color for the pen body, your material and finish for the grip section, and then choose from EF through B nib tip.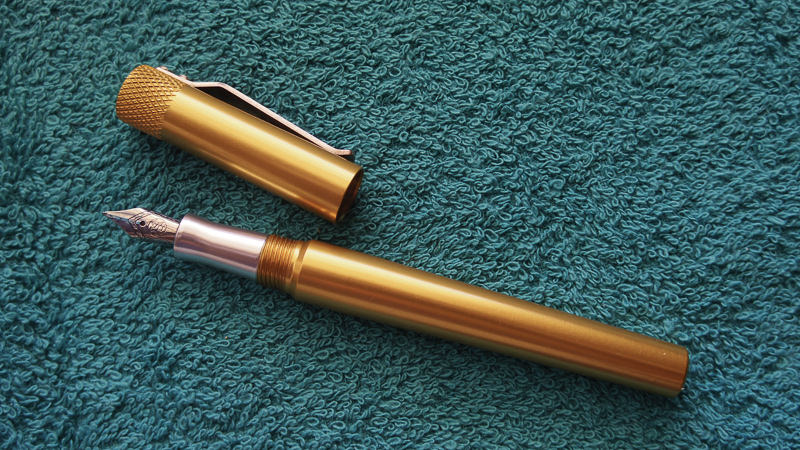 I got my pen with a gold-anodized aluminum body, silver-anodized aluminum section, and a F nib.  The price was $75, which is perhaps more than an impulse buy, but still nicely within the sub-$100 affordable category.
Even though the Fountain-K looked very attractive to me in pictures, I also had some points of skepticism.  Would the pocket clip be too stiff?  Would the cap seal well and not dry out?  Would the cap come loose in my pocket?  This is a product from a relatively new-and-unproven company without a track record in fountain pens.  Do they know what they're doing?
After having the pen for a while, my conclusion is. . .  Yes, they do.  Mostly.  I did have a few issues to sort out with mine.
First there was the burping.  Immediately after filling the pen, it burped ink onto the page.  It did this with every ink that I tried, and it did it twice in quick succession, and then the ink flow continued to be erratic for a little while, but gradually settled down.  I blamed this at first on the nib or feed, but then a FPNer suggested that I try a different converter.  I was lucky enough to have an identical spare converter (from Goulet) on hand to try, and it fixed the problem.  I can only presume the original converter wasn't making an airtight seal onto the feed nipple.  As far as I can tell, this was a freakish problem that few will encounter, and it could happen to any pen that accepts a converter.  It's not a Fountain-K issue, as such.
The second difficulty was with ink flow.  As is all-too-common with new pens, it was a dry writer.  Too dry.  I pondered a nib swap, but the Fountain-K nib has an unusual profile and doesn't swap easily with other No. 5 nibs.  You really need to change out the entire nib-and-feed assembly.  However, I noticed it seemed to get a little better as I wrote with it, and I thought, "Maybe it just needs some breaking-in?"  I made a series of firm strokes down the back cover of a notebook, flexing it pretty hard.  Suddenly the flow was good!  Easiest nib adjustment I ever made.  Once adjusted, it performs as I expect a contemporary, made in Germany, fine steel nib to perform: firm, smooth and perfectly serviceable.  No surprises there.
Now, with the pen writing as it should, I could focus on more details of its design and construction.
Cosmetically, I agonized a bit over the choice of color and finish, even though (or perhaps because!) they all looked good in the photos.  The gold color pen I picked does not disappoint.  The anodized aluminum has a satin luster that cannot be mistaken for gold metal, but it does somewhat resemble clean brass.  The cap has one tiny "flea bite" ding, but it's only visible when I look closely.  The knurled (checkered?) cap, slightly rough edges of the pocket clip, and exposed clip screws all reinforce the industrial styling.  It does look good!  It's sharp looking without being at all pretentious.  In that sense I think it falls into the same stylistic category as a Lamy 2000 or a stainless steel Sheaffer Targa.  Nobody's going to take it for a "status" or prestige pen, but nobody's going to see it as shoddy either.
This is a very easy pen to carry in a pocket or pen loop.  I often wear a canvas vest with a pen slot sewn into the pocket, and the Fountain-K fits very neatly into that space.  The tension on the clip is perfect, and it does not snag or chew on the fabric.  The knurled portion of the cap makes a perfect handle when pulling out the pen to use it.  The smooth profile of the body and cap also allows it to slide in and out easily, and I don't have to worry about wear from the canvas upon the super-tough anodized finish.  Portability is a strength of the Fountain-K.
The "guts" of this pen are pretty standard.  The nib-and-feed assembly is German made, and the converter is a standard Schmidt K5.  It's not a screw-in converter, which I would usually prefer (and which might have avoided the problem I had with that first converter), but the pen body is perfectly sized without any extra space for the converter to shift about.  The only unusual thing to see here is the very small nib.  It's a No. 5 nib, but it's shorter than most and has a very specific profile to fit into a recessed area of the feed.  I don't think I've seen a modern fountain pen that puts my fingers this close to the page, and I don't particularly like it.  For my money, I would have preferred a more standard No. 5 nib like you'll find in a TWSBI 580, for example.  On the other hand. . .  If you are accustomed to writing with ballpoints and want a fountain pen you can hold similarly, then you might love writing with the Fountain-K.  If you have very small hands, then you might love it.  For me it's not going to be the most comfortable for long writing sessions.  However, in the context of a "carry" pen that I'll be using away from the house, scribbling down quick notes, signing documents or writing a check -- then it's OK.  (And let's not forget, the Karas Kustoms Ink is bigger and has a larger nib!)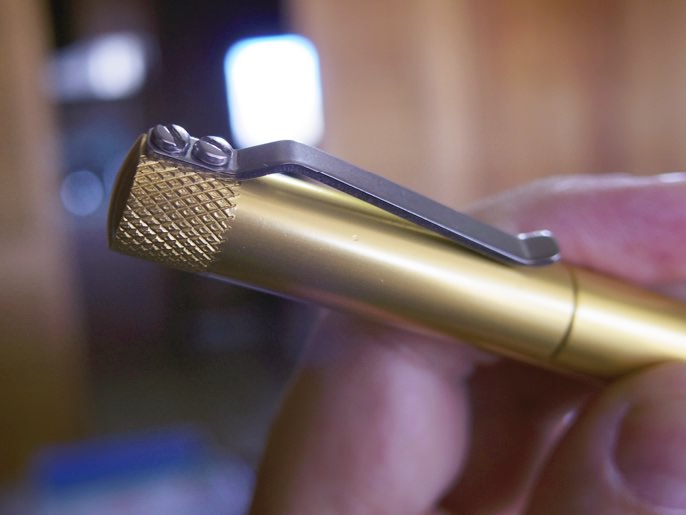 After using the pen lightly for a few days, I encountered another problem.  The two tiny screws holding the pocket clip in place came loose!  Luckily I caught them before they fell out.  The fix for this was easy: use a small screwdriver to remove them, put a tiny dab of threadlock compound on each screw, then put everything back together.  It should be good now.  However. . .  This is not a fault that I can easily dismiss.  It would have been very easy to lose those screws, and then my pen would have been out of service until I could get replacements.  Not everyone has a tube of threadlock laying about in their toolbox either.  Pens have had pocket clips for many decades, and the vast majority have been designed in such a way that the clips won't spontaneously come loose.  Even simply applying threadlock when the caps are assembled would probably solve this.  Why don't they?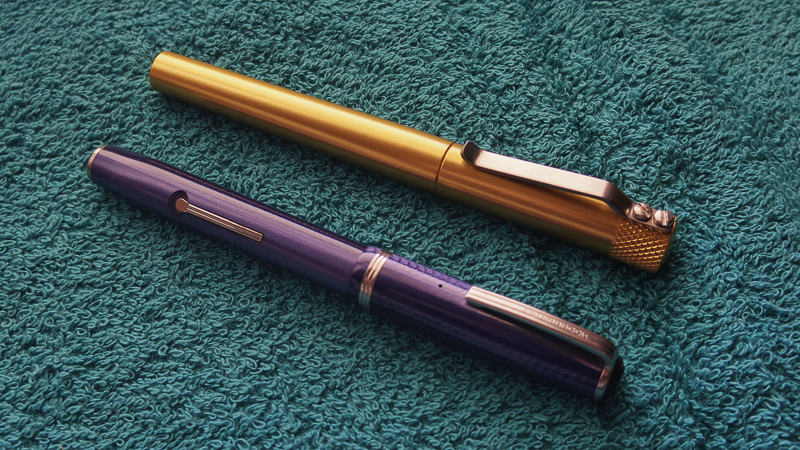 After carrying and using the Fountain-K for a while, I realized this is no Lamy 2000 and this is no Targa.  It's a less expensive, less sophisticated pen.  A better comparison might be the good old Esterbrook J.  The Fountain-K is actually very close in size to an Esterbrook J, and it shares the traits of toughness, compactness, customization and affordability.  If Esterbrook was still in business today -- and was owned by Alcoa -- this is the pen they might give us.