Rohrer & Klingner is an old German company, established in Leipzig in 1907, reputed to be one of the best ink manufacturers in the world(yet at the same time keeping a low profile....or at least seems so IMO).
Most of their inks are well-behaved, relatively cheap, and with steady quality.
Among their 18 regular colors, two are iron-gall inks, and Scabiosa is one of them.
The word "Scabiosa" refers to a genus in the honeysuckle family of flowering plants.
FIY, here are some beautiful Scabiosa flowers( picture credits: google search)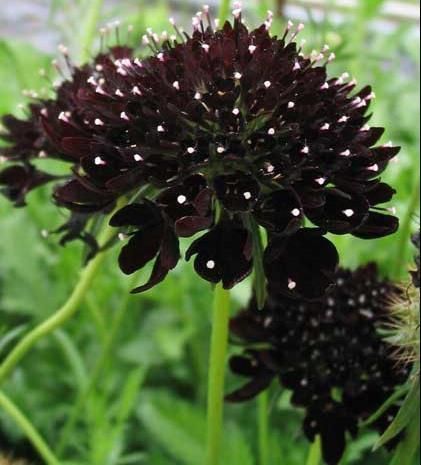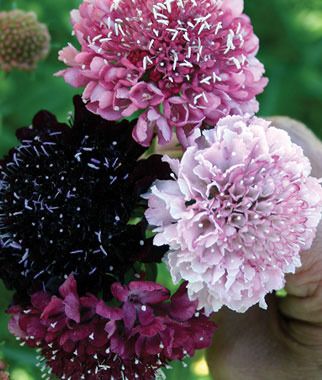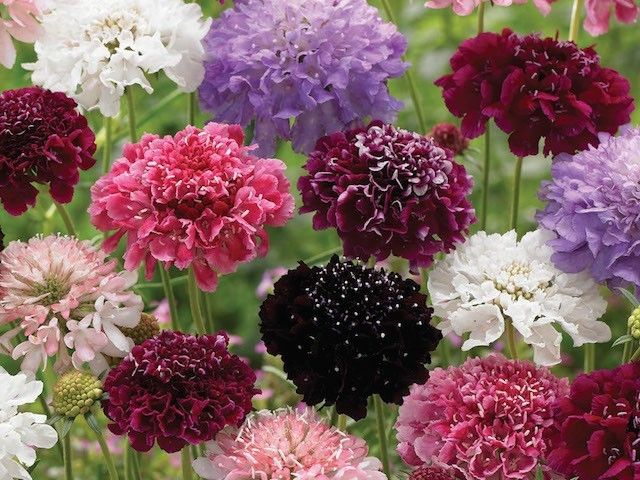 Botanically/Academically, "Scabiosa" in Chinese should be translated as 山蘿蔔, literally meaning "Mountain Radish."
However, because "Mountain Radish" sounds so NOT commercially appealing, when R&K's Taiwanese agent first introduced this ink, they renamed it 埃及玫瑰---"Egyptian Rose."  
Many FP users(yes, including me) fell for this exotic name, and purchased a bottle before learning more about the ink itself.
Well, salute this ingenious marketing strategy! lol
Now back to the theme....
First, let's take a look at the bottle (Scabiosa on the right):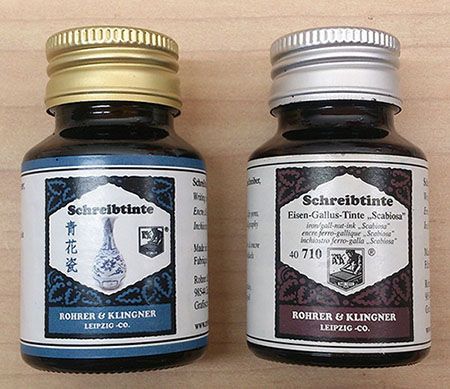 R&K's trademark is their uniform bottle design: dark brown glass bottle (in order to protect the ink from light exposure) and metal cap.
We often joke about it resembling cough syrup, or any other thing that you'd more likely find in a pharmacy instead of a FP shop.
Here are some writing samples: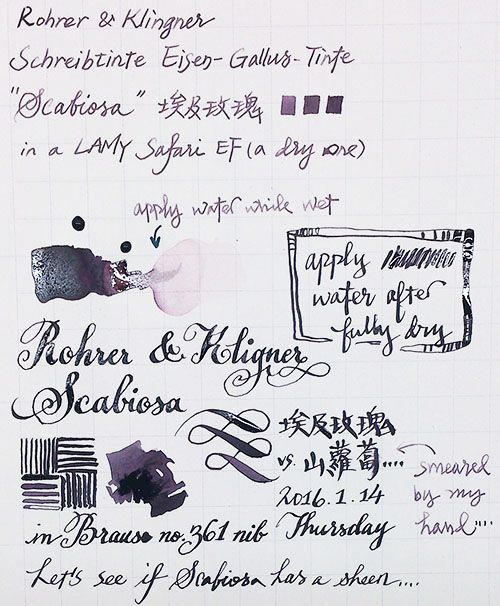 It's dark purple with tints of gray and blue.
Close-up 1 (sorry for fuzzy picture)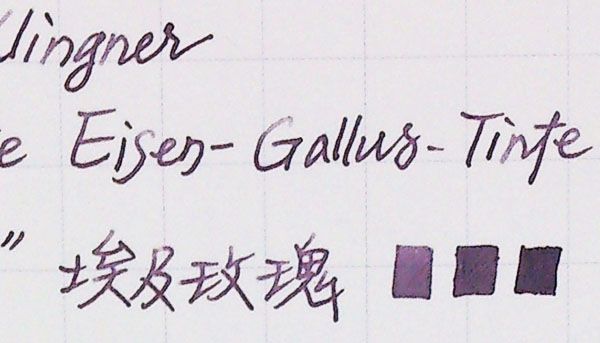 The purple color is lighter and more visible in a finer nib (in this example: LAMY Safari EF).
You can see that even in a rather dry pen, on some random cheap paper, this ink still shows a rich shading.
Close-up 2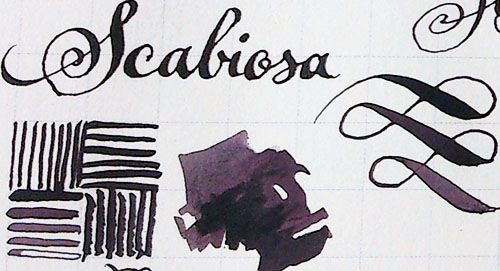 If you use a broader/wetter pen(in this example: Brause no.361 dip pen), it gets darker and can almost pass for black.
Close-up 3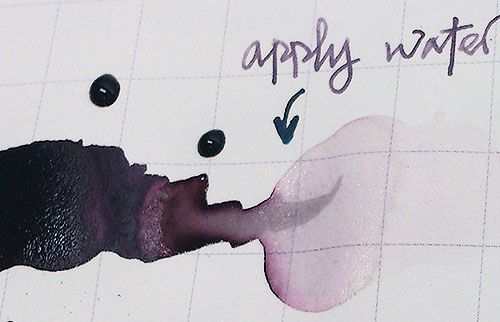 If you apply water to the writing while the ink is still wet, the purple/pink dye would be washed away, leaving a light gray trace.
And since iron-gall inks feature being permanent/waterproof/light fast, here is a water-resistance test done after the ink is fully dry: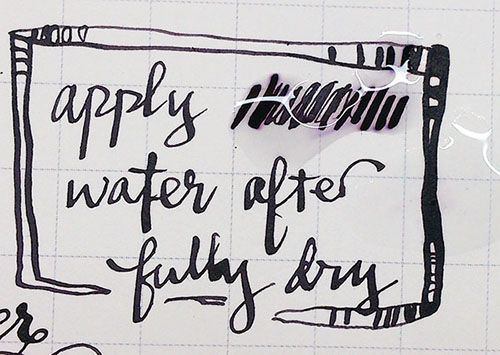 I dripped some water on the paper and left it for hours.
Outcome:
Pink dye dissolved after a few minutes, but the lines remain as clear and dark as before.
Thus, if you quickly dab away the water while it's still wet, there will hardly leave any trace(shown below ).
Here are some other writing sample I did with other pen/paper combination:
1. LAMY Safari EF on yellow ROSSI paper (English subtitle edited on Photoshop)
2. Dip pen on yellow ROSSI paper
When I did the smearing(bottom right), the ink wasn't fully dry yet, and some black particle dissolved...
This doesn't happen all the time, though.
3.  LAMY Safari EF on MUJI white grid paper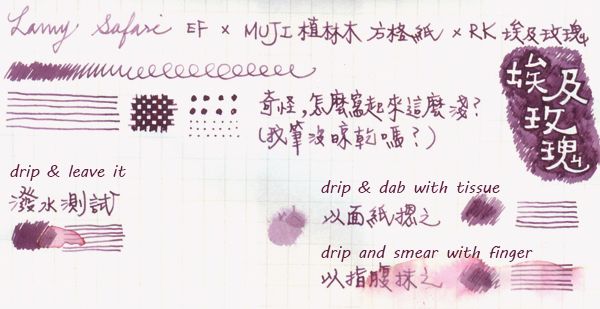 Usually the color of iron-gall inks fades and becomes darker and darker over time, but sometimes there will be exceptions, due to the paper and humidity( I guess....)
This is a doodle I did with Scabiosa, dip pen, on some cheap scratch paper, in June 2013:
(wet)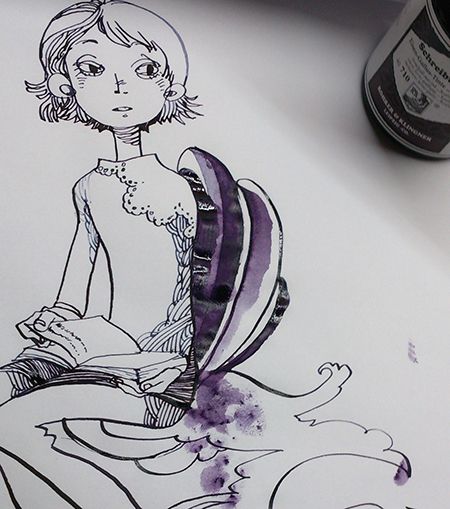 (dry)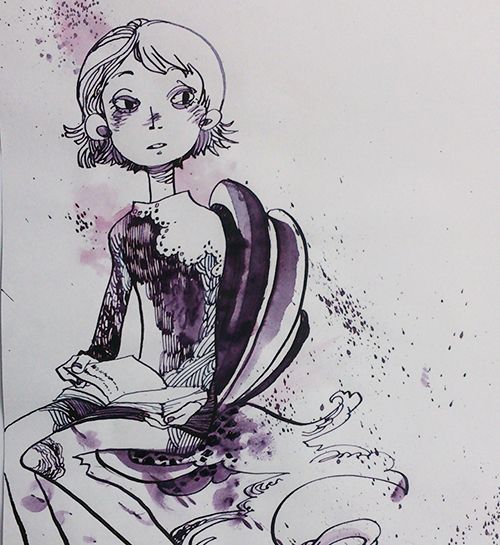 And then I re-discovered it lately when tidying up my room:
It's not purple anymore!  More like a lighter wine-color, or rusty red(because of the iron in it?).
.......I kind of like this surprise : )
Conclusion
Saturation: high, but low chroma( they don't contradict, right?)
Shading: rich
Sheen: not observed so far.  It's a rather "matte" ink.
Flow: relatively dry, but still writes smoothly even in extra fine nib.
Feathering: none (performs nicely even on cheap paper)
Bleed-through: none (performs nicely even on cheap paper)
Show-through: very little (performs nicely even on cheap paper)
Cleaning: if you always clean the pen right after using, some soaking and flushing with water will easily do the job.  None of my pens has been stained or damaged after two years of constant usage.
Waterproof: yes
Other features: light fast; pH neutral.
Other notes: the pink that shows after water application is lovely.
Overall, I not only like this ink/color, I feel like I can TRUST it like an old loyal friend.
This is my all-time favorite for secret diary, especially when I'm writing something really personal/emotional/confessional.
I am ambitious to try as many different inks as possible in my limited life, but R&K Scabiosa is, so far, the only one I would empty a whole bottle and get a second one.
Edited by chingdamosaic, 17 January 2016 - 18:56.