1. First Impressions - (4/5)
Bic is well known as a ballpoint pen maker at least here in the US. So imagine my surprise when I see this package at a local grocery store in Paris. The pen was packed on a card with one short international size cartridge of blue ink. There are 13 languages on the back of the card that give simple directions. It looked like it was marketed for the schoolkids. Bic was probably trying to cash in on the active crowd being that it is a fairly compact pen and the name began with an "X"
I just had to get it and try it out!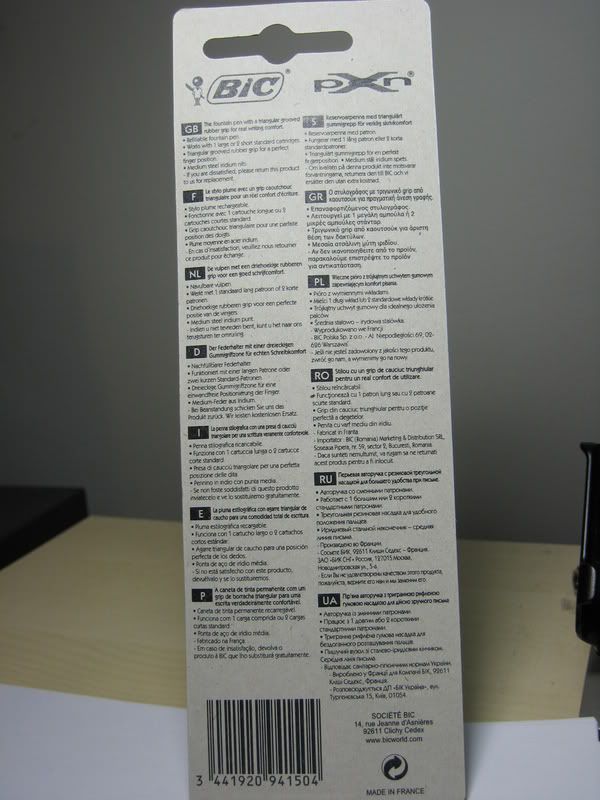 2. Appearance & Finish - (4/5)
Being a converted FP user, I did not have high hopes of it surpassing the good ole Sheaffer NoNonsense pens. This was a ballpoint manufacturer wasn't it?
The fit and finish of the pen are pretty good. You can see that there are design elements were purposeful such as the rubberized grip and ribbed front part of the section to help keep the cap on.
3. Design/ Size/Weight- (4/5)
The plastic pen is pretty small. The pen measures 5 inches capped, 5 and an eighth posted. Comfortable enough to put in your jeans pocket. The weight is minimal and somewhat attractive in that it was blueish and clear.
I really liked the rubber triangular grip and the snap of the cap to the section sounded clean. The clip is reminiscent of the Stypen clips I've seen - short cap, long clip.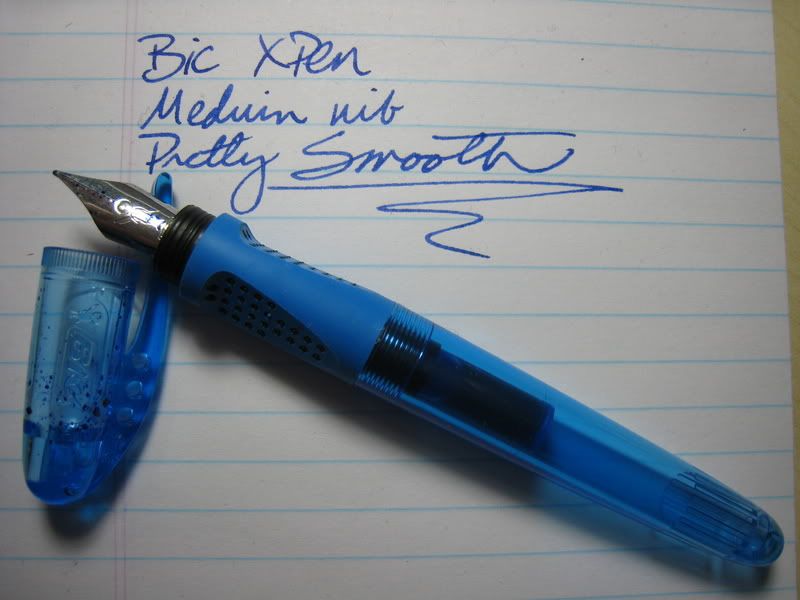 Notice the ink spots inside the cap. This pen was in my pocket for a couple of days
4. Nib Design & Performance- (5/5)
The nib is a medium tipped steel nib. It even had a neat little stamp of the Bic guy on it. It writes smoothly and it still wrote after lying around for three months!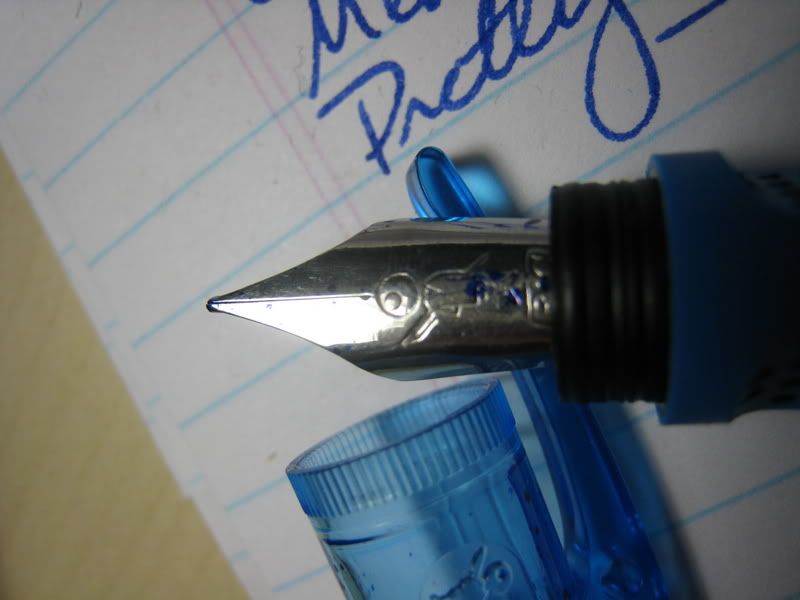 5. The Filling System- (3/5)
The XPen uses the short cartridges.
6. Cost/Value- (5/5)
I bought this pen in Paris, France at a grocery store for about 6 Euro. I think it was a pretty good value for the price.
7. Overall Opinion/Conclusion- (4/5)
Overall, I was very surprised to have a fountain pen come from Bic that I actually did not dislike. I'm sure it was due more to the Stypen manufacture than the Bic ballpoint aura. The pen is comfortable with the rubber grip and the girth is wide enough to let you know that you have a pen in hand. It writes smoothly and wrote on the first stroke after a long time of non use. I will not replace my OMAS or vintage Parkers for this pen, but I would not be upset to have it around. I think it is a great pen for the student and for people who just want to have a smooth writing pen.
On an aside, I think it's cool that Bic is entering the FP market. It may well mean that fountain pens for the younger generation won't be going away soon if a large manufacturer like Bic starts mass producing these nice starter pens.
-Alriel
Edited by Alriel, 22 April 2007 - 14:35.