Sorry that the pictures of my last two posts had some problems showing....
This time I'm trying the "Attach files" function and photobucket, hope they both work!
(they seem fine in preview, though...)
----------------------------------------------------------------------------------------------------------
J. Herbin 1670 Stormy Grey
A grey ink with gold flakes, released in late 2014 by J. Herbin.
This is my first bottle of shimmering ink, and I'm sure it will stay on my fascination list for a while.
Look at the box and bottle design---even if you are not actually using the ink, it makes perfect decoration on the desk.
It's said that the 1670 bottles are handmade, thus imperfectly shaped.
I love this.
(and I accidentally cracked the seal)
There is a thick layer of gold flakes.  I tried to take a picture of it but it sank really fast....
....and formed an interesting pattern....
On cheap calculating paper, with Noodler's Creaper:
the color is a pure and clean grey, comfortable to read.
When it dries, it gets a little brownish or purplish, depends on the paper you use.
I didn't give it enough shake, so there weren't a lot of gold flakes here.
Only visible at certain angles,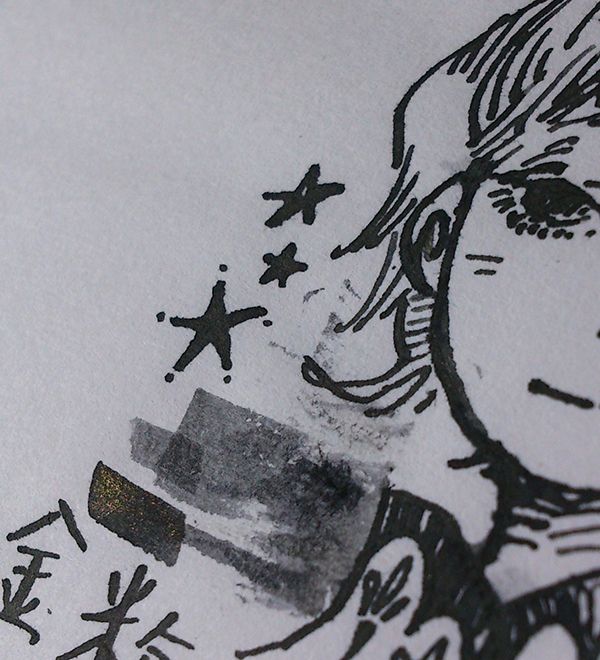 or under sun light: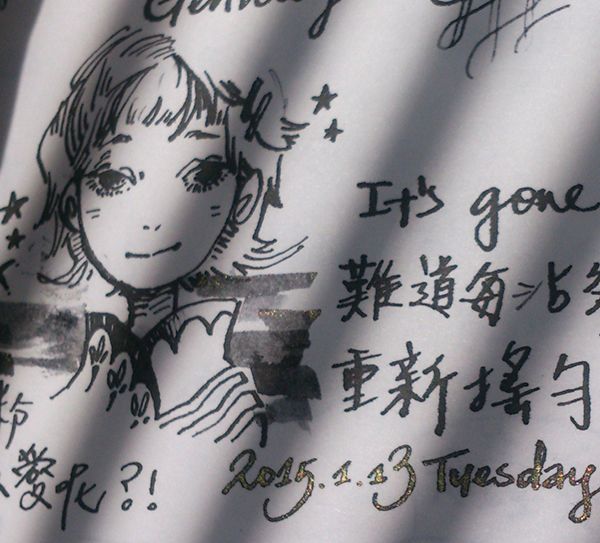 And here is what it looks like if you get too many gold flakes:
(with dip pen, on sketch paper)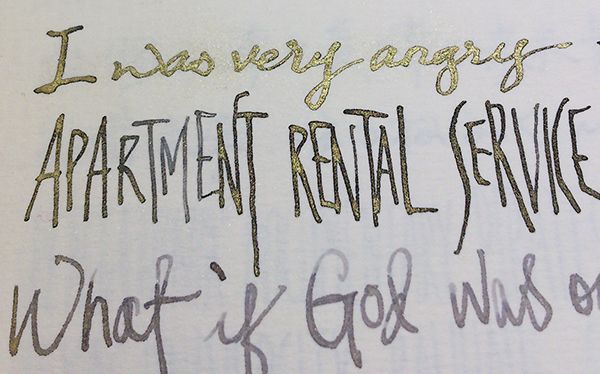 You get a thick layer of gold shimmer..... and the grey ink vanishes.
BTW, the bottom line is a diluted version; kind of looks purplish.
And on another grid paper, with Noodler's Creaper again: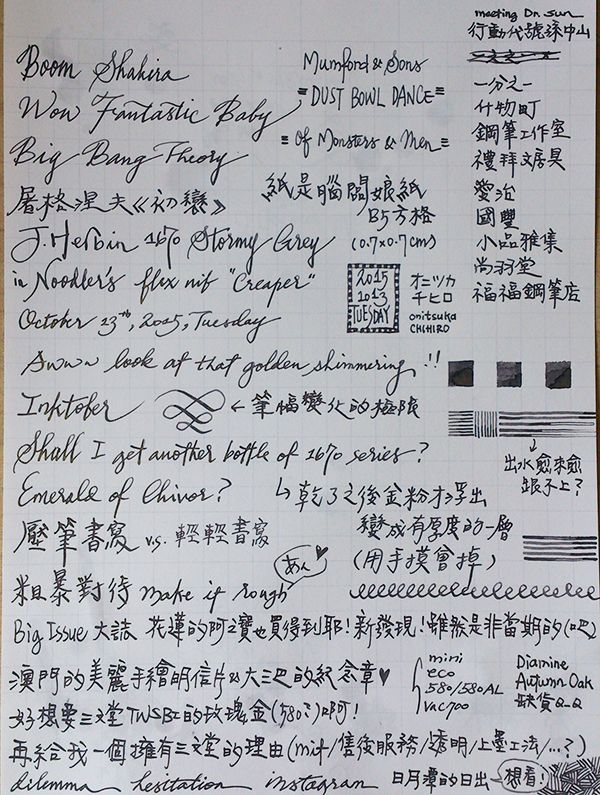 close-up 1:  the shades
close-up 2: shimmer shows when tilting the paper.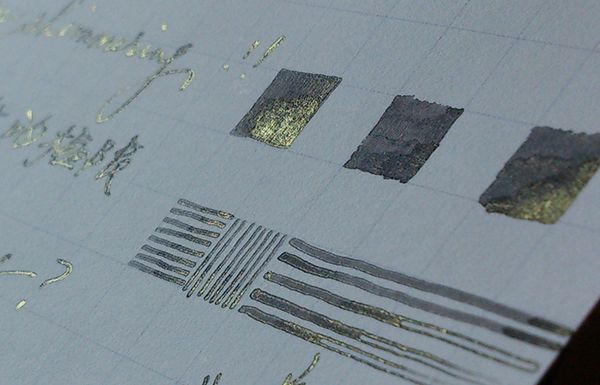 close-up 3: more shimmering

Water resistance test, on MUJI grid paper with dip pen: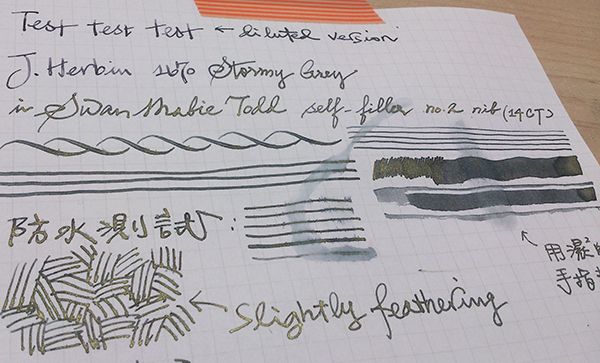 Unintentional ink drops:
Doodle with syringe, water, and Noodler's Creaper: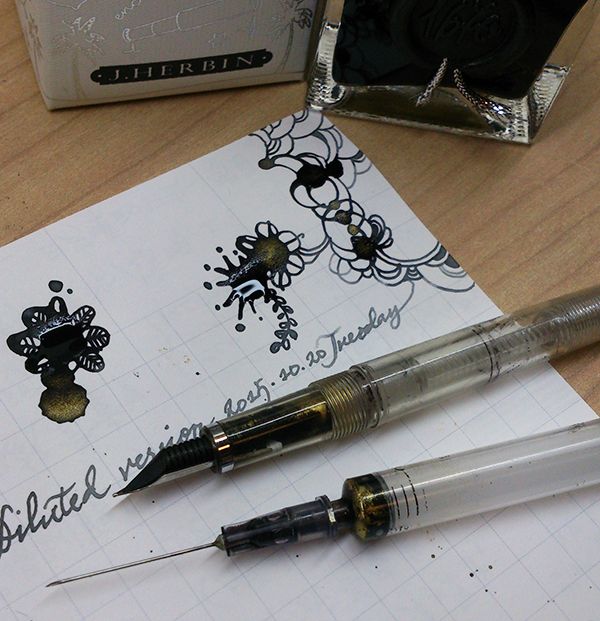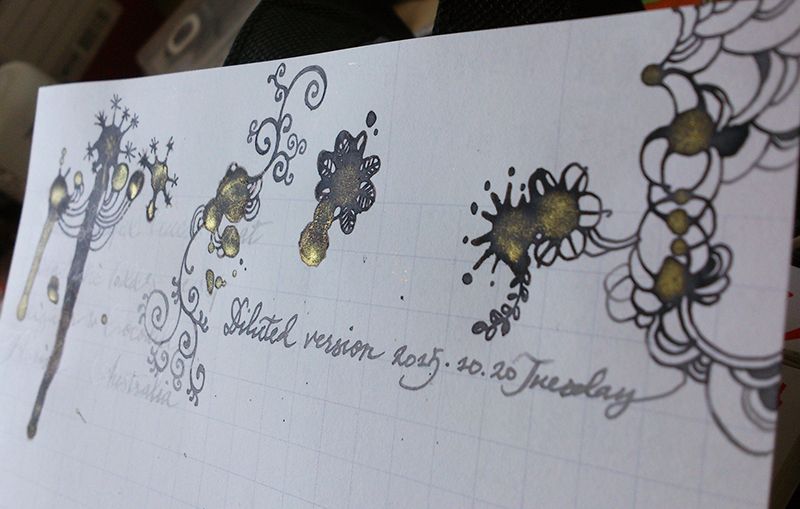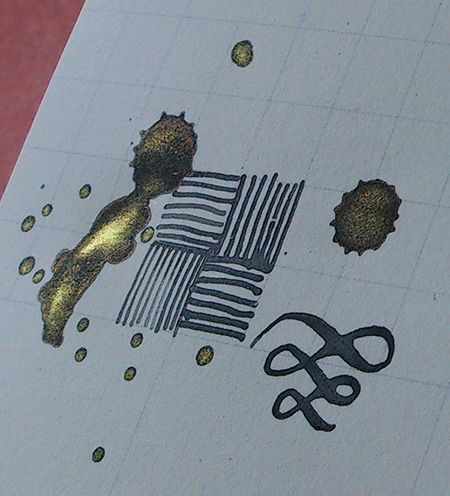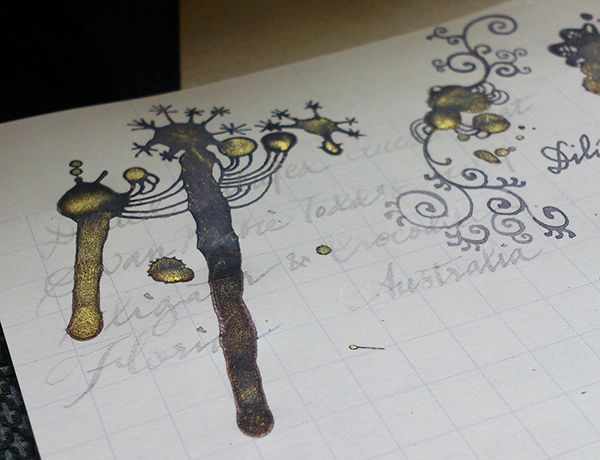 AAAAAND notice the brown/bronze sheen!! (Not gold flakes)
I love it but it doesn't appear all the time.
And on tissue paper:
I'm surprised at the blue and violet hue, because so far these two colors never show on any pen/paper I try with.
Conclusion:
Very nice ink, with good flow, practical color and beautiful shimmer.
Not very hard to clean from the pen.
Great decoration on the desk.
Recommend!!
BUT if you are specifically looking for a "grey ink with gold shimmer," maybe you should check out Diamine Sparkling Shadows first, because I've seen more than one review states that its flow and flakes perform better than J.Herbin Stormy Grey.
Thanks for watching this photo-heavy review!
I'll end this with an Instagram-filtered pic:
For more detailed Chinese review:
http://chingdamosaic...g-entry-55.html
Edited by chingdamosaic, 31 December 2015 - 06:45.