Pastelize your life PERMANENTLY!!! De Atramentis Document ink WHITE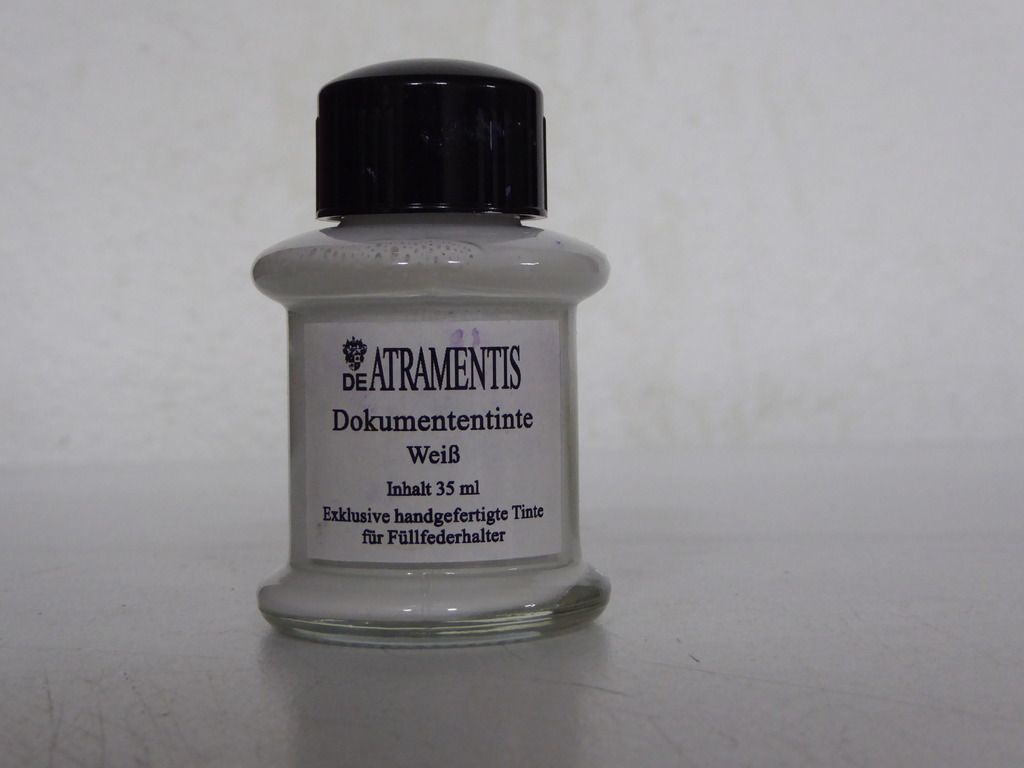 Dear FPN Friends
I have published various topics on the BOMBPROOF De Atramentis Document inks.

These inks are lightfast permanent and because of the CMYK set als very popular with artists and painters around the world like Jane Blundell, Liz Steel and  The Urban Sketschers
The above picture is not complete since also a permanent Violet and a Fog Grey ink are availale now.
With the CMYK Colours every colour (check photos at the bottom of this  topic you like can be mixed which maks these inks popular for artists.
To expand the possibilities De Atramentis now brought a PERMANENT WHITE INK on the market.... Now you mix PASTEL COLOURS too
next to the white bottle are the original Docu Blue and Docu black The outer Bottles where the result of mixing 
Quick & Dirty Tests
Since I a not an expert on colour mixing like Jane Blundell or Liz Steel. I could only perform some Quick & Dirty Mixes. I will ask DR J to send these Grand Ladies of Art 
 A bottle for testing and hopefully they will soon publish some Colourcharts (see photos at the bottom of this review) and Artworks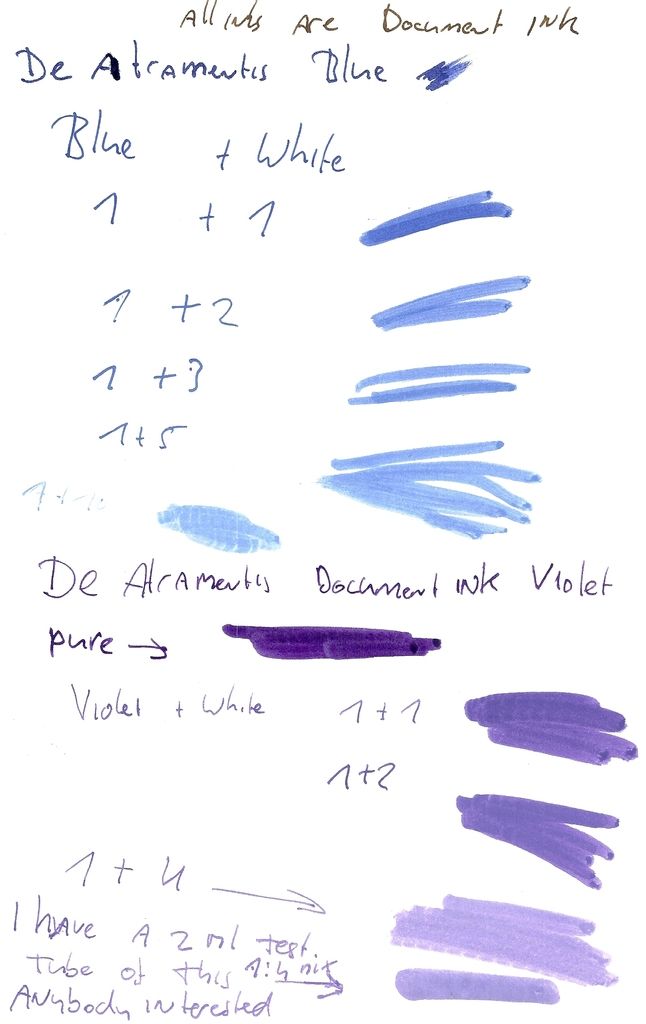 Remember these ink mixes of the Fountain Pen-safe ultrasmooth De Atramentis Document Inks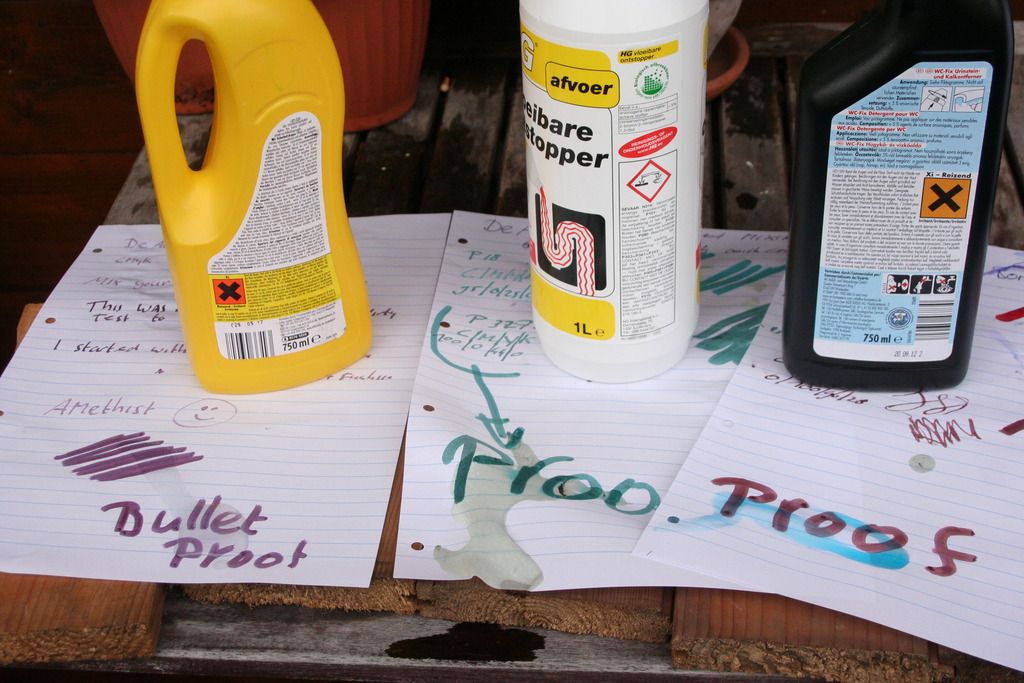 Ink Behaviour
Very Wet but ultra quickly drying... and utterly Permanent
Availability
Well the ink is brand new but you might consider asking for them the following excellent Retailes
La Couronne Du Comte I guess  Dennis and Rik would even travel to the moon to get it for you (just pay them a million or 2 
)  Well it is safe to say that they do almost everything to satisfy their customers http://www.lacouronneducomte
Bankers have Rothshield Ink lovers have the Goulet Pen Company. Rachel and Brian carry theALMOST largest soritment of ink on earth an it's near surroundings 
  http://www.gouletpens.com
(almost Dear Amberlea Davis carries the largest assoritment in the universe but is not a seller 
Larry Post of Australia is a Great Supplier of Stationary and Artist Equipments. They carry a lot of De Atramentis Inks http://www.larrypost.com.au/
The same applies to Singapore based Arters of the utterly friendly Yitpeng and WeetekOng http://arters.com.sg
That was it sofar
 Except for one thing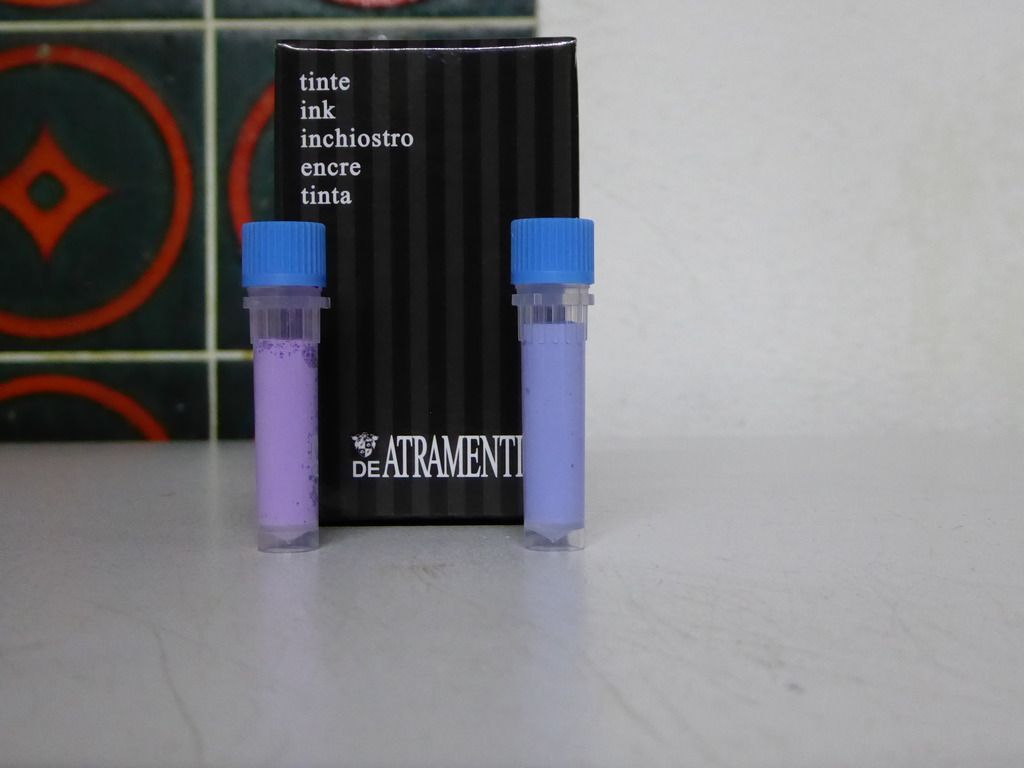 These are test tubes with the inks I used in this review. A Baby Blue and a Violet.
Are yuu interested of getting one of these 2?
Just reply down here and name the tube you are interested in.... In January I will put all names i a bowl and pick the to winning ones.... 
They will receive them ASAP together wiht a few sheets of the very nice Walzmühle Reflex Watermark paper
Well I hope you enjoyed this and Iwill keep you informed on developements
Best Wishes 
Peter
The Jane Blundell Mixes with De Atramentis Document Inks http://janeblundellart.com
Now  let's see what she can do with the White ink