I was looking for a new ink last night and found myself continuously coming back to Sailor Jentle Black. Now, I am sure that this is a fine ink, but I already have four black inks and to be honest four is about two too many.  The reason that I kept coming back to Sailor was not because it is a particularly amazing black, but rather because the bottle just happened to have an ink reservoir in it.  As much as I would like to try some Sailor inks I have to admit that if they did not have the reservoir in their bottles, then I would not be nearly as interested.
Ink reservoirs are great little devices that help to make using bottled ink an easier process.  They make filling pens less messy, they make using all of the ink in a bottle much easier, and they are just plain nifty.  Ink reservoirs are great devices and should absolutely be in more bottles (I'm looking at you, J. Herbin).  The very first ink bottle that I ever purchased (Pen & Ink | Sketch No-Shellac India Black) had an ink reservoir in it, and I have to admit that when I bought another ink I was pretty disappointed that it did not also come with a reservoir.  Since then I have come to understand that ink reservoirs are the exception rather than the rule, and any time I find an ink with a reservoir included I become inexorably drawn to it.  Which is why I found myself staring at a black ink that I would have had no real interest in otherwise.
I ended up passing on the Sailor Jentle Black, but I DID buy an empty Sailor Jentle bottle from iSellpens.com (I plan on putting some of my Noodler's Heart of Darkness into it).  I have never been interested in buying empty ink bottles, but it seemed like the lesser of two evils to me, and I now have very little interest in spending money on an ink that I don't really need.
So, I am interested to know how many other folks out there have an obsession with ink bottles containing reservoirs.  I can't be the only one.  What are your favorite reservoir containing bottles?  Would you ever consider one ink over another simply because one of them had a reservoir?  To get things rolling here are a list of all of the inks (that I am aware of) which include reservoirs in their bottles:
Akkerman
Levenger
Mont Blanc (the long bottles)
Pen & Ink | Sketch
Pilot (70ml bottles)
Platinum (there three standard inks)
Sailor Jentle
Sheaffer Skrip (vintage bottles)
TWSBI (Not an ink, but they do make a reservoir containing ink bottle)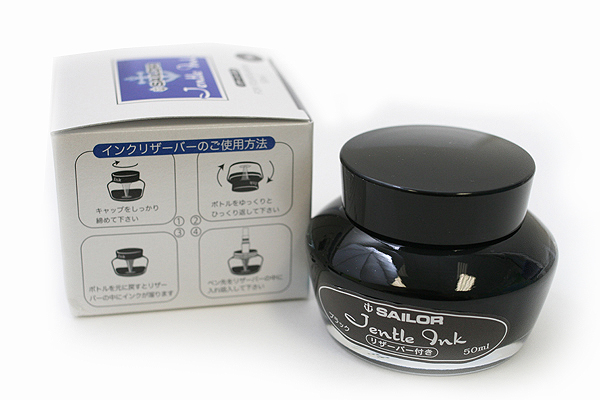 Edited by jabberwock11, 27 October 2015 - 21:05.