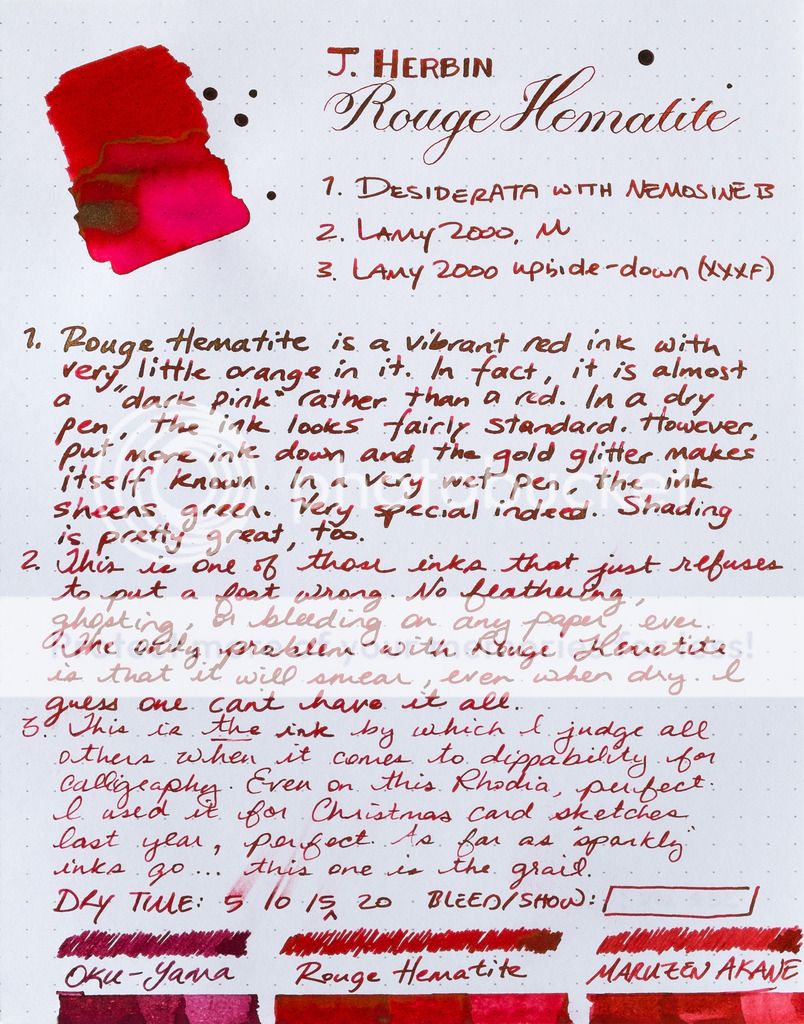 Valentine Card, Rouge Hematite with R&K Alt-goldgrün
Card is OCM Pure Cotton paper, Envelopes are OCM Classic Laid paper
In expectation of my bottle of Emeraude de Chivor arriving in the mail, I decided it was past time to review its sister, Rouge Hematite. 
Rouge Hematite is a really interesting ink that I use almost exclusively for card-making. It simply dips better than any other ink out there and the green-gold sheen looks magical when you lay down a lot of ink. It is very staining, though, and ink gets on fingers and transfers back to paper terribly easily. I've ruined more than a few attempts through smudgery. As mentioned in the review, it smears, too. 
I kept it in my daily carry Lamy 2000 for a few days while writing this review. Thankfully, the gold glitter does not come across strongly in that pen, so it can be used as any other red ink, and does a fine job at that. I have not had any problems with clogging. While I don't really enjoy using red on a daily basis, the performance of this one is quite good. 
Care was taken to ensure color accuracy, but with an ink like this, where view angle and light source matter a great deal (see second and third pics), what you see may not be what you get when you try it for yourself.
EDIT TO ADD: I should point out that my bottle is the fourth iteration of Rouge Hematite, purchased from Goulet Pens toward the end of 2014.
Edited by jasonchickerson, 28 October 2015 - 00:57.