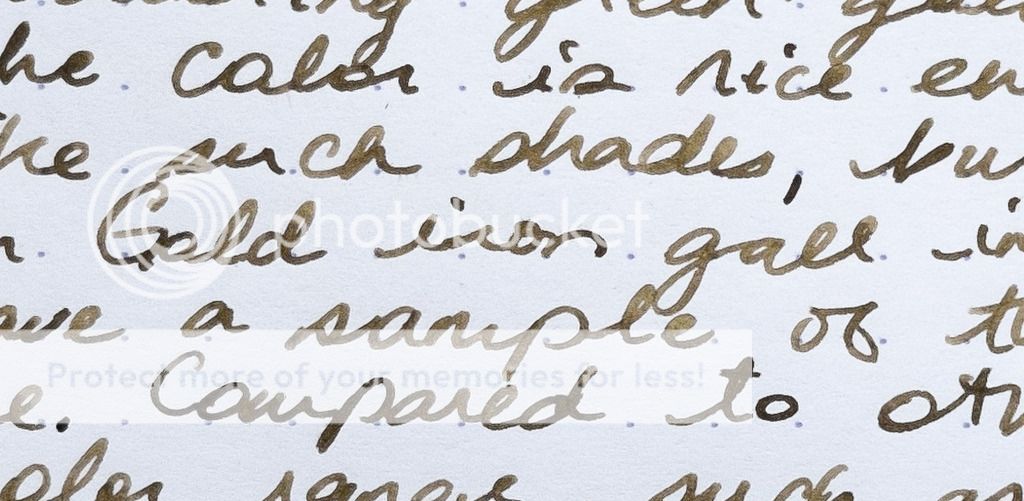 #74 with Zebra "G" nib on Original Crown Mill Pure Cotton paper
KWZI's #74 is a weird one for me. Rationally, it's a very fine ink with great behavior and a decent color. Yet I don't love it. I'll not likely miss my sample when it's gone, but I would recommend it to anyone looking for an ink in this color range. I prefer it hands down over #83 "Iron Gall Gold," which I'll try to review soon.
As far as iron gall inks go, this one doesn't seem to have a lot of color shift upon oxidation. It kind of just gets a bit darker.
I should point out that in the review above I describe Alt-goldgrün as "in this color range" when I meant "in this style," i.e. a complex dirty greenish gold.
As always, care was taken to ensure color accuracy, but that green-gold on the paper is hard to capture. On my screen, even after color correcting the image and tweaking the levels, etc., the ink is slightly greener in real life that on screen. Perhaps my screen does not reproduce this color well as all other inks in the comparison appear as they do on paper.
Edited by jasonchickerson, 22 October 2015 - 03:34.