Sailor Jentle Black Dutchman trying to read Japanese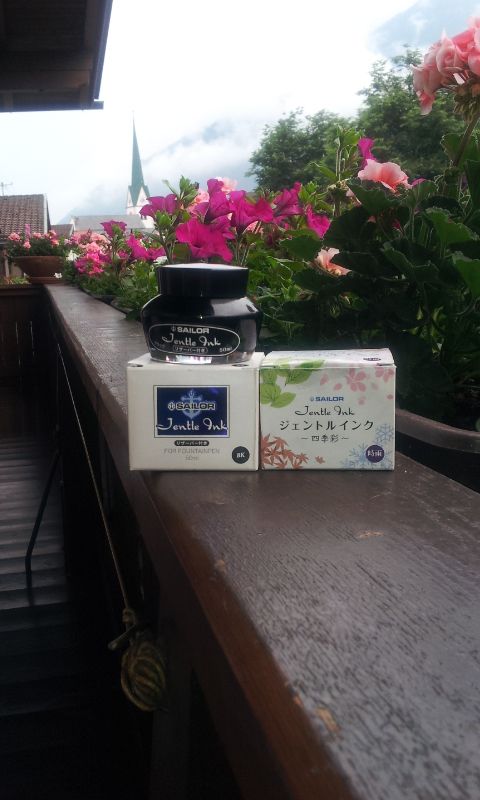 A little while ago Dennis and Rick of La Couronne du Comte
  thanks
 gave me a bottle of Sailor Jentle Shigure.... I love that ink and reviewed it with a lot of pleasure http://www.fountainp...ure-blue-black/ 
Then Fellow member Trom sent me a few bottles of brown inks Thanks Trom
 . One of them is Sailor Jentle Brown which is one of my favourite browns now... Have not reviewed it yet.... But believe me that will change soon.
My latest Sailor is the SailorJentle Black. A medium saturated very dark grey..... (Most black inks safe for FP's are not truly black!)
I must say I really like Sailor inks they are very well behaving write very smoothly and have a reasonable price... This Black ink is very nice too though I am not a big fan of Black inks . Cold not read the colour from the box....only later discovered the letter  BK
Well here we go Sailor Jentle Black
Blowing my nose with ink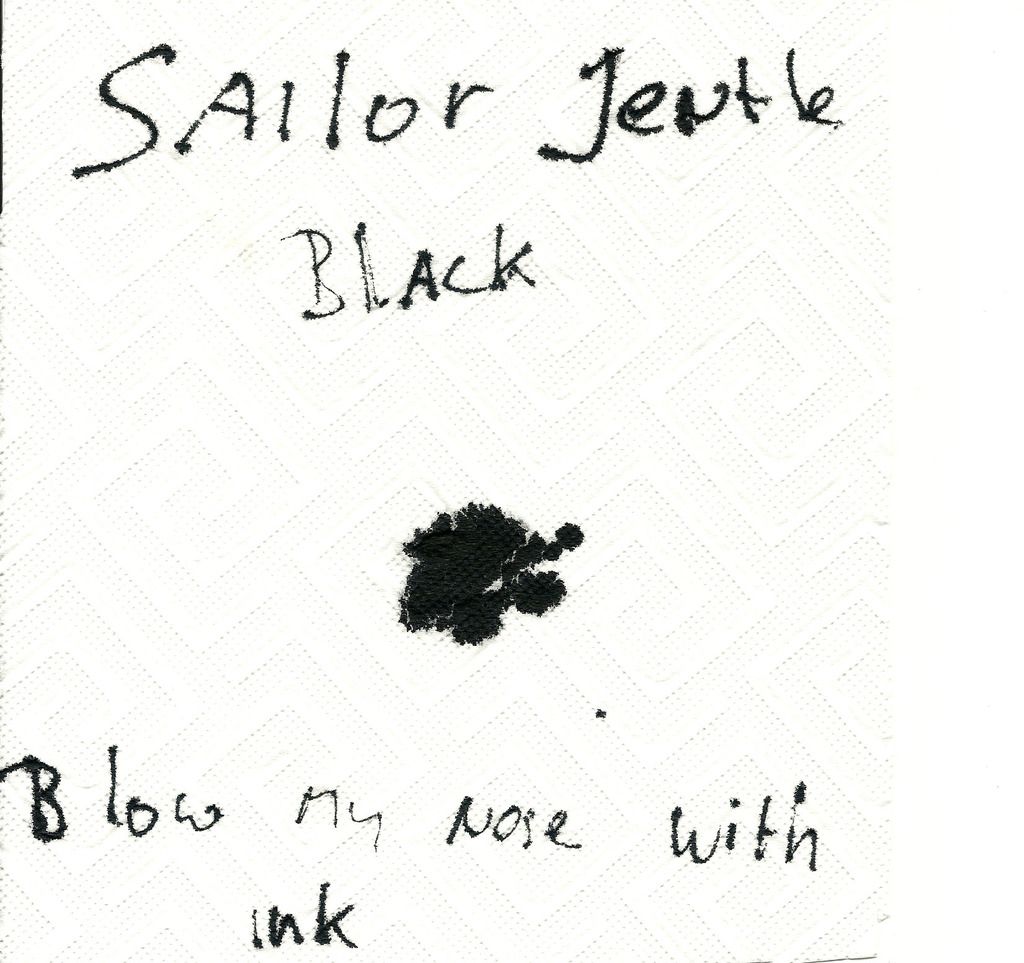 Ink Vomitus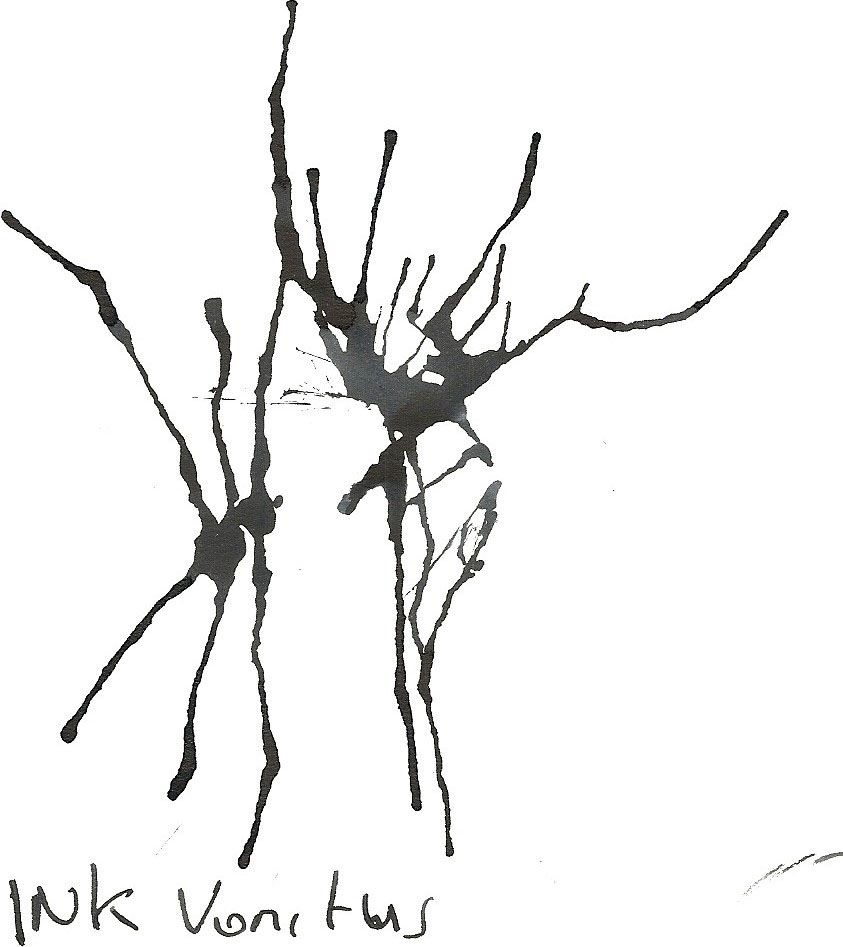 It is not a true black but it is a very dark grey  and very  nice
Ink Behaviour
The ink behaves very well as all my Sailor Inks do. See handwritten test sheet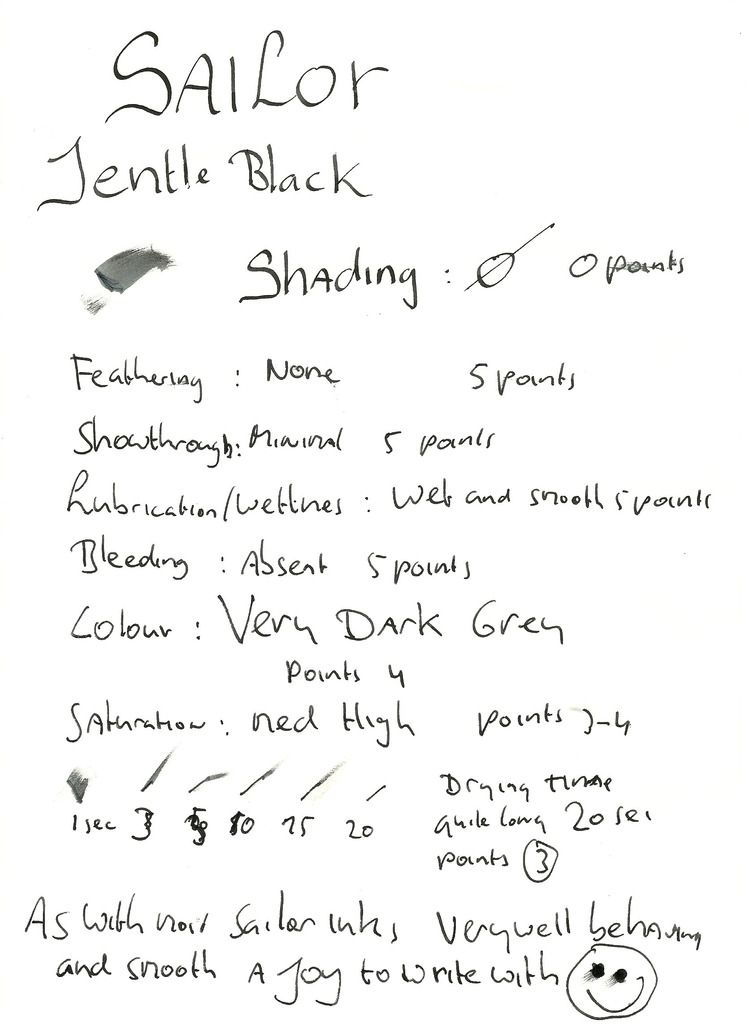 Beware! the drying time is quite long but therefore the ink is quite waterproof as can be seen down here
That is is still very legible after 20 minutes at the bottom of my sink... blub blub.  Sailor inks are a true joy to write with in my opinion
I made some extra writing samples down here
Dutchman trying to read Japanese/ My Poems
As you might have guessed by now I Iike these inks.
Only one thing is funny...
...95 % of the text are in Japanese. As can be seen on the first photo of this review
Although my handwriting is very horrible..... it is not Japanese. My Japanese is a little rusty to put it mildly
So what are the texts on the bottle..... After a first bottle of booze  I thought
wow they are Japanese Poems.
After the second bottle of booze (tried to) translate, them here is the result...
My first Japanese Poem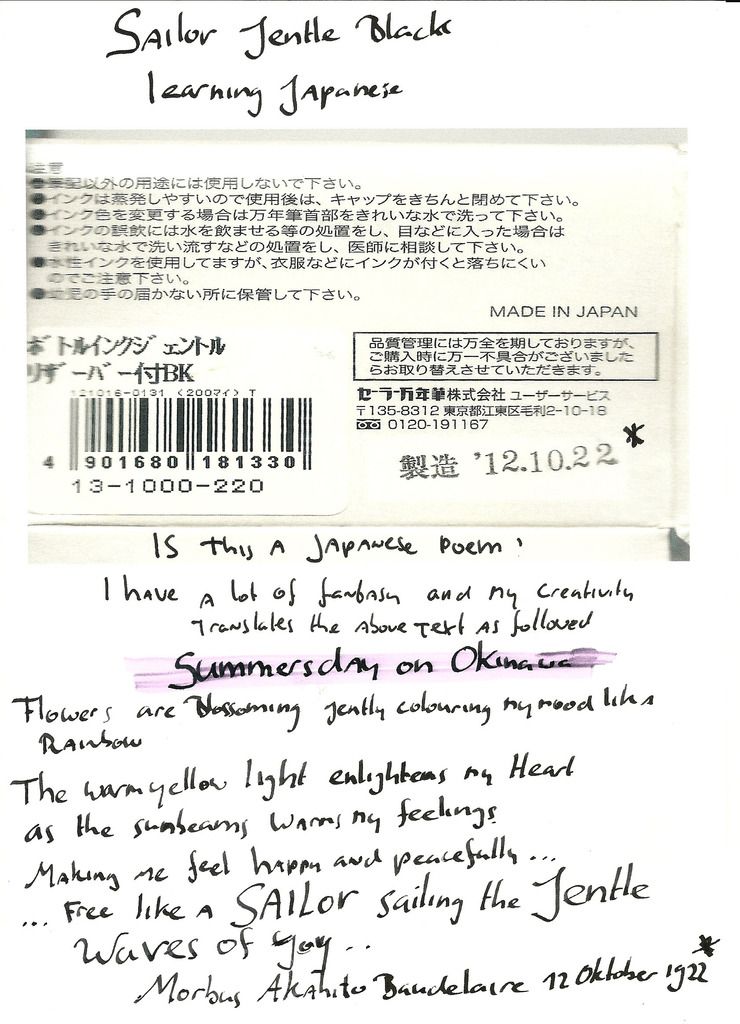 Lovely that Japanese Calligraphy on the Box.. And what a romantic poem
This of course maybe the translation but  I am not sure,my Japanese is rusty, so here is anohter writng sample with another poem.... It may also be translated as
My second Poem
Booze is not good for You
Of course did not drink two bottle of Booze.... Just drank a cask of Talisker 
How do you like my poems???
People say a dirty mind is a Joy forever.... I say a sick mind is double the pleasure haha
Ink comparison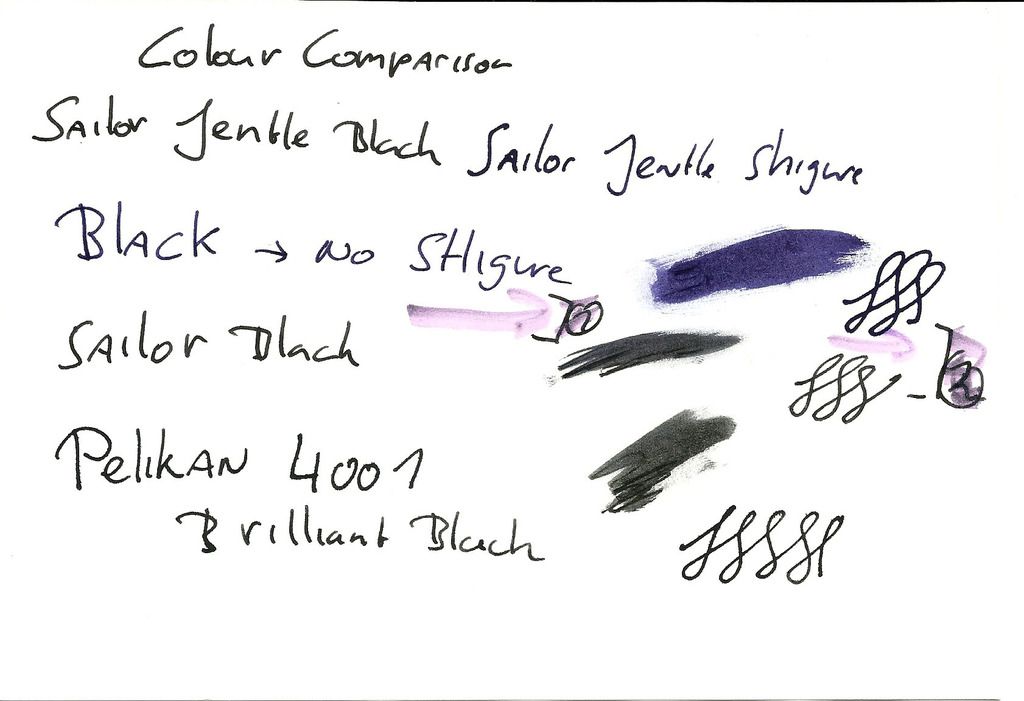 As can be seen above.  The Shigure in writng is black but when using a broader nib it has very deep dark violet hue... If compared to the Pelikan 4001 Brilliant Black you can  see that this ink is not truly black either
If you like a true black click herehttp://www.lacouronn...tle-p-5383.html It is  Sailor Kiwa-Guro Nano Black Ink  It is truly black but truly tricky when used in Fountain Pens.... MAINTENANCE!!!
This  Sailor Jentle Black is safe for Foutain Pens and needs less attention when left in the FP for a longer period of time
Availability
La Couronne du Comte I guess  Dennis and Rik would even travel to the moon to get it for you (just pay them a million or 2  
)  Well it is safe to say that they do almost everything to satisfy their customers http://www.lacouronneducomte
Bankers have Rothshield Ink lovers have The Goulet Pen Company. Rachel and Brian carry theALMOST largest assortiment of ink on earth and it's near surroundings  
  http://www.gouletpens.com
(almost Dear Amberlea Davis carries the largest assoritment in the universe but is not a seller  
Too Conclude
 Sailor Jentle black is a stunning Ink- Like the Sailors  I already own this ink behaves very well too   and it is very smooth. I will buy more of these Sailor Inks....
If You want to see some more Sailor inks I kindly advise you to have a look at the excellent reviews of one of my favourite ink reviewers :Visvamitra http://www.fountainp...134-visvamitra/
Another FPN-member with excellent reviews is LGSoltek http://www.fountainp...13900-lgsoltek/.I believe LG Soltek owns every Sailor Ink ever made in the history of mankind. LGSoltek's website http://billi.us/ink-list is a true joy for inkoholics 
Sometimes a picture says more than a thousand words.... So I will end this review with a picture (and 2 words)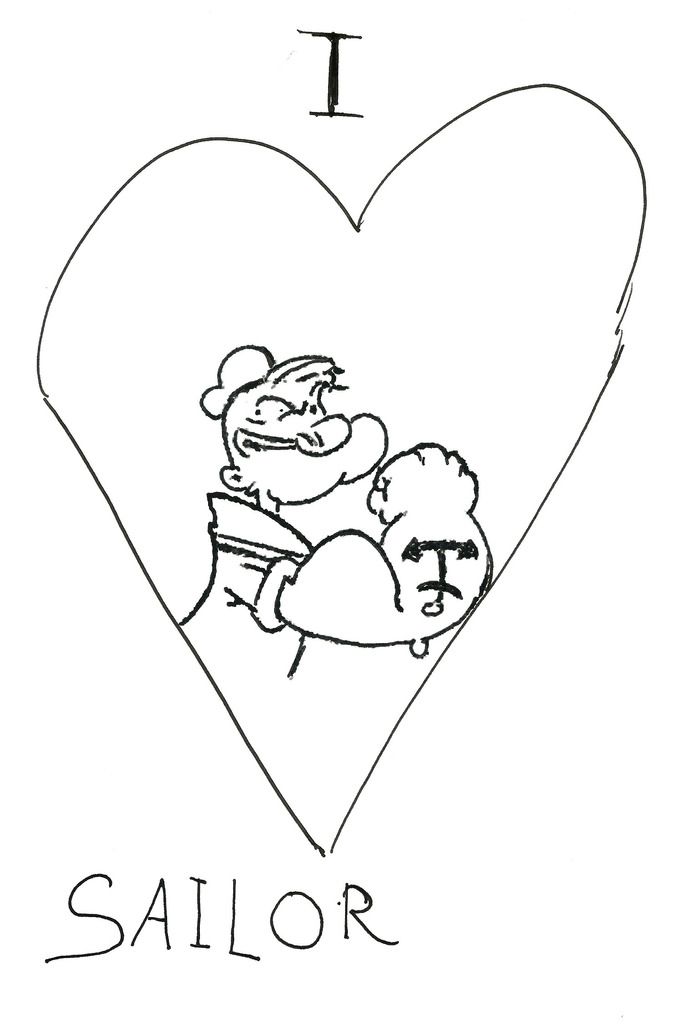 Regards
Peter
Edited by Morbus Curiositas, 29 June 2015 - 14:04.