Pimp-my-Ink-Comparison Pelikan Edelstein Aventurine vs Pelikan 4001 Brilliant green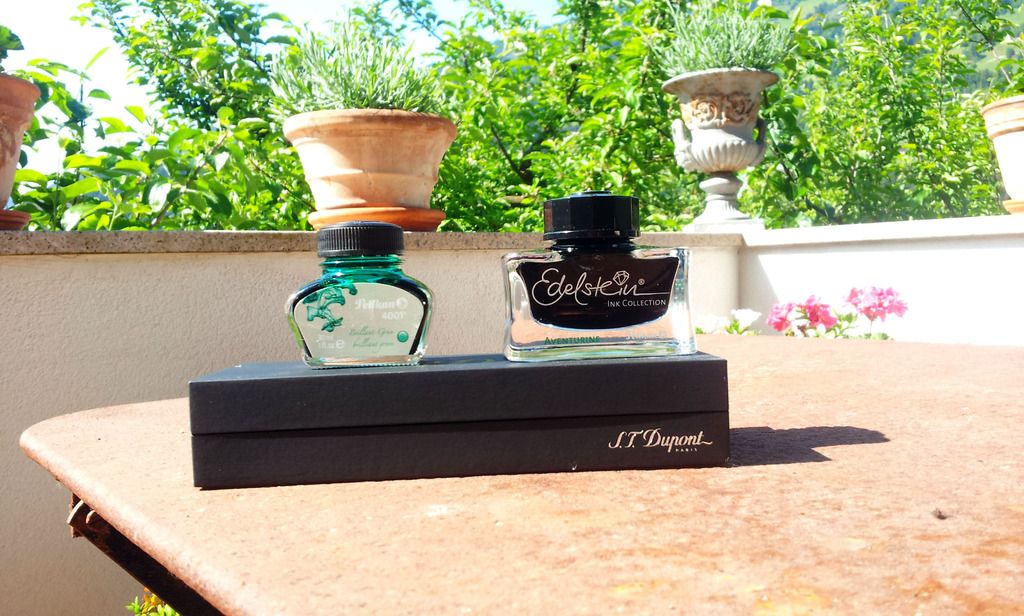 Pimp-my Ink... What is that???
There are certain companies that produce several lines of ink. They every now and then put a special line of inks on the market. For example
Faber Castell vs Graf von Faber Castell
Pelikan 4001 vs Pelikan Edelstein
Ink of the year etc... Like J Herbin's
What are the differences
Fancy packiging
(slightly) changed recipe
other colours
more saturation
and of course a HIGHER PRICE
Not every point will be aplicable on any ink but just to give you an Idea of the possibilities.
Is this a good developement. That depends on how one looks at it I guess. Packaging is usually beautiful. And there is a greater selection of inks to choose from which is always good
Yes the ink may be slightly different but bear in mind.... The manufacturer is the same and usually it's suppliers are the same too.
For the rest I will have a look at it ink by ink. and brand by brand. In order to apply for this Pimp-my Ink comparison.... There must be a price difference between the inks of the same manufacturer. A theme ink named after a person i.e but offered atr the same price as the other inks of the manufacturer will be excluded Noodlers and De Atramentis i.e. have a lot of specialty named inks but the prive isthe same, only the ink(colour) is/may be different
Well that is a lot of text so let's go..... FINALLY
Pimp-my-Ink-Comparison Pelikan Edelstein Aventurine vs Pelikan 4001 Brilliant green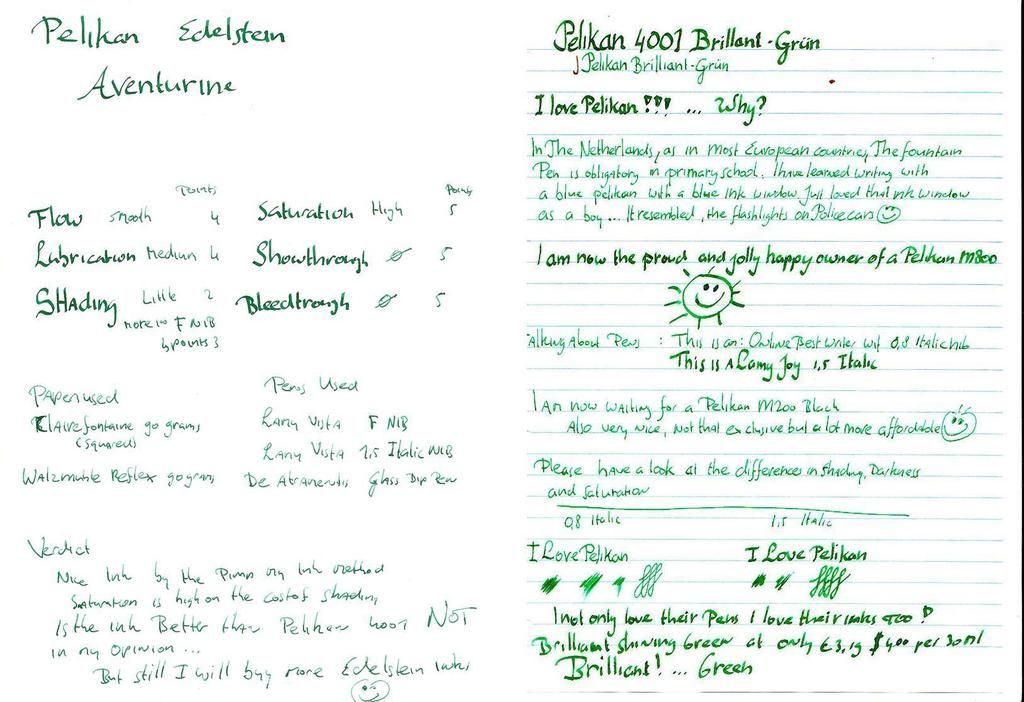 This  is a comparison of handwritten texts taken from the original extensive review of each ink seperately
Pelika 4001 Brilliant green     https://www.google.c...0TBm-YdRdOaNs_g
Pelikan Edelstein Aventurine http://www.fountainp...ein-aventurine/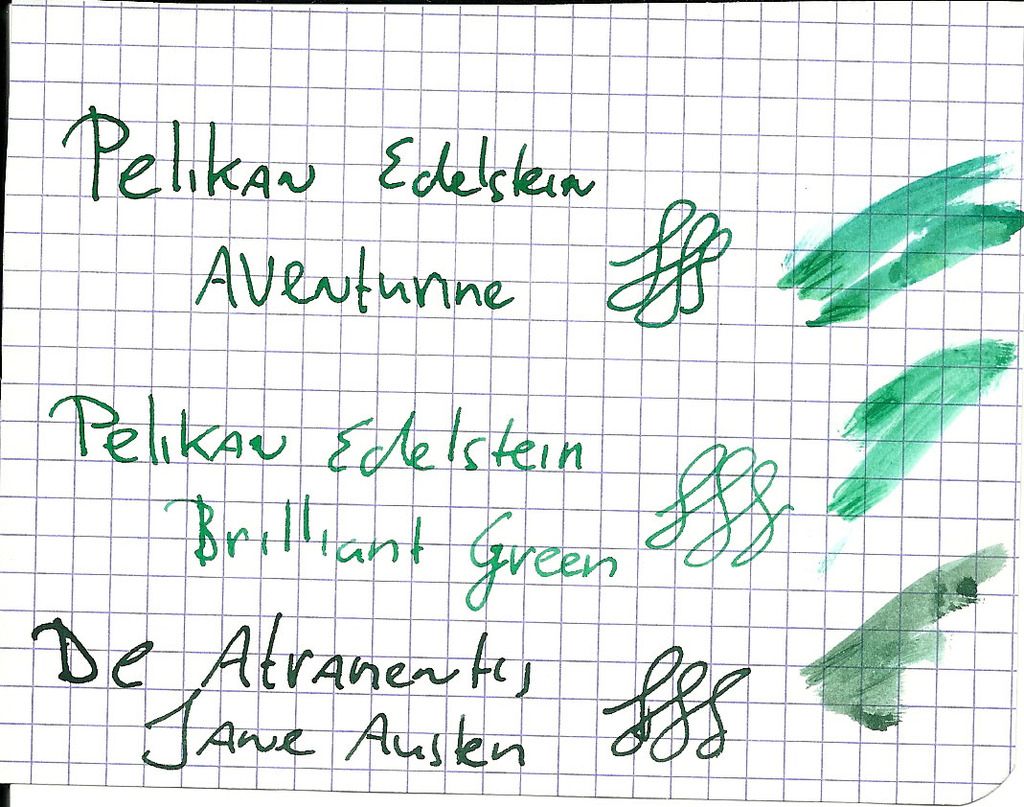 There are differencse in colour of course.   But the difference is not always that explicit, which can be seen when the ink blots  in the picture above are compared
There of course are difference... This is also what the coulour picker comparion in Photshop shows.    Pleas notice the differnet  CMYK and RGB Stats, down here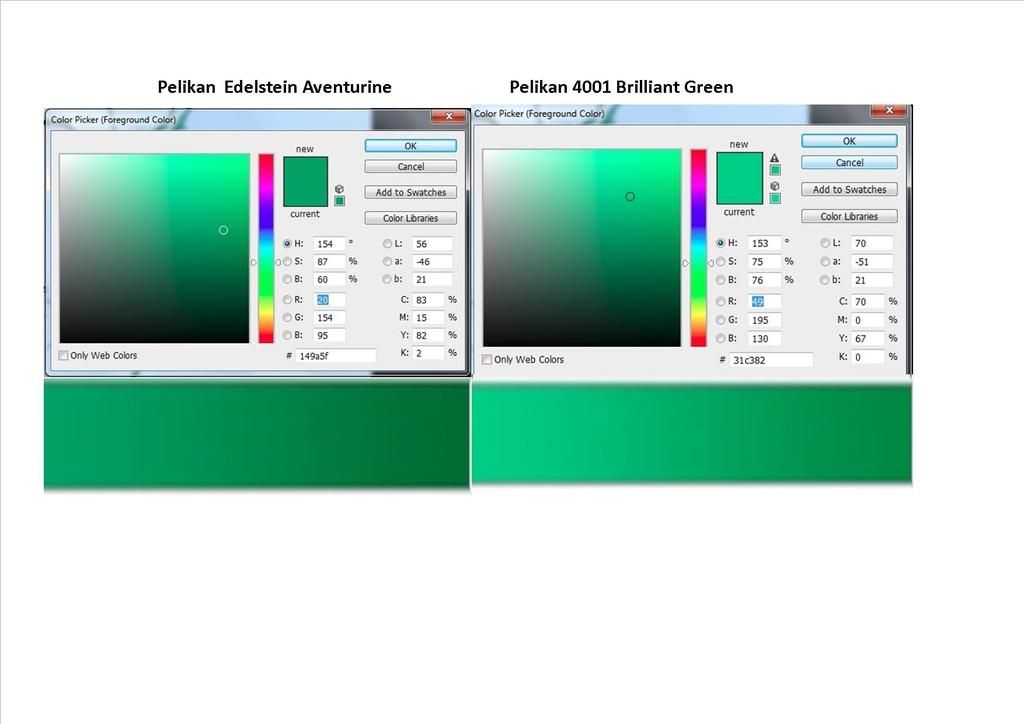 Well that is quite obvious... But let's do some more comparisons.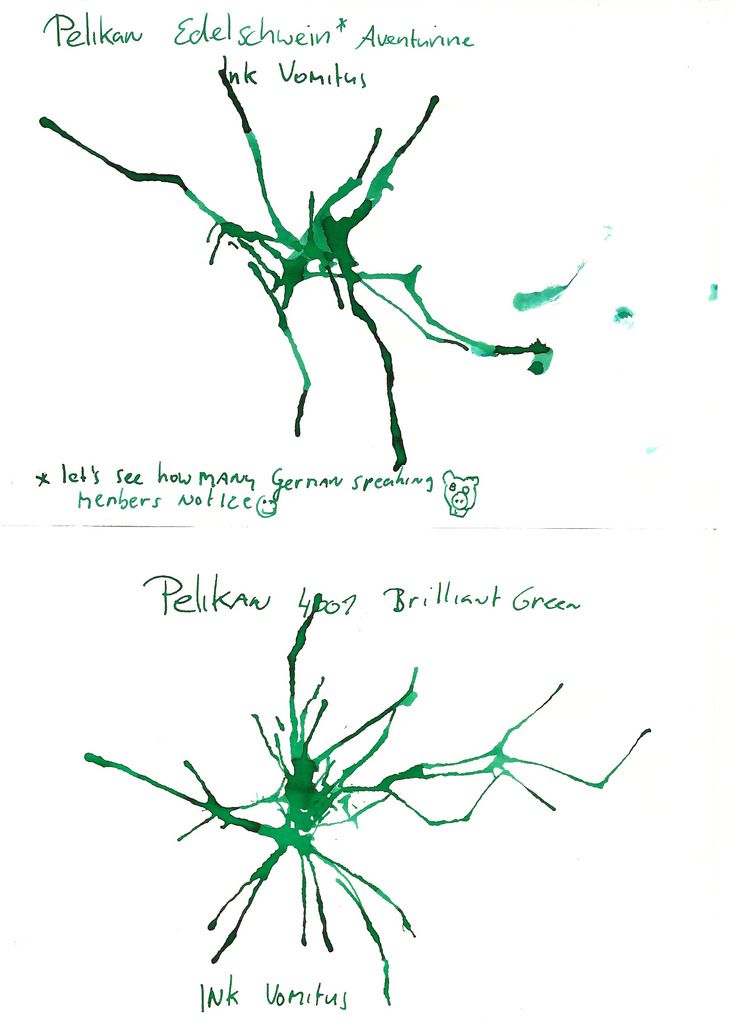 Of course hhere are colour difference too here, but they are less expressive as before. Especially if you have a closer look at the written texts in this pictures. Each text was written with the corresponding ink.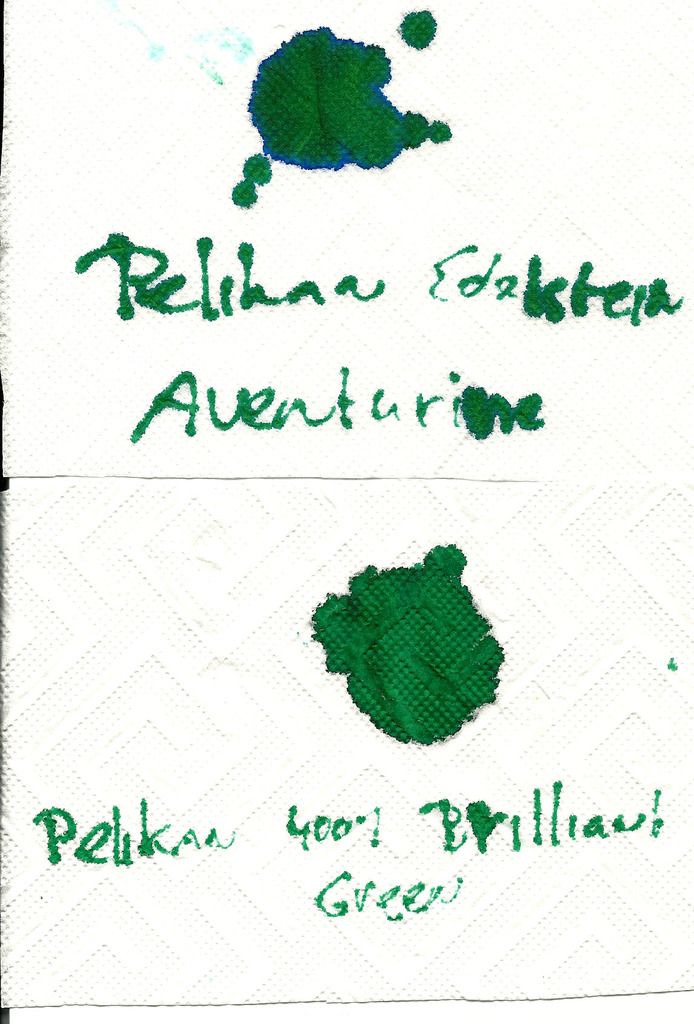 Both colours are nice in my opinion
Ink Behaviour and characteristics
Here I will have a closer looks at the things I usually test in an ink
Shading behaviour is the same. Not to epressive and dependant on nib and paper used
Drying time is exactly the same 5 seconds in a finer nib
Bleedthrough, Feathering,  and Showthrough are absent in both inks
Lubricaton and wetness are the identical (I especially checked for this review)
Waterproof.
 As can be seen in the right sampler sheet the ink survives a drop of water. But let's how it holds it's liquour in my usual Jacques Cousteau Diving experiment for inks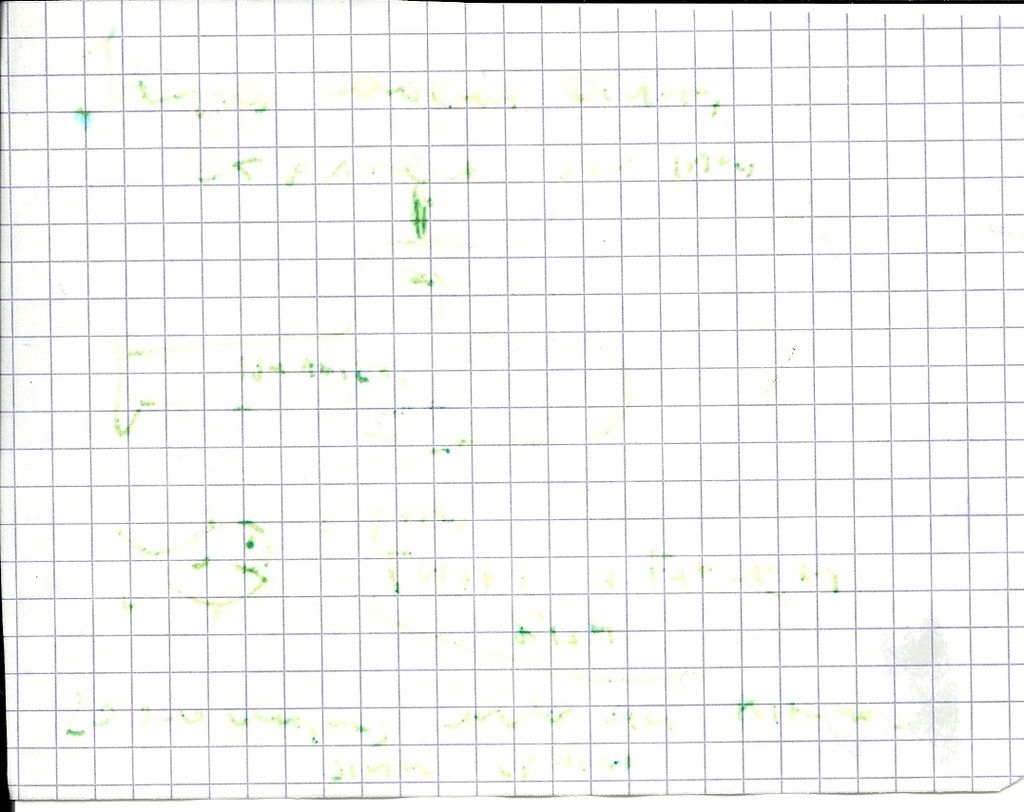 Well this was the Aventurine but believe me that the 4001 behaved just the same. This was the result that almost instantaneously  happend after a few seconds....
Is this a problem???  For me not this is not meant to be a waterproof nor permanent ink.
 It is just that there are inks which are not meant to be waterproof nor permanent which will remain legible after a bath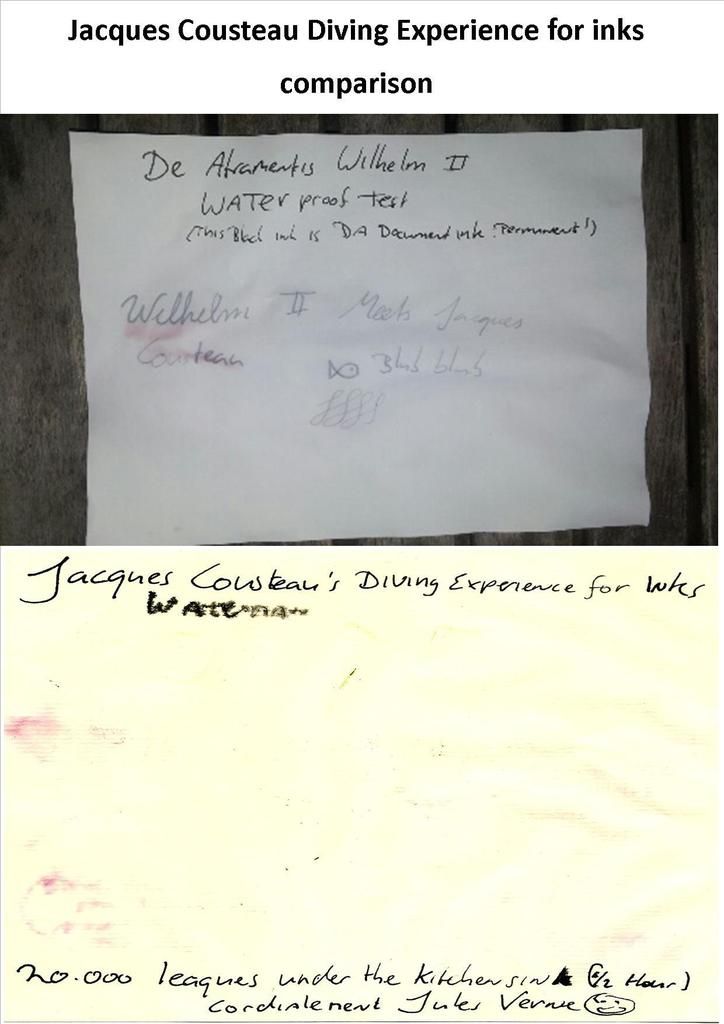 In this example of De Atramentis Wilhelm 2 (taken from my reviewhttp://www.fountainp...-in-one-review/) the colour is gone but the lines are still legible.... More inks i.e some Sailor have this quality too. It is not because of the brand thoughThe De Atramentis Khaki is not waterproof at all  either.
Hey they survive a drop these Pelikans. Just be careful.... I survive  a drop
  too but not half an hour under water
Availability
This is one of those inks that is even available on the moon, simply hijack a passing space craft.... But since you and I most probably will not get to the moon that often (at least I don't)...
I will give you some adresses here
La Couronne du Comte I guess  Dennis and Rik would even travel to the moon to get it for you (just pay them a million or 2  
)  Well it is safe to say that they do almost everything to satisfy their customers http://www.lacouronneducomte
Bankers have Rothshield; Ink lovers have The Goulet Pen Company. Rachel and Brian carry the almost* largest assortiment of ink on earth an it's near surroundings  
  http://www.gouletpens.com
*almost Dear Amberlea Davis carries the largest assoritment in the universe but is not a seller  
To Conclude.
Prices (taken from the La Couronne Du Comte website in Euros)
Pelikan Aventurine bottle 50 ml €13,95 / $15,20 price pro ml. €0,28 / $0,30
Pelikan 4001 Brilliant Green bottle 30 ml €3,95 / $ 4,30 price pro ml. €0.13 / $ 0,14 
exchange rates taken from wiselkoersen.nl on may 29, 2015
Difference pro ML is € 0,15
Is this ink better, Is this ink worth the money or spending extra???
What a product is worth depends on what you the client are willing to pay.
Is a Montblanc 149 worth € 765 .
Is that MB pen that much better than a Pelikan M1000 for € 595?
It is all dependant on what you think it is worth... You can get an excellent Fountain Pen between 50-150 dollars... But sou can also buy a special one you love for over 5000 dollars...
That is the same with these inks.... Paying more does not obligatory mean you get better ink.
Is this Edelstein ink better than the 4001 ink... In my opinion NOT! 
The only difference is the colour and the packaging, the behaviour is almost identical.... So if you need an execellent ink  for a nice price go for the 4001 ink.
My Opinion
I love Pelikans, I love both inks and love that fancy bottle of the Edelstein.... Aventurine for me it is worth it.... 
. And will buy al Edelsteins in the future
I hope this was informative... Will do more of these formats in the future... i.e. Herbin standard vs Herbin 1670
Regards
Peter
Edited by Morbus Curiositas, 29 May 2015 - 12:20.