Pelikan Edelstein Aventurine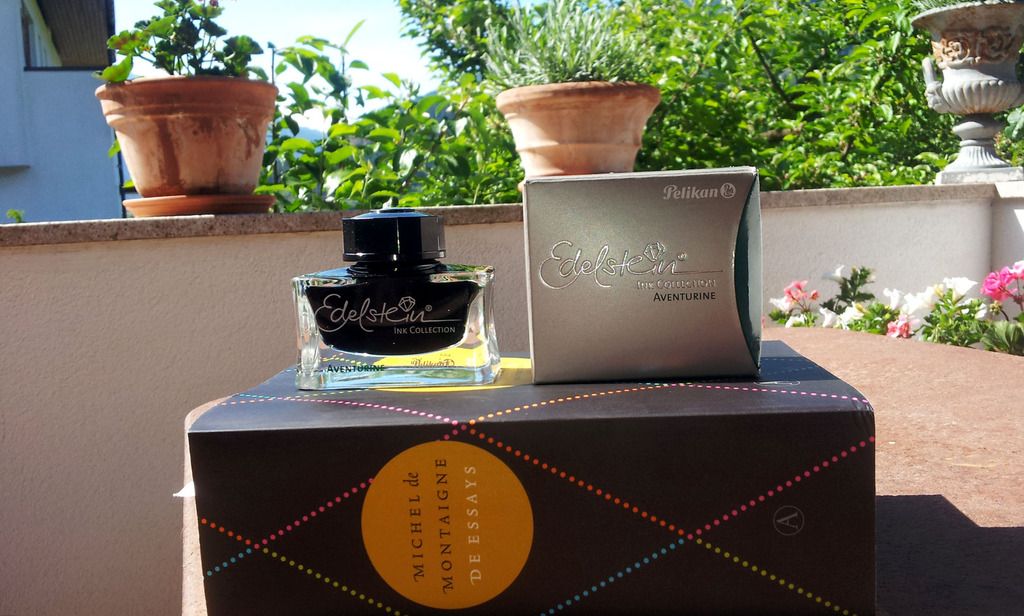 Dear FPN friends.
This is my first review of a Pelikan Edelstein ink. I am a Pelkian Fan of both the inks and the pens.
The Edelstein ink is a case of Pimp-my-Ink....  What is that??? Well there are certain Companies that produce several line of inks. They every now and then put a special line of inks on the market. For example
Faber Castell vs Graf von Faber Castell
Pelikan 4001 vs Pelikan Edelstein
Ink of the year etc... Like J Herbin's
What are the differences
Fancy packiging
(slightly) changed recipe
other colours
more saturation
and of course a HIGHER PRICE
Not every point will be aplicable on any ink but just to give you an Idea of the possibilities
Pelikan Edelstein Aventurine
This is an example of a Pimp-my-Ink ink. The ink comes in a beautiful bottle for €13,95 at La Couronne du Comte
Generally I can say that the ink behaves very well like all the Pelikans I have tested so far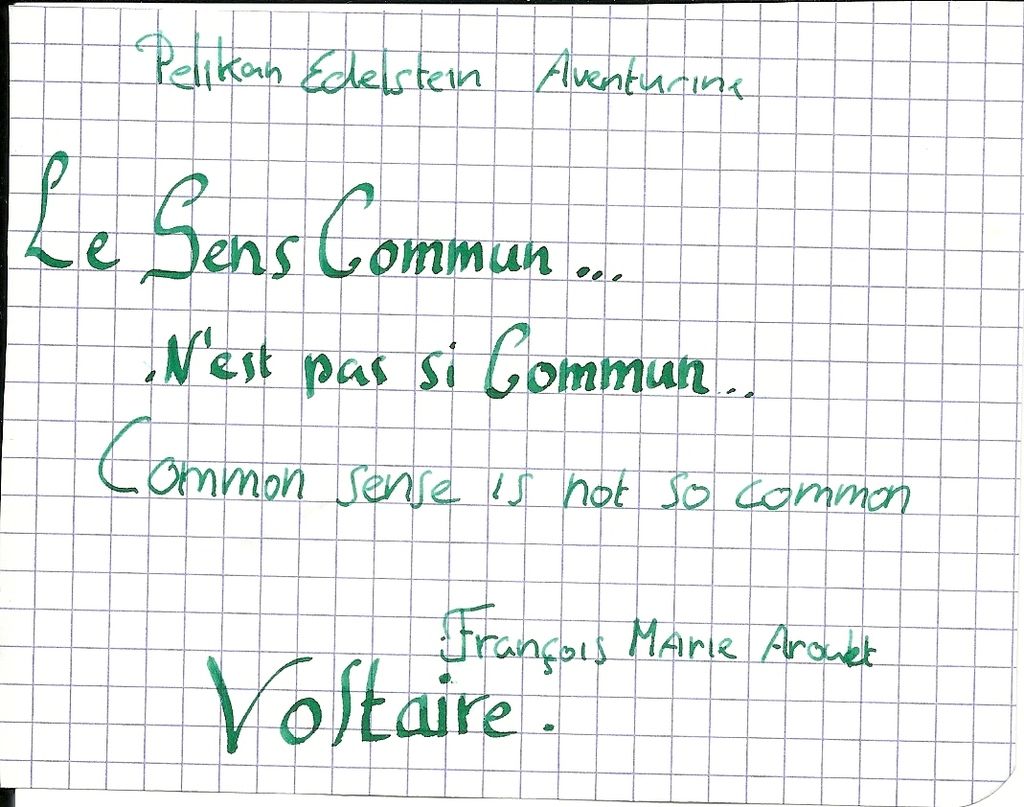 Handwritten sample on Clairefontaine Veloutè 90 gr.
Shading is visible here but not  expressed this strong in all my handwritten texts
Ink vomitus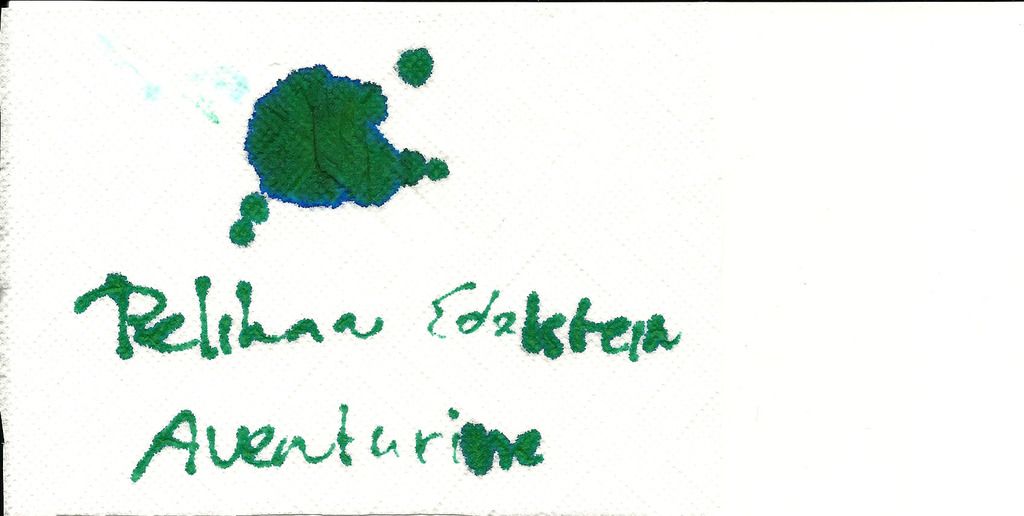 Blow my nose with ink
The Colour I woud call a medium dark green. Darkness depends on the nib. The ink is lighter in a finer nib
Shading is little to medium dependent  on nib and paper. Therefore the ink sinicerely saturated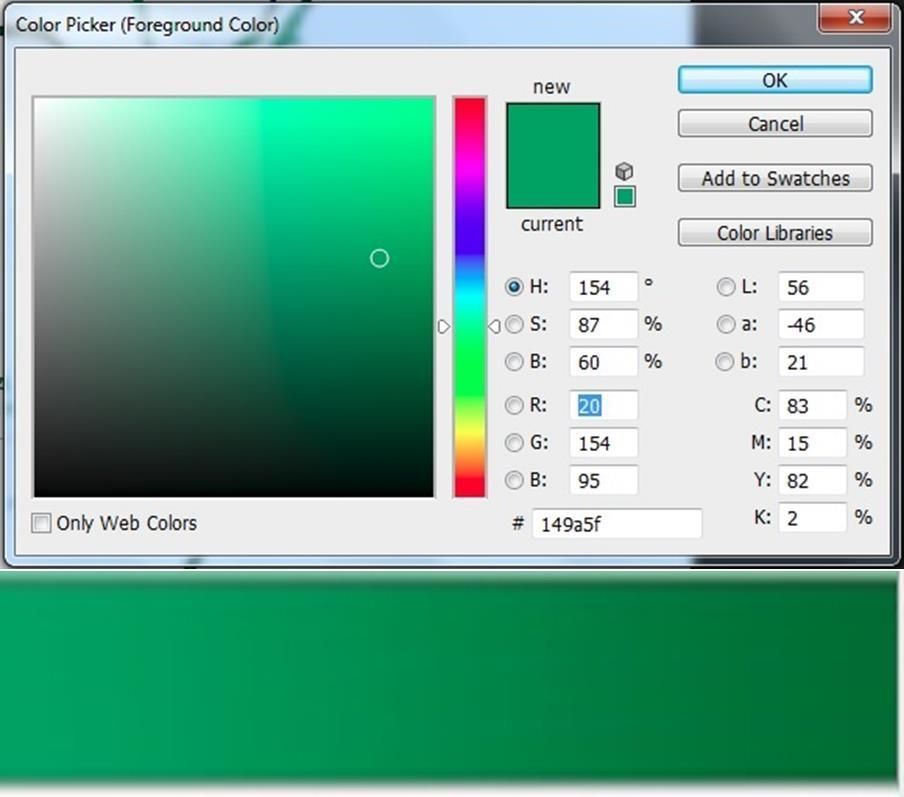 Adventurous Green it is.... Jungle Joy
Ink Behaviour
As mentioned before this ink too behave very well. On the sheet down here I forgot to mention the drying tim... QUICK 5 seconds in F nib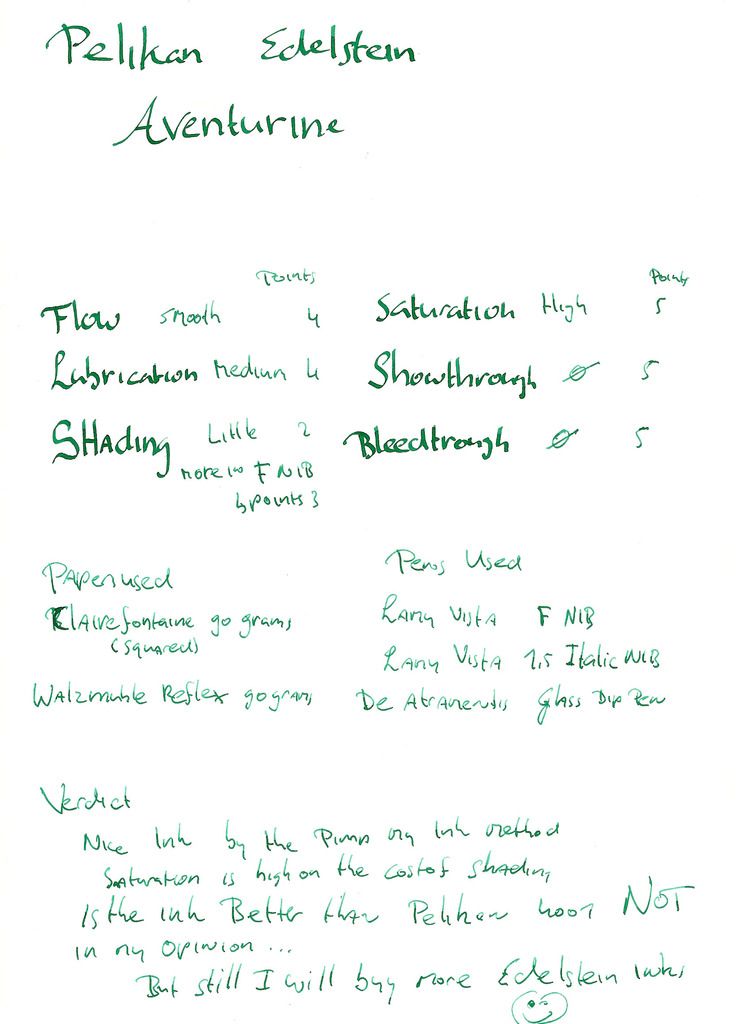 Waterproof
This ink is not waterproof at all. This is not a probem the ink was not meant to be permanent Down here is the result of my usual Jacques Cousteau DIving Experience fo Inks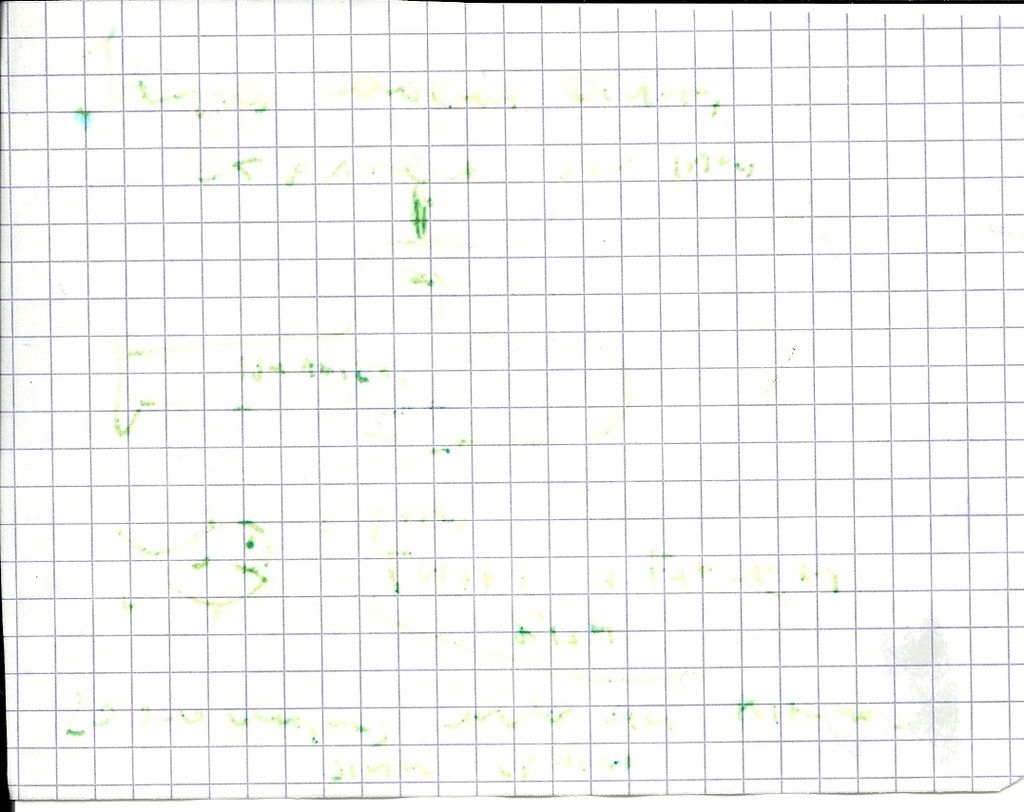 This is the result after only one minute at 20000 leagues under the kitchen sink....
But it will survive a small drop.... Just be careful (and do not stick it in your bathing pants)
Colour comparison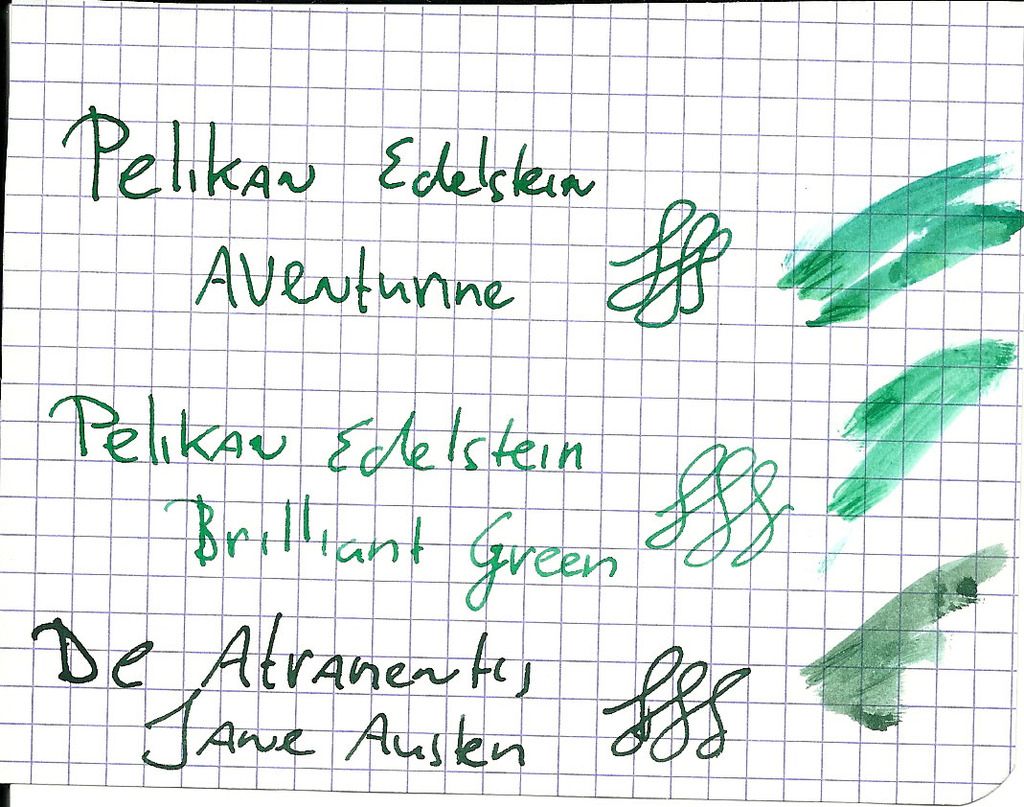 The Aventurine is darker than the Brilliant Green which is more er... brilliant.  The ifference is not that big though. I think it is a nice colour to rotate.
I havepublishe an extensive comparison of these two Pelikan inksin the Ink cmparison forum... Here is a link
http://www.fountainp...rilliant-green/
Availability
This is one of those inks that is even avaiLable on the moon, simply hijack a passing space craft.... But since you and I most probably will not get to the moon that often at least I don't)...
I will give you some adresses here
La Couronne du Comte I guess  Dennis and Rik would even travel to the moon to get it for you (just pay them a million or 2 
)  Well it is safe to say that they do almost everything to satisfy their customers http://www.lacouronneducomte
Bankers have Rothshield Ink lovers have The Goulet Pen Company. Rachel and Brian carry theALMOST largest assortiment of ink on earth and it's near surroundings 
  http://www.gouletpens.com
(almost Dear Amberlea Davis carries the largest assoritment in the universe but is not a seller 
To Conclude
Pelikan did a nice job on this ink.... Nice colour, beautiful bottle, well behaving and the  price is not too expensive (in my opinion). Edelstein ink costs € 0,28 per ml. vs € 0,9 for a Pelikan 4001 ink.
Is the Pelikan Edelstein  ink that much better than Pelikan 4001?
In my opinion not....
Wiil this keep me from buing other Edelstein inks..
... DEFINATELY NOT
Regards
Peter
Edited by Morbus Curiositas, 29 May 2015 - 12:33.