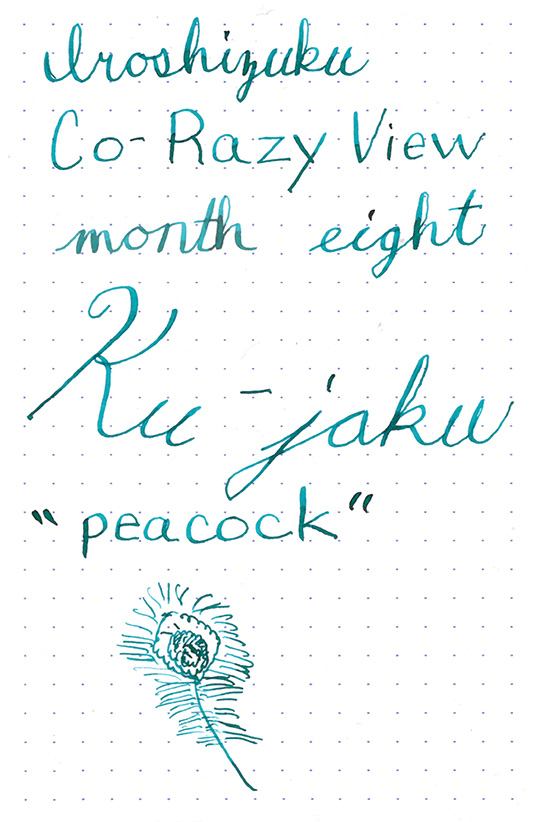 Iroshizuku - Ku-jaku (Peacock) - CRV - Group Review - 2015-05
The Iroshizuku Group Review color for May 2015 is Ku-jaku "Peacock".  It is a blue-green, which seems to vary a lot in color based on pen and paper and even has sheen in the right combination - very like the flashy tail of the bird it is named for.
Please post your reviews and scans of the ink in this thread.
If you want to a partner for a Co-Razy View (CRV) of this ink, please write it up and mail it to Lou Erickson.  (PM for the address.)  If you want to do a Co-Razy View on your own, please do!  Other reviews are welcome, too.
NOTE:  I have a new address as of January!  If you have sent me things in the past, please PM for the new address - the old one will stop forwarding eventually.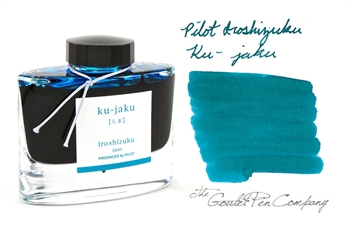 Thanks to Rachel Goulet, who gave permission to me to use their beautiful product photo and swab.
More thanks to Amberlea who gives so much of her time to herding these inky kittens.
Many apologies for the lateness of the post this month.  It's been a busy time.  I hope you've tried the ink out and have something to share!