Here's a review of a vintage Orium Major no.100, by the Wyvern Pen Company. This is a pen I know next to nothing about.
Lol - is anyone still reading? I bought the Orium for three reasons; the attractive celluloid, the Greek key cap band, and what *appeared* to be the original nib.
The first two were as they appeared in the photos. The celluloid is like some sort of alien camouflage from a more vibrant world. The Greek key cap band is my first, and its severity contrasts wonderfully against the celluloid's chaotic earth tones.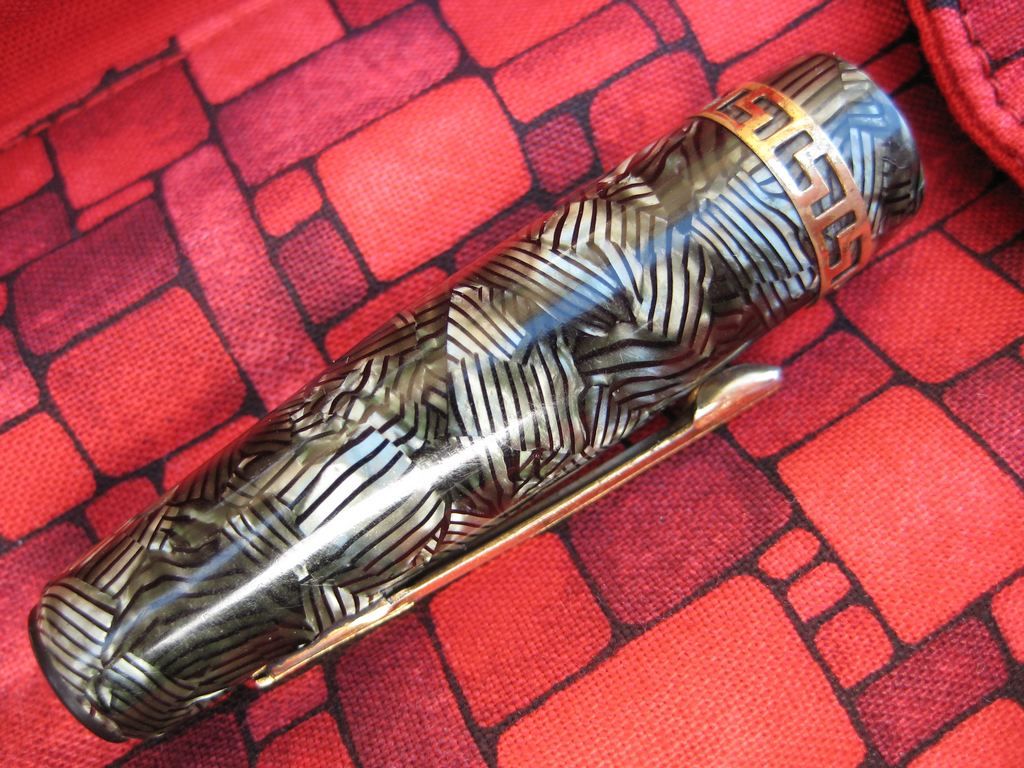 Seeing the nib for the first time, however, was a hoot - a real face-palm moment. I had assumed the few letters I could discern in the auction photos to spell "Orium". Nope! It's a folded-tip Osmiroid 35 nib. Hah!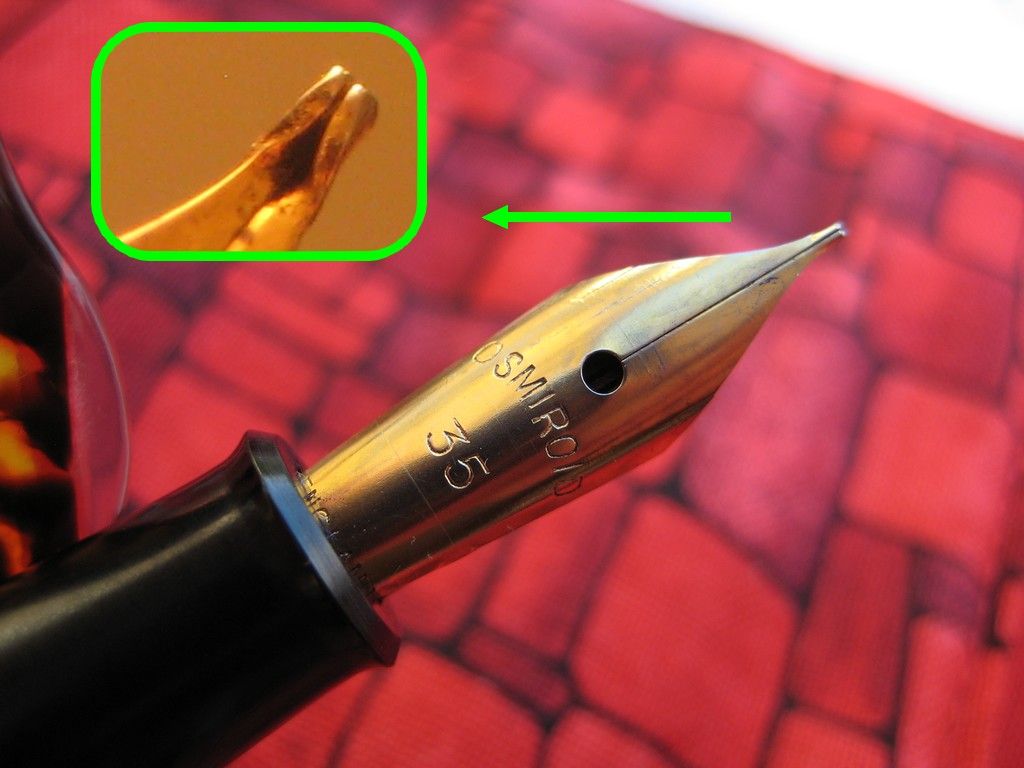 With my self-satisfaction duly laughed out of the room, I spun the barrel around, to check the state of the lever, and instead met with a surprise. No lever! Wow, I really did my research this time around. It's a button filler.
Appearance
During cursory pre-purchase research of the Orium brand, a post by Garnet
here on FPN
was particularly helpful, explaining that they were Wyvern's mid-level school pens (Wyvern being recognisable to me in a small way, their 'wyvern shooting flames out its maw' logo being fairly memorable).
I've taken a photo of the 100 next to a modern school pen, the Lamy Vista, because I find the juxtaposition hilarious. If hypnotic celluloid and Greek key cap bands were a prerequisite of school pens back in the day, well, I say they were on to something! I've taken indoor and outdoor shots to hopefully show how the finish looks in different lighting conditions. 
Outdoor: 
Indoor: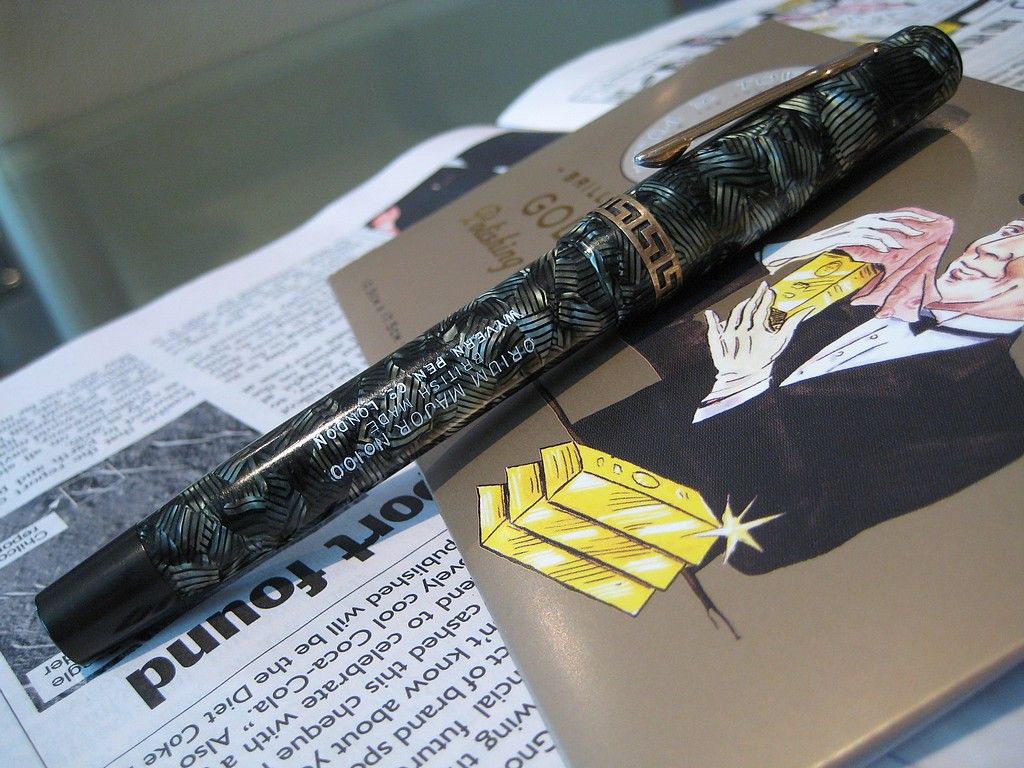 I'm fond of bold imprints, and the more grandiloquent, the better, so the Orium gets gets high readings on my affectation-o-meter. Utterly unnecessary, of course, but it makes me feel like handwriting was endearingly important to these people. I like that. 
On the meh side, the tab-style clip is quite crude compared to the rest of the pen. I'm not sure if the Orium deserves opprobrium here; this uneven area to the side might be due to damage suffered during the Orium's long years rather than bad stamping.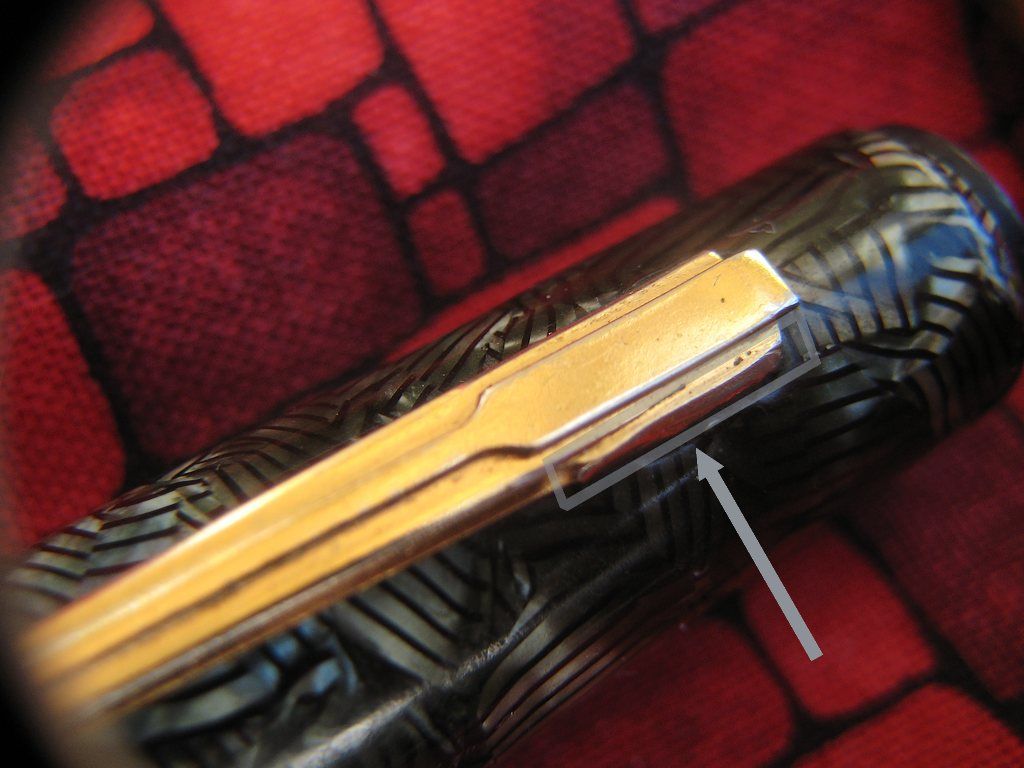 Functionality
I've found the Orium comfortable in the hand, I've included (outdoor) shots of the Orium next to a Parker 51 and Duofold AF for scale.
As a celluloid pen, it's lightweight, which is to my taste for longer writing sessions. The section is that comfortable flare - ended cylinder my hand favours (though I would prefer it to be longer), and is made of black hard rubber, warm to the touch and grippy.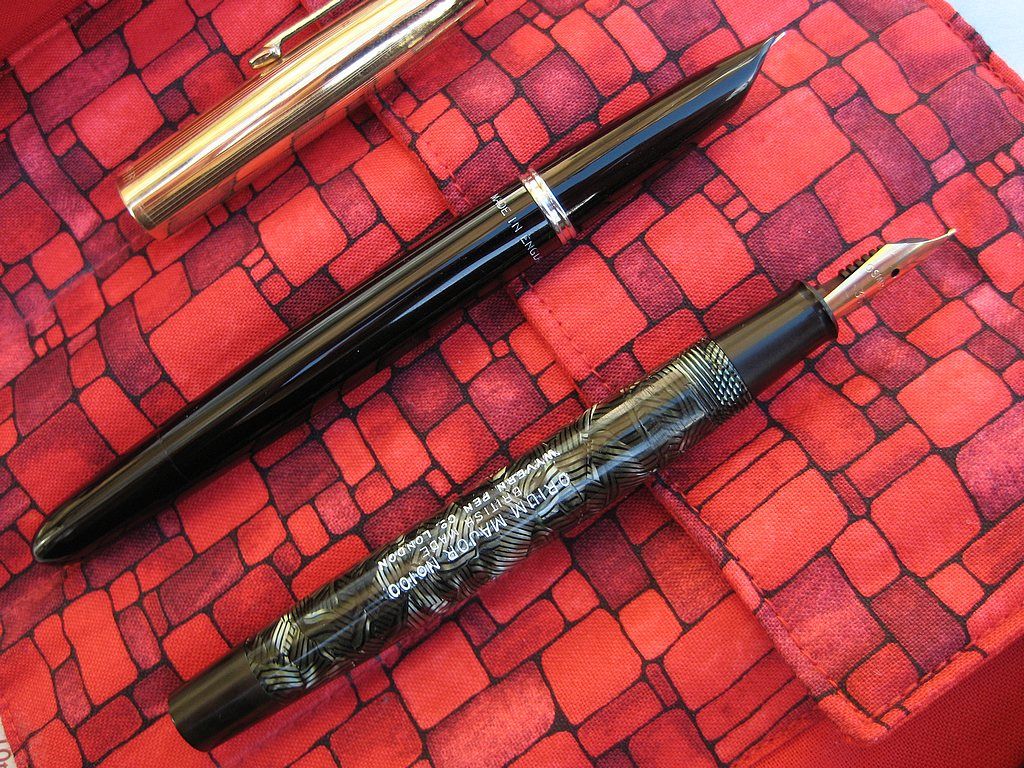 The humble, folded tip Osmiroid nib is surprisingly smooth and soft, its long tines make it very easy to see where the ink is going too. A BHR feed - which extends a surprising length into the ink sac - makes for ample ink flow. It's all nicely set up, and good enough to make me curious as to how well the Orium's original nib wrote. 
The tabbed clip feels quite weak, I think its clipping days are over. It stops the cap rolling off a desk well enough. 
Filling the pen is straightforward, and the button is easily worked one handed. The BHR blind cap only engages the last few turns of the barrel threads, so I have to be considerate of the pen's age when screwing it back in place.
Ease of Servicing
I've decided to including this as a category, as it can influence decision in an eBay vintage purchase context.
The Orium Major 100 is a button filler. Fresh buttons, pressure bars, and ink sacs are inexpensive and widely available if replacement is necessary, so no problems there. The barrel unscrews from the section on a standard lefty loosey thread too. As the ink is kept away from the barrel to section threads, they had never seen sealant, so safely came apart with a little heat.
I think I prefer a button filler in a neglected celluloid pen, in servicing terms. Perished, rock hard ink sacs are pretty common in these oldies. In a button filler, there's less scope for knock-on problems to fix. The button just won't move much (in fact, this one was seized solid, rusted into place).
Buy a lever filler with the same hardened ink sac scenario, and someone in the intervening years might have bruteforced a bend in the lever, the removal of which is more of a risk and hassle.
I'll write a short blog post on servicing the pen soon, are there were a couple of neat surprises I thought interesting enough to explore in more detail.
Conclusion
I bid on the Orium out of ignorance and curiosity, and found it to have a lot of appealing qualities. 
There was no real drama getting the ink flowing again, the pen has its charms, and I just plain enjoy the use of it (that's the closest I'm going to get to a 'score'... It's made me curious enough about Wyvern to learn more about the brand; I've since seen similar offerings with the same clip, Greek key cap bands with further rings above and below (very nice!) trellis-style cap bands, and the like. I have found one eBay listing of an Orium with original nib, which looked fairly conventional.
Edited by Flounder, 16 February 2015 - 19:39.