Renzetti 1909 is a small Italian company that stands out for their expertise in the medieval technique of Guilloché engraving of precious metals, such as gold, silver, platinum and steel. Renzetti, that has been mastering this decoration technique since 1909, few years ago launched their own pens collection, dedicated to the city of Milan.
The most of their pens are named after a street of Milan and embodies the spirit of its people, its personality and history.
I posted a nice article in my Blog regarding the links between Renzetti and Milano: "Pens, sales, Expo and Giardino Blu - here's your perfect holiday in Milan" but now I want to introduce a special sale I'm running about the old Via Meravigli:
It's a smallish pen, made in variegated/dotted celluloid, with rhodium cap and trims. The cap is carefully engraved with Guillochè technique.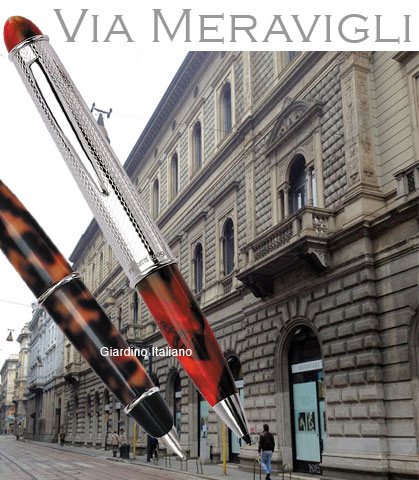 There are two colors of celluloid:
- red, with dark (brown/green/black) dots, and
- turtle, in amber/brown/black tones.
Both colors are available as ballpen or fountain pen (only one nib, unique size, approx Medium), separately and also in a Set.
The fountain pen is so small that it can't hold a converter, just a cartridge. The cap posted back makes it a normal size pen, but the barrel alone is short.
The series -unfortunately- is discontinued, and I got all the last pieces with a special discount, that I'm glad to transfer to my customers.
Therefore, you can buy Via Meravigli (fountain pens, ballpens, Sets) at 65-70% off.
The Set (fountain pen + ballpen) costs only Euro 45, instead of 150.
Don't wait too long! 
The currency rate (Euro/Dollar) is also very good, now. It's a double deal...