About the Patron
Alexander von Humboldt's travels through distant continents and research of foreign cultures made him the first German cosmopolitan.  The naturalist and cultural patron was born in Prussian Berlin during the age of Enlightment and later travelled the globe to explore new horizons.  Humboldt discovered a rich new world of flora on his great South American expedition (1799-1804)  and researched the language and culture of the native Indians. The result was "Kosmos" a literary lifework in which Humboldt expounded on the knowledge gained through his travels and research.
Information
Launch: 2007
Limitation: 4810 (Another edition is 888)
Characteristics: Black grenadille cap and barrel, 925 sterling silver inlays and Platinum-plated 18K Gold nib with an engraved sextant
Official Link: Montblanc
Review
Initial Impression:  8/10
I started my limited edition pens from Great Character series hence I'm more familiar with big boxes which is twice of the size of Patron of Art 4810 packaging.  Having said that, the packaging is simple and the pen display case has a beautiful turquoise colour.   It is simple and also beautiful.  It would be higher score if the packaging would be accompanied with an additional booklet which included in Great Character series.
This is my first Patron of Art pen and I believe I'm starting with one unique pen of the series.  It takes me a short moment to appreciate the pen due to its simplicity which is a contrast to Great Characters series which I own.  The wood finish is the first thing that I noticed followed by the silver inlays.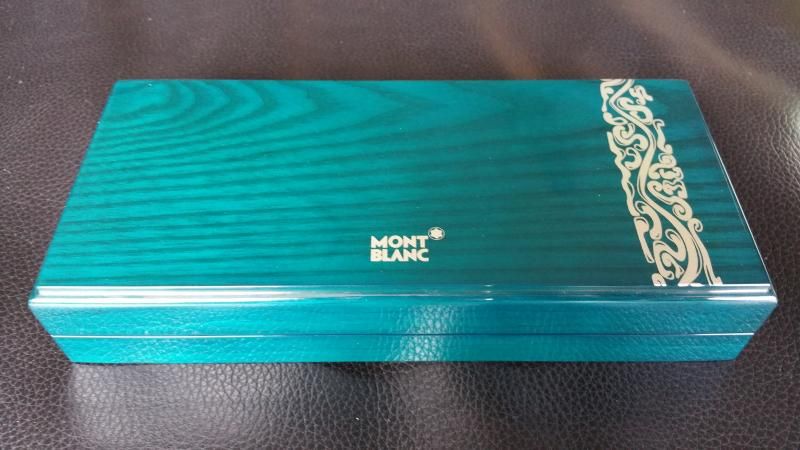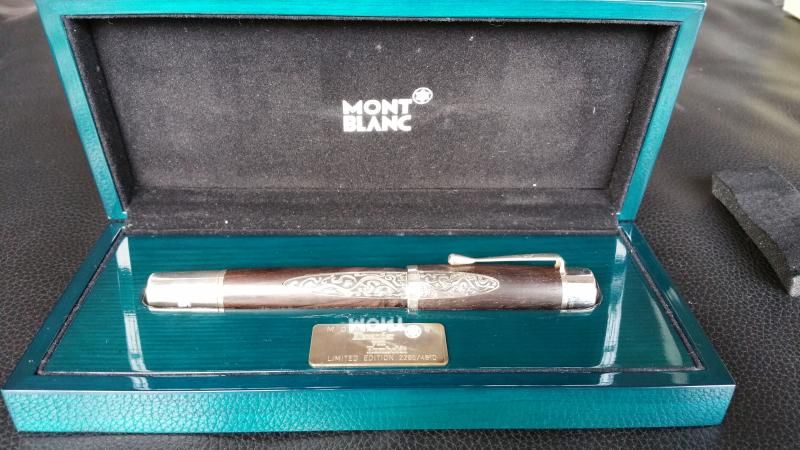 Feel and Balance: 8/10
The pen is light yet balanced.  It can't be posted securely.  I believe this one of few pen made from wood by MontBlanc.  There is a uniqueness in handling the pen.  It is not as smooth as resin yet smooth enough with some grainy texture.   It certainly good to feel differently from "precious resin" and metal for once.  Twisting the cap is very smooth and with low resistance.  
There is no ink window which mean a careful estimation of usage would be applicable.  I would fill the ink full before travelling on full day meetings or overseas.
The pen has a stepped-down barrel. As some say, usually it would potentially cause an issue for long writing.  I find it quite useful as It provided the place where I should put my fingers and not distracted by the silver inlays.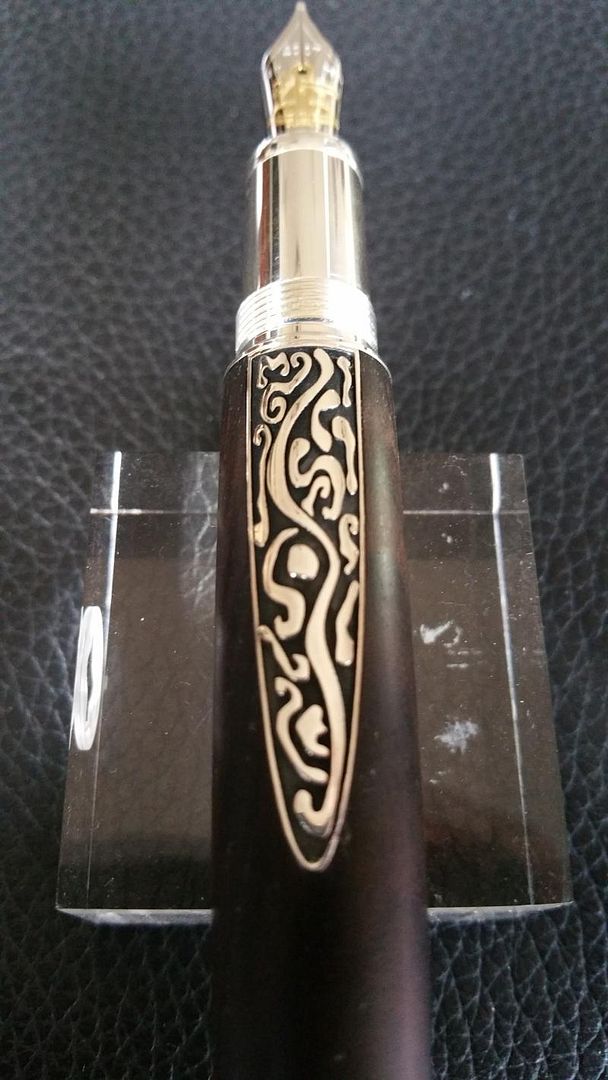 Design:  9/10
There are three silver inlay section: On the left, right and back side of the pen.  The nib looks fabulous with dual-tone nib which offer a bit of variety instead of a single tone nibs.   The silver inlays are securely placed with the wood barrel.  I observed that some dust and dirt may settle in the small gaps between the inlays.  Cleaning it would take more effort than a simple swipe.
As said by many, the wood will change colour depending on exposure to sunlight and the contact with hands.  It provides a unique personalisation to the pen.  Montblanc does not provide any tips of the care for this material.  I am still looking ways to best maintain the pen.
Overall, the design is simple and projects back-to-nature sensation.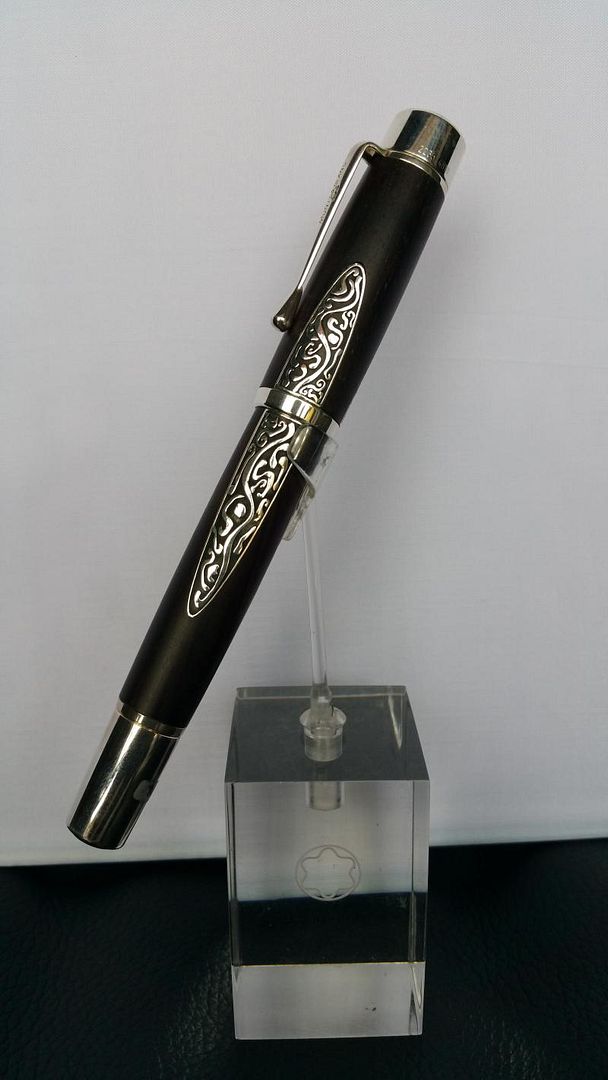 Nib Performance/Writing experience: 10/10
It wasn't until I start writing that I truly appreciate the pen.  The nib performs very well and so smooth as if it 'glides' on the paper.  Definitely the smoothest pen among that I have.  The nib is Medium.
Overall:  8.5/10
The pen is a pleasant surprise for me.  It was unique, simple yet great to use as daily writing.  I could bring this out and it would not draw unwanted attention.  Excellent for those who find PoA or GC pens too flashy.  At the same time, being away from 'precious resin' provide a good break between other pens.  The nib design is also visually pleasing.
Cleaning would require different approach and more effort than other pens due to the material and intricate inlays.
Finally, I can't agree more with one FPN member - Axis.  I quote his comment in another thread:
I have got the pen as well - it is made of grendilla wood... (snip).. And don't sell it - this is one of the best POAs to me!
Edited by OngL, 20 January 2015 - 11:03.