Hi folks,
This is my first attempt at a pen review, so thanks in advance for your patience as I fine tune how I'll do these in the future.
I'm an airmail fan - that is, I enjoy the research and study of the impact of early aviation on the transport and delivery of the mails.
So, it seemed a natural that when I learned about the Airmail Pen Company in Mumbai, I take a closer look at their products.  Airmail Pen Co. was started in 1951 in (then) Bombay, India.  While I have not had the pleasure of visiting the Sub-Continent, I'm told that Airmail Pens are quite popular there.
Though they are available in a few locations, I went to Fountain Pen Revolution and quickly found a few attractive models to try.  As it happens they were running a 50% off sale (try to get that from the Montblanc dealer in the mall!)...which brings me to the first solid 'Pro' about Airmail pens - the price.
The pen I am reviewing here is the 58SL in dark blue and cream swirl and retails every day for USD $15.  Yep, fifteen.  Count 50% off of that and I paid a grand total of $7.50 for this pen.  Shipping was $3, from India to the US.  Now to found out what you get for your money...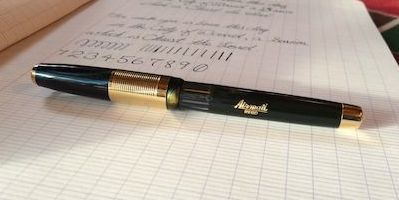 The pen itself is attractive, made of plastic (acrylic?) with brass or brass plated clip, jewels and jewelers band at the cap base.  Time will tell how durable these treatments are but they make a nice first impression.  The fit and finish of this and other Airmail pens I have is adequate to very good, certainly above expectations based upon the price.
The 58SL is a screw-cap, eyedropper pen and the threads are cut precisely without slop or excess.  Being an eyedropper, this pen holds a lot of ink.  I measured just over 2.5ml in the thick-walled barrel.  There's also a very nice, striped, ink-view window.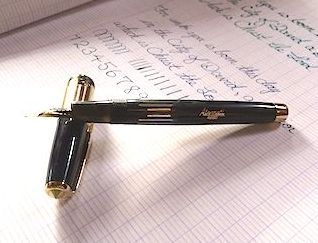 The pen posts well and balances nicely.  It's lightweight, as it has no cartridge, converter, sac or piston but sits well in the hand.
This brings me to the nib and feed, the heart of any pen.  I ordered a Fine point, but XF, M, B and Fine Stub are also available.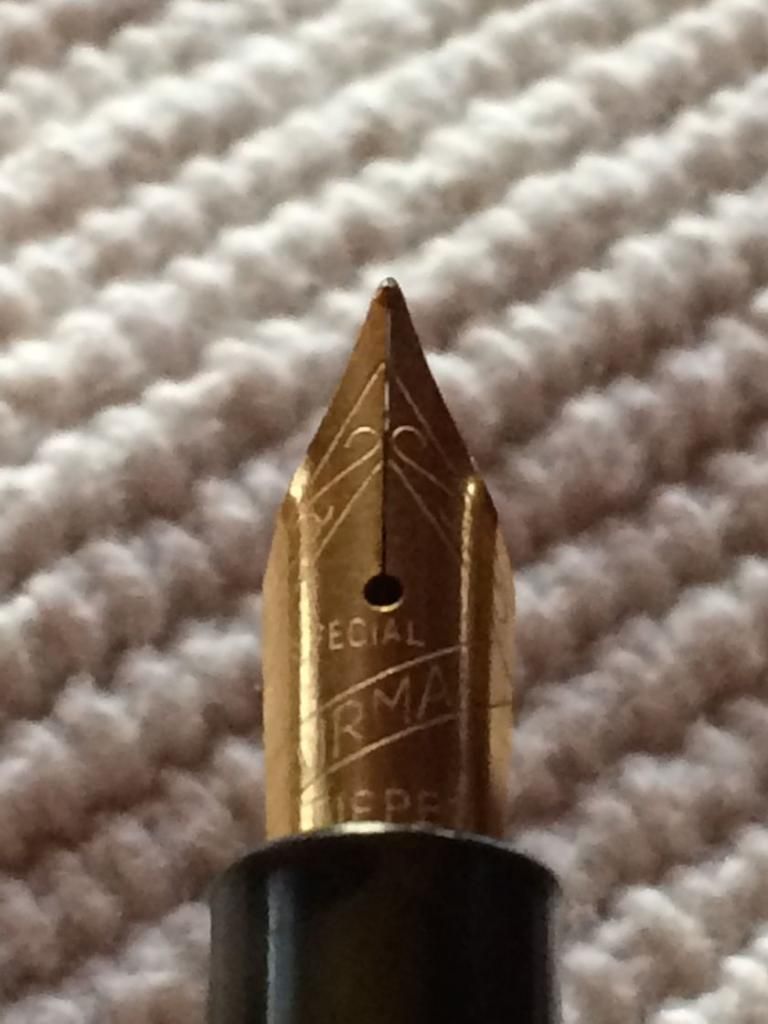 While I wouldn't call this a flex-nib by any stretch, it does have some line variation.  The nib provides a little more feedback than I like on Clairfontaine 90g paper but judicious work could smooth that out some.  The nib and feed are friction fit, which makes swapping nibs simple.  If I can't make this nib perform for me, I can just try another.
Here's a quick writing sample.  The nib is basically a nail, but applying reasonable force can thicken up the lines a bit.  Ink is Parker Quink Blue-Black, my test ink as it's tops for flow and lubrication if a little dull in the color department.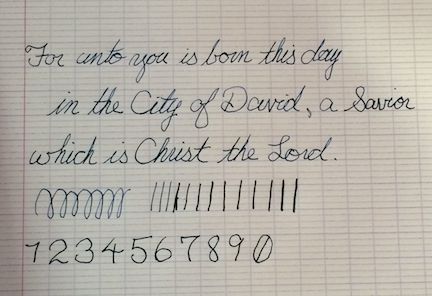 So, to sum up...
Pros
Price
Fit and Finish
Execution (machining, tolerances)
Price
Ink Capacity
First Impressions
Price
General Appearance
Cons
Smell - funky plastic odor
Nib - nothing special but the fact that I can easily swap another nib makes this a moot point for me.
Notes
No box, the pen comes wrapped in bubble wrap.  This is somewhat of a plus for me as I'm not big on boxes but some folks may want one.  
I've just received this and the other Airmail pens I bought so I'll report back with my impressions after a few weeks of use.
So far, this pen has really impressed me - primarily because it was so inexpensive.  Put a nice mid-century Schaeffer 14k nib on this pen and you really have a winner and for much, much less than you might spend elsewhere.
Jack