I'm about to attempt my first restoration of a piston fill Doric and an adjustable nib. Have read the Da Book, Fr. Terry's Sheaffer vac references and looked at Richard's site. I have questions about opening the pen to access the piston, knocking the feed out to free the nib which needs adjusting and restoration of the "thingy" (Safety In Shut-off) on the underside of the feed.
I've opened several Sheaffer vacs to replace washers and augment the filler seal and expect to use that experience. I've knocked feeds out to free the nib to work on but never on an W-E adjustable nib.
Is there any reference help out there? I've searched this site and found good general information. Is there any detail information on the site I'm missing?
I'm proceeding with caution for the pen was not a sumgai.
FPOW pg. 139- illus. #18 shows the pen type, however mine is black
Thanks for any help. Richard
Edited 5.20.07
I started this thread some time ago. The first response was from our moderator - the Wahlnut.

The results of this project.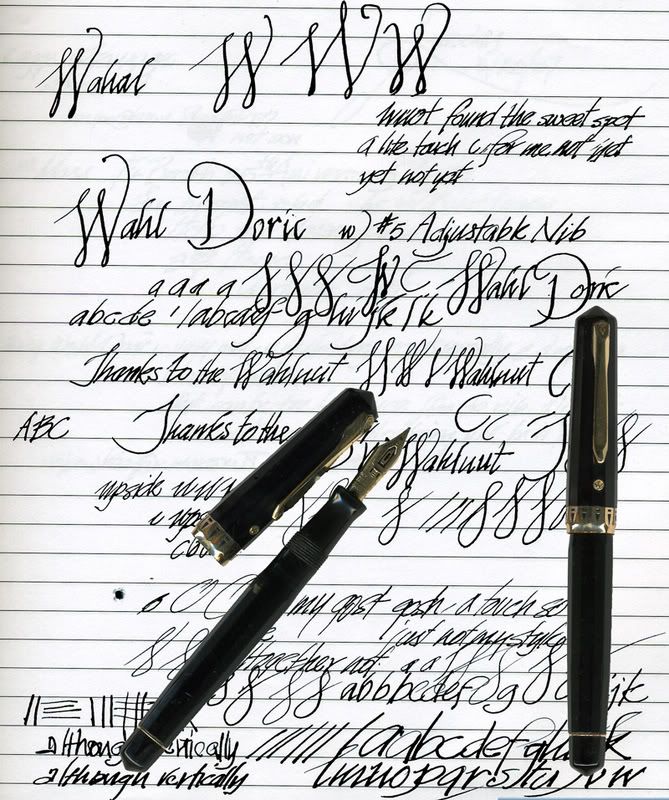 Read through the thread and you'll see that I got my self in a jamb. However some BC chat with Syd and his offer to tweak the work that I had done resulted in a replacement section, adjustable nib, plunger washer which Syd installed and tuned after my attempts fell short.
Great communication, mentoring, generosity sharing knowledge, rapid turnaround, very reasonable charges and finally the necessary experience and skill to make all work in a pen which I now know to be more complex than I imagined at the onset. This FPN moderator cares about Wahls and about those of us that are interested.
If you are considering a Wahl or are having difficulties with one I suggest you consider discussing it with Syd, the Wahlnut.
The disclaimer - just a very pleased fellow FPNer with no affiliation. Many kudos to Syd and the Wahl Eversharp Forum
Edited by RichKen, 20 May 2007 - 20:39.