Pink Roses Floral Stationery Portfolio 
I discovered this lovely stationery folio at Barnes & Noble this weekend.
I couldn't resist the beautiful roses in pink and purple; so entirely perfect, as though they were made just for me.
This folio includes 10 cards and 10 envelopes. They are decorated with roses. Even the inside of the envelopes have the beautiful rose design on the inside. The folios were $9 each.
There were only two of these sets at my local B&N, and I had  to get them both. I asked one of the clerks if they had these restocked often, and he confirmed my suspicions that they are unique and the stock is infrequent.
I was so excited to bring them home and test it out, but at the same time knowing I only have 20, I also want to cherish them and to savor each precious card and envelope!
I inked up my TWSBI Mini Rose Gold & White with a broad Pendleton Butter-Line-Stub with Mont Blanc Lavender Purple ink. I think the dark purple ink coordinates well to the darker colors in the rose design.
I wrote down verse one and verse three from an old hymn called "Jesus, I Am Resting, Resting." It is currently one of my favorite hymns and the words lift up my soul in beauty and peace!
So I know the big question - Is it Fountain Pen Friendly?
And the answer is YES!
I did notice a tiny bit of feathering where the ink was laid down really wet, but I had just freshly inked my pen so there was a lot of ink in the feed - more than in an ordinary writing session. No bleed through, no show through. The paper is a bit thick, I am not sure of the weight as none is listed, but by my guess it is thicker than 32lb but not as thick as 65 lb. Again just my guess!
The ink color looked absolutely gorgeous on the cream colored paper! Swoon worthy!  
I don't know if this would do well with something extreme like an Ahab flex, but for finer nibs/drier inks to moderately wet it appears fine from my one sample. As I use more through time and try different inks and nibs I will get a better feel for what this paper can handle.
Here is the photo from the B&N website: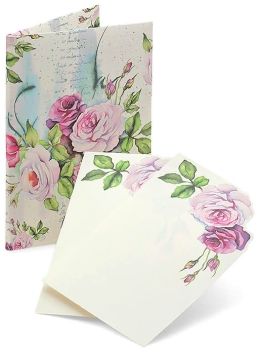 Over all I am very well pleased! My only regret is that I may never be able to find it again. 
 I did with some searching find it on the B&N website, although it is sold in stores only and all stores near me (within a 3 hour radius) are sold out.
Here is the link to the product on B&N website:
http://www.barnesand...i=9780641699634
If I ever come across more of this gorgeousness I will definitely be indulging in purchasing more of it!
Has anyone else tried any papers by the brand Kartos? The label also says San Lorenzo Italy.
Please share your experiences and thoughts!
And to leave us with a last image of those gorgeous roses...
Edited by Tessy Moon, 10 November 2014 - 06:45.