I've had these photos on my phone for almost 2 weeks now and was excited to finally upload them last night, but couldn't get them on the site 
. After some experimenting, I'm happy it just worked with photobucket, so here it goes!


I wanted to do this comparison for two reasons. First, because green olives are a big guilty pleasure of mine (I ate around 20-30 of them while writing this review last night
) and second, (and more importantly) I read in a couple threads that people were asking how the Montblanc Daniel Defoe Palm Green ink compared to other "olive-ish" greens. So, I thought I would add the samples I have to the wonderful comparisons that amberleadavis and dcroe05 already did! The inks tested are: Diamine Salamander, Stipula Verde Mushiato, Sailor Tokiwa-Matsu, Montblanc Daniel Defoe Palm Green, Rohrer and Klingner Alt-Goldgrun, and J. Herbin Vert Olive.


The samples were done on Rhodia using a 1950s 146 and a Pilot Custom 74 B nib ground down to a smooth stub by Mike Masuyama.




(group shot in indoor lighting)
Closeups: (done in sunlight only -  I find these photos truer to the color on paper)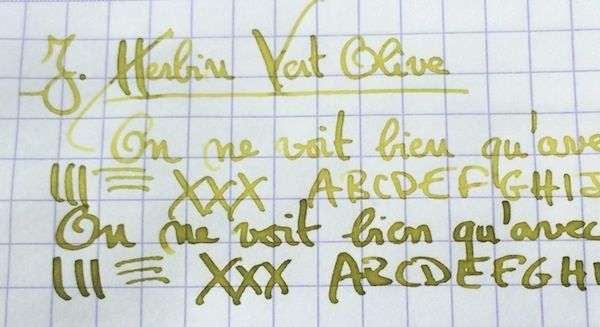 Tokiwa-Matsu Sheen Closeup: (indoor lighting)
Ink Swabs:
Ink on Paper Towel:
Top Row: Diamine Salamander, Stipula Verde Mushiato, Sailor Tokiwa-Matsu
Bottom Row: Montblanc Daniel Defoe Palm Green, Rohrer and Klingner Alt-Goldgrun, J. Herbin Vert Olive
Salamander is probably my favorite shade of "olive" in this group, because its color is difficult to pin down. It's not a green, brown or grey (and maybe not even an olive) but all three combined and the mix makes for a unique shade that is great for someone looking for a more exciting alternative to black that could be used in an office environment. My biggest complaint with this ink is that I wish that the flow and smoothness were both stronger. (But, I should note that I like very wet and smooth inks, so please do not let that discourage you from trying it.) On a side note, if you've tried a smooth wet ink that is very close in color to Salamander please let me know!


The Defoe ended up being my second favorite shade of olive from the bunch (another amazing Limited Edition color from MB!), but I have yet to pick up a bottle. I am on the fence about whether I will get one or not, because, although, I love its color, as with most of my MB inks I wish it felt a little smoother under a flexi nib and given the heavier pressure I use while writing. (Though it felt smoother to me than Salamander.)

Tokiwa-Matsu is by far the most interesting ink of the ones compared because of its spectacular reddish sheen. It's not my favorite shade of "olive", but it is my favorite ink to use out of the 6. I highly recommend it if you are looking for an ink with that special factor that makes you do a double-take every time you use it.
Alt-Goldgrun is the closest in color to the Defoe. I loved the shade and shading when I first got a bottle, but I find myself using it less and less. After testing the Defoe, I much prefer it for note-taking since it is less yellow and a little darker.


Verde Mushiato is an ink that I'm on the fence about, because I wish that, in my pens, it looked closer to some of the writing samples I've seen where it has more green mixed into the brown. Don't get me wrong; the ink is a beautiful color, but I just don't enjoy using it for a full page of notes, so my bottle doesn't get much use. Performance wise, the ink has a different but pleasant, slightly powdery-soft feel under the nib which makes for a pretty smooth writing experience.


Vert Olive is another nice shade but too light for me to use as a daily ink.
Which is your favorite of the six?
Edited by bstnnyc, 20 October 2014 - 22:43.