I received my Parker Urban Premium in Metallic White, M nib, last Christmas, and have been using it regularly for close to a year now. Right now it's inked with a mixture of Diamine Yellow and Pelikan Brilliant Red. These are my thoughts on how I feel about the pen!
Appearance and design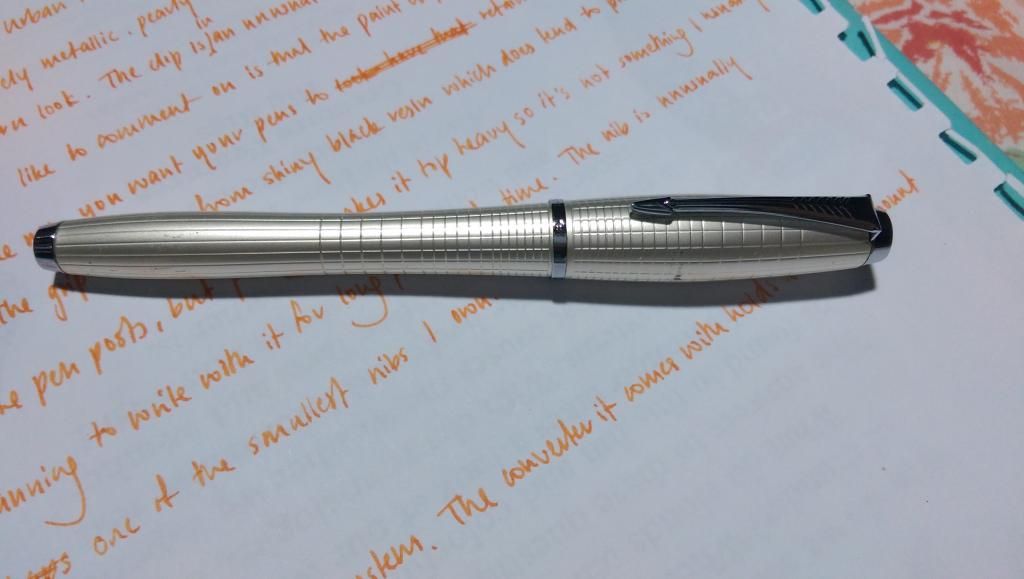 The Parker Urban Premium is a beautiful pen. I love the streamlined hourglass shape, the lovely pearly white finish. The crisscrossed lines on the barrel and cap add a touch of elegance to the look. Being made of metal, it feels well built and has some weight to it, but not so much that it causes hand fatigue easily. The clip is an unusual, arrow shape, and it feels quite tight. However, one thing I'd like to mention is that the pen scratches very easily, despite the care I've taken to keep it looking as new as possible. You can see the big paint chip on the cap and little scratches on the end of the barrel. 
The grip is made from shiny black resin that tends to pick up fingerprints easily. The pen posts, but posting makes it top heavy so it's not something I usually do when planning to write for long periods of time. Unposted, the balance is alright. The nib is unusually small - one of the smallest nibs I own. 
Filling system
The Parker Urban Premium uses a c/c filling system. The converter that comes with the pen is solidly build and holds a decent amount of ink. What I especially like about it is that, instead of having to twist to draw in ink, all you have to do is pull up a plunger (I'm not very sure how to describe it, so I'll just post a picture below). There also happens to be a little ball bearing in the converter that you can shake when ink gets stuck at the top. 
Performance
The nib is a steel, M nib. The medium writes slightly narrower than the other mediums I have. It is quite stiff, with no flex or line variation. However, mine is very smooth, reliable and wrote perfectly out of the box. I have yet to experience any skipping or hard starts. Flow is somewhat drier than my other fountain pens. 
Overall impression
Despite some minor minus points, all in all I'd say the Parker Urban Premium is a pretty reliable pen with a fantastic design. I'd recommend it to anyone who's looking to get an eye-catching yet functional pen for a reasonable price. 
Thanks for reading my first review! (:
Edited by rhianova, 15 October 2014 - 10:08.