Dear FPN friends
The great Stephen brown, the David Attenborough of Fountain Pen Documentaries, would porbably say....
It is Time for an other SHOOT OUT!!!
But since no one can equal the excellence of SBRE Brown I write.
It's time for another Allied Forces
De Atramentis Khaki - J. Herbin Lie de The
Bottles Nice but nothing fancy....
But  i do not care about that.
If you urinate (water in) a Crystal Bottle.... the bottle is beautiful.... but the contents still stink
Outer beauty dissapears in due time.. Inner beauty stays...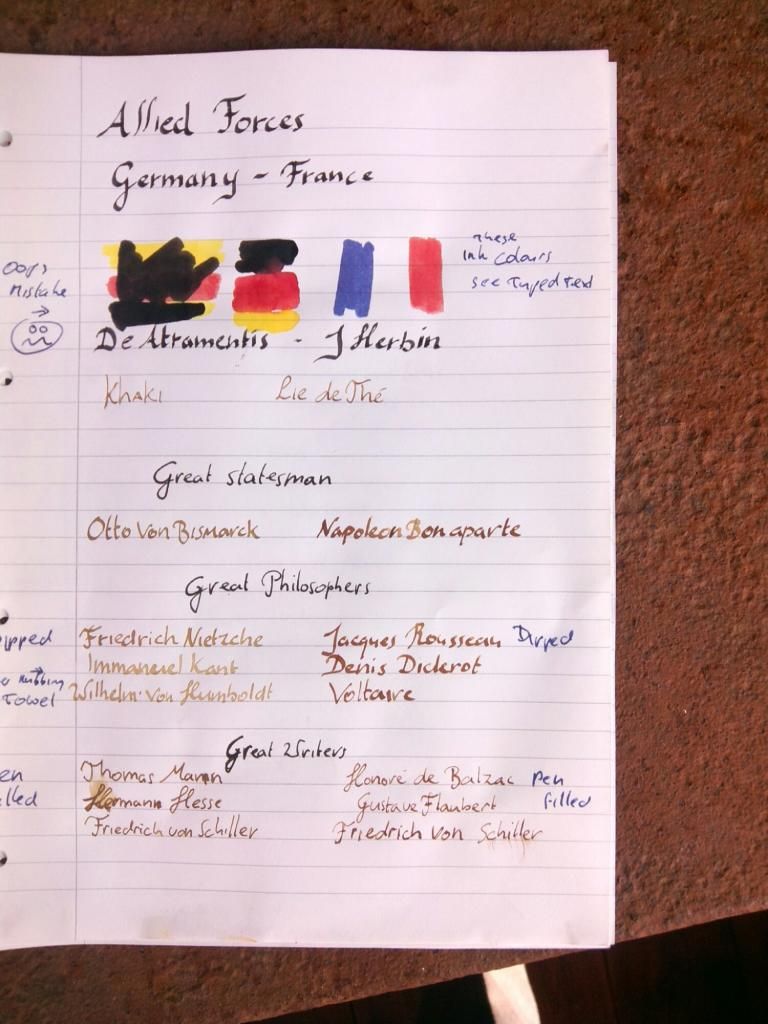 Colours look pretty similar. DA is more yellowish an earth or soil brown. Herbin has more red I guess it is a darker brown.
Look at the difference in the nib sizes
Fountain Pens Lamy Joy, 1,5 Italic Diplomat Excellence A M nib
I tested both Dippin and wiht the pens filled
Well I think those colours are beautiful and a bit a like too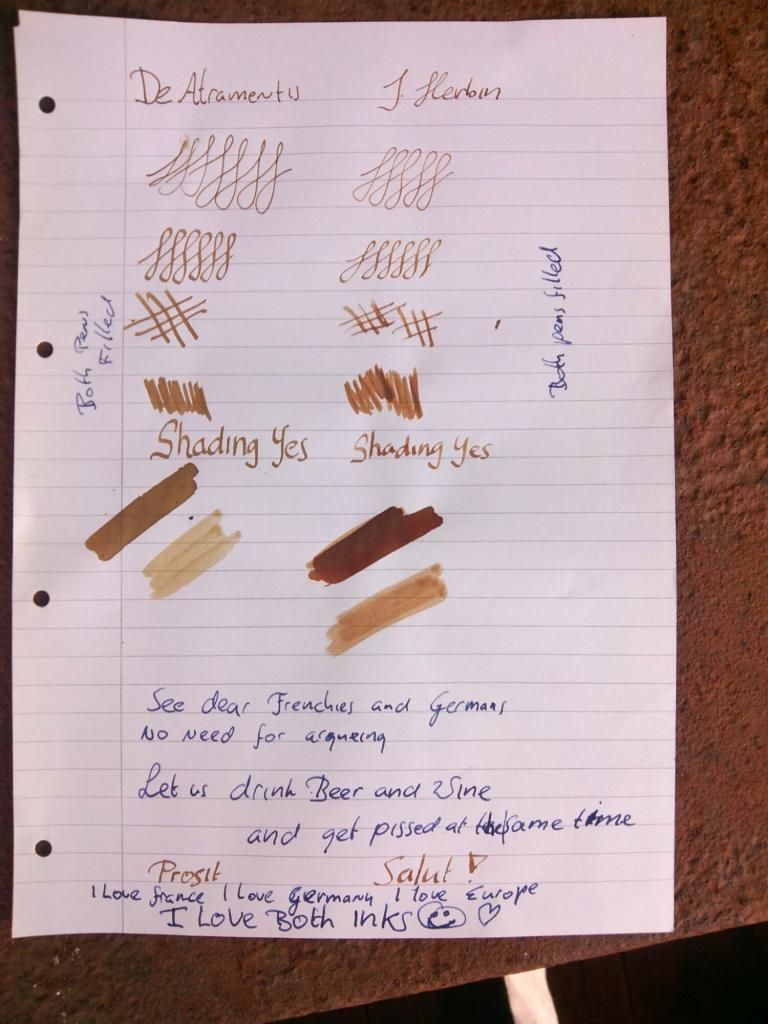 Both inks shade
Flow in both inks is superb. The De Atramentis is a bit quicker drying... 
Waterproof this chapter goes to Herbin which can withstand an occasional drop of water
No feathering in both inks 
The other colours used
Black = Kaweco black
Yellow = DA Document yellow
Black in Flag is  DA Document Black
Blue in Flag = DA Document Blue
Written Blue = Herbin 1670 blue
Entschuldigung für die Sauhaufen beim erste Versuch der Deutsche Flagge. Just apologized for making such a Mess in the German flag.
several of the above mentioned ink I have extensively reviewed before
Conclusion
I have reviewed the Khaki extensively before
http://www.fountainp...ramentis-khaki/
Good old Visamitra  has a nice habit of making excellent reviews. He most recently published a review of Herbin Lie de The
I kindly invite you to read that review.... Is is awesome as all Visamitra's review are
I both inks..... Very well behaving, shading and beautiful colours. Alike but still different.
Happy to have them both 
Regards Peter
http://www.fountainp...e-the-j-herbin/