De Atramentis Permanent CMYK Ink Experiments
Dear FPN friends,
I have already reviewed some of the DeAtramentis document inks. These are truly Bombproof inks. I tested the "survive-an atomic-war-resisctance in several reviews, one of them is listed in the link down below. 
http://www.fountainp...-ink-dark-blue/
you will find the specs and  the beaviour of these Document inks in the article linked
It survived the most horrible torture wiht the most agressive fluids.
Mixing your own PERMANENT ink colours and shades
I am in frequent contact wiht some artists of Urban Sketchers (USK). USK is a worldwide internetplatform for artists.
There are quite a lot of artist who paint with Fountain Pen Inks. i.e Fellow FPN-Member Pictogramax or USK prominence Liz Steel http://www.lizsteel.com
According to those members Permanent Inks in several colour are the holy grail for artists, since those are permanent and lght fast. I have inserted a fine work of art by the great Pictogramax at the bottom of this article.
Permanent Cyan, Magenta Yellow, Black (Key) CMYK colur mixing.
For artist, and I  guess for you FP-lovers too, using a colour scale, as wide as possible, is of utmost importance....
De atramentis therefore added a yellow, a Fuchsia(magenta), a turquoise (cyan) to their standard range of document inks which consists of, Blue, Dark Blue, Black, Brown, Red and Green.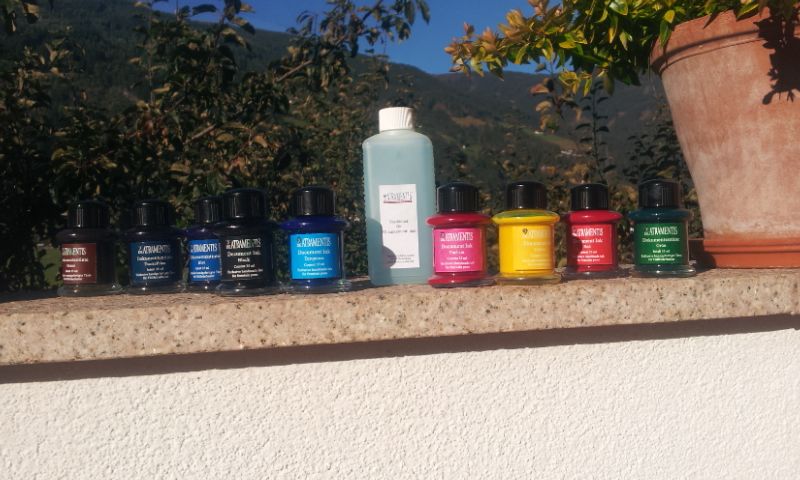 Substractive CMYK Colour mixing wiht De Atramentis Document inks.
With the CMYK colours one can mix virtually any colour in every Hue, and wiht the De Atramentis thinning agent for permanent inks one can mak every shade possible too...
Mixing Ink colours is nothing special.... But what is special ist that these inks are permanent and comply to the ISO 12757-2 , the European standard or permanency.....
Now every colour lasts till eternity and you can even give them a suntan....... No fading...What is special is the yellow permament ink... As far as I know the great  Noodlers an De Atramentis are the only passionate ink companies to offer those
Best of all these inks are safe for fountain pens.... and now available in every colour you like....
First mixing experiments
Mixing colours is a science, in my opinion. I am studying the scinece of colours a bit now.
Down here are the first quick-and dirty tests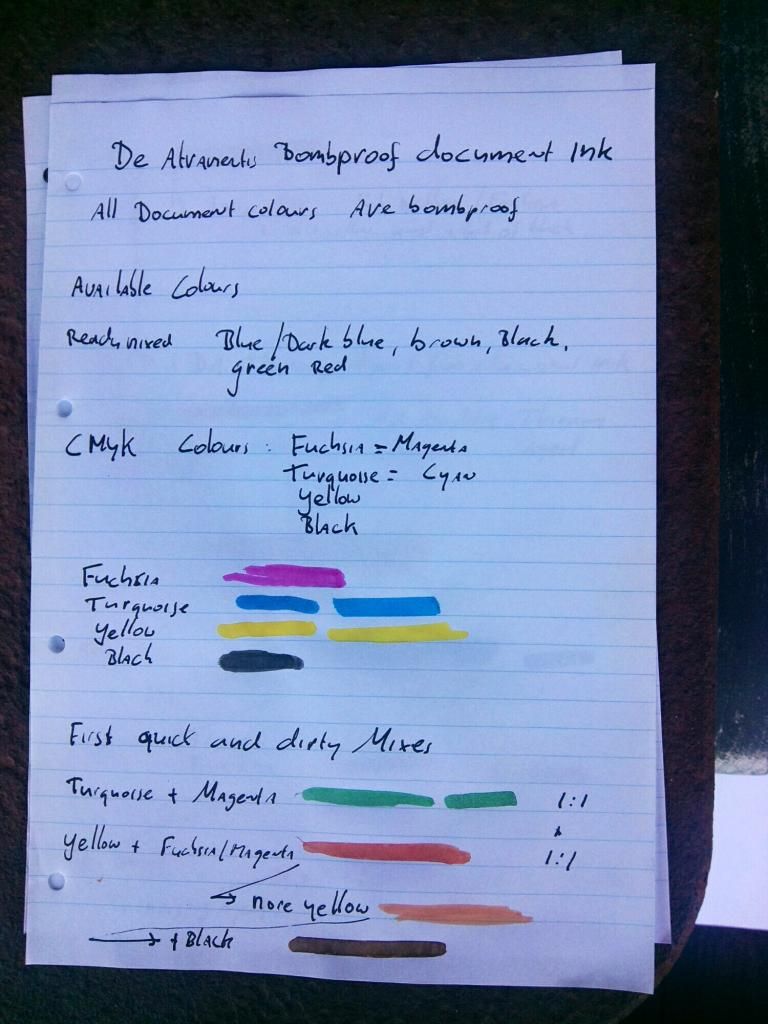 I first mixed the complementary colours here
Some more tests. I used the thinniing agent for Document inks to vary in shades (darkness/brightness)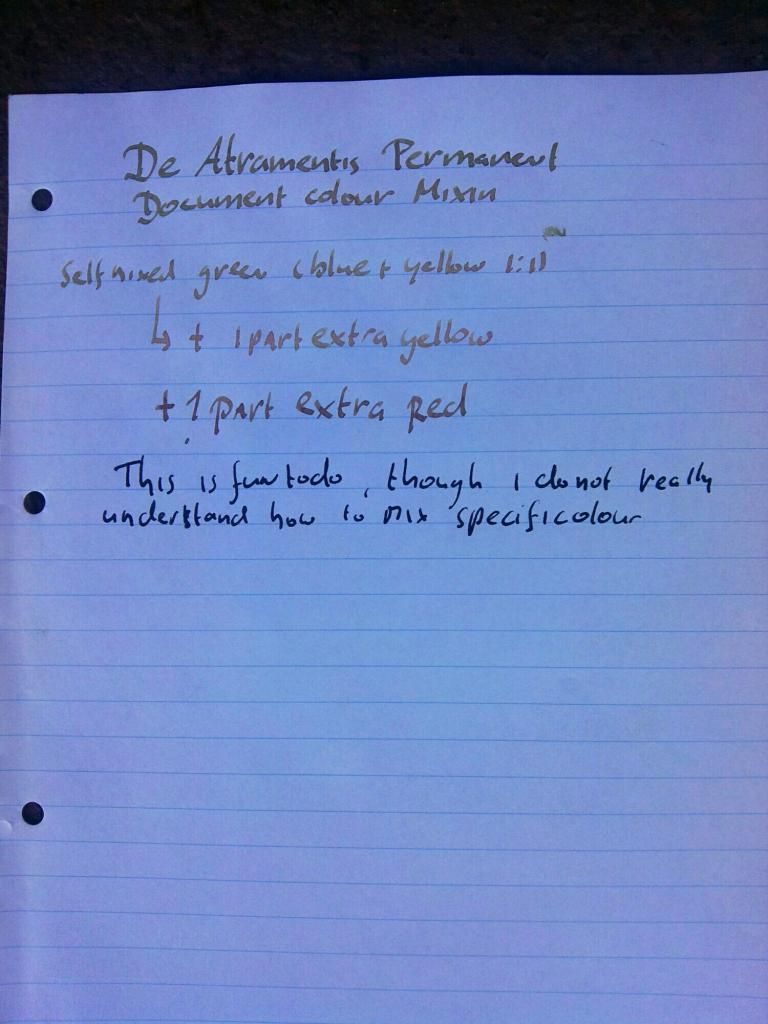 I love brown  inks so I head to try a little.... Just the first experiments... Hte ready-mixed Brown is awesome and shades
Conclusion
Ink mixing and colour mixing are great fun
I currently do not understand enough about colours, but I  will look into that.... any suggestions are welcome....
It is very cool to be able to make my own PERMANENT colours and shade.... Will do some in hte future.... I will experiment wiht my normal inks too.... But I like the Idea of Permanent inks in every colour possible
Artwork with De Atramentis (permanent) inks
I promised you to show you some fine examples of painting with inks.
Down here you see some Works by fellow member Pictogramax. He did some nice works with DA Khaki, Havann and gold before.
He now made the works down below wiht the  inks he received from the friendly owner of De Atramentis Dr Franz-Josef Jansen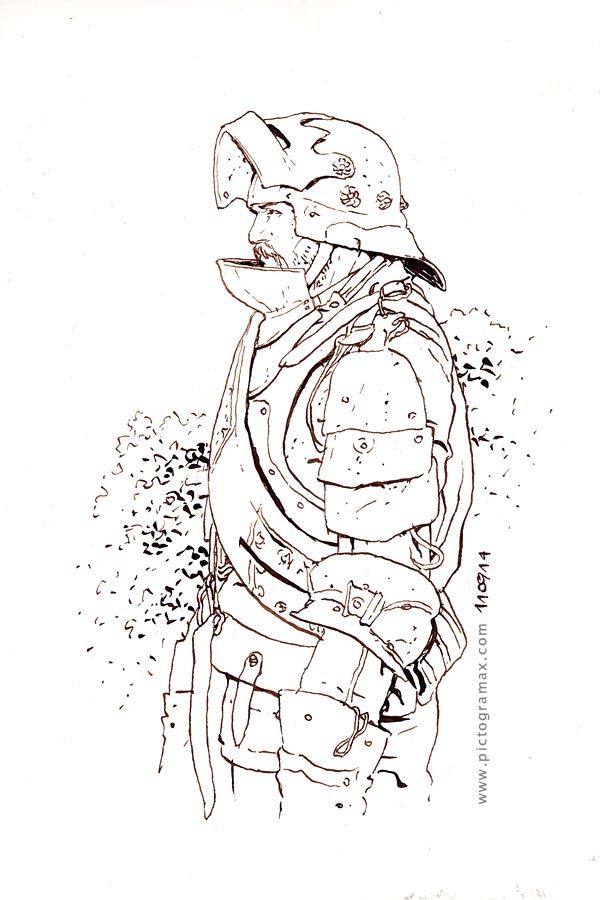 Made with De Atramentis Document  ink Brown and Black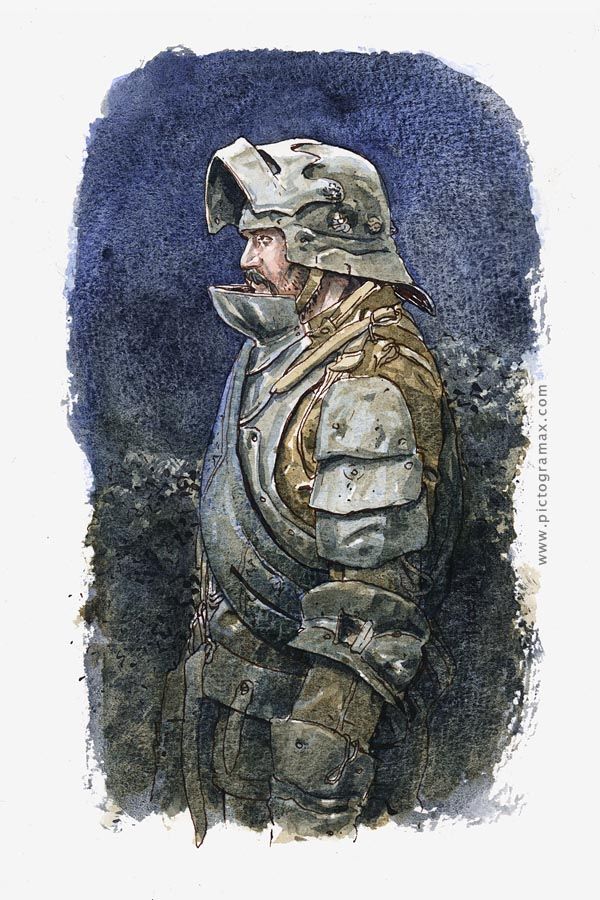 Finished with De Atramentis Brown, Black (permanent) Steel Blue and Sahara Grey (non-permanent)
awesome works or what??? Chapeau!!! Pictogramax
According to Pictogramax, the advantages are huge....
Permanency and  lightfastness. Painting over other inks wihtout blurring. Excellent behaviour.
My experience.....
No Feathering, some showthrough.... Wet as the ocean, but quicker drying than a camel's bottom during a desert stroll
...... and it shades.
Want to experience yourself???
I have already posted the following today:
Amberlea.... You already have Magenta and Turquoise....Black Yellow and Thinning agent samples are underway..... Oh and er.... I couldn't resist sending you Merlot Wine-ink as well (Please write don't drink
)
Cybaea your yellow is on it's way
Adrianc samples of all CMYK inks and the thinning agent are swimming the Atlantic now...
Why did I askif you want to experience yourself???... Easy send
me your adress.... Iwill send you a sample.... Do some Art Work
Regards
Peter