Maybe I just haven't been paying close enough attention to the pen world, but the resurrection of the Wahl-Eversharp pen company slipped right past me.  For those of you who haven't delved into vintage pens or their history, a brief explanation may help.
During the Golden Age of fountain pens, the "Big Four" American pen companies were dominant: Conklin, Waterman, Sheaffer, Parker and Wahl-Eversharp.  Some of you may think my math is funny, but Conklin went into decline at roughly the same time Wahl-Eversharp was rising to prominence, so there were only four major companies at any given time.  Wahl-Eversharp were best known for luxurious Gold Seal pens, the Equipoise, the faceted Doric and the art deco Skyline.
All fountain pen makers were devastated by the sudden onslaught of ballpoints, and all of the Big Four changed hands in various ways.  Waterman, Sheaffer and Parker never went away completely.  The Conklin brand was revived a few years ago and is now owned (along with Monteverde) by Yafa.  That left Wahl-Eversharp as the only "Big Four" brand that you couldn't buy a brand new example of.  Well...  Now they're back!  Right now the revived Skyline is it, though they're said to have a new Doric in the works.
I've had a few Wahl-Eversharps in my collection and liked them, but I never had a Skyline.  Although the design has garnered a lot of praise and is considered iconic by many, it always looked awkward and strangely proportioned to me.  The pen body is sleek and streamlined, while the cap is big and clumsy.  They don't seem to go together.
When I saw the new Skyline Technic, I had to reconsider my feelings.  The pen body and the cap are machined from billet aluminum.  The solid gray pen seemed understated, taming the excesses of the design and unifying the pen and cap.  When I learned that these have a "revolutionary", ceramic-coated, semi-flex, steel nib and a matching computer-designed feed, I was sold.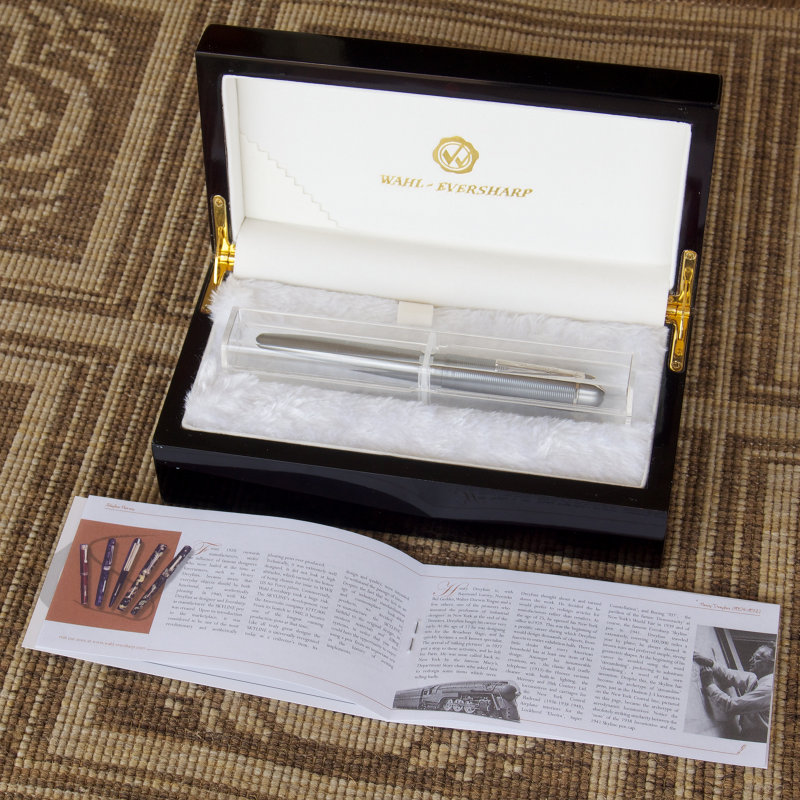 Unboxing the pen, I was first confronted with a large, glossy, black, presentation box with metal hinges and a sort of fluffy, fleecy, white lining.  The pen itself was sealed into a clear plastic capsule.  I was unimpressed with this packaging.  The big box is attractive when displaying the pen in a boutique or for gift-giving, but once you've got the pen it becomes nothing but a bulky piece of junk to store.  These types of boxes are all too common, and I find myself wishing pen companies would go back to the good old days of small presentation boxes that were also practical storage cases.  (For a modern example I might point to the Levenger True Writer.)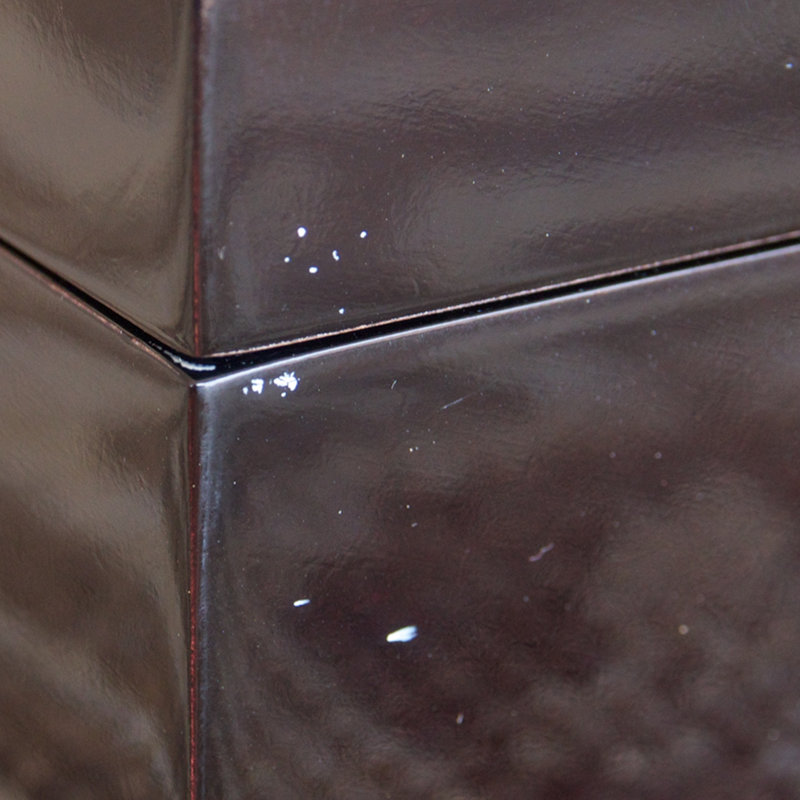 I also noted that the box has some cosmetic defects.  This is what I call a "piano box" since the lacquered wood and metal hinges are reminiscent of piano construction.  This one has some dings near the front-left corner, rough finish at the opposite corner, and slightly rounded-off edges near the corners of the lid closure.  As well, the glossy black finish isn't entirely smooth.  Frankly, I have seen cheap Sheaffers sold in piano boxes that were more nicely done than this one.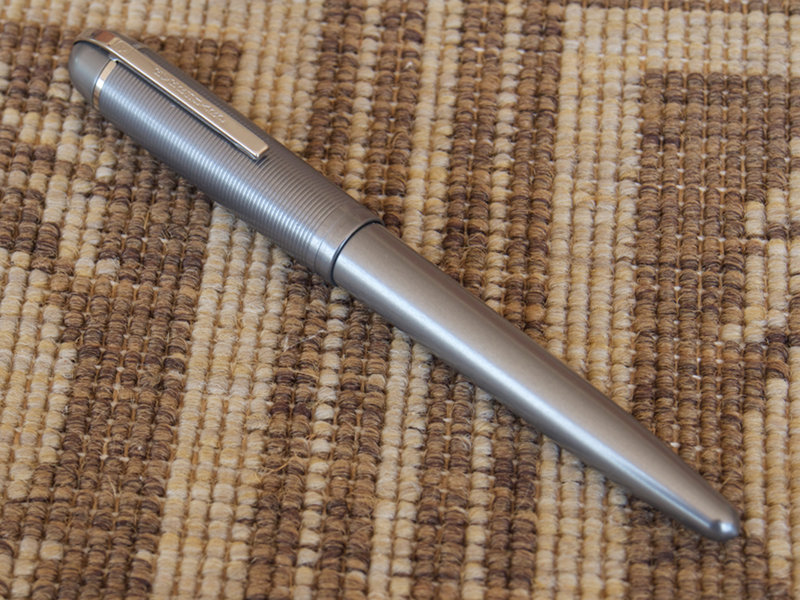 After breaking the pen out of its carbonite prison, my first impression was very positive.  The fit-and-finish on this pen are outstanding, as one would hope for in a pen of this price category.  I give the new Wahl-Eversharp company praise for recreating the Skyline accurately, with the original's size, shape, and even parts that are said to interchange with the original.  Other classic pens that have been brought back from the past bore only loose, superficial resemblance to their vintage counterparts.  (I'm looking at you, Sheaffer Balance!)
The choice of C/C filling is not exciting, but it makes sense.  It brings Skyline into the modern era, and it also solves the problem of the posted cap tending to scratch up the filling lever.  In this case the supplied converter (already installed in the pen) is a screw-in type of high quality.  It's secure, it doesn't leak, doesn't wobble or rattle, and is about as good as converters get.  The slender pen body is a thin and form-fitted shell that just barely contains the converter; there is no wasted space.  This is different from the plastic-bodied Skylines, which make you access the cartridge or converter from the rear of the pen using a blind cap.  That seems awkward, and I'm glad the metal Technic manages to avoid it.
As metal pens go, it's lightweight.  It's slightly lighter weight than my sterling silver Sheaffer Targa, but slightly heavier than several of my all-plastic pens (Bexleys, Edisons, etc.).  Plastic threads inside the cap make posting safe; it's not going to scratch up the pen's body.  It posts quite well, deeply and securely, and the balance when posted is very good.  I do not usually post my pens, but this is one that actually feels more comfortable to me when posted.  I really do find the pen's size, weight and balance pleasing.
The Skyline Technic is available in black, in blue, and in natural aluminum colors.  The natural aluminum that I got is not exactly what it sounds like, since it has a gray anodized (I presume) finish that doesn't look like bare aluminum metal at all.  It's much darker, it's more of a semi-gloss texture, and I find it handsome in a sort of subdued and rugged way.  It should prove to be quite tough and scratch-resistant.  When I turn the pen in my hand, I can see very slight shading differences around the pen, but this is not noticeable when not looking for it.
The semi-flex nib was the one element that I was most eager to test, and which I was most uncertain about.  The impressions from reviewers online varied widely, so the only way to get the real story was by writing with it myself.  The nib is on the smaller side (No. 5) making it nicely proportional to the pen.  (I find that No. 5 nibs are often more comfortable for me than the big No. 6 nibs, as I can get my fingers closer to the page and hold the pen at a more natural angle.)  The ceramic finish on mine was a dark, glossy black, whereas the Wahl-Eversharp website had indicated this pen would come with a titanium gray nib.
The immediate good news is that it's quite a smooth writer.  There was just a bit of very finely-grained "feedback" letting me know what kind of paper I was writing on.  The flow was also very nicely adjusted as it came to me: wet but not gushing.  
Tip size is an issue for me.  These nibs are supposed to be "fine to medium" size, but the one I got looks and feels like a full flabby M.  My personal preference is for F and EF nibs, so this was not really my thing.  Worse, it's not a good choice for showing off what a "semi-flex" nib can do.  Flex expression is more pronounced with finer nibs.
The advertised "semi-flex" quality of this nib is something I'm not really finding.  It's firm.  It's not a manifold type nail, but it's firm.  You can make it flex quite a bit if you push it.  If you write with a ballpoint-trained Gorilla Hand, then it will produce bold text, but writing in the normal way of fountain pens won't really give you anything.  I doubt whether I would have even advertised this as a semi-flex.  My Sheaffer Targa is more expressive, and Sheaffer have hardly been known for nib flexibility.
Worse, I also had some instances of hard starting, where the pen skips on the first stroke as it touches the paper.  It didn't happen too often, but it shouldn't happen at all.  I have too many other pens in my collection that never do this.  Thus, I contacted Wahl-Eversharp.  I got a swift response promising a replacement nib — indeed, a replacement nib-feed-section assembly.  Also, I was told a small run of "natural aluminum" Technics came with the black nib, but they are now shipping a much lighter colored nib, called "light titanium" finish.  I opted for one of these as the replacement, and I found it actually looks much like normal polished steel.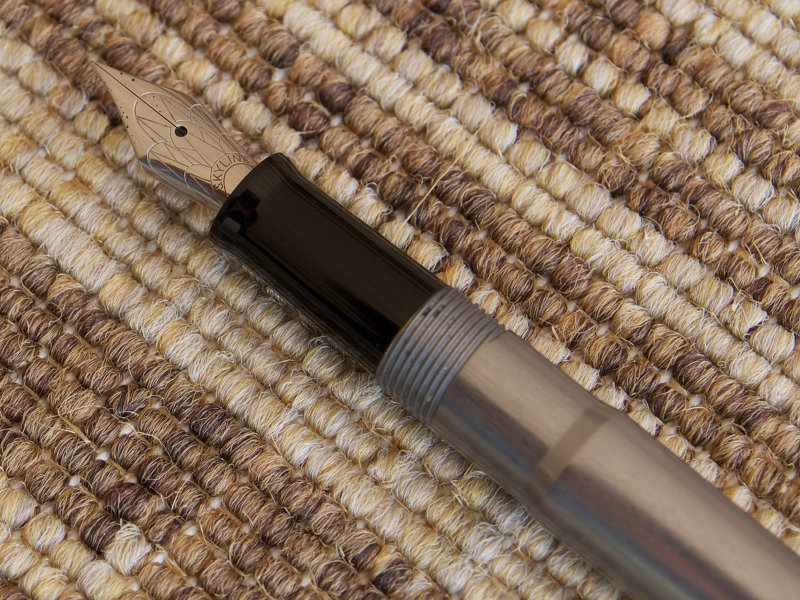 The hand-written note that came with the replacement nib said, "I hope this works better for you — it was good to my hand."  That seems to be saying it was tested before being sent to me.  I had to question that assumption, though, as soon as I had it inked up and touched paper.  It's a gusher!  It's a fire hose!  Am I really expected to write with this?  Ink flow on the first nib was perfect, so why is this one a fire hose?  At least this proved the computer-designed feed can deliver a lot of ink throughput!
Now feeling rather frustrated, I pulled one of my driest inks out of the closet: Montblanc Jonathan Swift Seaweed Green.  This tamed the fire hose down to a wet-but-usable level (at least on my denser paper, such as a Rhodia pad) with lots of shading.  This is still not the style of writing that I usually go for, but it's acceptable, and some people might like it.  Also, the replacement nib doesn't skip as much as the first one.  It still does once in a while, but it's infrequent enough to not be much of a bother now.
Since I received the replacement nib, feed and section assembly and was never asked the return the original, I now find myself with spare parts to play around with.  I began trying to fit some other #5 sized nibs into the original feed and section to see how they perform.  A nib from a TWSBI 530 fit with no problem, and so did a FPR (Fountain Pen Revolution) flex nib from India.  In both instances they became quite wet when fully seated.  It seems as though the feed and its housing are applying pressure to the nib in a way that causes its tines to spread slightly, so that every nib installed becomes wetter than it was before.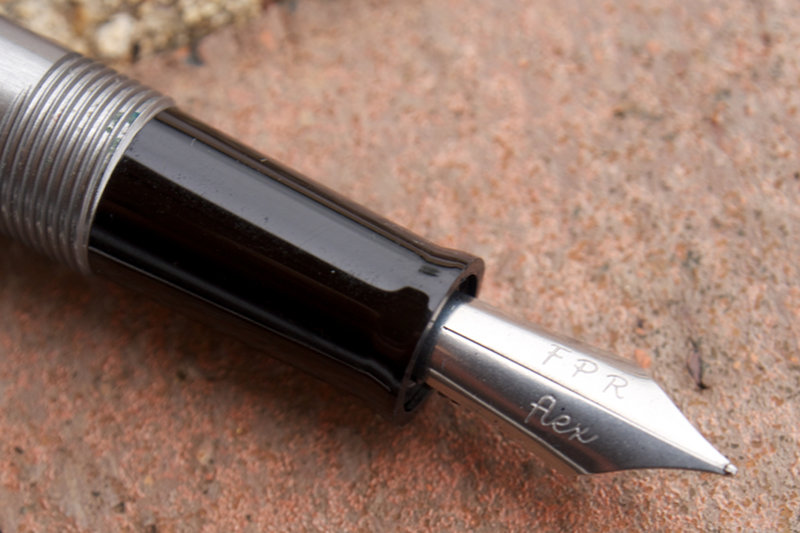 The FPR nib is most interesting, as its dull steel color closely matches that of the pen body, it writes smoothly, its fine point better suits my preference, and it also has a wee bit of flex.  FPR currently have these listed for $7 each, or 3 for $15.  However, the FPR nib also has an occasional hard-start.  That makes it the third nib in a row with this problem, to some extent, and I'm beginning to think the feed is the actual source of the problem.  Forcing the tines apart may not only make the nibs write wet, but it may also contribute to the hard starts.
Even though I eventually got mine writing somewhat acceptably, I've got to say the Wahl-Eversharp nib was a big disappointment.  The "revolutionary" semi-flex nib doesn't flex in a way that I find particularly useful, and it's flabby, and I'm restricted to dry inks and premium paper.  I was told I could get a Fine nib (or, I assume, perhaps even EF) custom ground for an additional $50.  Hmm...   An additional $50 to get a fine nib on an already quite expensive pen?  You know, I can buy a TWSBI with my choice of EF, F, M, B, 1.1mm ST or 1.5mm ST nibs.  Why does this much more costly Wahl-Eversharp only come with M?
Well, the TWSBI nibs are generally good writers, but quite firm; they won't flex at all.  The Wahl-Eversharp nib can be made to flex if you Gorilla Hand it.  Surely that is worth something?  Then I compare with the steel nib in my Baoer 388, a Chinese pen with a list price of $15.  (I actually got mine on sale for $5!)  Then I compare with the FPR nibs from India.  These aren't like vintage flex either, but they can actually flex a little bit when writing normally — more than I'm really seeing from the Skyline nib.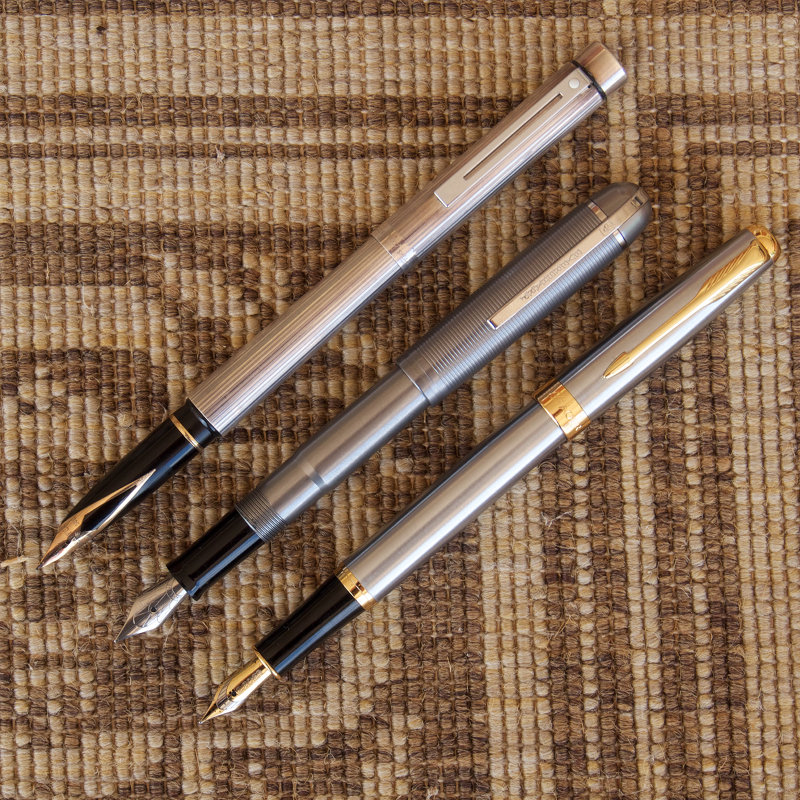 That brings us to the larger question of value.  This pen sells right about the $280 mark.  That's for a non-limited-edition C/C filling pen made from aluminum and steel, not silver and gold.  I could buy two nice Bexleys with steel nibs for that much, or probably four Monteverdes.  Actually my sterling silver Sheaffer Targa with a 14K gold nib cost me only $200, and it writes much nicer.
I'm not saying the Skyline is a rip-off, or that anyone who buys it is a chump.  However...  You probably need some sort of attachment to Wahl-Eversharp, to the style of the vintage Skyline, and you need to appreciate the aluminum construction and the superb fit and finish.  If those don't push your buttons, there's not much logic in choosing this.
The nib is particularly disappointing.  This is the highest-priced pen I can recall seeing sold with a steel nib.  Then factor in the minor-but-persistent hard-start problem, the lack of options for tip size, the poor flow adjustment of the second example, and the minimal degree of flex.  Although this steel nib is perhaps as good as a typical modern gold nib, it doesn't offer any improvement over gold, and it doesn't cost any less than gold, so what's the point?
Harsh though it may sound, I hope this review comes across as constructive criticism.  I'm thinking back to the first pens from the revived Conklin, a few years ago, and how they were actually rather crude in some ways.  They've improved greatly since then, and I hope Wahl-Eversharp will go through a similar learning curve and product improvement.  One sign of optimism is that the parts of the package actually made in-house by Wahl-Eversharp (namely, the pen body and cap) are so excellent.  It's only the outsourced (I assume) bits that let me down, so I'm sure that can be solved.