Dear FPN Friends
I have tested several De Atramentis Document inks.
They are one of the first nano-particle IG free inks which are absolutely safe for Fountain Pens.
All Document inks are Bombproof as I showed in my seperate extensive reviews of some of the document colours. You can find these in the links down here.
De Atramentis Document Ink Blue
http://www.fountainp...s-document-ink/
Dark Blue
http://www.fountainp...-ink-dark-blue/
Brown and Green
http://www.fountainp...rown-and-green/
Thinning Agent
Now De Atramentis has come up with something new and unique...
A thinning agent for their document colours....
As I I showed in th above mentioned reviews De Atramentis Inks are truly permanent. Once written down on the paper they can not be removed, without leaving traces, by any means.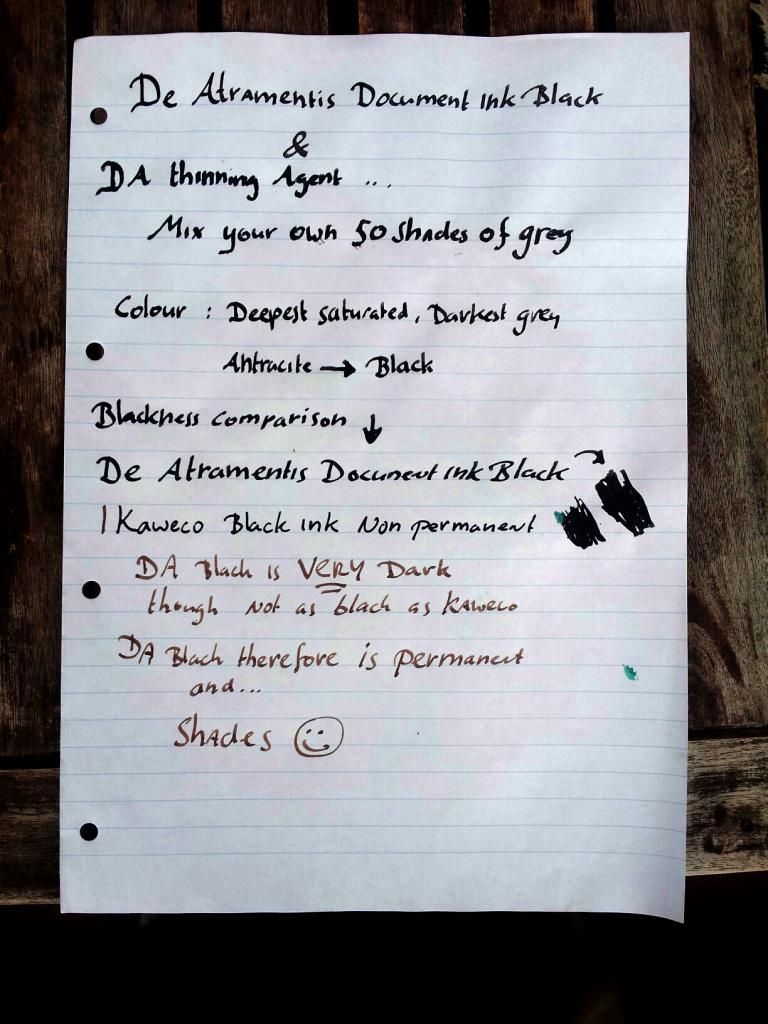 The thinning agent was developed for Ink Artists like Urban Sketchers. There are various Urbans Sketchers who paint with inks like fellow member Pictogramax
Pictogramax made with De Atramentis, Havann, Khaki and Gold
Since De Atramentis is keen on helping Artists and Fountain Pen lovers he developed several Document Colours. For now these are Blue, Dark Blue, Black, Green, Red, Brown, Turquoise, and Magenta
More Colours are being developed on request.
The Thinning agent allows you to mix your own shade of a Document colour. Once written down these inks can of course not be removed.
Thinning Agent experiments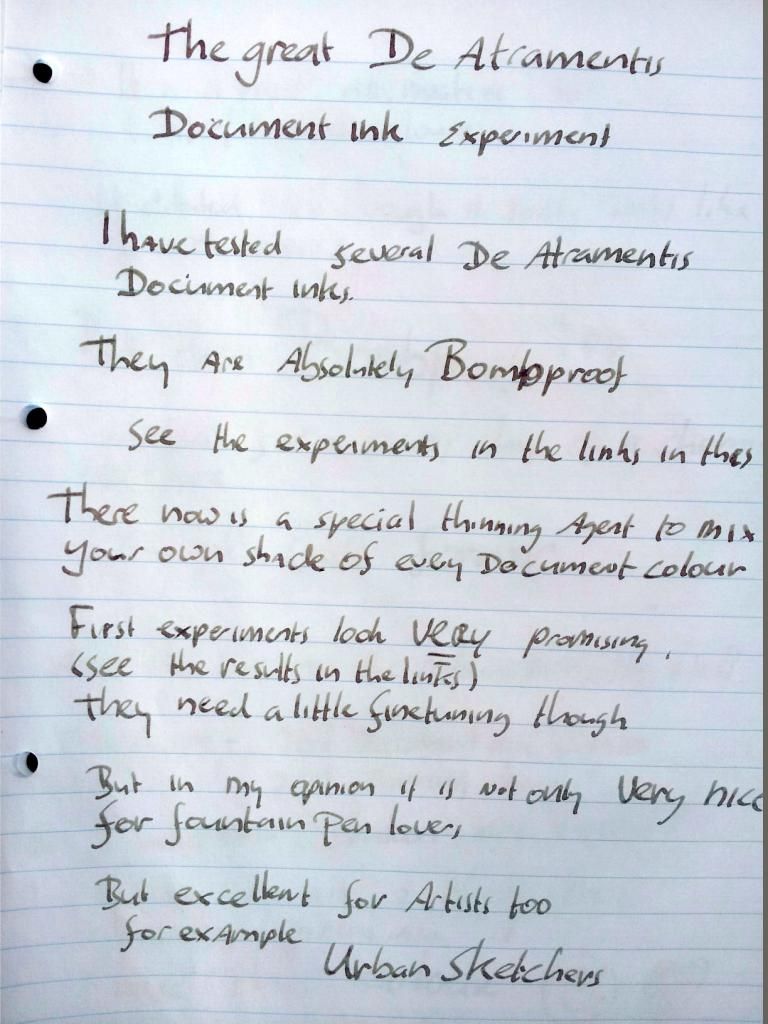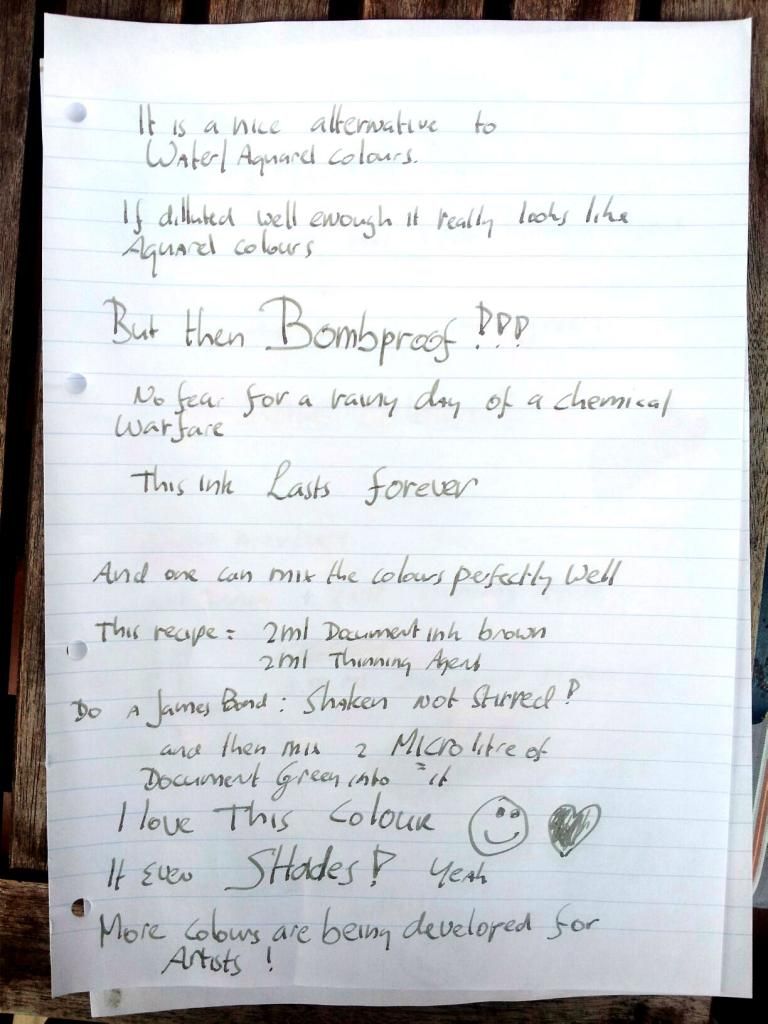 A grey greenish mix odf documentclours and thinning agetn (last is phot is a bit too light)
I have experimented a bit with the Thinning Agent and several De Atramentis Document Colours. It are only first experments, which need some fine tuning, but the results are very promising.
From black to grey
I am still working o a way to get the best results and standardize the process of mixing. I will ask Dr Jansen the Owner of De Atramentis for advice here.
The Green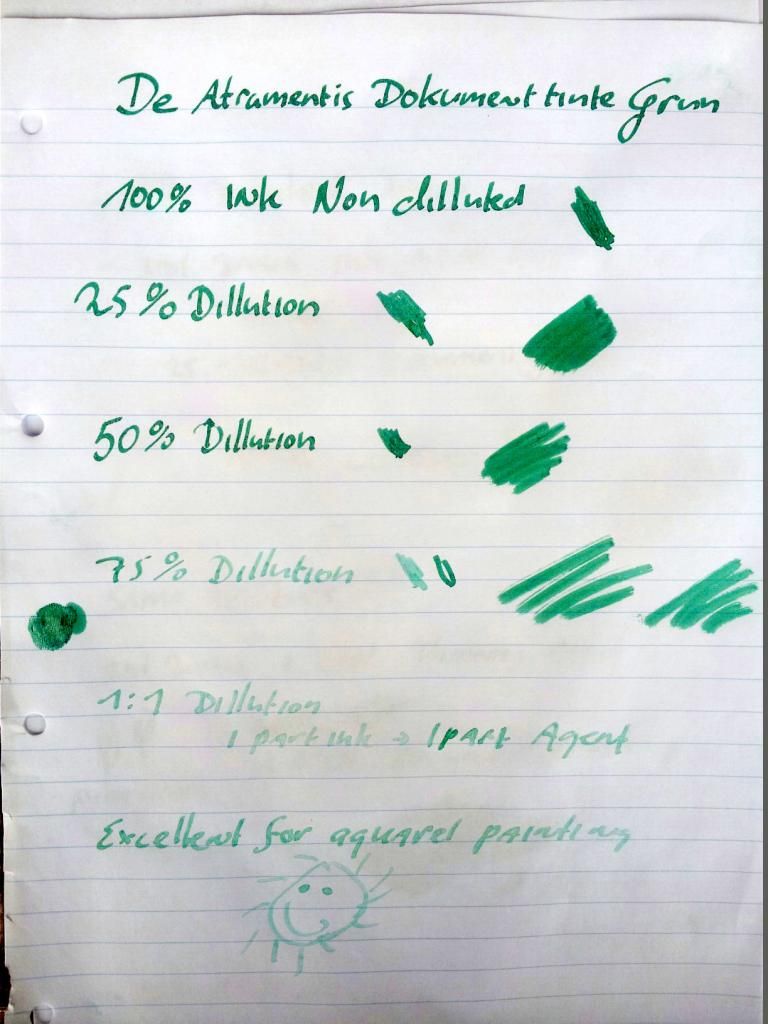 As you can see the colours can be stretched quite far. In the 1:1 solution the saturation obviously is diminuished, This will probably be very nice for making aquarell paintings
The brown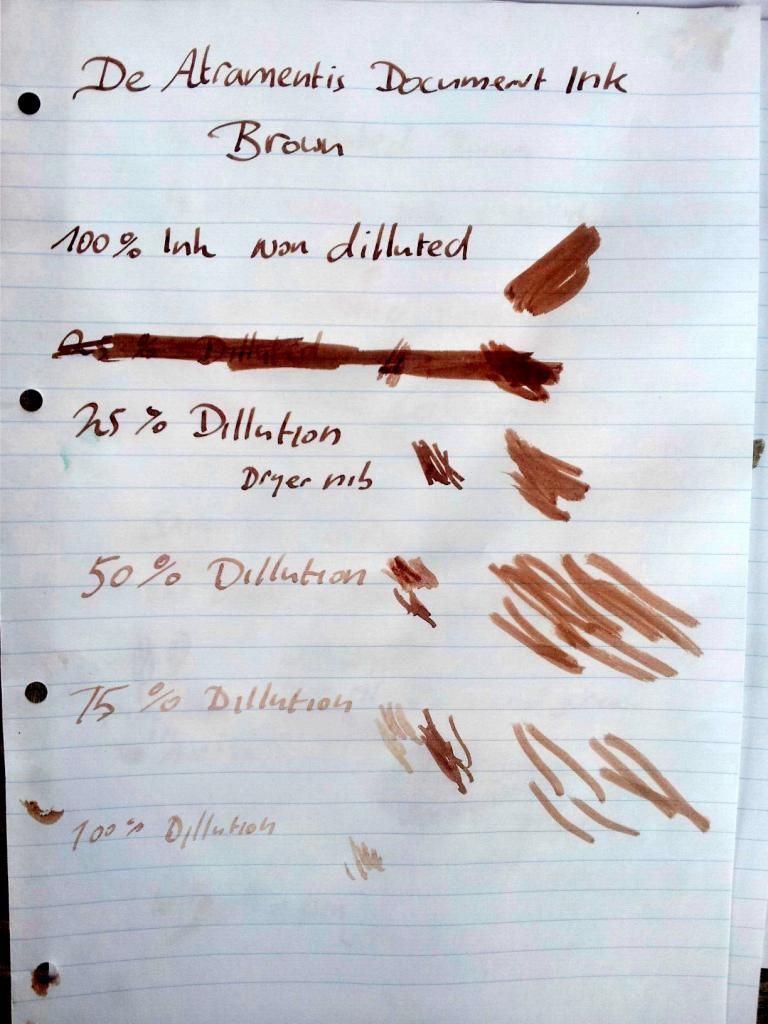 Very nice brown colour variations.Suited for artists and PERMANENT
It was hard to hit the true colour spot on. I will ask fellow member Tas if he can adapt and  post this pic with accurate colours
Document Colour and Thinning Agent mixing experiment
Since I already got my fingers dirty with mixing (It was quit messy me being spastic fantastic)
I thought well why don't I add some green to the diluted brown.
I believe the colours are very nice and unique since thy are permanent. Must test some other colour mixes and graduations too…. Blue and red etc
Some nice things to know
·         More document colour can be developed on YOUR and Urban Sketchers request.
·         Colours can be developed (in factory) to the needs and wishes of the clients/artists
·         Unlimited ways to mix you own shade and colours
·         Colour adaption. On input colours can be adapted like more red in the brown or more saturation etc etc.
·         I guess this is unique… Yes there are other permanent inks, in various colours. But mixing your own shade and adding your input is a very nice service by De Atramentis I believe (Of course it is easier to adapt or create a (new) colour the higher the number of asking clients is)
To Conclude.
Dr Jansen is very keen on your input. He is improving his inks and his service on a permanent basis. Please send him your remarks. On the following address. http://info@de-atramentis.com
There are several new items on the De Atramentis website now
·         Safety Data sheets
·         Colour chart of the standard inks
Ink drops
You can now order Ink drops of the standard colours to your order. These are 2 ml  samples for testing…. A bit like the great Goulet Pen company offers them
Special Offer 4=3
If you got temted by these or the numerous of other inks….  There is a nice offer for you
4=3 meaning if youorder 4 bottles you will onl have to pay for 3 bottles.
Tempted?????
Please write an E-mail to http://info@de-atramentis.com with the inks of your liking
Make sure you insert the following sentence in your E-mail
Peter; 4 für 3, 4 bestellen 3 zahlen
This way Dr Jansen knows about the Discount.
If you want to obtain the thinning agent please add the following sentence
De Atramentis Verdünnungsflüssigkeit für Dokumententinten in you E-Mail
I hope this article was amusing and informative to you…
Warmest regards
Peter