In addition to Osmiroid there are these interesting "finds"
With expeption of the second from the right that looks like a retrofited renew point with a different nib, the others are legitimate feed/nib units that fit into Esties. You can tell from the feed shape/material that at least they are not retrofits. These three also all have flat feeds.
For clarity from the left:
1. Venus Extra fine Made in USA
2. Waterman Ideal F22
3. Alloy tipped EX-FINE U.S.A.
4. Sengebusch Medium 86 Made in U.S.A
Once I had a Conwey Stewart Scribe Italic that had a feed/nib that could be used on an Estie. I also have a Esterbrook look-alike called Scriptmaster with a feed/nib can be also used on an Estie. It is somewhere in the house - when I find it I will post a photo. Please let us know what else is out there.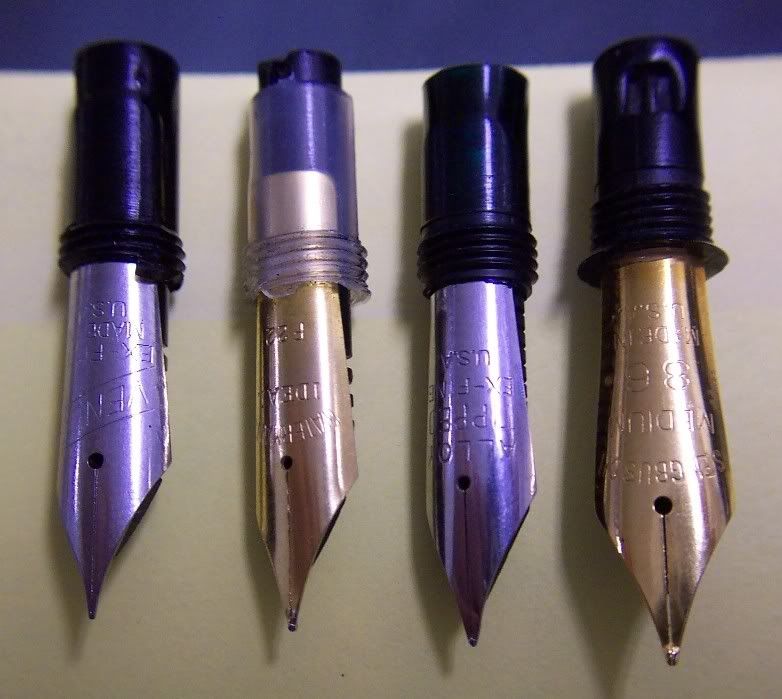 Edited by antoniosz, 21 March 2007 - 02:48.