Continuing my quest for fountain pens from Andhra Pradesh & Telangana…
I had heard about Hema fountain pens or rather, I had seen the name of Hema Pen Company on the net while browsing for information on fountain pens in Hyderabad, but I understood that they no longer manufacture fountain pens and there is Hema Pen Stores, also in Hyderabad, and when I called them to find out about fountain pens, they told me that they don't sell fountain pens anymore and only sell general stationery…
But I instinctively felt that there are Hema fountain pens out there and it is only a matter of time before luck smiled on me…and luck did indeed smile on me and in the most unexpected of places … right in my neighbourhood, in a small stationery shop… I go with the intention of asking in small stationery shops about fountain pens but most of the times, I stop short and come back without asking…and most of the times that I have stopped and asked, I have been rewarded and how!!  I had found a whole set of Misak Pens in a dusty folder in a small shop in Hyderabad when I had stopped and asked… and again when I stopped and asked in this stationery shop near my house, the owner rummaged around in the bottom of his cupboard and came up with an old cardboard box which contained two Hema ebonite fountain pens…I only have to overcome my diffidence…!!
Here are the pictures of these two lovely looking ebonite fountain pens…
Hema FPs capped…the pens have nice flat ends…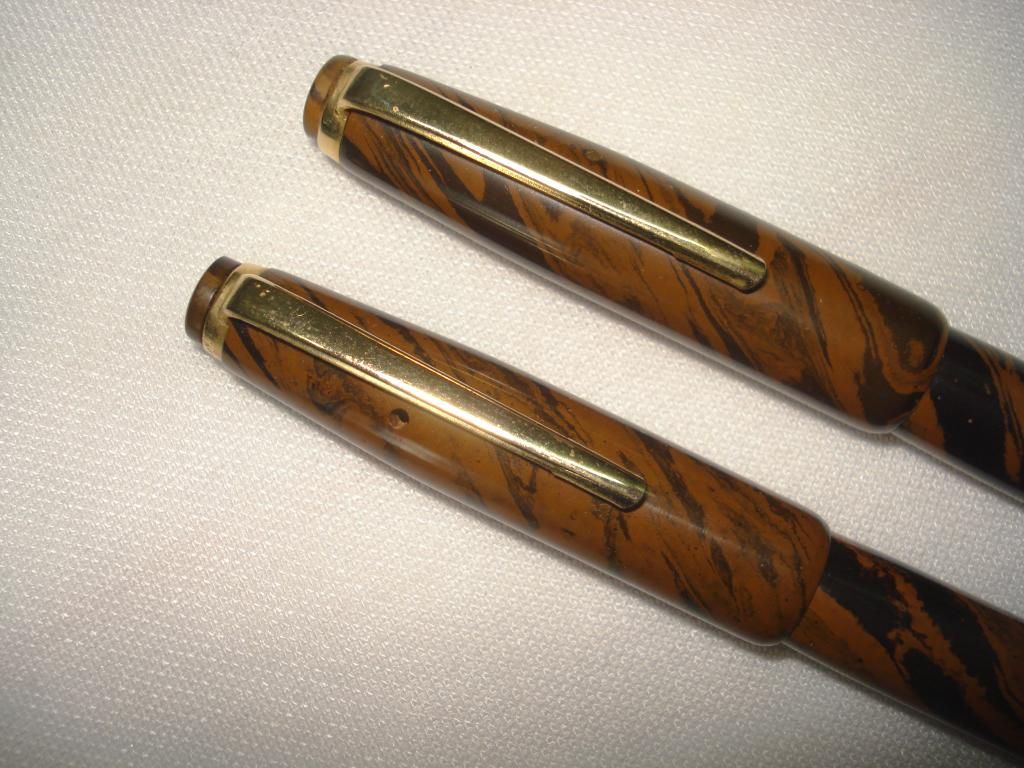 Caps & Clips…nice flat clips…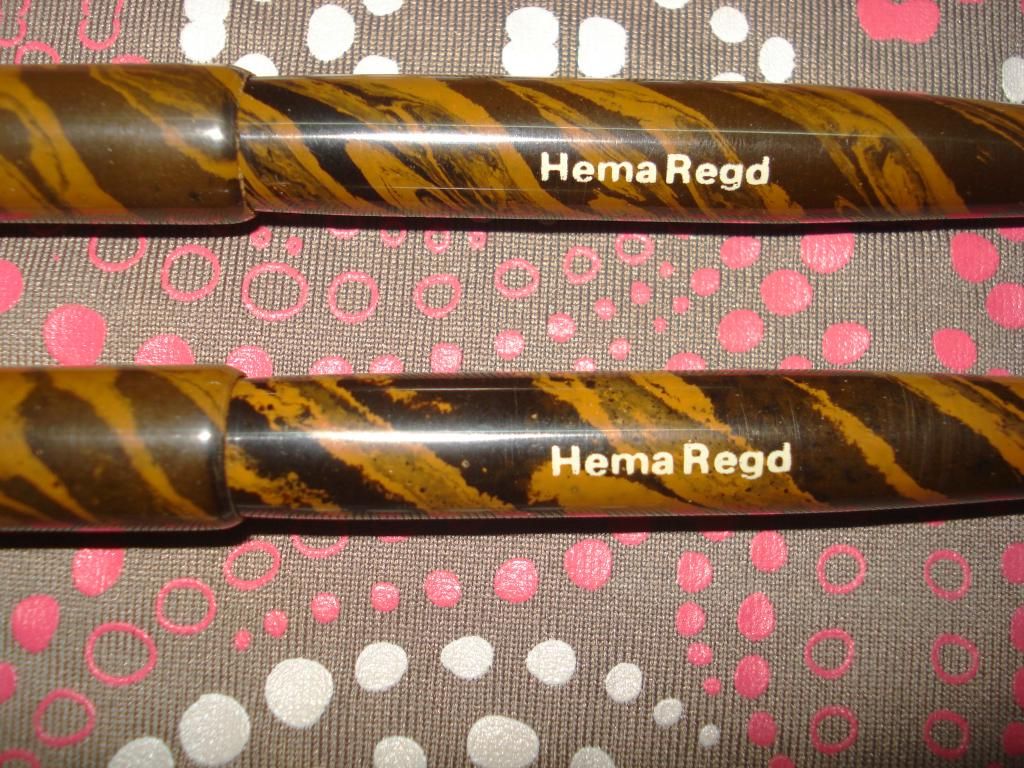 Brand name on the barrel…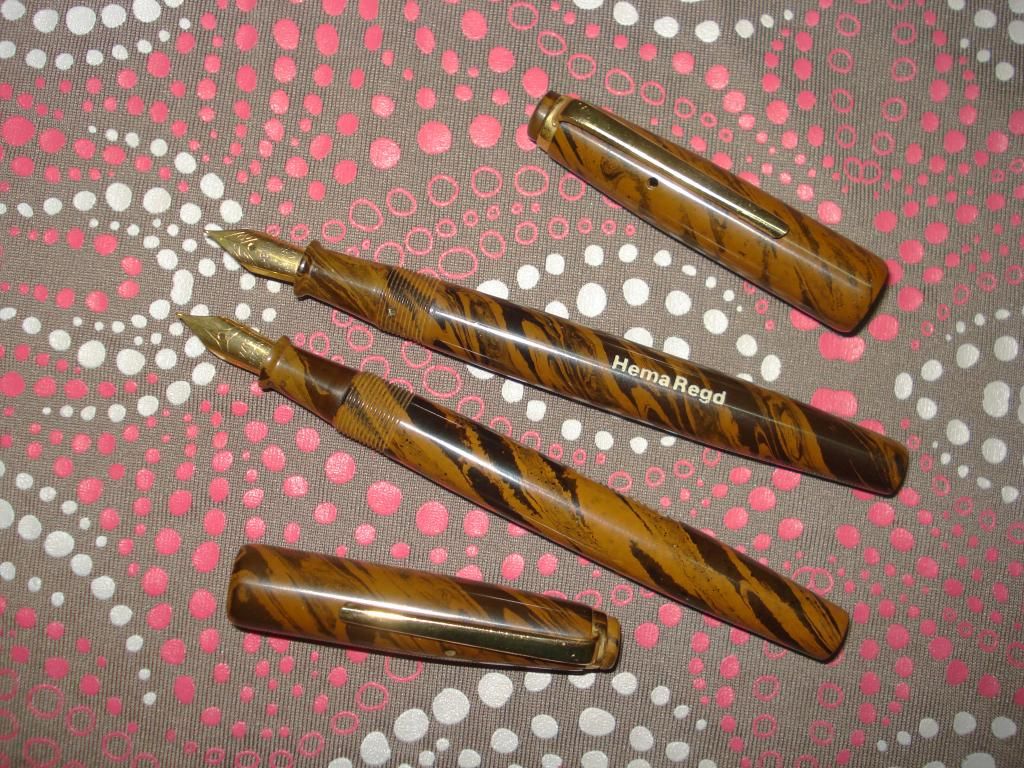 Hema FPs uncapped…
Hema FPs posted…posts well…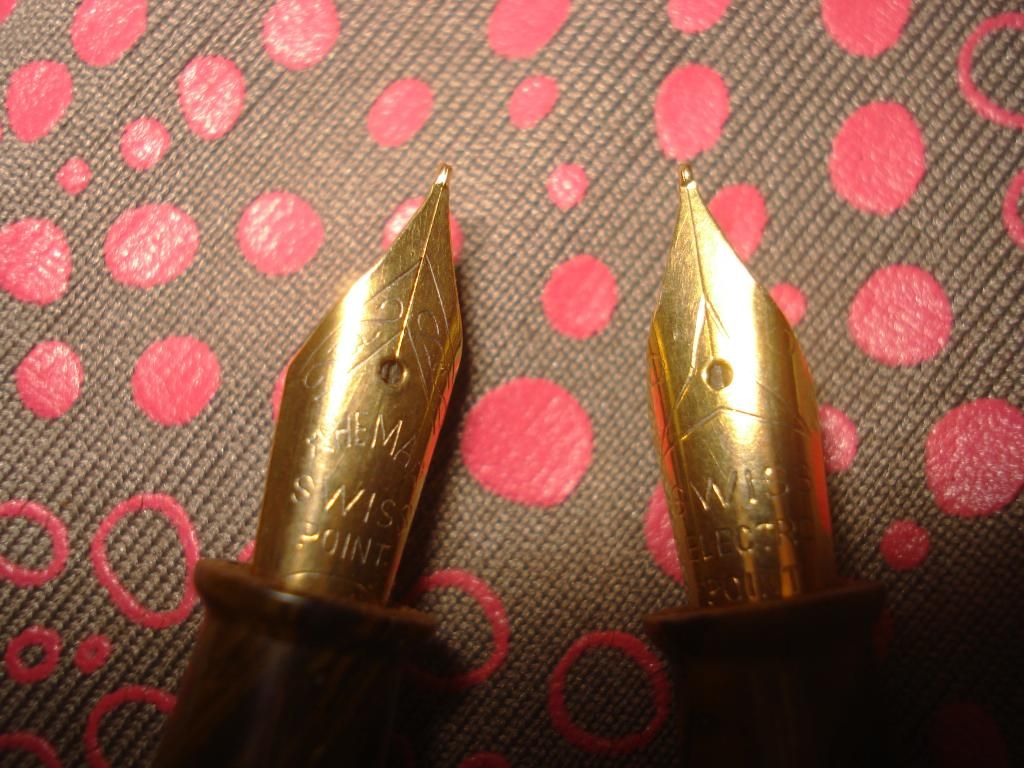 The nibs…I feel these are nibs customized for the Hema brand…in one, you can see the brand name HEMA with SWISS POINT along with some decorative etchings…and when I pulled out the nib, below all these, I saw the letters H.P.C. etched inside an oval …the letters presumably standing for Hema Pen Company…the other nib doesn't have the brand name, and instead of SWISS POINT, we have SWISS ELECTRO POINT along with a kind of three point star and two small circles etched on the face of the nib…and again, below all these, I saw the letters B.P.D. etched inside an oval…I wonder what the letters stand for…and it was kind of refreshing to see SWISS instead of the ubiquitous GERMANY that one sees very often on Indian ebonite pens…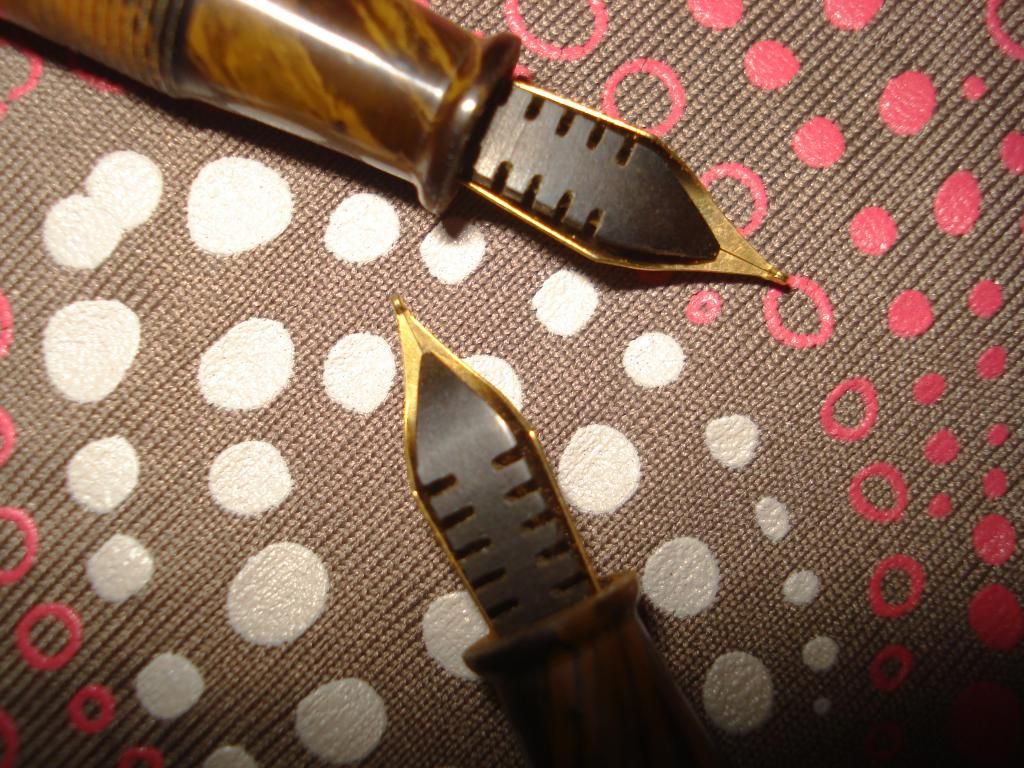 The feeders…plain ones…
At present I don't have any information about the manufacturer/s as such, which would have added some history to the brand…for the time being, we have to make do with pictures…!!!
As in the case of so many small fountain pen making units in Andhra Pradesh & Telangana that have closed shop, Hema pens too are no longer being made… so, for me finding these two Hema Fountain Pens was delightful and added to my collection of fountain pens from Andhra Pradesh & Telangana…
These are simple no-frills pens, but they form a part of the history of fountain pens in Andhra Pradesh & Telangana…and India…
And the search continues…
Shrujaya