Made a run up to a local antique place today, and I stumbled over a booth that had a fair number of Shaeffers!  I picked up four items that drew my attention, and I'm curious about ID on 'em!  None of them fill, of course, but the pencil in the snorkel set works just fine.
First, a pen-and-pencil set, open nib, snorkel filler.  I think this is likely an Admiral or a Saratoga?  The gunk on the barrel is just tape residue, it comes right off with a light rub of denatured alcohol, thank fully, leaving the barrels un-marked.  I was a bit worried about that when I picked them up!
Next is a Tuckaway of some kind, touchdown filler, triumph nib.  Beyond that I'm completely baffled.  The diameter is a LOT larger than the other Triumph pens I have, I've included a picture of it at the end for comparison. The section is also transparent, although rather dark amber at this point.  I'm not sure if that's degradation of the plastic with time, or crud on the interior, although I'd probably guess just the plastic breaking down a bit.  As you can see, the cap has a fine, engraved pattern on it, as well as an engraved name.  The clip is a tiny little thing, and the touchdown tube is hugely fat, and very short.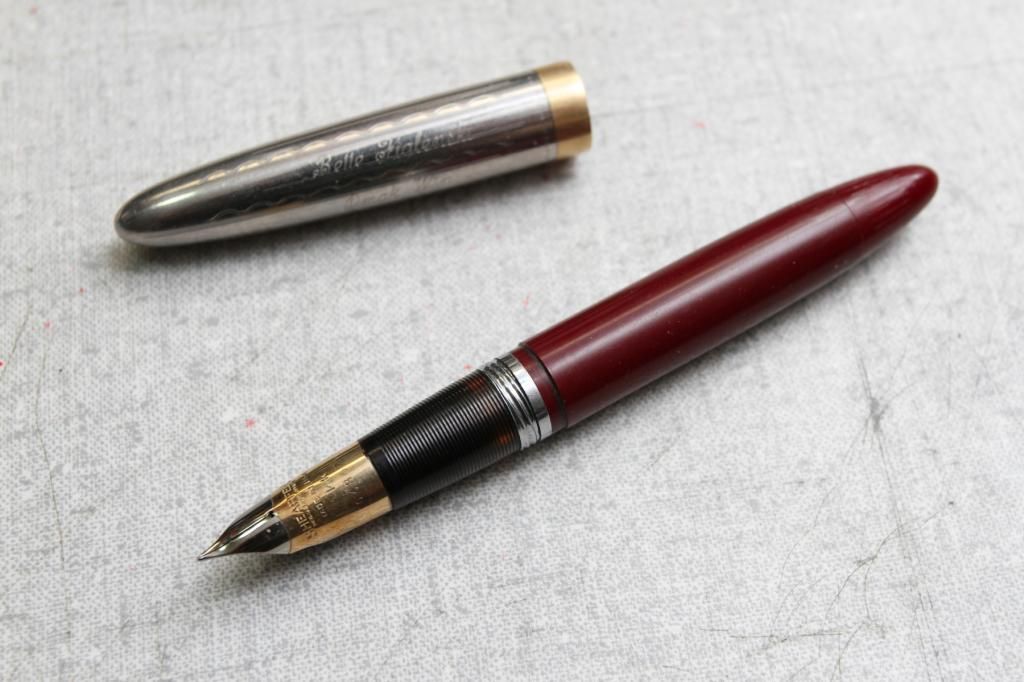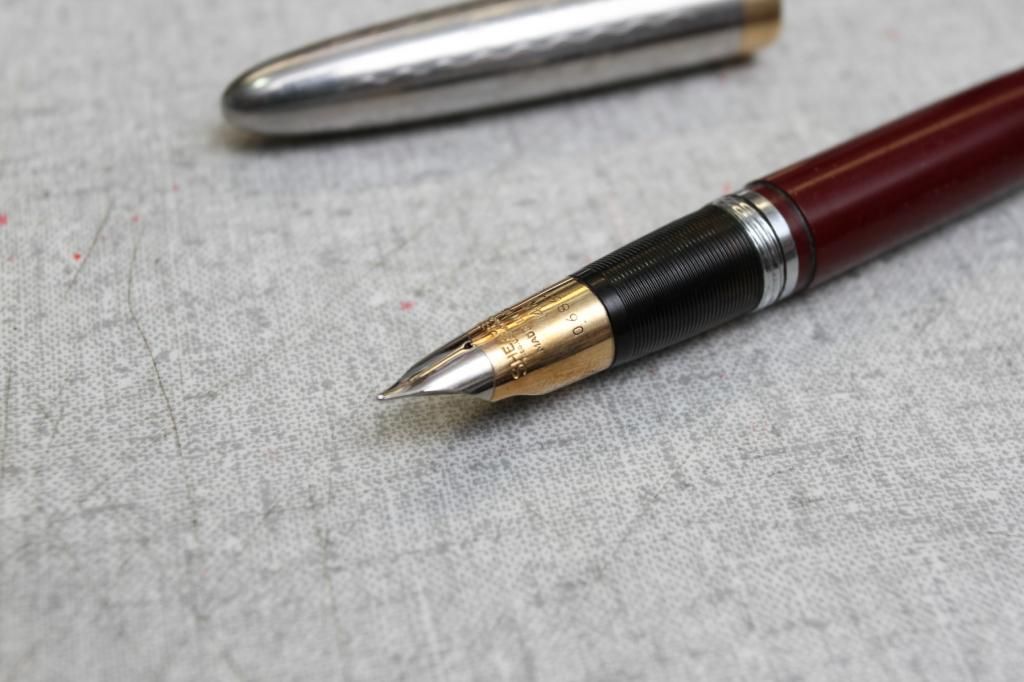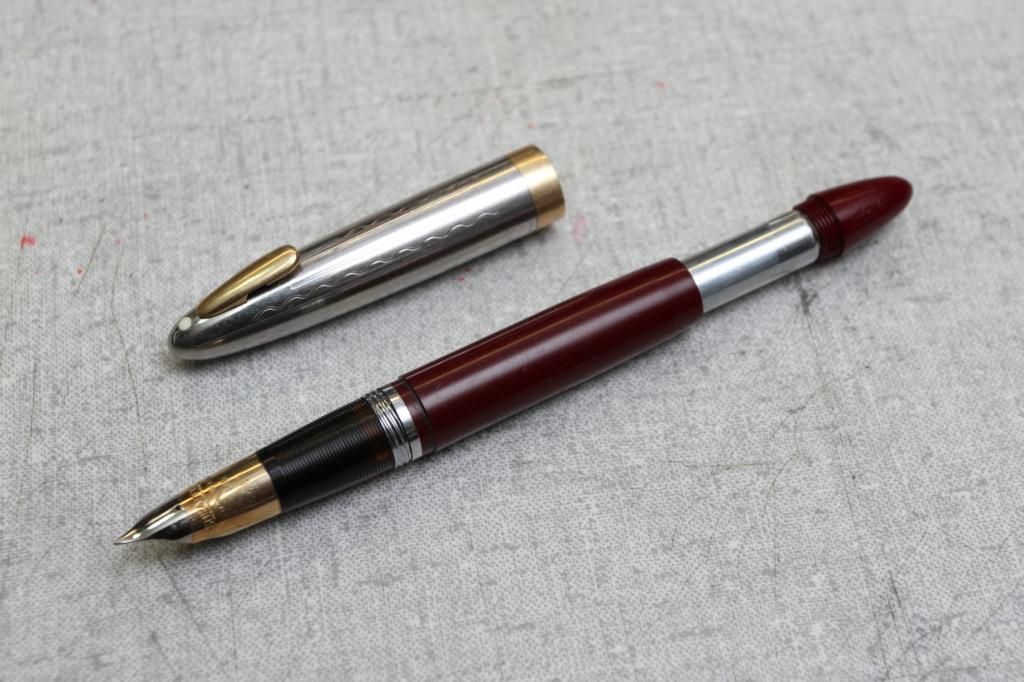 Last in the list is what I am fairly sure is a Touchdown Imperial, although I have no idea what model.  It is also Triumph nibbed, and has three metallic points on the side for the cap's clutch to hold.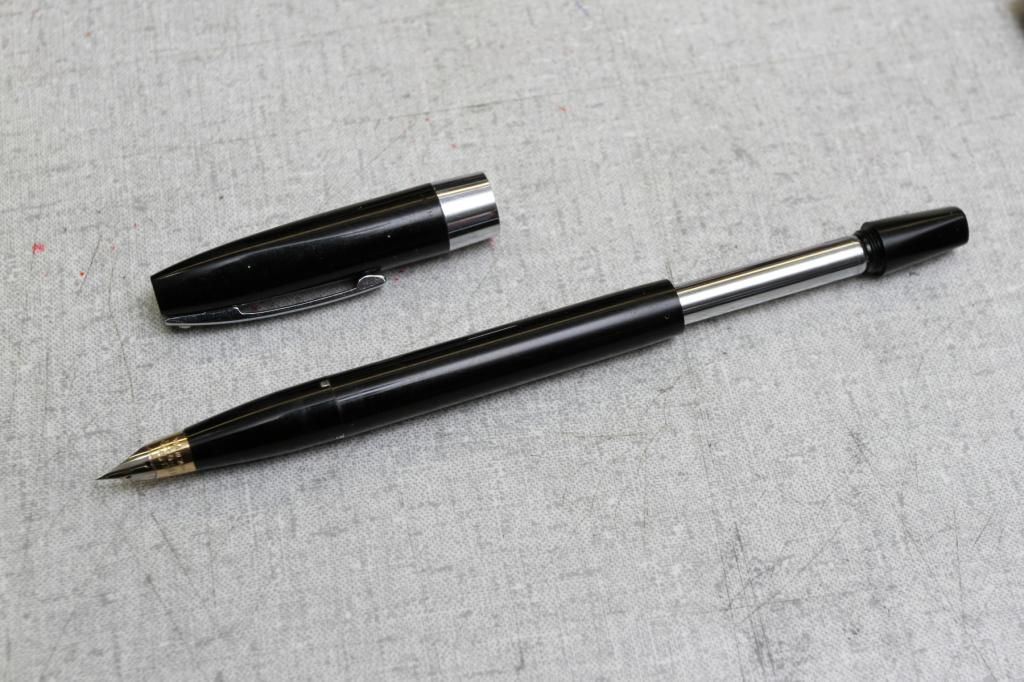 And here's a quick shot of the different Triumph nibs.  The front-most on the gray pen is a Valiant, for reference.  The center one is the Tuckaway, and the top one is the Imperial.  The sizes are really, really different!  
Any help you guys can give me in identifying these would be greatly appreciated. I'm working on determining which ones I should send to a pro for restoration, and which I should work with myself.  I'd really like to learn to restore these lovely old pens myself, it looks like a LOT of fun!  I just don't want to accidentally hose up some rare, expensive model that I'll want to shoot myself for later out of pure inexperience!  
EDIT:  Forgot to include the picture of the three nibs!
Edited by Komitadjie, 12 July 2014 - 22:45.