It is not my usual practice to cross-post reviews between FPN and Pentrace, so I hope I can be excused this instance, as I am in love with this pen and proud of my review of Jules. By posting it here, I can preserve it here long after it disappears from other forums.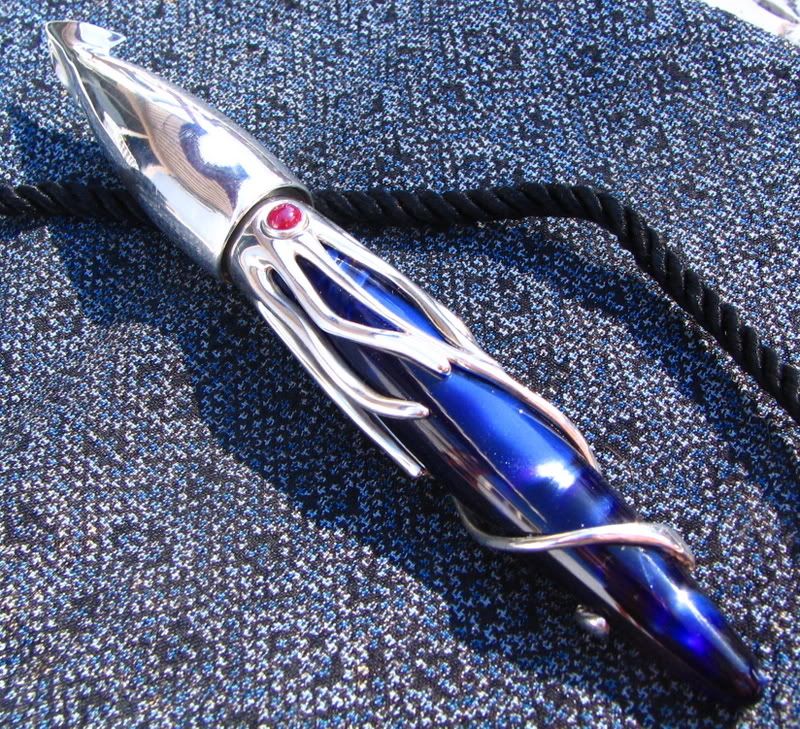 I was happy to take delivery of a long-awaited and desired pen at the LA pen show: Jules, or as its fond admirers and owners call him "the squid pen." I will confess immediately to be a friend to Dragon Studio's principals, Joyce Tang and Jeff Boschert. And I have been lucky enough to have have had peeks into the design and handcrafting of this pen over time, so I know how Jeff and Joyce thought and obsessed and worked and worked and worked at this pen. The result is an amazing piece of art, a sculptural work that is also a great writer, as you will see.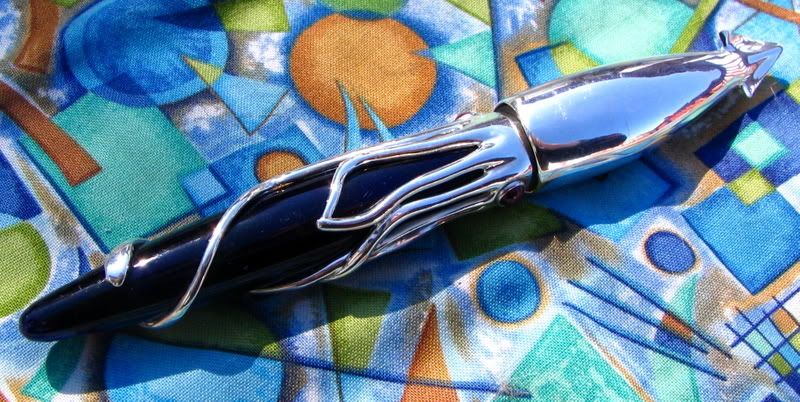 Jules, takes its name from Jules Verne, the early writer of wildly speculative fiction, and plays on the themes from his great novel "Twenty Thousand Leagues Beneath the Sea." A giant squid makes a dramatic appearance in the novel, and Jules the pen is equally dramatic. With a hand-crafted overlay of sterling silver with a barrel and section of dark blue marbled acrylic, the great squid and the ocean come together. Like the farthest depths the giant squid lives in, the acrylic is deep, dark blue, but with luminous areas of marbling, like light seen through deep waters.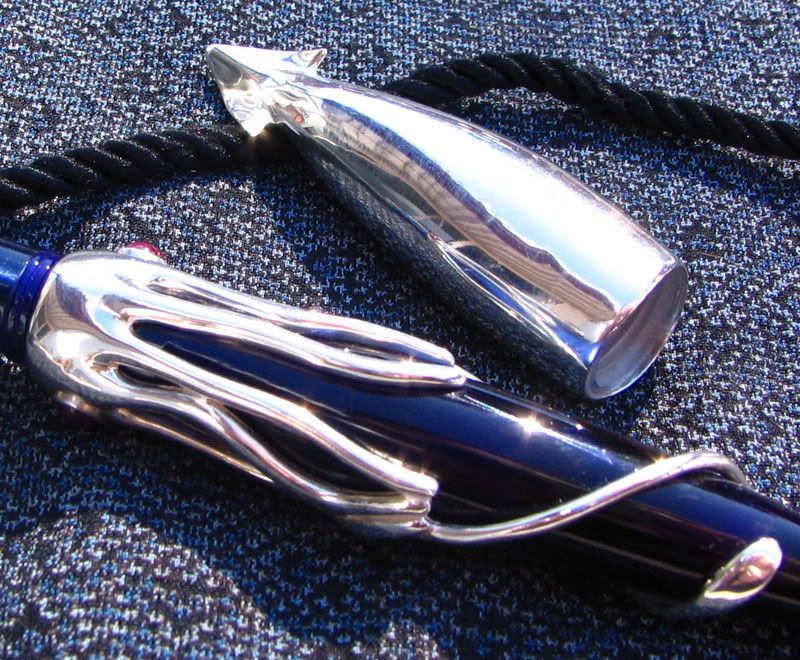 The sterling overlay is hand cast using the lost wax method, then hand finished, with Jeff and Joyce working under high magnification. The great eyes of the squid are set with 1.5 karats of natural ruby. Sapphire is an option, but Jeff explained to me the red eyes were meant to reflect the squid's anger at being disturbed in its watery depths, so I honored the artist's intent and went with ruby. I also like that this introduces another color element into this pen. These are large sized rubies for being unfaceted and many had to be rejected because they didn't have the depth and color Jules required. The silver, by the way, is made with a special process that is tarnish-resistant.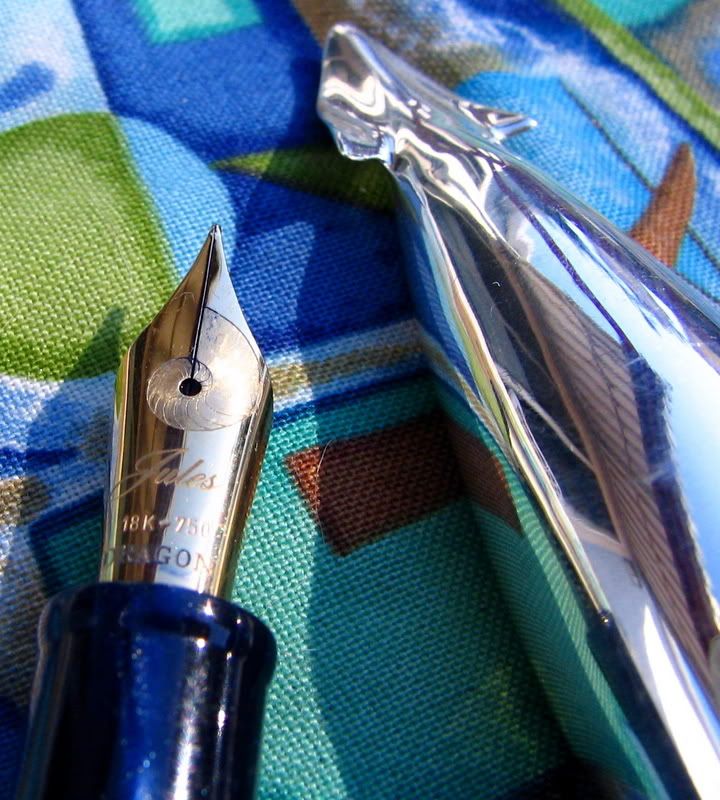 What finally convinced me that I had to own Jules was the nib. Based on the large Bock 18K nib, Dragon customized it with their studio name and the pen name, then carefully decorated it with the theme of a Nautilus shell--which was the name of the vessel in Vernes' novel. Joyce makes that wonderful shell motif by hand, in a pain-staking process that incorporates the nib slit into the very design.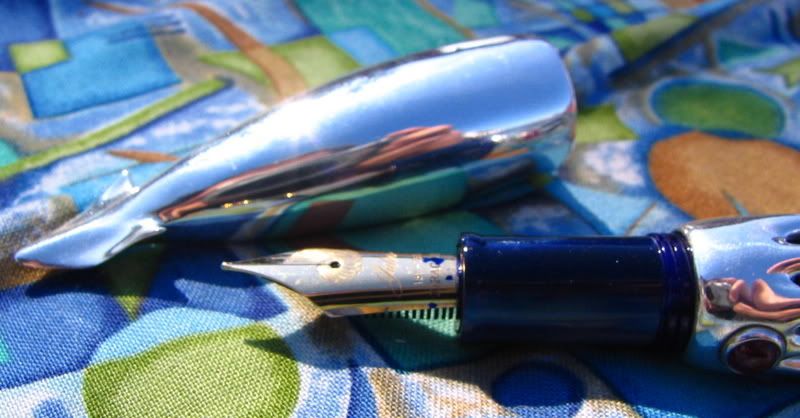 Something Joyce excels at is tweaking nibs. She has a very high standard of smoothness and ink flow and never rests until she gets it just so. So how does it write? Like a dream! Perfectly smooth, lovely ink flow and a perfect line. The overlay on the body makes for a great grip, either high or low, providing texture and bulk.
This pen does not post and unposted, the balance is excellent. Jeff and Joyce are so picky about balance! When we compare pens, they are constantly noting variations of balance that are much too subtle for me, but the result is a pen for which the design has not compromised the balance for writing. This is a pen you can write with--with which you must write. And here's another asset in their design: Jules is a cartridge converter pen, but designed to be used as an eyedropper as well, so the barrel threads were carefully cut with that in mind. A clever tin of silicon grease arrives with Jules, just to drive the point home!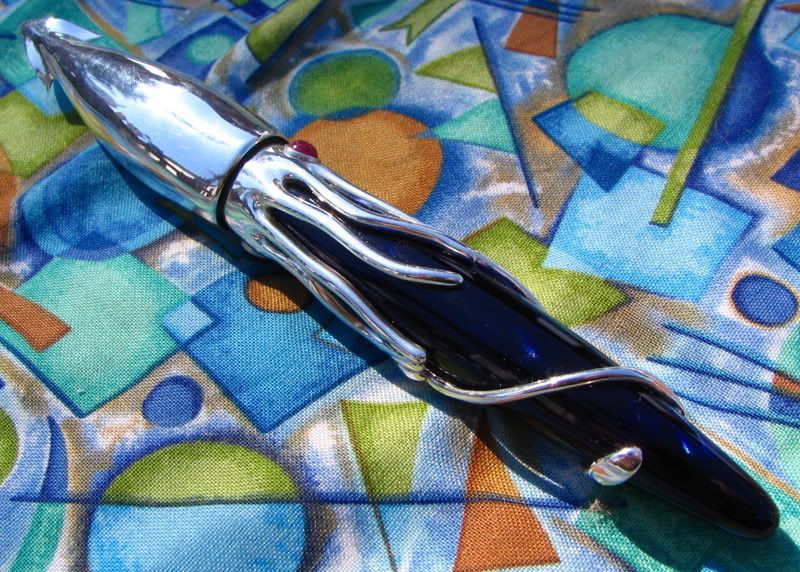 I haven't yet started researching squids, but Wikipedia, here I come! I should mention that Jeff is deep into exotic fish and I don't mean just the type that arrives on your plate with a garnish of fennel! So they worked hard to represent the squid properly, seeking to get the proportions right, the tentacles just so, and the fluke on the bell (what we'd call the cap) just right. Joyce tells me that the hard structure inside the squid is called a squid "pen." Joyce and Jeff must have known they were on the right track when they learned that!
This is a luxury pen, even in its "humble" sterling silver mode (the solid gold pen is staggering and I can't even imagine the platinum Jules!), but it is also a writer's pen. And that's most appropriate, coming from two people who value the writing experience so much. I love my Jules and I am so proud to own him--he is an instant and eternal heirloom!
Dan Carmell
Several folks have asked how to contact Joyce and Jeff, so here is their contact information with a postscript direct from Joyce:
I hope that anyone who would like to give us positive or negative input on Jules, receive more information, or place an order will email me at dragonpens@gmail.com or joycetangmd@gmail.com
Jeff and I are honored that people are using and enjoying their Dragon pens. As artists that is the best we can hope for. We plan to post more information about Jules as soon as we have photos from Bill Riepl in a few weeks.
Edited by Dan Carmell, 25 April 2007 - 03:58.