There's a trend in fountain pen design I've noticed recenty. What I call the "value designer" pen. These are pens with steel nibs (usually, but not always "Iridium Point Germany" or IPG nibs), a focus on well made design ideas, and a moderate price point, usually $40-70. Laban, Libelle, Taccia, etc are all brands that have entries in this slot.
My last experience with IPG nibs was the ACME Frank Lloyd Wright series, which I found to be too heavy, with rotten nibs. I eschewed all IPG pens after that (snob that I am
) Then at the Detroit Pen Show this winter, one of the dealers had 2 laban Mentor pens, and bid me try them out. I was very pleasantly surprised by nice design and a GREAT nib! Intrigued I remembered that experience, and recenlty as I have been waiting for my Nakaya Urushi decided to pick up two of htese IPG pens, one a Laban Mentor, and the other a Taccia Imperial Portuguese. The following review is a comparision of what I found.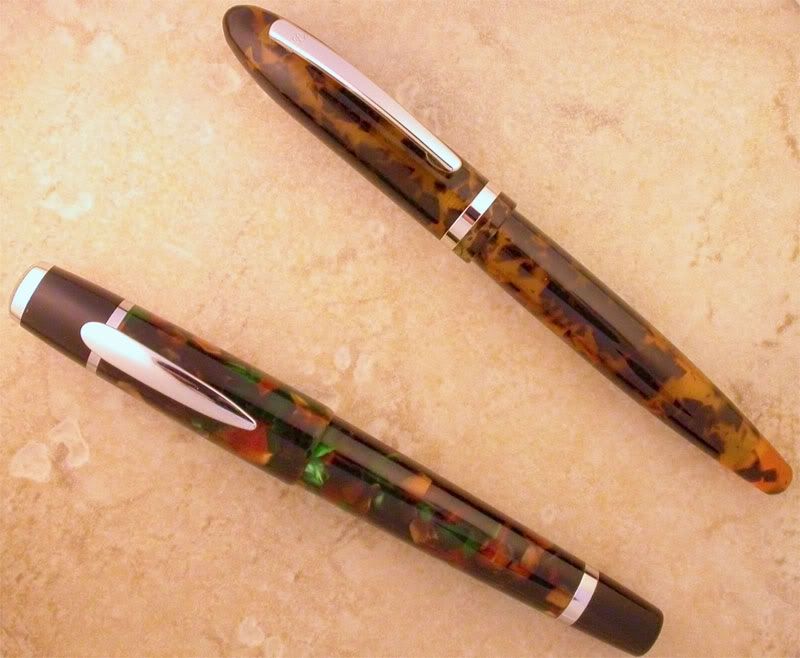 1. Overall design Taccia 5* Laban 4*
Both are resin pens with steel nibs. The Laban resembles a Sheaffer Balance in design and proportions while the taccia is a little more blunt ended. both are interesting design ideas, with some classic elements. Both are "resin" pens coming in a series of different resin types. Basic differnce for me was the Taccia had nicer resin grain, while the Laban "tortoise" resin looks more like a pen with "plastic chunks" embeded in it. The version i tried at the Detroit show was the yellow resin which doesnt have this look and in retrospect, I'd go with that resin version (in yellow or blue) before I went with the marble versions. Taccia threads at the end of the section which is somewhat unique.
2. Size / Weight Both 4*
The Taccia and Laban are both roughly the same size and weight light pens. Slgithly more heft and girth to the Taccia, but not much.
3. Nib Taccia 5* Laban 3*
Now that I've had some experience tuning nibs, I'm a little more critical of the nib of a pen. I must say that I tuned up the nibs so that both of them are now great writier, BUT the Taccia wrote perfectly out fo the box. Upon close examination fo the nib, the Taccia was perfectly symetrically shaped and well ground. The slit is right down the middle. The Laban iridium ball was not symetrially shaped and the slit was off center, making it a bit troublesome out of the box, and frankly required a little more than just smoothing to get it to write well.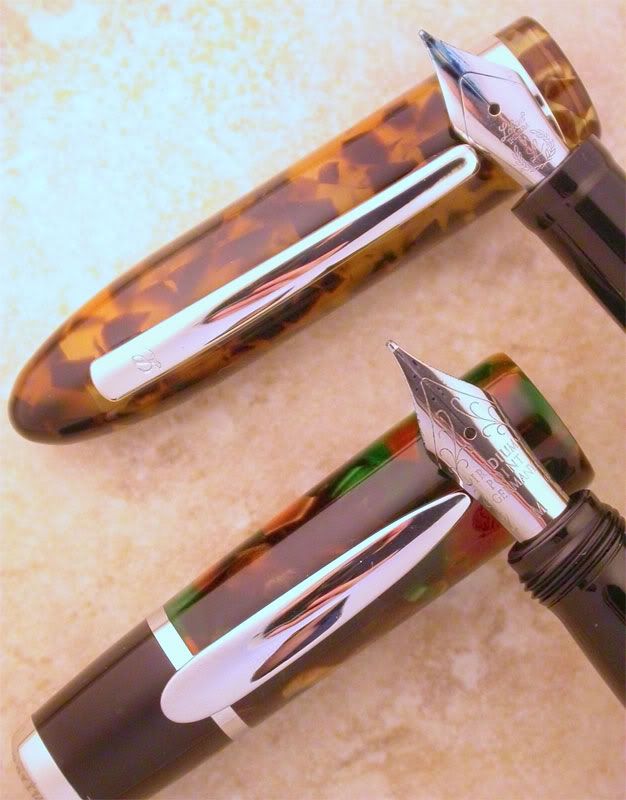 4. Filling Mechanism Both 2*
C/C boring, but frankly this is not a big detractor. They both use the least expensive all plastic convertors that you find on Asian made pens, like ACME, and even the Conklin convertors.
5. Fit / Finish taccia 5*, Laban 4*
Taccia edges out the laban on this area too. Resin finish is sligthly better, threading is better. Both get high marks for their nicely designed clips.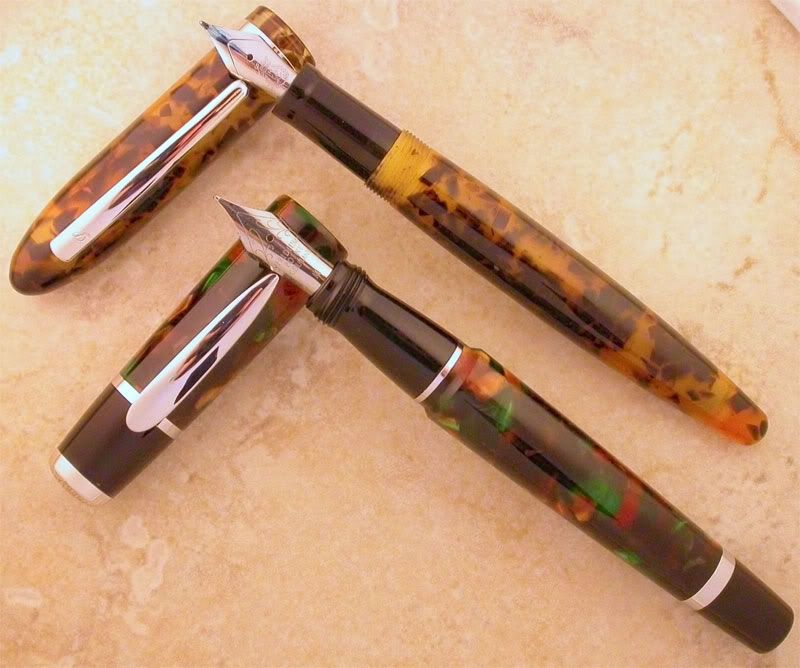 6. Overall value Laban 5* Taccia 4*
At $45 (isellpens.com) vs $72 (richardspens.com) the laban is slightly better value for what are pretty identical pens. The Taccia comes with a 1 pen travel case which is a nice adder, but not enough in my book to justify extra price. The Taccia is a little prettier pen, and more nicely finished so its my favorite, but if you look at the cost vs feature curves, Laban wins best value.
My mind has been changed about these mid priced "designer pens" and if you are budget conscious they are hard to beat for a combination of looks and function.