I bought myself a Chopin, and really rather enjoyed writing with its medium sized, medium flow nib. It was smooth. In addition, whilst the pen is pretty small when compared to more popular sizes, I found it comfortable to use. So started the journey, and this is a brief photo record as the pens that have been amassed so far (with apologies for the photos!).
So on to the pens...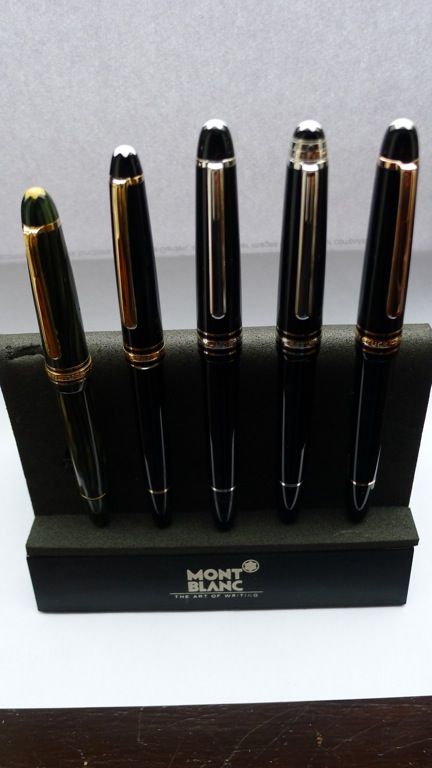 From left to right (ordered broadly in terms of age, and therefore also in terms of size):
1. Green striated 142 - one of my prized pens. Wonderful condition with little ambering, and a firm medium nib;
2. Older 144 - a pen that has one of, if not the, best nib I own. I monotone BB nib, with stun qualities;
3. Chopin - nice platinum trim and a medium duotone nib;
4. The "Signature for Good" again with platinum trim, but an added sapphire at the top of the clip plus an engraving of a wall on the cap band;
5. Another Classique - this time the rose gold trimmed 90th Anniversary edition.
Hmmm, boring did I hear you say? How about we bling it up a little...
: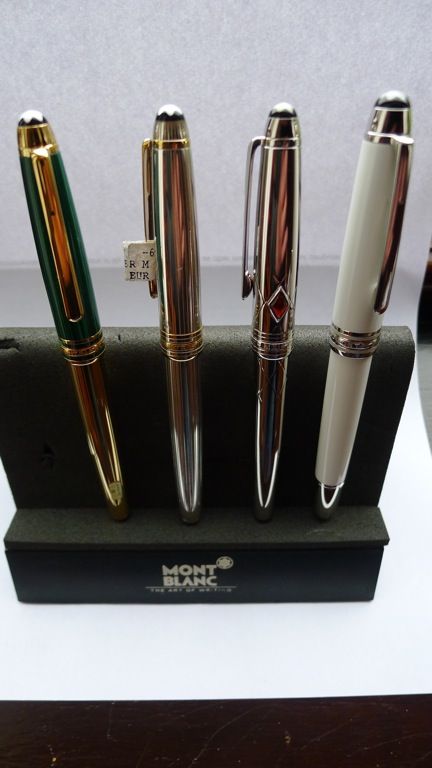 Again, left to right:
1. A Czar Nikolai II
2. A sterling silver pinstripe or Godron with a monster OBB nib
3. A Paloma Citrine version of the "Jungle Eyes" edition;
4. The Tribute to Montblanc - a hefty pen with a weighty barrel. This pen is significantly heavier than the other pens. Its metal section has some lovely engraving.
So what am I missing...
A Burgundy
A solid Gold pen
A doue
The carbon fibre capped pen
The cap with the geometric design upon it...
anything else? Feel free to post some pics of the ones I havent got, and comments welcome.