Greetings.
There's such a wealth of information on this site that I decided this would be the best place to seek advise on this matter. The TL;DR (ie. "too long, didn't read" version) of it is: how can I reliably differentiate a real S.T. Dupont pen from a fake, based on studying the pictures alone in an online listing (particularly of the box and paperwork)? When exactly did S.T. Dupont eschew the red presentation box in favor of the black box?
And here's the "mindless drivel" version (any photos below are "borrowed" for the purpose of this discussion, they are not my own):
As a kid I've always admired fine wristwatches and fine pens. My dad has a pair of Pelikans (a pen and pencil set) which he used for many years, and still uses them now, and I used to look at all the pictures of intricately-designed fountain pens in those glossy magazines. Now I've crossed the big Three-O and have been working for a number of years (in an unsavory environment not actually suited to fine pens). Those intricately-designed pens are still beyond me, but I've decided that it is time to look for a nice pen. It has to be a rollerball or a ballpoint because my terrible handwriting would do no justice to a fountain pen, and partly also because I would like to use this pen for writing, not just for signatures.
On a recent vacation back in my hometown, I glanced through the windows of the local S.T. Dupont boutique store in a big shopping centre and saw the Orient Express Prestige Fountain Pen, which is probably the most beautiful piece of man-made corruption I've ever laid my eyes on. The brand itself however, was unknown to me and up to that point, I only knew of Montblancs [...because, who doesn't...] and Pelikans. I spoke about it briefly to my dad who recalls that some of his colleagues did use S.T. Dupont pens.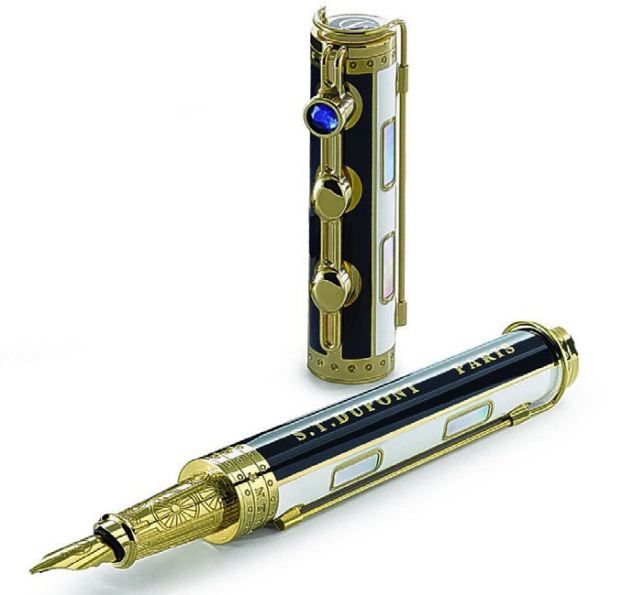 Instead of stepping into that boutique, I gloated at the display for a while before going for lunch, deciding not to embarass myself by walking into a store selling items that I clearly could not afford. And so it was a surprise that during some research later on, I found a goodly amount of new, NOS and second-hand Duponts on sale at an evil online site, some of which were to my liking and well within my means. In the process I learned about the Chinese lacquer that S.T. Dupont uses on some of their products, something that really piqued my interest and firmly set me down the path of buying my first fine pen. It will be an S.T. Dupont pen and it must feature large expanses of Chinese lacquer.
As I was made aware by information on this site, as well as others on the internet, there were numerous counterfeit pens on the market, some of them marketed by apparently credible vendors with an extensive and sound rating who many not even be aware that their stock was not legit. I trawled through numerous listings and realized that the greatest challenge was finding a pen that I liked, and that I could be reasonably certain was legit based on pictures alone rather than handling the pen in person.
As such I seek advise from people at this forum who are much more knowledgeable about these things.
My understanding is that counterfeits have become very good over the years and it can be nearly impossible to tell from the genuine item. However I was wondering if there were any "tell tale" signs that a pen was a fake. Besides studying as close as possible, the fit and finish of a pen in the photos (sometimes difficult since the photos are sometimes not close enough, or worse, blurred), are there any other visible signs I should look for in paperwork or even the box, if those are available as part of the sale?
In the older red-boxed pens which were clearly being sold as featuring Chinese lacquer or "laque de chine", I've occasionally seen outer boxes (ie. the paper box that protects the inner presentation box) that have a line of Chinese lacquer symbols (ie. the leaf) running along the upper edge of four sides of the box (ie. front, back, left and right).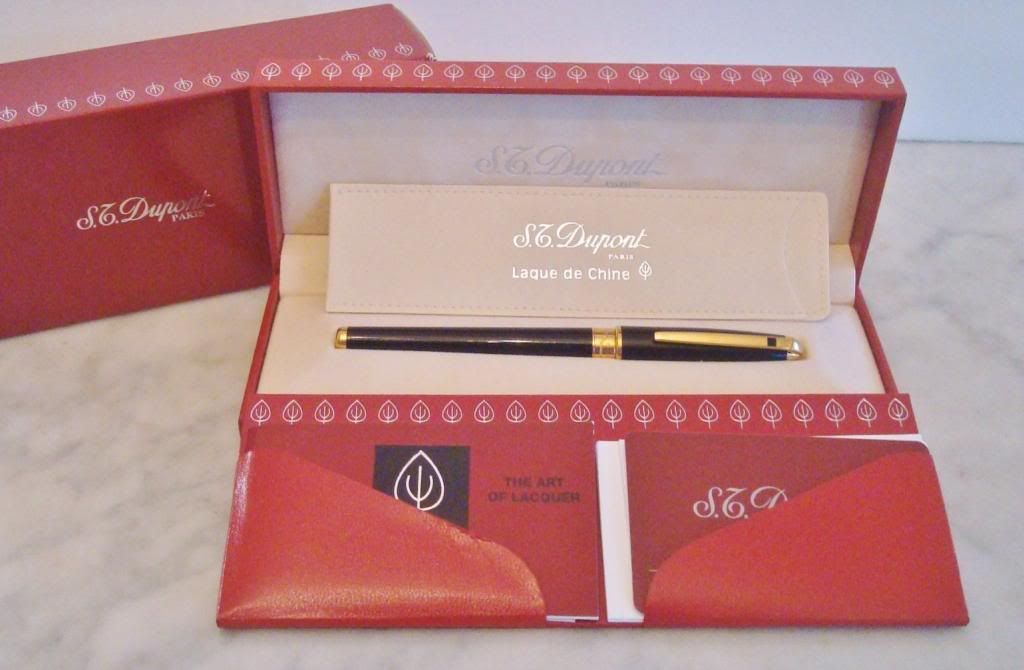 Some other outer boxes do not have this feature. On the inner red presentation box itself, I have also seen some that have the line of leaf symbols running along the sides of the lid, while some boxes do not have it. Are they both genuine and the difference is simply a change of design? Should all the older laque de chine models feature the lacquer leaf symbol on both boxes?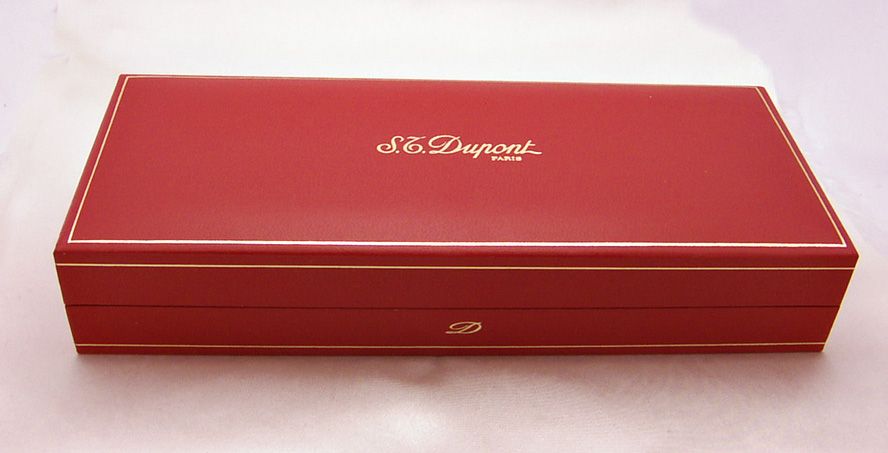 The newer Dupont pens now seem to come in black boxes with a purple liner. These appear even more difficult to study because they all look the same to my ill-informed eye. When did they make the change to use black boxes instead of red ones?
I have also read an article that makes a sweeping remark to say that genuine pens always fit well into a customized area in a "cushion" inside the presentation box, while pens that are held in place by only a ribbon are likely to be counterfeit. How true is this statement? It is difficult for me to believe this since I do see a lot of pens presented in either fashion.
Finally, some of the older NOS/ little used red-boxed pens may on occasion, have their paperwork contained in a red package that itself features a line of Chinese lacquer symbols, as in the picture below. Assuming that nothing is missing from the box, is this an item I should look for in a genuine item or is it the hallmark of a counterfeit?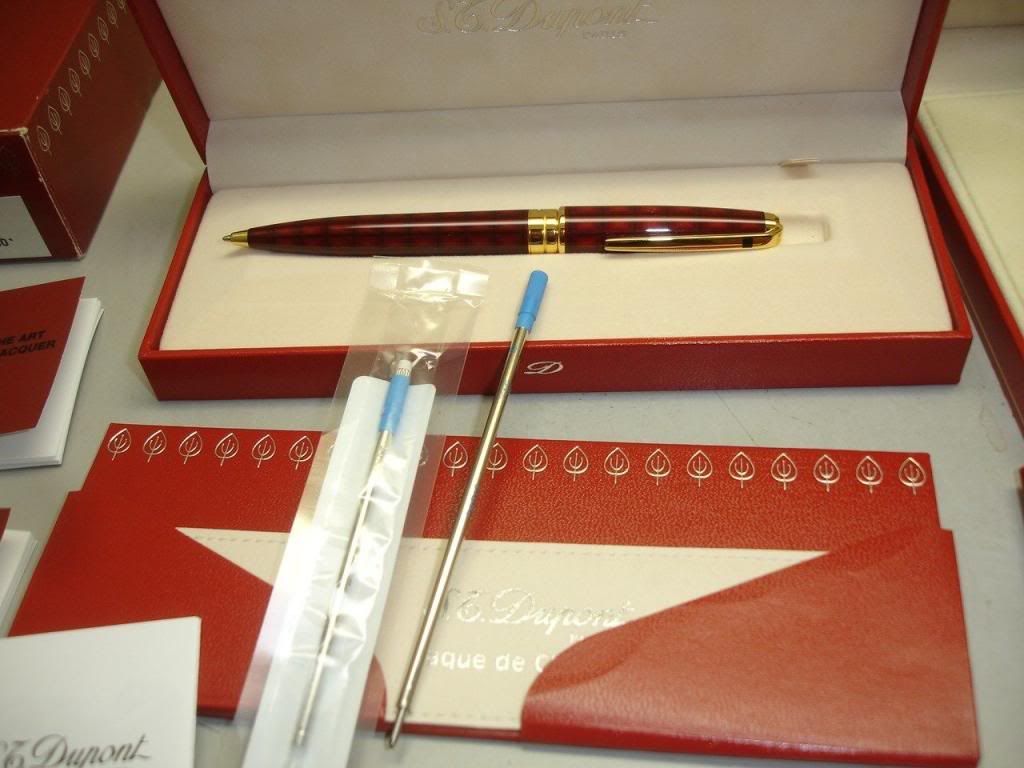 Are there any other things that I should be on a lookout for to differentiate a fake for the real thing? Or am I simply imagining that is possible to safely purchase a genuine Dupont pen at an online auction site?
Thank you. Any advise would be most appreciated.