Introduction
I'm both a cheapskate and horribly impoverished so any pens I review will cost less than a decent bottle of malt whisky otherwise I'll have another use for the money. This Wality pen from India fulfils the cheapness requirement, costing $29.95. That sounds even less when you say it in British money.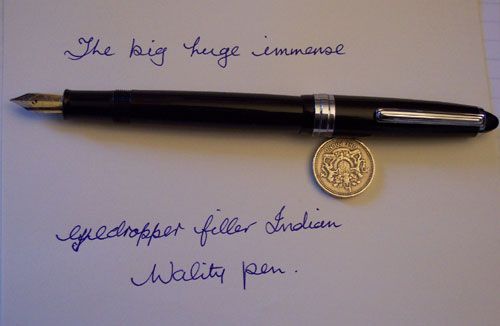 Barrel, cap and clip.
It's plastic, just like a Montblanc. It's also black with white metal trim which is adequate. The threads on the barrel and clip are strong and deeply cut and the cap fits very securely and satisfyingly.
Filling.
Unscrew the section, use the huge pipette to pour in a veritable ocean of ink, screw it back together again. That's it for this month.
Nib
It's two-colour, made by Wality themselves and writes on the medium side of fine. Very slightly flexible.
Price
Ridiculously little (see above).
In Use
It lays down a superb line and it doesn't leak. Despite being immense at 170mm capped it's very light.
Conclusion
They seem to do these things rather well on the Indian sub-continent. There's a piston-filler on offer too. This is an exceptionally good inexpensive pen that goes on for a very long time between fills. And if you like big, it's BIG.