Ok, I know this pen has been reviewed (a couple of times), but I felt like it was time for another... at least, a sharing of my perspective and some additional information. I hope you enjoy it.

[Stock photo]
Background
Over forty years ago, Lamy introduced a pen that set the stage for what would become known as the "Lamy style". German industrial designer Gerd A. Müller (of Braun electric shaver fame) was commissioned to create it and the result was the Bauhaus-inspired Lamy 2000 that went into production in 1966. His intention was to develop a pen that nicely blends both form and function. And in a short period of time after production began, it became apparent that the mission was accomplished. In 1984, the Lamy 2000 won the Busse Long Life design prize. It has been included in almost every selection of German and European historic design reviews. Unfortunately Mr. Müller passed away in 1991, but his pen has lived on as a continuing source of revenue for Lamy even up to the present day. That's a 40 year track record, even longer than "the world's most wanted pen"--the famous Parker 51. And yet in the USA, the Lamy 2000 remains in comparatively quiet obscurity.
Gerd Alfred Müller (1932 - 1991) at his drafting desk sometime in the early 70's--seems he liked black, eh?

(Note: the inset photo is actually Gerd, sometime in the late 1980's)
To commemorate the millenium for Lamy's namesake product, a limited edition 2000 was released with brushed stainless steel replacing the black Makrolon. Since it was priced nearly twice as much as the original, is noticeably heavier than its black Makrolon sibling, and the ink window was eliminated, desirability is rather subjective. Rick Conner's
Lamy 2000 Edition Review
is worth reading.

Lamy 2000 Millenium Edition
Dr. Manfred Lamy
In 2006, the 40th anniversary of the Lamy 2000 and Dr. Lamy's tenure as CEO was celebrated. Dr. Manfred Lamy figuratively and literally cleaned out his desk as he prepared to retire on November 10th, his 70th birthday. For at least a decade, plans for a Lamy 2000 rollerball had been in his desk drawer, but the time and market never seemed quite right. "Dr. Lamy is the kind of person who hates to leave things undone," explained Erich Daniel, Lamy's director of international sales. With the clock running down, Lamy realized that it was time to take the plans out of the drawer and implement them. And that is how and why the Lamy 2000 LE Ceramicon rollerball came to be released. Sadly, the pen was not teamed up with a fountain pen version.
Lamy 2000 LE Ceramicon
First Impressions (4/5)
This is a great pen and I really enjoy writing with it. I consider it a "workhorse" pen, and it looks the part well--no flash or attention grabbing. The size, weight, balance, and finish all work together quite well. With the large ink capacity and low quantity of metal, this makes a great travel pen as well (I've worn it through air port security metal detectors without being stopped).
Design and Features (4/5)
The Lamy 2000 is the epitome of subtlety. Leveraging the minimalist and sleek designs of the Bauhaus era, the 2000 accomplishes an understated highly functional writing capability. One may easily miss noticing the presence of a 2000, but once recognized and tried it can be appreciated for what it offers to the writer. Despite its rather simplistic looks (an all matte black pen with just two brushed steel accents), the Lamy 2000 has some very nice features that include: a spring loaded clip (for ease of shirt pocket stowage), an ink window, integrated piston filling mechanism with nearly seemless turn screw, modular nib section for easy interchange, convenient slip-on cap secured by two subtle clip stubs or "ears", and full body composition of Makrolon (a very durable material that is matte in appearance, facilitates sufficient grip, and is scratch resistant). Unlike other pens that scream their brand name from the highest mountain peak (e.g. Montblanc and its famous star topped cap), the Lamy 2000 gently whispers its name. You will not know the brand name unless you look closely at the brushed steel clip and notice the small imprint of "Lamy" on the right side of the clip near the hinge. There is also a subtle "W. Germany" imprinted on the underside of the clip.
Construction and Quality (5/5)
This is a solid pen but not at all heavy. Everything fits nicely together as it should with nothing out of place. It is a first rate quality pen. You can't even tell it's a piston filler, as the seam between the body and piston screw is hard to detect. The matte black Makrolon barrel holds up well to scratches, but does take on a slight semi-gloss appearance if you have oily skin (but it can be easily cleansed). Lamy has stated that the Makrolon will take on a pleasing patina with use over the years. The cap posts very nicely to the end of the barrel and is recommended for optimal balance. The scratch resistant Makrolon obviates any concern of the cap leaving post markings on the barrel.
Technical Details
Length Capped: 138.5mm
Length Uncapped: 123.3mm
Length Posted: 152.5mm
Max Barrel Diameter: 13.0mm
Max Section Diameter: 10.5mm
Max Cap Diameter: 14.2mm
Body Weight: 12.3g
Cap Weight: 8.9g
Total Weight: 21.2g
Filling mechanism (4/5)
The Lamy 2000 is a very competent piston filler that has a nice ink capacity of 1.4 ml. Out of the box, it usually works smoothly and effectively with small traces of air when completely filled. However, there have been some pens known to arrive to customers with pistons that feel sticky and some undue friction when turning. This is easily remedied with lubrication, either self-administered or taken care of for free by Lamy product service. After filling, you will notice that the subtle translucent ink window has darkened. It is not a very easy-to-read ink window, but it does work once the ink level has dropped to at least 3/4. You need to wait for the ink to slide off the inner walls in order to read the level.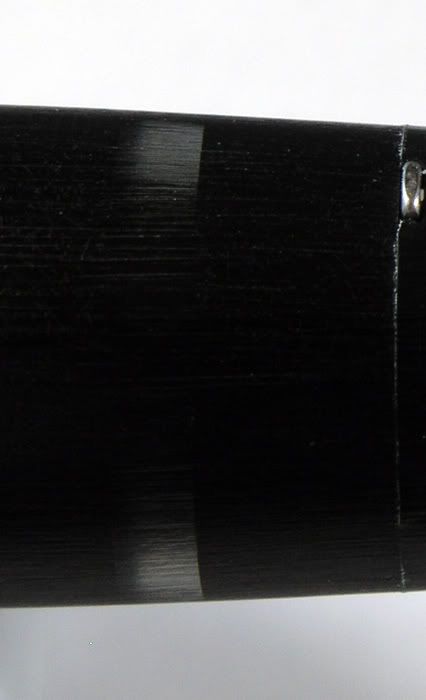 Nib and Performance (4.5/5)
The semi-hooded nib "peeks out" from a brushed steel nib section with no visual exposure of markings (I don't know if this nib is stamped at all) that is plated with platinum. The underside reveals the small breather hole and an artistic angular cut through the brushed steel section to compliment the tapered profile of the nib. Generally speaking, the Lamy 2000 writes almost one nib size larger than stated. Lamy 2000 nibs are known to be smooth writers and are available in a variety of sizes (EF, F, M, OM, B, BB, OB, OBB). The oblique and double-broad nibs are easily obtained in Europe and practically impossible to find through USA based retail stores. However, you can obtain the European nibs through Lamy USA service--a free exchange is possible with brand-new pens. Another nice attribute is that the nib section unscrews rather easily, so you could effectively own several nibs and interchange them at will (akin to a Pelikan or Pilot/Namiki Vanishing Point).
[Oblique Medium nib -- noticeably 'left foot']
The Lamy 2000 tends to be a wet writer. I have personally tried two different nibs and found this to be the case. Also, the nib sensitivity changes with various inks--some (like Waterman Blue) can result in too saturated a line. If a writer with a fine line preference finds the Lamy 2000 appealing and wishes to have a more narrow writing line, they can have the nib reground by a nib specialist. Overall, the nib glides smoothly across paper and combined with the near perfect weight distribution, it is a definitely contender for extensive writing. I've chosen to use the OM (oblique medium) nib in my Lamy 2000. It writes more like an OB, though, so I plan to either have it reground or replaced with a finer nib.
Maintenance (4.5/5)
The Lamy 2000 is a low maintenance pen. It is very easily cleaned, lubricated, and repaired. Since the pen is still in production, parts are readily available--the pen has hardly changed since its inception in 1966. Thus, even an older issue Lamy 2000 can use present-day parts.
Cost & Value (4/5)
The average selling price of these pens at on-line retailers is about $120. However, you can often obtain these on auction websites for around $100, with the occasional deal in the double-digits. I've rarely seen these up for sale used. Based on how the pen performs, I'd say it's a very good value.
Other Observations
I wish the ink window was about double the current width. It is hard to tell that ink is low until it is really low. You have to let the ink settle down until the window becomes semi-translucent, then slowly tip the pen sideways until you see the window cloud over with ink. If the window was double the size, the ink level would be more readily seen. In fact, it would have been nice if the designer let the ink window "peek out" slightly from under the closed cap. But I think in keeping with the minimalist approach, Gerd kept the ink window as a covert feature, not to draw attention away from the rest of the pen. It certainly is functional, though. Some people have reported slight leaks from the nib section, occasionally depositing some ink into the cap or a small blob appearing in the edge between the nib section and nib. I recommend periodic cleaning and avoiding storage of the pen with the nib tilted downward. Also, the cap top "puck" has a soft edge that is slightly prone to indentations--I wish Lamy had encompassed it with a flush mounted brushed steel enclosure that would compliment the appearance of the clip. One other thing--it is easy to think that at first you will feel like complaining about the "clip ears" that extend between the nib section and barrel (they are used to secure the cap when closed). At first I was surprised to feel them and wondered if they'd bother me to no end. I actually find that they don't intrude on my writing experience and actually serve as a useful "pen orientation" guide for holding the 2000 in the optimal position.
Summary (4.5/5)
The Lamy 2000 is a great pen with a distinct yet subtle appearance and a very nice value for the price. It is a workhorse daily-writer pen that is undoubtedly not in line for any beauty contest. But clearly, this pen design was very well thought out. It is a great successor to Lamy's previous top selling pen--the Lamy 27 (of which I think has a beautiful Art Deco design that competes head-to-head with the Parker 51). Thank you Gerd Müller for your wonderful enduring creation, and thanks to Lamy for continuing to make this living legend.
Side note: The name "Lamy" is pronounced as "lah-MEE" (accent on 2nd syllable).
~Gary
NEXT: The predecessor to the Lamy 2000 --
The Lamy 27 Review
Edited by MYU, 22 June 2009 - 19:22.