Introduction
Most non-Europeans don't know that the German adhesive products company named UHU actually manufactured pens for a period of time. I haven't been able to find out very much information at all on that period of the company or the range of pens produced. I do know that they made fountain pens, mechanical pencils, and early rollerball pens. However, the UHU website omits any mention of pens in their history. Maybe it was too short a period or the fact that they stopped producing pens is an embarrassment?
During my quest for a Rotring Rollkuli pen (an early rollerball pen that fills like a fountain pen), I stumbled upon a vintage UHU rollerball (kugeltinter) pen and bought it. I was taken by the logo embossed on the cap band, the textured clip, and the fishnet pattern over the ink window. I found that it writes OK, but not something I would use for writing--it's more of owning an interesting piece of history. The early rollerball pens tend to skip and the line is a bit sloppy when compared to a stylograph.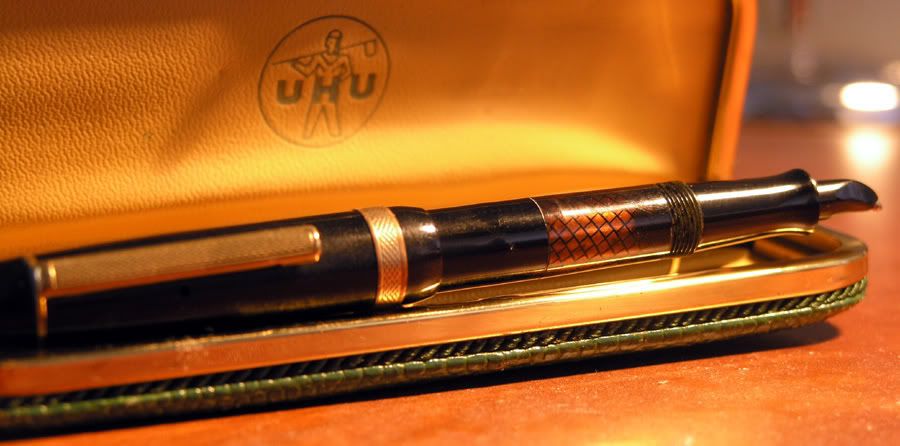 Anyway, I decided to keep my eye out for UHU pens out of curiosity, to see what other kinds of models may appear. Sure enough, the day came when a fountain pen appeared along with a beautiful snakeskin textured green leather case that accommodates two writing instruments. I bought it and now have both pens stored inside it. This review is about the fountain pen only.

First Impressions
This is a small pen, measuring just 5" when capped (very shirt pocket friendly). But when posted, the pen is of a very comfortable size. It's lightweight without feeling cheap and comes with a variety of nice features and accents that make it a luxurious pen that looks more expensive than it is.
Appearance and Finish
The barrel and cap are made from a rich black plastic, the kind that the Germans are known for in many other pens (like Montblanc). It features a beautifully long flexible nib, and a huge ink window adorned with a fishnet pattern. Accompanied with the big UHU stamped gold plated "pontoon" style clip and raised gold cap band, the overall look of the pen is one of German luxury. Even the name "UHU" has a nice symmetry to it. The cap posts easily without much force, so barrel markings can be avoided. It secures smoothly with only 1.75 turns.
The pen came with a really nice green leather case with snakeskin texture. It's very well made with a gold-like plated metal frame hinge and spring loaded button clasp. A green tassled cord fits in the space between the case edge and the frame. The interior is covered with a beige colored leather textured vinyl material that features an interesting silver UHU logo. It looks like a man with a golf club over his shoulder. "UHU" means "eagle owl" in German... some kind of bird, and yet no sign of a bird logo.
Design and Size
This pen shines when it is posted, not when capped. With the cap on, it measures 5", with only 2.25" of the pen body exposed. So, it does look a little odd with the cap dwarfing the barrel. But that's what makes it a great pocket pen. When posted, the pen is just 1/8" shy of 6". The most notable design feature is the big gold 1 5/8" pontoon style cap clip with an UHU engraving. The thick raised gold cap band compliments the clip nicely. The ink window is 5/8" long, so you're sure to see how much ink you have left whenever you wish. One unusual accent is that all UHU caps have a kind of 'tiger eye' translucent disk on the cap tops.
Nib Design and Performance
The 14k flexible fine nib is adorned with some decorative edging that is often seen on other respectable fountain pens. Of course, UHU is prominently stamped in block lettering, with 14k-585 positioned below. The nib hardly requires any pressure to lay down ink. It's generally a wet writer that gets super wet when flexed. When I got it the quality of the writing was a little scratchy, but that was correctable.
Filling System
It features your standard German piston filling mechanism. But this one works incredibly well, pulling in almost a full compliment of ink with only a small air bubble remaining. It appears the piston tip has 3 tiers--a thick one followed by two smaller ones; I wonder if this design helps make a more complete seal. The blind cap is mounted to the screw, so it does not need to screw off to operate. However, the mechanism does require a lot of rotations to get going. You need to unscrew the cap until it retracts into a position that then drives the piston motion. The only real drawback of this design is that the ink chamber is a little on the small side. What you see in the ink window is pretty much all the ink you get.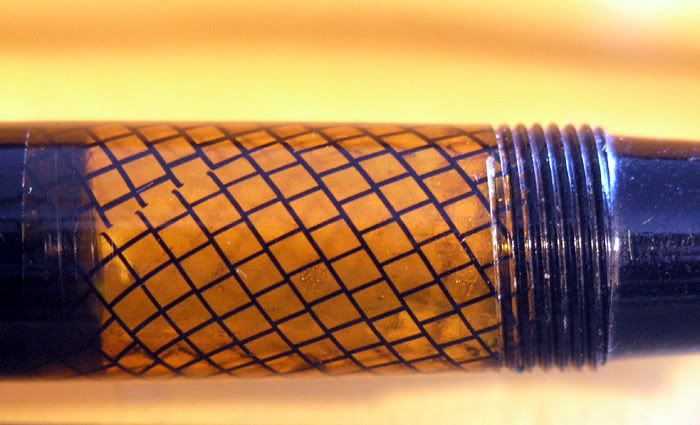 Cost/Value
I purchased this pen as a vintage item, and I have no idea of the going rate except for a previous sale that went for nearly $100, with the difference being the presence of a mechanical pencil.
Final Thoughts
I really enjoy the look of this pen. I will probably put it to use from time to time, but only at home.