I will preface this review by referring to my last Monteverde examination.
http://www.fountainp...showtopic=24146
To sum that review up in a sentence,i was disappointed in the pen and it's nib.
That model was sent back to Monteverde and replaced with a pen of my choice.The only pen i liked was the Mauna Kea,which is the second pen in the "Mountains of the World" series.This caramel swirl coloured pen peaked my interest as i just adore brown celluloid pens. I received the pen after a week wait,which was good considering the problems i have had with Monteverde.Here are the results of my observations:
Appearance/Finish:3.5 out of 5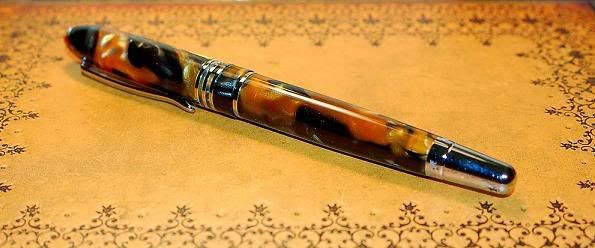 When i first unwrapped the pen,i noticed the bright swirls and nice feel.The materials are noted as "european-grade acrylic resins".Looks nice i will admit.The lower end sports a chrome tip and adds a dash of weight.The middle is enhanced by three silver rings,with a fourth added where the cap screws on.The screw on cap was a nice treat as i expected a snap on similar to the other Monteverde pens i own.Only drawback was that the threads on the body were plastic,not steel.The slick finish was nice to the touch.The cap did have lines where the acrylic was blended,thus giving a bit of roughness to it.
Weight/Size: 4 out of 5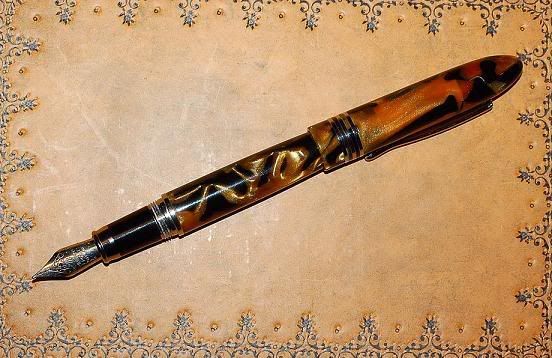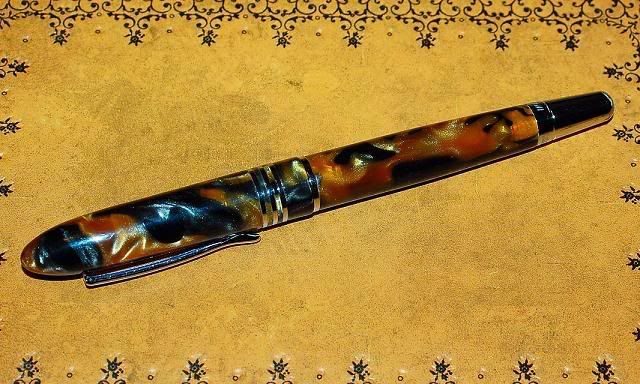 The pen,as mentioned already,is a light-weight.The metal clip and end are a nice touch added to the weight.The size is nice though:With the cap on it is 5-3/4" overall.
Without the cap it is 4-3/4".Posted it is 6-1/4"Fits the hand very nicely i must say.
Nib/Writing performance:4 out of 5
The nib looks similar to the Monteverde black tie .It is a standard Iridium nib that is supposed to be a medium.It writes more like a fine point nib.I'm not sure who produces these nibs but they are average.You certainly will not get a $200 nib when the pen retails for $80.This nib writes better than any of the other Monteverde nibs so far.It is smooth with a thinner line.
I filled the converter with Waterman's Havana Brown.I had to use my own converter as Yafa sent me the pen only,without a box or converter!! They have told me the box and acqutrements should be shipped soon(we'll see!).The pen started right away.A far cry better than the Rose Gold pen i had tried previously.This is the first day with this pen,so i cannot be sure of how things will progress.But so far,i like it.
Here is a sample of the writing quality:
This was shot with my Nikon D50 and a flash on Astroparch #60 paper:
And here with the same camera and paper,in natural light: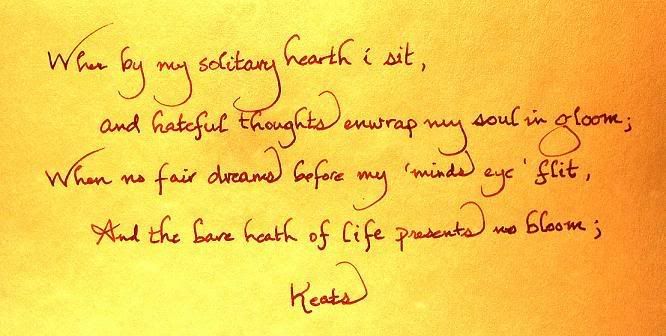 Filling system:3.5 out of 5
Typical cartridge/converter system.No big surprises here.
Cost/value: 4 out of 5
This pen retails for $80-95 depending on where you buy it.I think as fountain pens go,thats not too bad.This is all relative as everyone has an idea as to price and value.If i were buying outright,and not receiving as a replacement,i would have saved my money for a more expensive and better made pen,such as a Conklin,Cross or Tryphon (which is one of the better values at this price,IMHO).
Overall:4 out of 5
I would have given this pen a higher rating but for the light weight and ,in some ways,cheap feel.I admit it is a nice looking pen.The colour swirls and "mountainous" look are an asset.It is attractive.But the writing is where i look.It is a good pen for a backup.I wouldn't choose it as an everyday pen for serious writing.I will be using it at work since i wouldn't trust taking my more expensive pens there.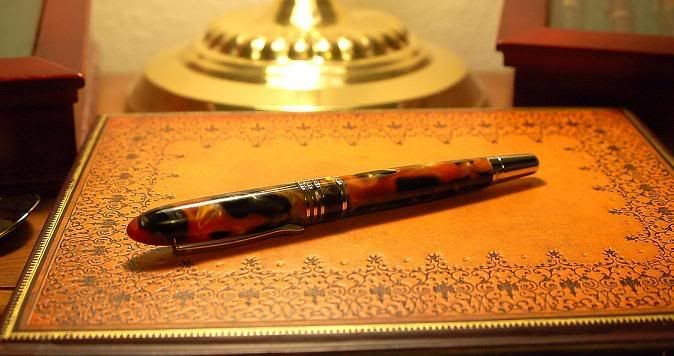 I always have fun trying out new pens and writing about it.Hope this helps someone considering the Monteverde Mauna Kea.
Handlebar