Fellow Collectors, 

If you were at the DC Pen Show, you would have had the opportunity to see and test drive the extraordinary Classic Pens LB5 King Profit. The current finishes, Kaen (violent flames) in Flame Red and Tensui (raindrops) in Space Blue, introduced this year are really exceptional and the new colors continue that story. 

Following the successful launch of the first two LB5 King Profit finishes, Classic Pens continues and strengthens its working partnership with Sailor with four, novel, ground breaking diffusion bonded acrylic finishes, for its LB5 King Profit launches in 2014. 

The new diffusion bonded acrylics have a pre-determined pattern to harmonize and enhance the form of the Sailor King Profit. For the creation of these novel materials, Classic Pens formed a working partnership with Carville in England and Sintetica in Italy.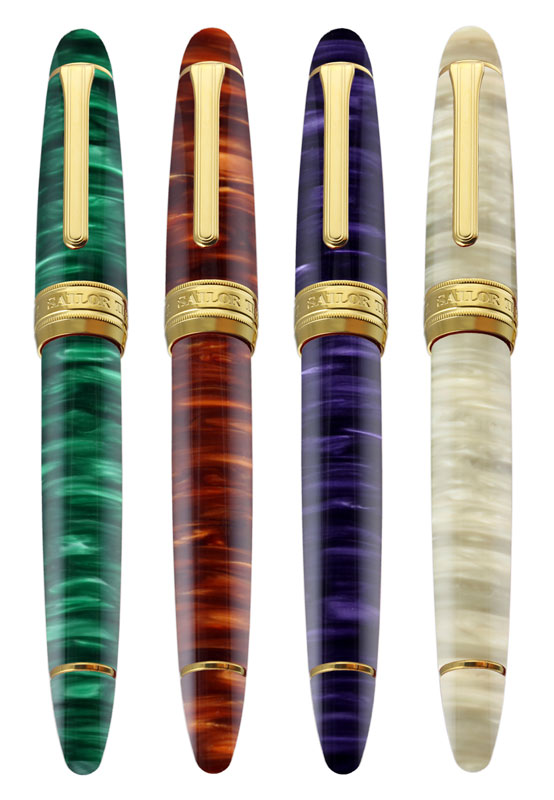 Sample renderings of the proposed new Classic Pens LB5 King Profit 

Shown above are the initial renderings of the pen in the four new proposed diffusion bonded acrylics. The final pens are yet to be revealed. 

The cap and barrel material is produced in three stages. First, Sintetica, an Italian company established in 1954 that specializes in the production of acrylic casted sheets, creates a special production of quality acrylics with pearl enhancement. Sintetica's acrylics stand out for gorgeous effects, ranging from "the classic pastel and transparent colors to imitations of natural materials such as horn, mother-of-pearl, marble and tortoiseshell," as stated on their website. Sintetica creates both unique and basic materials aimed at accessory, home, jewelry, fashion, and fine pen manufacturers. 

Carville, a UK based manufacturing company established in 1928 and a leader in the precision machining of acrylic and other engineering grade plastics, then uses their diffusion bonding process to eliminate stresses and to impart long term stability to the acrylic material. Carville's manufacturing facility is located in Dorking, Surrey, UK. This process creates the unique and exclusive Classic Pens diffusion bonded materials, including the bright red Flame Red and deep blue Space Blue rods used in many new pens.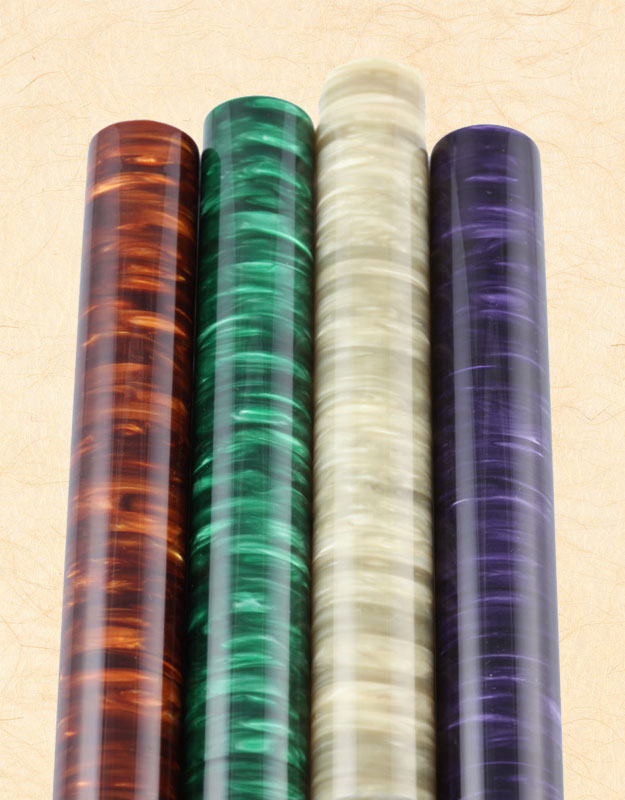 Classic Pens LB5 King Profit new colors. 
Left to right: Diamond Brown (Kouseki), Forest Green (Midorigi), 
Marble White and Amethyst Purple (both Tairiku) 

The resulting diffusion bonded pearl material is being released under the following names: 
Diamond Brown for Kouseki (metal ore) 
Forest Green for Midorigi (new green trees) 
Amethyst Purple for Tairiku (continent) 
Marble White for Tairiku (continent) 
Launch of the new finishes is planned as follows: 
Kuseki and Midorigi: 50 pens each finish - February, 2014 
Tairiku: 50 pens each finish, choice of two finishes - August,2014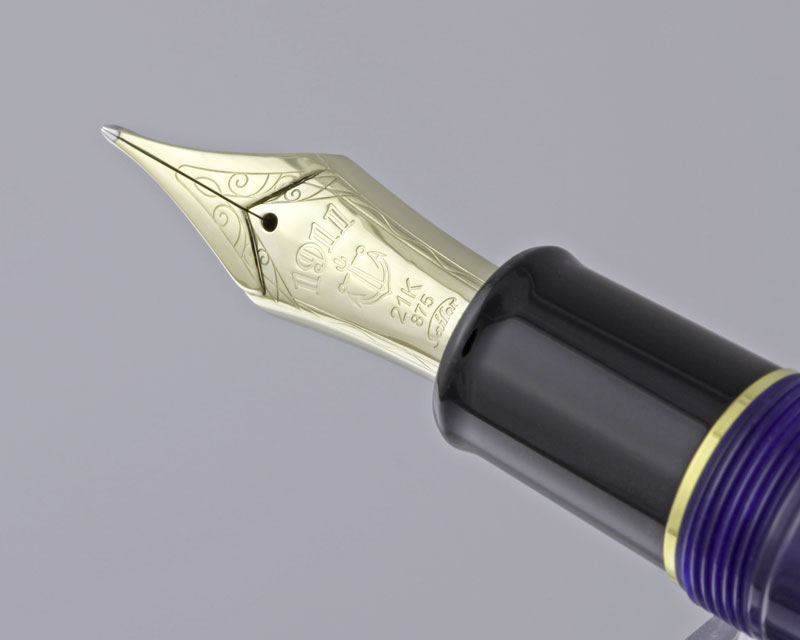 Sailor Cross Point nib, as shown on the Classic Pens LB5 King Profit Tensui 

Retail Price of the new LB5 finishes with a Sailor Japanese Medium or Broad nib will be $1,600. Pens fitted with the Sailor Nagahara Cross Point nib will carry a premium of $350. 

You can read the full article on these new finishes here: 

Classic Pens LB5 King Profit: Classic Pens breaks new ground with exquisite new materials 

For further details you can contact Andreas Lambrou of Classic Pens by email: claspeninc@aol.com. 

We are looking forward to seeing the new colors for this new and exciting pen! 

Jim Mamoulides 
www.PenHero.com