Several years ago, it was not unusual for "big box" office retailers to sell some quality/premium fountain pens in their stores. Not too long ago, a consumer could walk into Staples and pick up a Waterman Phileas, Hemisphere or Expert, a Parker Sonnet, Frontier or Vector or a Sheaffer Prelude or Agio. They were usually in glass cases under lock and key or in a blister pack on a hook.
A few years ago, Staples dropped those popular, mid-range fountain pens for no fountain pens at all! I guess to focus on disposable ballpoints, gel pens and rollerballs (which I guess is the bread and butter of office supplies these days).
Not too long ago, Staples started selling Cross pens exclusively in their stores. They sold the very popular Century ballpoint pens in chrome plate and 10 and 14kt gold filled (yes, they are not fountain pens, but they are still quality pens that you have to refill rather than throw in the trash).
Staples started to sell a few Cross fountain pens that were exclusive to them (the Aventura and the Bailey), which ended up being many a young person's first foray into the world of fountain pens (as they were so easily accessible).
Well, I went into Staples today and saw their new "Fine Writing Instruments" section.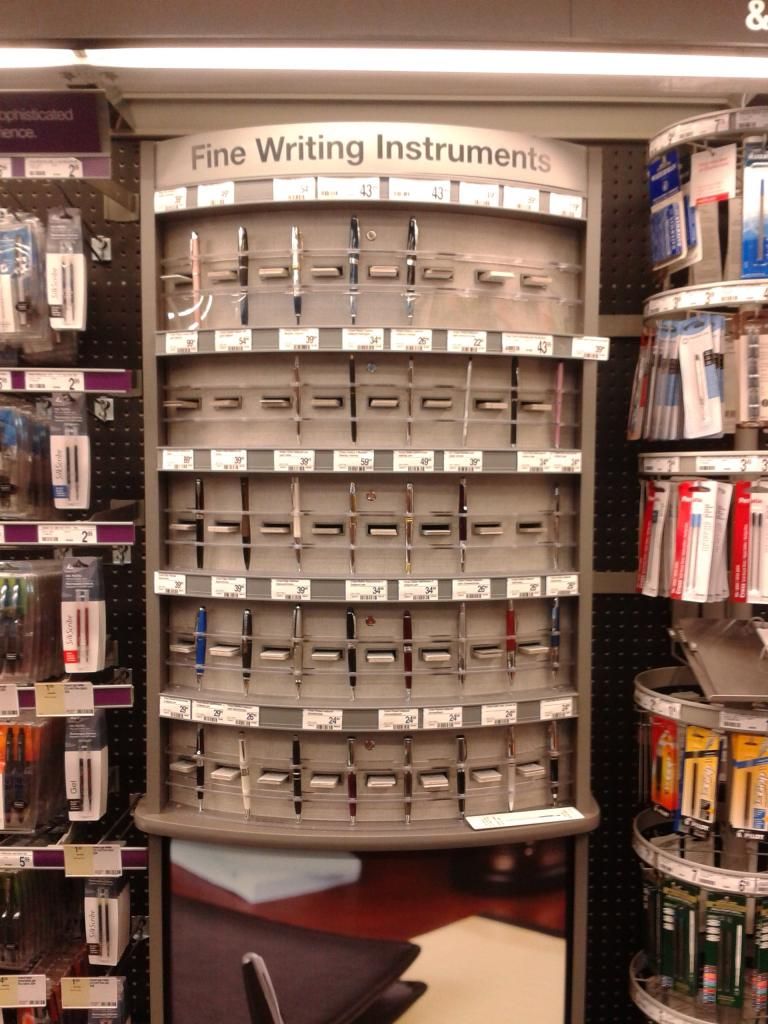 In their new kiosk , they have four different Cross fountain pens for sale in the $30-$50 range and they sell two Parker Sonnet fountain pens (the black lacquer with chrome trim and the SS Flighter with gold trim) for full MSRP. They also sell the Premium versions of the Parker IM and Urban, but only in BP and RB format (maybe the FPs in the future).
You have to take one of the little cards next the pen and take it up to the register and I guess they will take one out of the back for you. I'm assuming they only offer medium nibs, but hey it's a start!
They also had the Sheaffer 100 and Friends of Winter ballpoints and rollerballs. They also sell black Quink in bottles (although I've seen that before)
So what do you think about Staples jumping back into the world of fountain pens and fine writing instruments again?
A good thing? A bad thing?
Edited by Florida Blue, 08 August 2013 - 17:35.