As this is my first review, your patience with my lack of concision is much appreciated. I less than a month ago purchased a Visconti Millennium Arc from an FPNer and, having noted it's not having been reviewed, decided I ought remedy that absence. Plus, I just purchased a digital camera, so I've no longer an excuse not to review. The Millennium Arc is a limited edition that Visconti put out in three translucent colors – red, blue and amber – to celebrate the beginning of the third millennium. Visconti produced 1000 of each of the colors and numbered each of the first 200 of each color – these numbered pens were sold as three pen sets in a collector case, and each set included a Visconti traveling ink well – a nice little device that I carry and use. I purchased the blue pen from the #2 set, and my pen is marked on the section "002/1000".
(The picture came from Swisher Pens.)
Each of the Millennium Arc pens has a clear silicon rubber sac that is guaranteed for 100 years and fills with a crescent filling system, the system invented by Roy Conklin in 1897 and made popular by his Conklin Pen Company, which was for a while endorsed by Mark Twain. I have one of the recent Conklin replicas of the Mark Twain crescent filling pen, and I have to say that I'm a big fan of this filling system. It holds a good amount of ink. Plus, as was the factor that really sold Samuel Clemens on the system, I really like that the pen can be laid on a desk without any risk of its rolling off. Of course, I could imagine that for some folks the crescent might get in the way, in which case it would be an annoyance rather than a "profanity saver" as Twain called it. The pen also has a very nice clip, the style of which mirrors the design of the crescent very nicely. The clip has a spring load design that pulls out to clip to a pocket. My only grumble with the clip is that it rests in a small indention such that it cannot be slid on.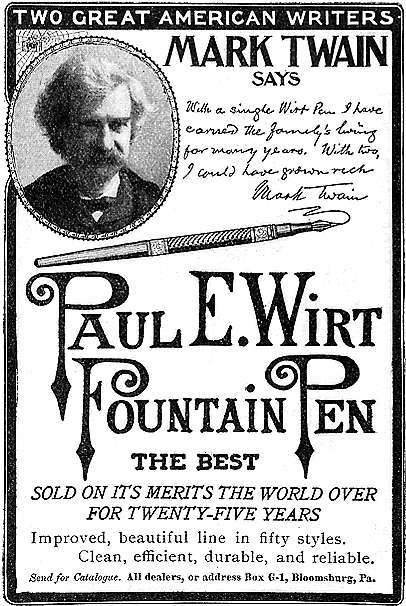 Twain also endorsed Wirt.
If you'd like to read more about this filling system, check out this link to Richard Binder's wonderful site -
http://www.richardsp...o/crescents.htm
This is my third Visconti, and I've come to very much like their writing instruments. I find myself especially impressed with the details of their pens. My first was an Opera Master in Honey Almond with a fine nib – it's just gorgeous. The pen has magnetic initials to attach to the top of the cap – a customization that allows a degree of personalization but that isn't permanent, as included with the pen is a Visconti logo that can be swapped out with the initials if one decides to sell or trade the pen. My second was a Wall Street LE, a superb pen that very much impressed me with its smooth celluloid and boatload of ink holding, air travel friendly, double reservoir vacuum filler. Like the other two Visconti pens, the Millennium Arc is a substantially weighted pen. It isn't nearly as light as many of the popular pens that I would call comparably sized, such as the Pelikan 600 or Aurora 88. Also, though the same length as the Pelikan 600, the girth of the section just above the nib is more the size of an 800 (and I'm here referring to Pelikan sizes only because these seem pretty widely recognized among FPNers).
My Millennium Arc came with a very smooth writing fine nib. The nib is big; the same that comes stock on the much longer Wall Street LE. As far as I know, this is the largest nib Visconti puts on their pens, and it looks substantial and very attractive on the body of the Arc. I find the patterning on this nib aesthetically topnotch, yet another of the details I appreciate about Visconti pens. If you've suffered reading any of my posts regarding nib smoothness, you know that I'm not much of a fan for overly smooth nibs. My factory nib of choice is the Aurora M nib, a nib that many describe as "toothy", but that I like to say has just the right amount of grab to help a sloppy handed writer like myself exert control over the pen. When I hear "butter smooth" I think slippery, haphazard chicken scrawl. In any case, the Visconti was too smooth for my proclivities, so off it went to Dillon Ang to be ground as an italic. He did an excellent job on this pen. It's now in my regular rotation and has become one of my favorite writers.
As I said above, this pen is a limited edition and it came out a few years back in 2001. As such, it is not to my knowledge available new through any Internet retailers, though these Arcs do regularly appear on ebay. If it isn't apparent, I very much like this pen. The only other quasi-criticism I have, other than the clip indention, is one that I've actually been going back and forth on. I would have liked for the section to be made of the same resin material as the body, rather than metal, as I tend not to prefer metal sections, which was the reason for my purchasing the Wall Street LE rather than the regular Wall Street. But the metal section feels good on this pen, and it has a very nice, finger friendly curve that differs markedly in its exaggeration from the other Visconti pens I own – though I find these remarkably comfortable as well. Plus, I think the silver trim looks very sharp against the blue and clear body, the beauty and clarity of which really isn't captured in the sophomoric digital photography included below. I would highly recommend this pen to folks who like the larger end of mid-sized pens, but with the stipulation, as stated above, that this is a weighty pen. Well, that's my first review … as I've not figure out how to upload multiple pictures onto a single post, they've been added individually below. Thanks for reading!
Edited by JRodriguez, 08 February 2007 - 01:15.