1. Preface
To start off with, I'll concede that this review certainly does have some similarity to that of Pelikan's Edelstein Tanzanite, another favourite of mine. That is because both inks are in the same category of that company. I also thought that any slight review remodelling might save me some time. I first discovered this ink three weeks ago in this thread. Thanks, Holdav! (Interesting place where you live, BTW.)

2. First impressions
I was most fascinated by this ink. No, not because it is a further issue of an ink to this Edelstein edition, and not because it is, after all, yet another "Ink of the Year", but simply because the colour name "amber" means something very special to me. Partly because I can't help thinking about a remnant of amber containing an ancient insect in it, like this...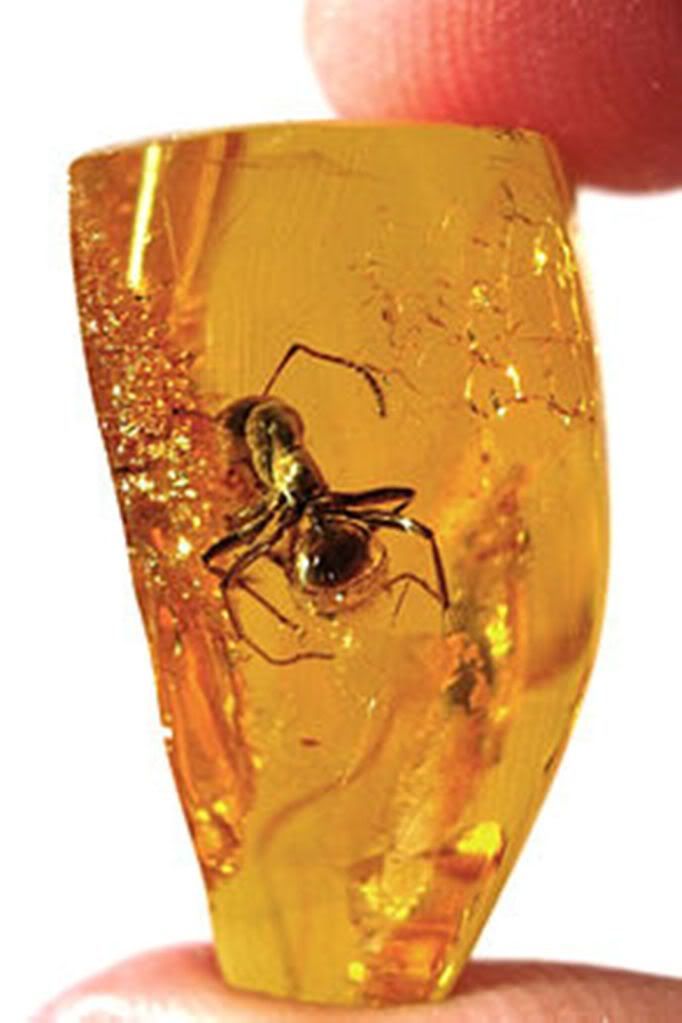 or because when I hear the word "amber", I always think about the myths and mysteriousness (not to mention the loss and reconstruction of same) surrounding the Amber Room in Saint Petersburg, like this...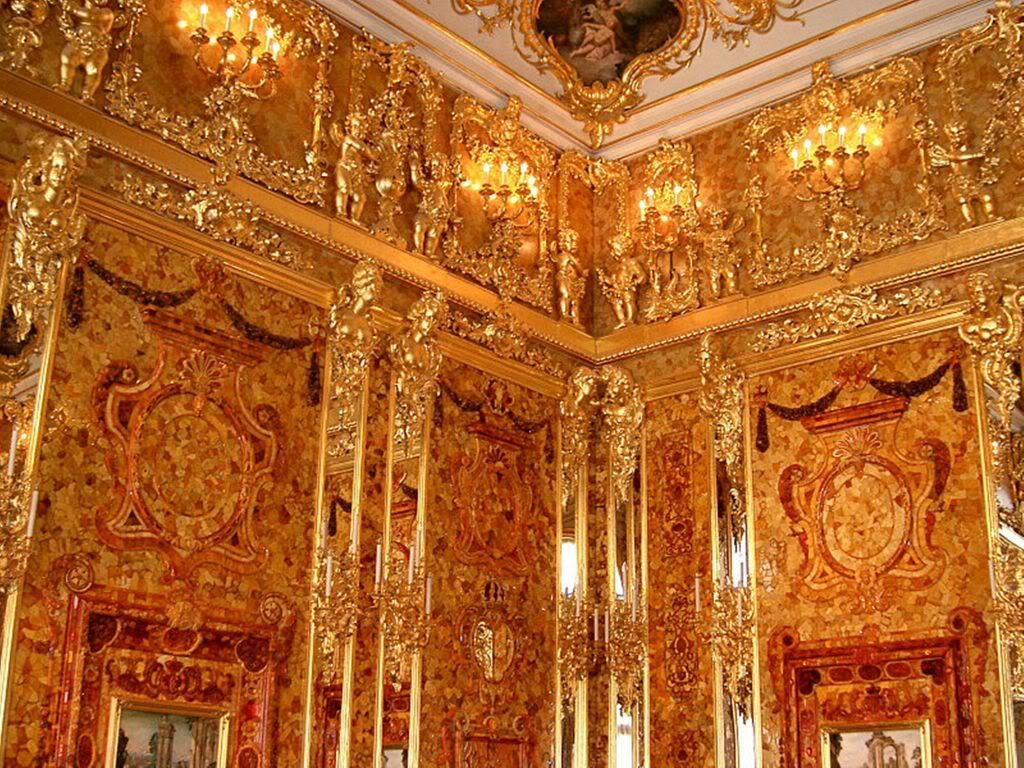 Both of those photographs were copied from Wikipedia.
The entire colour can thus resemble any very subtle creation, just like a "sunrise" etc. Yes, there are always vast numbers of insights, histories, and interpretations. There are hundreds of greens, reds and so forth but "the" colour of amber may be impossible to reproduce. As already pointed out there are different ambers out there alright but all I'm trying to say is that at least for me, any amber isn't any ol' mix of orange and brown. A unique colour IMO, so let's have a look at it.




As an important note, may I say here that all of my scans now look pretty authentic -- in comparison with the looks of my inks on my papers -- presumably because I have in the meantime now purchased a new HP Officejet 6700.
I love this colour. It's all I expected. Maybe because I love amber itself. Oops, sorry again... you see, I'm so excited... I mean Amber herself. Likely because there are so many variations all having a "certain" note in common, much more than the hundreds of, say, browns.

3. About the Packaging
The bottle is beautiful, but still not as practical as a MB shoe. The lid is perfect, just like MB's newer lids (Both companies' older lid designs were less well made, and harder to open and close.)
In case you happen to wonder about the size of the bottle, here's a shot together with my M800...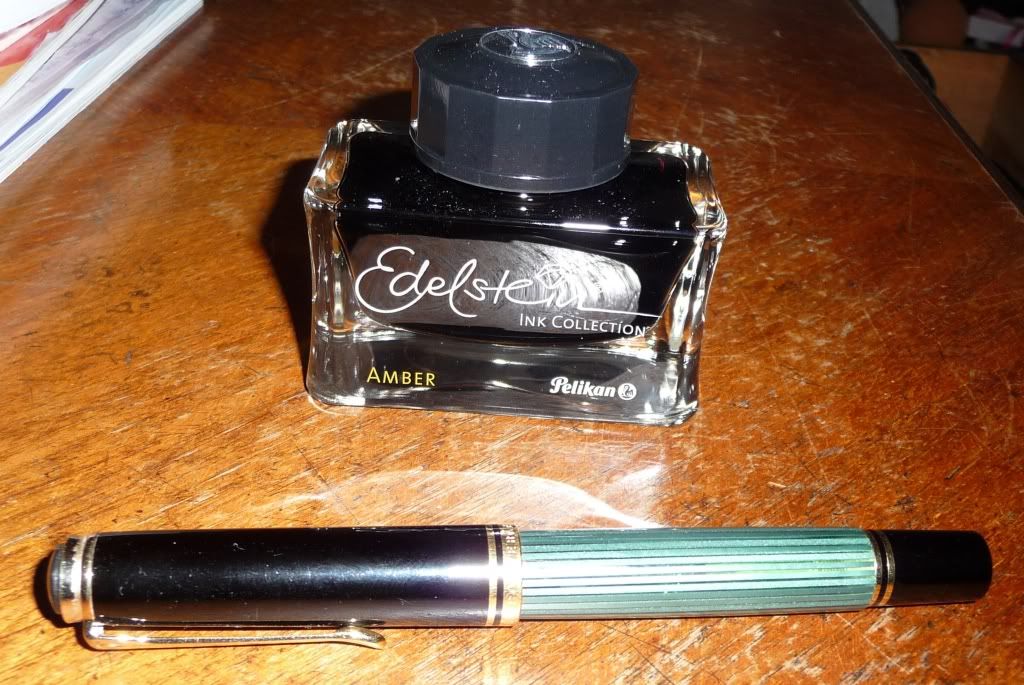 For a much better photo, here's one presented by the company itself...



What I find to be not good at all is the box...




For me, it's impossible to whip out the two pieces of sponge residing over the bottle's shoulders in order to get a hold of the bottle or even just the neck. The only way I can get a bottle out of the box is to turn everything upside down so that the bottle can fall out. Now I know why some of you never keep the ink boxes. (Yes, I do because of sunlight and all that.)

4. A fast look at ink properties here
■ Flow: Very good. IMO wetter than a few other Edelstein inks, still not quite as wet as the Tanzanite.
■ Lubrication: Also good.
■ Saturation: High. Not at all a bad property for this type of colour.
■ Shading: Great! "Best" shading I've seen among any of my 10 Edelstein gems.
■ Bleeding: None seen here! (on 90 g/m2 HP Bright White Inkjet Paper). See below; well, let's ignore Moleskine and Leuchtturm 1917 for the time being, okay?
■ Feathering: None seen here, either! (Same paper, same suggestion).
■ Drying time:10-12 seconds, with my 51 B nib on this paper (identical to Tanzanite's and Mandarin's). I make that to be about twice as long as the time a 4001 needs.
■ Maintenance: I find that this ink is easy to maintain. Washing and cleaning seems to be no problem. I also see no nib creeping. I have only used this ink for a few days now but I would still wash and dry the pen at least every few weeks after use, even for a refill of the same ink. MB says 3 months for their iron-gall ink. Let's say you write almost all day, every day with it... then I'd say clean it after every 2-3-4 fillings.
■ Waterproofness: As expected, not very waterproof. But to go on a bit here, this ink does seem to have a special feature. Here's a shot of four Pelikan inks (again, on the above-mentioned paper) all held completely under water in the kitchen sink for 60 seconds: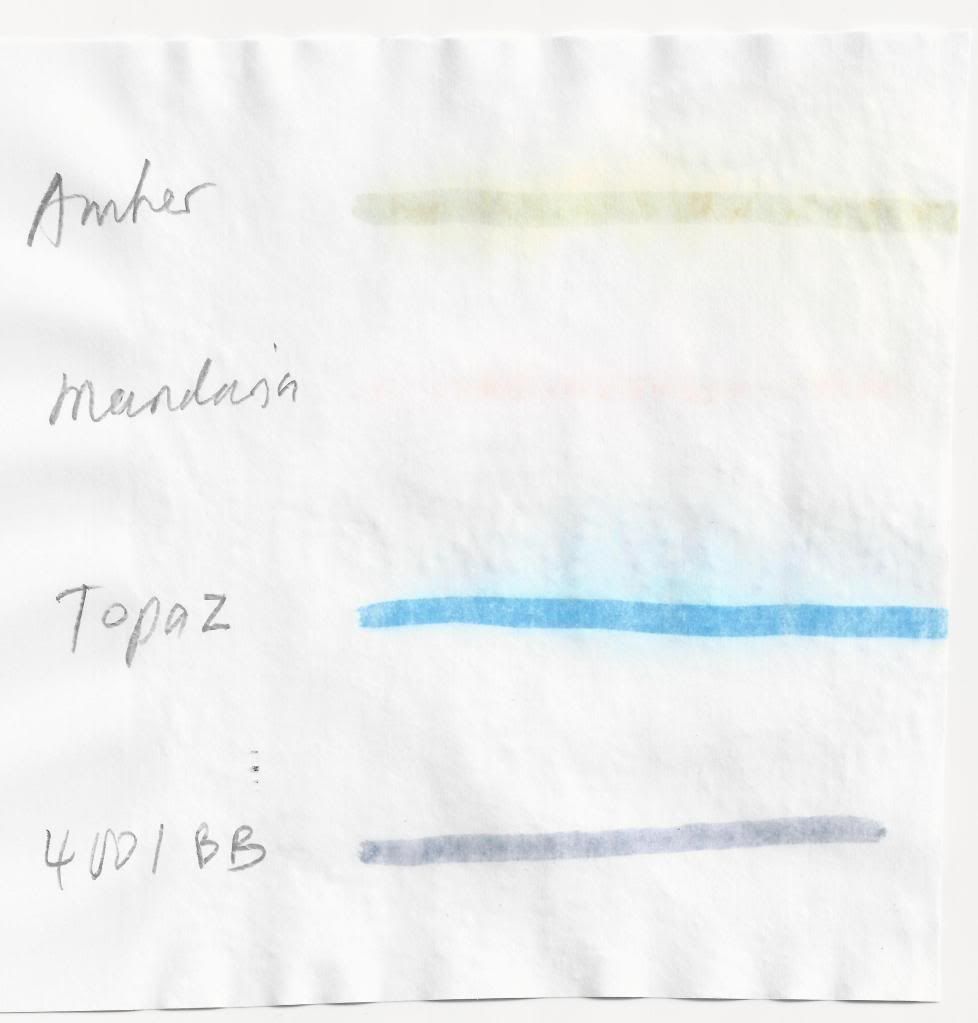 In comparison with those two other Edelstein inks, Amber it is in any case less water-soluble than Mandarin is, and almost as insoluble as Topaz and the 4001 Blue-Black. That's not bad at all, considering that those last two are much darker colours in the first place. It also goes to show that there appear to be such differences even among the members of the Edelstein family.

5. Various Papers
Here is a quick look at various tiny pieces of paper, each signed by my 51, again, with a B nib.
First, the front sides for those of you interested in feathering...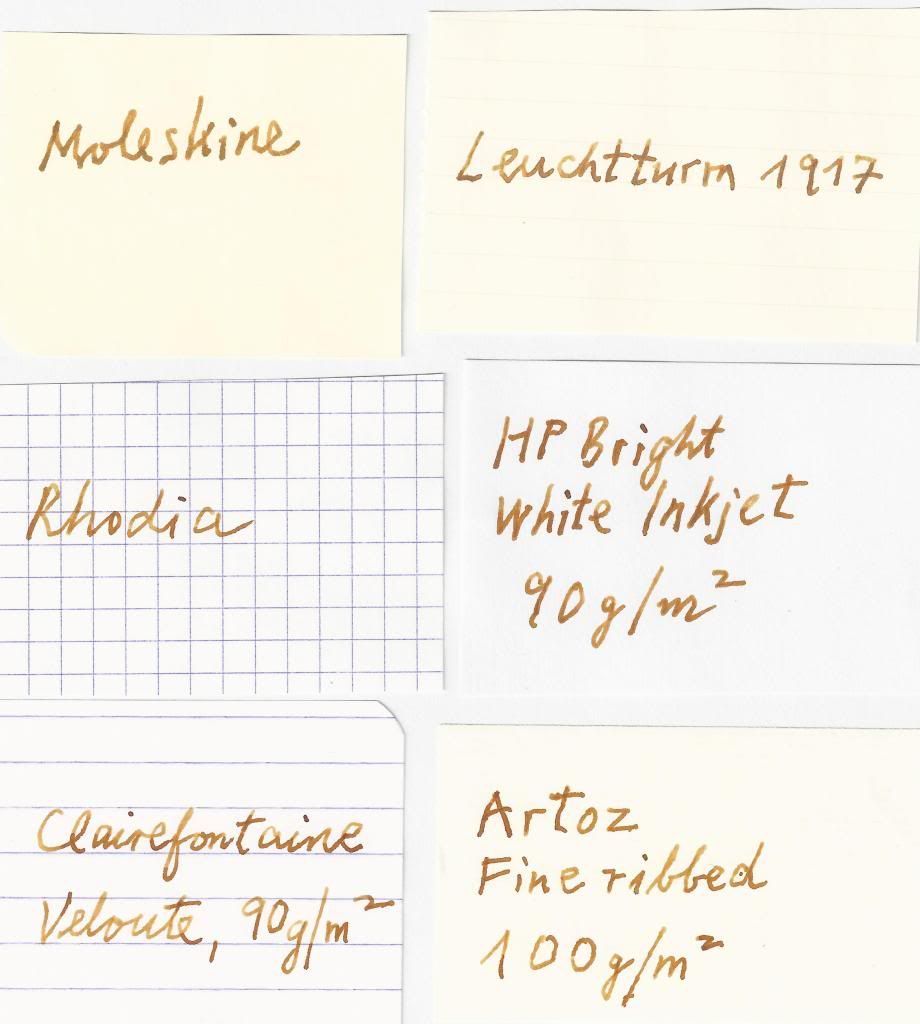 And now, the backsides. Question: Can a piece of paper have a backside? Answer: Yes, at least one of these does! These patches are in exactly the same order shown above. I.e. Moleskine is up top, to the left. I know very well that many of you don't consider Moleskine to be up top at all! Har, har...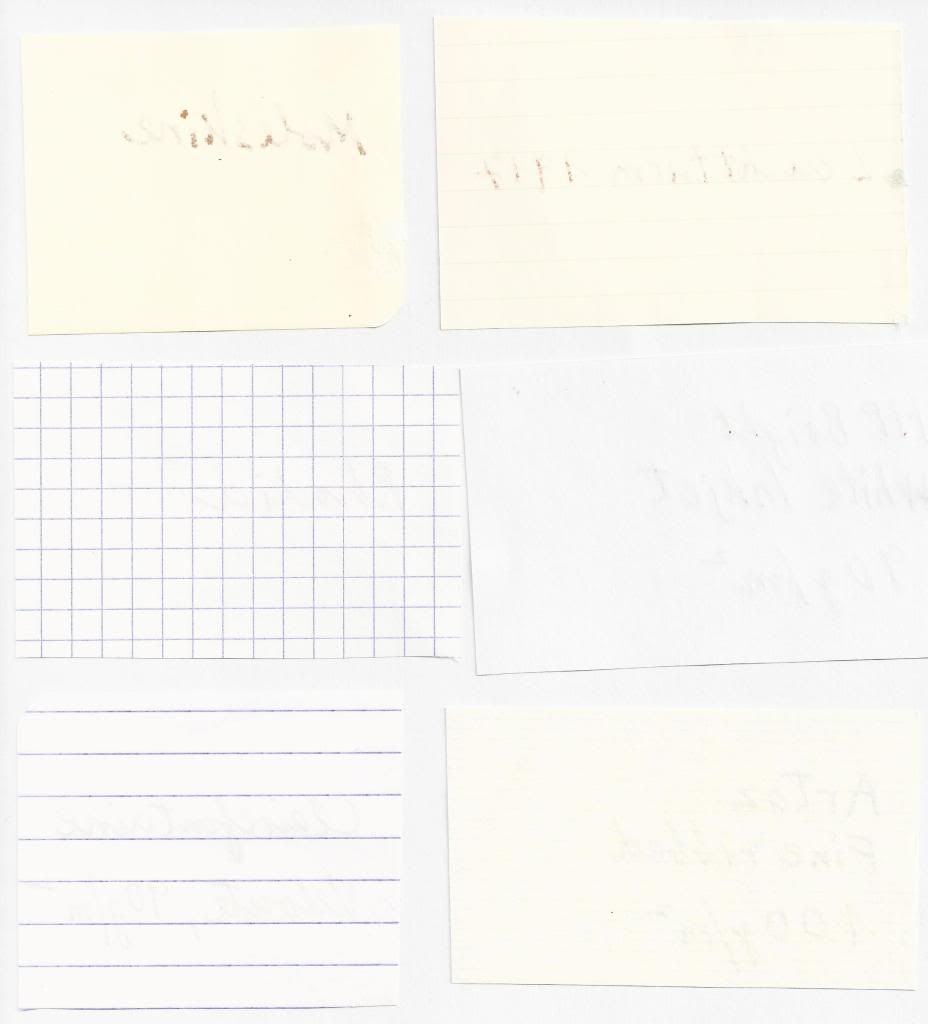 6. Ink Comparisons
Here are swabs of a few inks which came to mind. No, they aren't all that similar; yes, some are much too yellow or orange or brown. I just thought it might be interesting to include a few candidates which -- for one reason or another -- did seem to me to possibly have an amber-like effect.




By Jove... two Herbins don't look bad, either! After all, they are named "Ambers". Anybody out there who has Diamine's Amber?

7. Availability
This Pelikan U. S. site says that the recommended retail price is $ 20 (for each and every Edelstein ink, whether it is an "Ink of the Year" or not). I bought this ink from my store (where I don't work, and which I don't own) for a current equivalent of $ 15.21 (very roughly, of course).
For the sake of comparison, a few suggested retail list prices per ml (here in Germany, today) are as follows: Pelikan 4001s = 0.14 Euros; Watermans = 0.15; Edelsteins = 0.28; CdAs = 0.48. So, whether or not you're all that hot, you'll still have to admit that these Edelsteins are in the mid-priced field.
Pelikan being Pelikan means that you can probably get it all over the world (like MB, Waterman, Parker etc.).

8. Note
On the box's backside, I read "Extra soft ink". That means -- after a long talk to Pelikan here in Hannover (funnily enough in English-speaking countries usually printed "Hanover") -- the following: A. In comparison to the 4001 ink predecessors, these new Edelstein issues have a better flow and lubrication, and B. They have been designed to be even more maintenance-free and thus more "FP-friendlier". I couldn't agree more with this statement.

9. Summary
■ This ink's colour is similar to those of two Herbin amber inks.
■ Box and bottle are actually good-looking but it's hard to unpack the bottle out of the box. Also, the bottle isn't all that practical to get out the last few drops.
■ The bottle lid is outstanding, just like those of MB's new shoes.
■ Many of you might be dispirited by that fact that their prices are rather high. One ml of these costs exactly twice as much as the older 4001 inks. For further comments on all this jazz, you might want to look at a similar question posed about a different ink here.
■ It has all the properties I have always been looking for. It more than fulfils my expectations. Varied characters, bright but not too bright, ditto dark, ditto orangy, ditto brownish. Fantastic shading, good flow and good maintenance. What more do I want??
■ All in all this is IMO a great ink. I find it "better" i.e. at least more interesting than a few other Edelstein inks. Regarding the colour itself, it's different from any of the other nine Edelstein offers. If it's too expensive for you, then just don't purchase it. Whatever your verdict, all best wishes.

Mike