I had the privilege of reviewing the Monteverde Black tie last week
http://www.fountainp...showtopic=23182
and now want to show off the Monteverde Rose Gold!!I purchased these pens within a few months of each other.Both were on sale making them a delightful bargain.
Without further ado...
APPEARANCE/FINISH--4 out of 5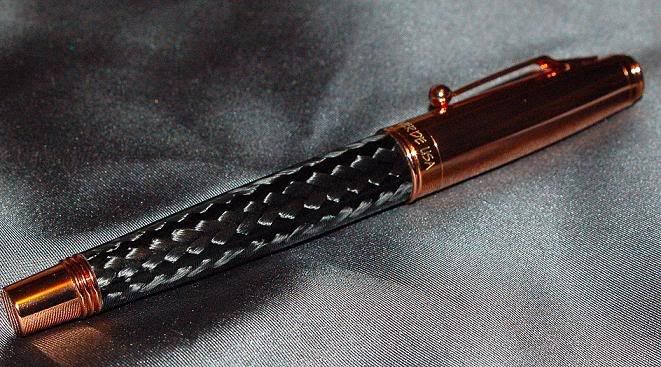 The colours of this pen caught my eye the moment i saw the pen case!!! The copper coloured cap and bottom were beautiful!! made of heavier steel,they balance very well in the hand.The cap has an imprint of the Monteverde "M" and is well proportioned to the body.The centre is made of carbon fibre.
WEIGHT/SIZE--4 out of 5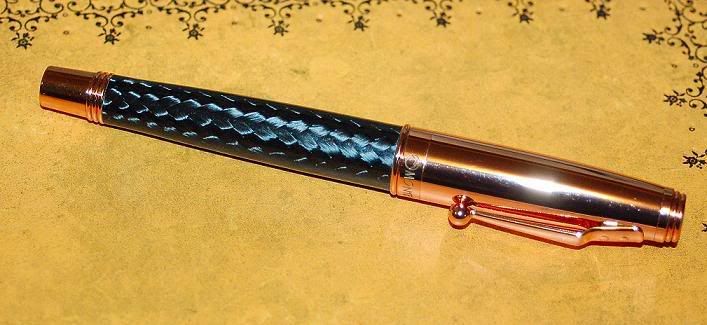 This is most certainly one of the heaviest pens in my collection.I like the feel.It has that battleship feel,as if it were to drop nothing would damage it!!Posted it balances well but does have a bit of cap weight.I don't usually post pens so that won't affect me too much.This pen matches the same weight as the Black Tie.
NIB/Writing Performance--3.5 out of 5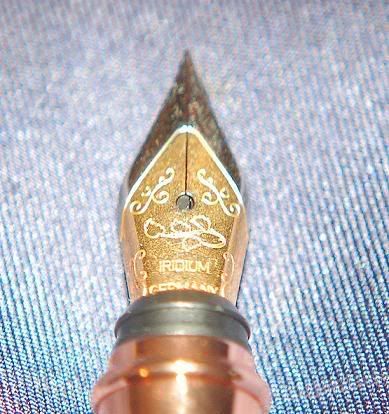 Here is a close up of the nib.It is a standard steel iridium nib in a medium point that writes more like a fine. I will tell you that this pen just arrived back from warranty service at Monteverde.The pen constantly skipped and had problems starting.I tried every sort of ink and paper.Still nothing.So i sent it in at my shipping expense and also had to pay to have it shipped back.I wasn't thrilled at that since it was under a year old.But i decided i liked the colour too much to tell them to keep it.
So far after a few days,the nib has been writing flawlessly.But if you do buy one,look at the nib and check if it has a 1/4" black plastic nib holder.The old models have a short 1/8" holder and that was part of the problem.The feed system was too short.
It is a major issue in my opinion and seems to affect only this model of Monteverde Invincia(that i have heard).
The writing sample is on #20 Hammermill white using Noodler's Cayenne.
FILLING/INK System--3 out of 5
Typical converter system.Not much to say here.
COST/Value--5 out of 5
Good value for a heavy pen.I paid less than $50 and if it keeps writing,it will be worth it.Found this one at Office Depot.
OVERALL--3 out of 5
I would give it a higher rating but due to the nib issue,i cannot do so.Still,not a bad value.Now if Monteverde can fix the problems.I will conclude that the customer service was not as i desired.The shipping was fast and efficient but the communication between the person who was helping me was not very good.Only had two emails from her in 4 weeks.I sent 10 or so.Finally had to resort to calling long distance to get through.At least i have the pen back.
JD in Vancouver,Wa
Edited by handlebar, 27 January 2007 - 04:38.