This will be a shamelessly shallow and superficial review because I bought this pen for my wifeís birthday, which is later this year, and so I havenít actually dipped, inked or used the pen! However, the saving grace of this review is that there are plenty of photos and this is a photogenic pen!
1. First Impressions
Umm, shiny!
2. Appearance and design
I think that the original Skeleton in titanium is a classic design because itís clean and modern and interesting . From a pen userís point of view the Skeleton has the advantage of being a demonstrator (so you can see the volume of ink) but the overlay helps to mask the sight of ink getting into ďunusualĒ places (which is my experience of pure demonstrators). Given the original design was fantastic, I think that itís great that Bry has teamed up again with Visconti to produce 4 new variants on the design. This one in rhodium plated sterling silver but also vermeil, carbon fibre and Alutec (essentially woven aluminium fibre). My wife prefers heavier pens, so the choice of the sterling silver model was fairly easy, although I think she might also like the Alutec version (or at least I do!). Rockspyder, if you are reading this, perhaps I could prevail upon you to post a picture of all 4 models?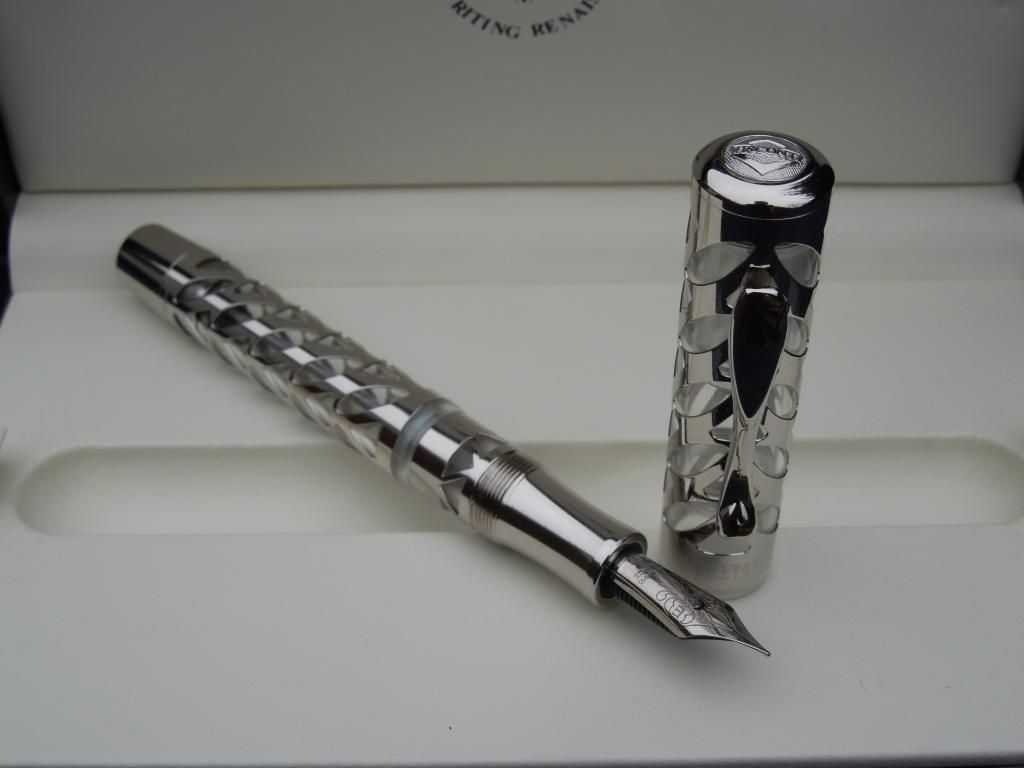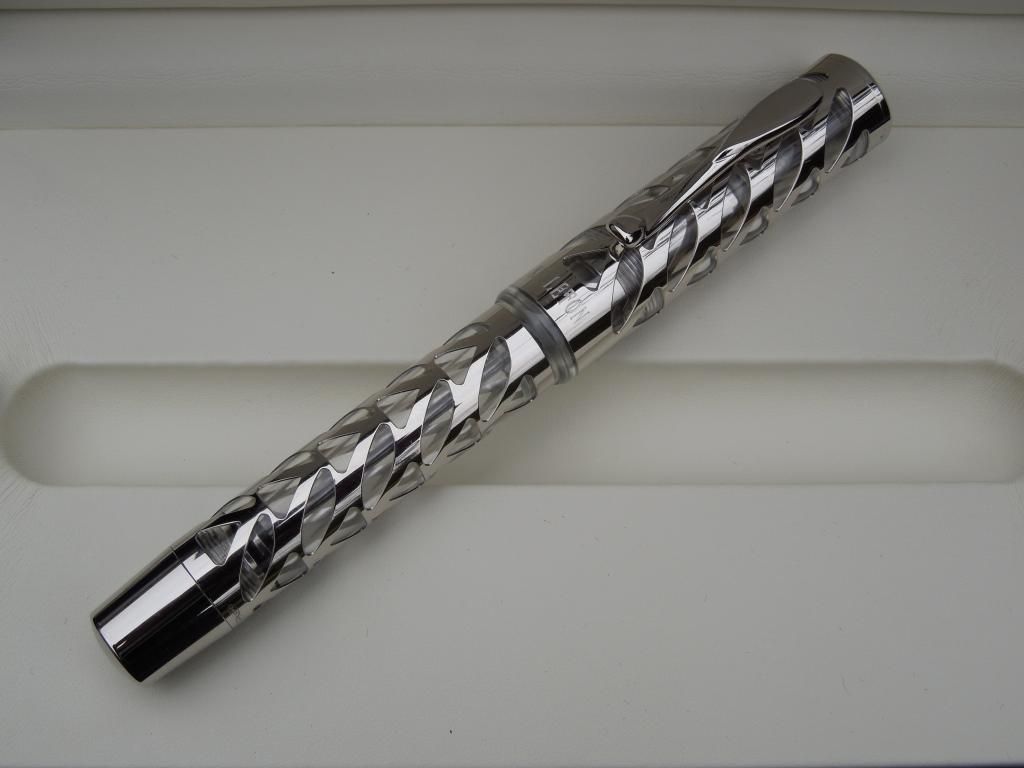 3. Weight and dimensions
By most standards itís a large pen Ė 14cm capped and about 60 grams in weight but itís about 1 cm shorter than a Carbon Dream and 0.5 cm shorter than a Black Ripple. The Carbon Dream is 53 grams and the Ripple is 67 grams. They are all about the same girth.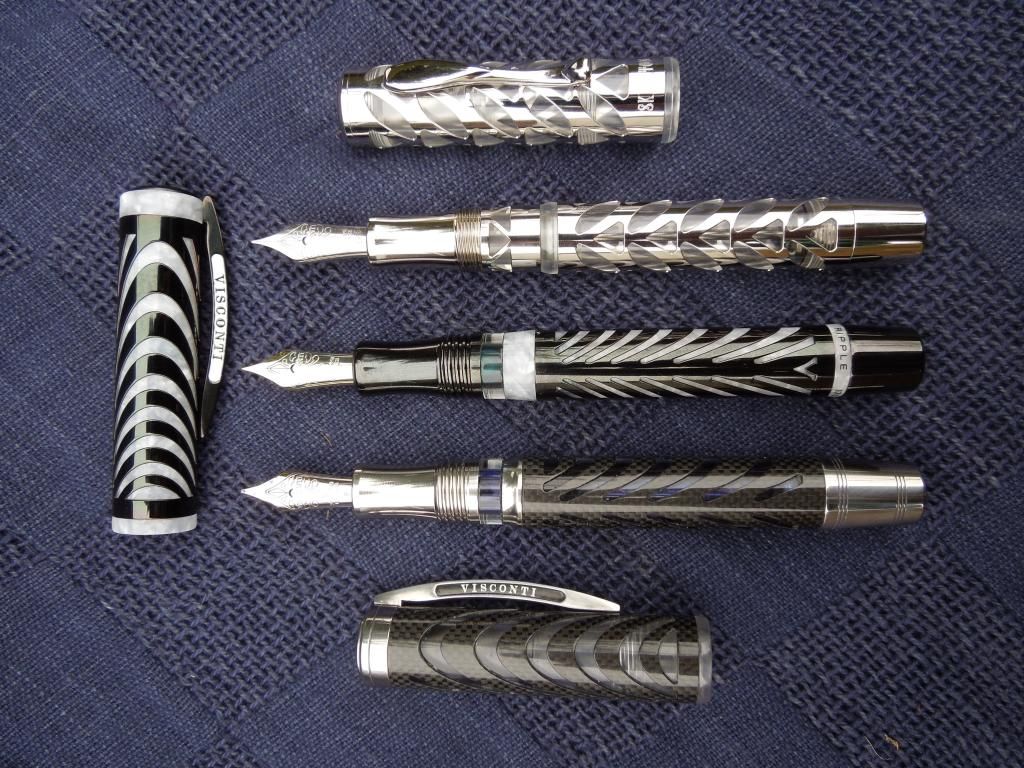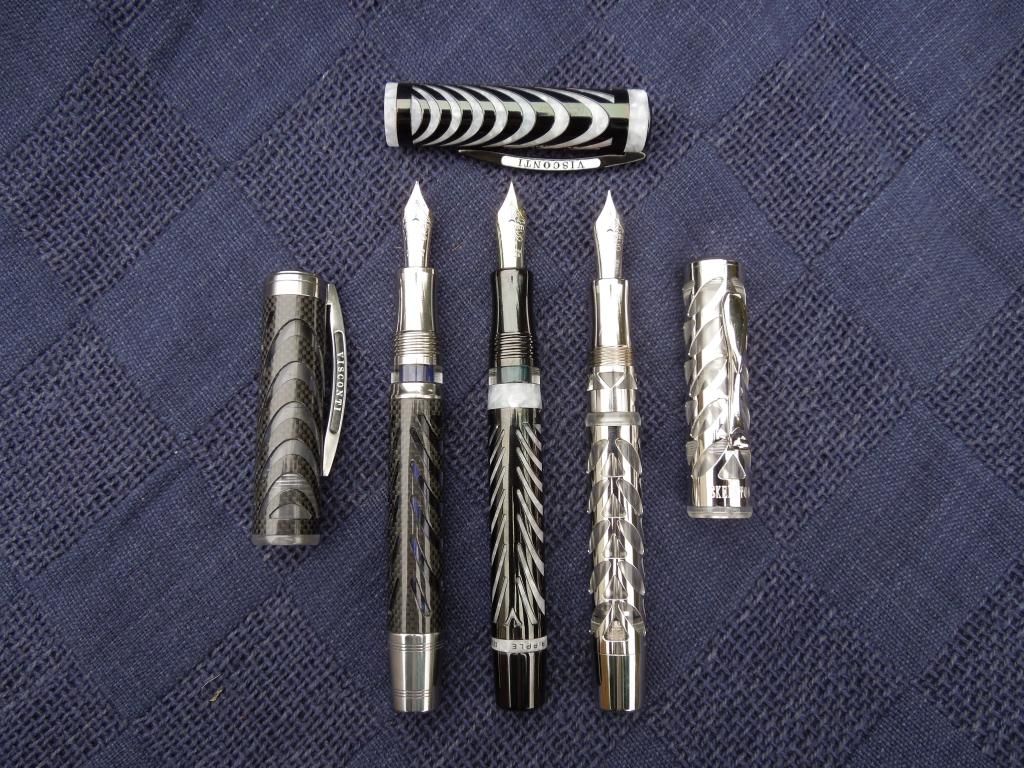 4. Nib and performance
This pen has an extra-fine palladium nib but since I havenít used it I will have to comment by proxy! My Black Ripple has the same extra-fine nib and itís great. Itís a bit moist (which can be an issue on the rubbish copier paper I have to use at work) but itís smooth and starts every time. There is no flex in it (at least not at the level of pressure that I am willing to exert on it!). The only difference with the nib on the Skeleton is that it is monotone, which works nicely with the silver colour of the rest of the pen.
5. Filling system
This pen (like the Carbon Dream and Black Ripple) has the double reservoir power filler. I initially thought that this filling mechanism was a bit of a pain but I have gotten used to it now and the volume of ink that these pens hold is very impressive. For her work, my wife attends long meetings involving lots of note taking. I think that the combination of a large volume of ink and the extra-fine nib mean that she is unlikely to run out during a meeting, which is the case with her current pens.
6. Cost and value
Expensive ($1200) but that is to be expected given that there is a small run of only 22 of these pens. The pen feels very well made and worth the money. I understand that there were some issues with the original Skeletons but these seem to have been resolved as the filling system has been developed over the intervening years.
7. Conclusion
Itís a beautiful, expensive, relatively large and heavy, well made pen with a large ink capacity. I have shown it to my wife and she loves it. I am now in her good books, what more could I want (except a Skeleton for myself)!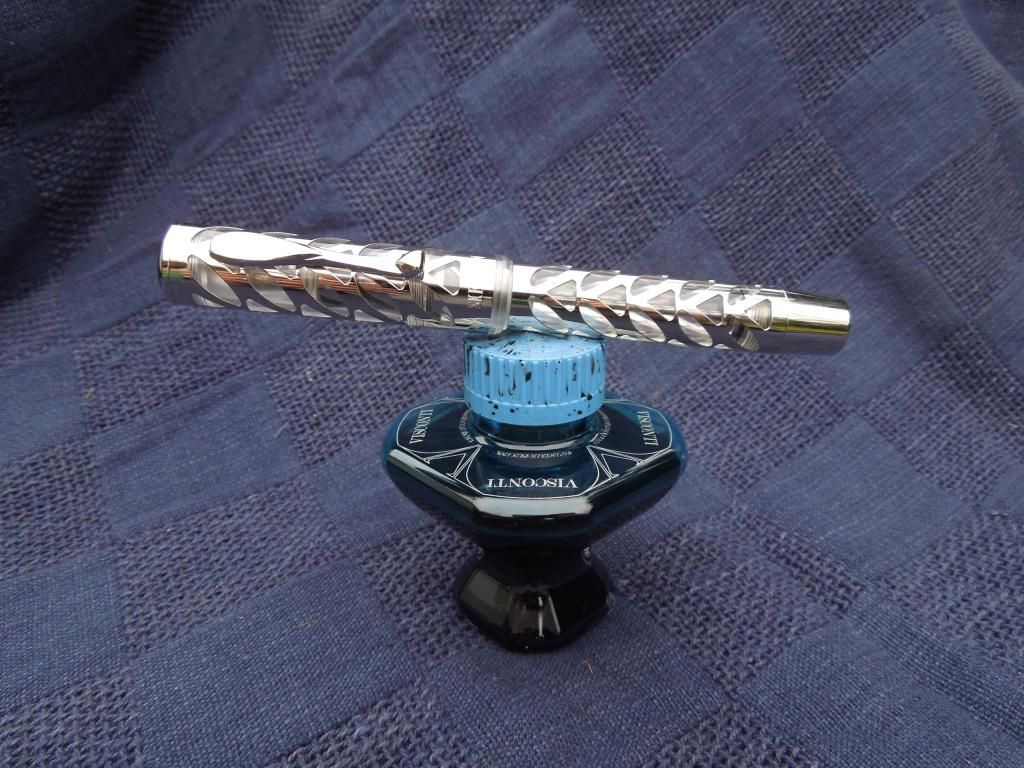 Best wishes
Jon
PS. My thanks to Bry for having the idea of a silver version of the Skeleton and for having the contacts to be able to bring it to fruition and to Rockspyder for sharing his insight on the Skeleton.