My first review.....
Tried to follow the format as much as possible and decided to do the handwritten thing. Sorry the photos aren't better, but just used the cell phone. Used A4 sized Black n' Red casebound notebook.
Can't get it to display right.... arggghhhh....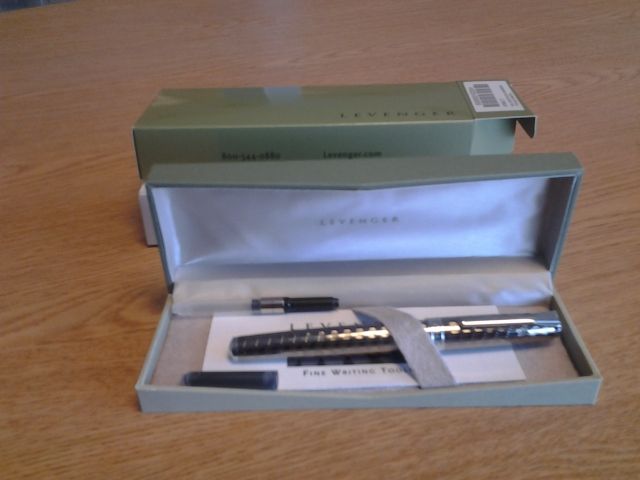 Broke down and typed it up. Here it is:
REVIEW: TRUE WRITER SILVER ANNIVERSARY:
This is my first "more expensive" pen. (relatively speaking of course) All my others were $50 US or less. I asked my wife for this for my birthday this year as it is one of those "milestone" number birthdays. (55 – on March 13) I have had my eye on this one since mid December or so as well as a couple of others. The others? Pelikan M200 and a Parker 45 Flighter. I still want to get those. The P45 seems more within reach – at least time wise though. One of the reasons I decided to get this one at this time was I like the look of it – plain and simple. I also couldn't convince my wife to let me get the Pelikan, which isn't a lot more, but enough that as it was it was a deal breaker. Although the price on this pen is only $99 ($105 shipped), that is a huge jump from what I have paid in the past.
1. 1)
APPEARANCE AND DESIGN: 8/10
This looks like a much more expensive pen than it really is. Levenger created it to commemorate their 25
th
/Silver Anniversary of being in business. As good as the photos on their website are they do not do it justice. Classic design with a modern twist. It has a gleaming gunmetal finish etched with an elegant undulating pattern that is almost wave like. Chrome appointments (nib, clip, both end caps and band around the base of the cap)
2. 2)
CONSTRUCTION AND QUALITY: 7/10
The build quality seems impeccable. It is made of solid brass giving a very solid feel, but not so heavy that one would tire quickly. Schmidt makes the nib. This one is a fine, although I also had choices of M & B as well at the time of purchase. And like all True Writer pens, the nib is interchangeable. Levenger has F,M,B and Stub available. The Stub is a ground M.
3. 3)
WEIGHT AND DIMENSIONS: 7/10
According to the Levenger website capped it is 5.5" x 1/2", unposted 47/8" x ½", posted 61/8" x ½" and weighs in at 1.07 ounces. (30.3 grams) I looked at other True Writers and this is heavier than almost all of them. The others are as light as .6 oz. The only one I found heavier weighed in at 1.22 ounces (34.6 grams) it has brass and lacquer construction.
4.
4) NIB AND PERFORMANCE: 8/10
I debated the nib size to get for some time, waffling between a medium and fine. I finally decided on the fine. My understanding is that Schmidt makes the nibs for the True Writers. It is the smoothest fine nib I have ever used. Virtually no feedback – at least to the point to where it would be annoying. Starts right up too. When putting pen to paper? I have used it on the following papers:
Black n' Red notebook 90 gsm
Southworth 90 gsm 25% cotton Granite Specialty paper
OfficeMax (BizMart) Made in Brazil composition book
Copy/multipurpose paper – what I have of this is very inconsistent quality – sometimes on the same page inconsistent. No feathering on the first 3 at all – the copy paper – well some sheets are better than others. I also have some Avery 8317 note cards – but at the time I wrote this I had not tried on those yet. It came with converter and a cartridge of Raven Black. The handwritten version of this was done in Raven Black. Since then I have been using mostly Pelikan 4001 Blue Black.
5. 5)
FILLING SYSTEM AND MAINTENANCE: 8/10
Standard C/C setup. Uses converter or standard international cartridges – will hold two. I haven't tried but imagine that it would also a single long international as well. The supplied converter when installed rises 68 mm. Thus far maintenance has been easy. I don't intend – in the short term anyway to acquire a nib of another size for it. (F,M,B @ $24; Stub $59; or all 4 for $99)
6. 6)
COST AND VALUE: 9/10
I paid $99 – which for a pen of this quality I believe is reasonable. It looks, feels and writes like a much more expensive pen. While I didn't poke around to see if it was available for less through another outlet, I believe I got a much more than fair deal.
7)
Conclusion: 47/60 (7.8 average) While I am new enough at this to not have a lot to compare this to, I think that Levenger has done a magnificent job in creating this pen to commemorate their Silver Anniversary. Elegant but not so "blingy" that it becomes the primary focus. The gunmetal color is lighter than what I have on a couple of watches I have, which are so dark as they are almost charcoal/black. On this it tones down the glam just enough as opposed to a chrome pen. Of course, this is just one man's opinion and this pen will not appeal to everyone.
Thanks for reading. Hope you enjoyed it.
Assorted writing samples with some of my different pens,including this one: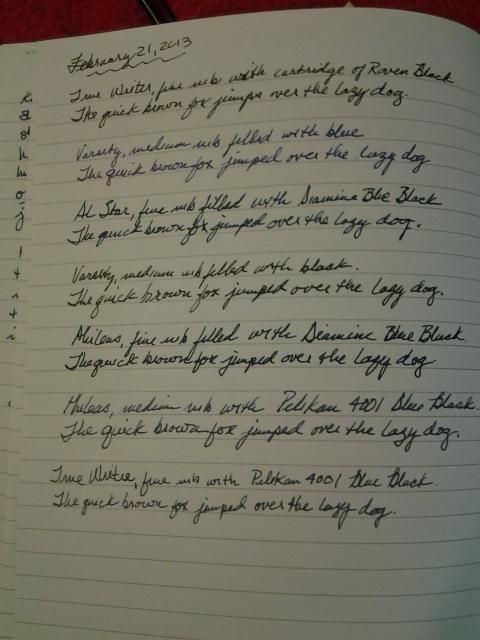 Edited by Runnin_Ute, 03 March 2013 - 04:21.